Etsy's differentiated products, human connection and brand stand out from the rest
With a marketplace business model, its financials and profitability are solid
Etsy's outlook is strong, but don't expect a repeat of 2020's growth
In the growing world of e-commerce, it's increasingly difficult to find products that are truly unique. If you search for a particular item on Amazon, Alibaba or any other large online retailer, you are provided with tens or even hundreds of results for the same item, often with little differentiation between each. And for the most part, the buying experience is very impersonal because you never interact with the seller. While that's fine if you're just looking for everyday commoditized products, it doesn't meet the needs of those customers who are looking for niche custom-made products, the likes that you might find from a stall at your local farmers market. That's where Etsy ( NASDAQ:ETSY ) comes in. It has addressed a niche gap in the market and continues to do so incredibly well.

For those that don't know, Etsy is an online marketplace for unique and handmade goods. It was founded in 2005 and went public in 2015 with an initial valuation of $3.5bn. Since then it has risen seven-fold to a $25bn valuation, most of which took place in 2020. The company has unique competitive advantages, an agile business model that benefited greatly from COVID-19, and a management team that has executed well to take advantage of industry tailwinds.

In this piece, we want to look at what makes Etsy competitive, how this shows up in its financial performance, and what analysts expect lies ahead. 


A Unique E-commerce Play
E-commerce exploded in 2020, and not many companies seemed to benefit more than Etsy. The company outpaced the e-commerce industry growth in 2020 by 2.5x, in a year when online retail almost became a necessity worldwide.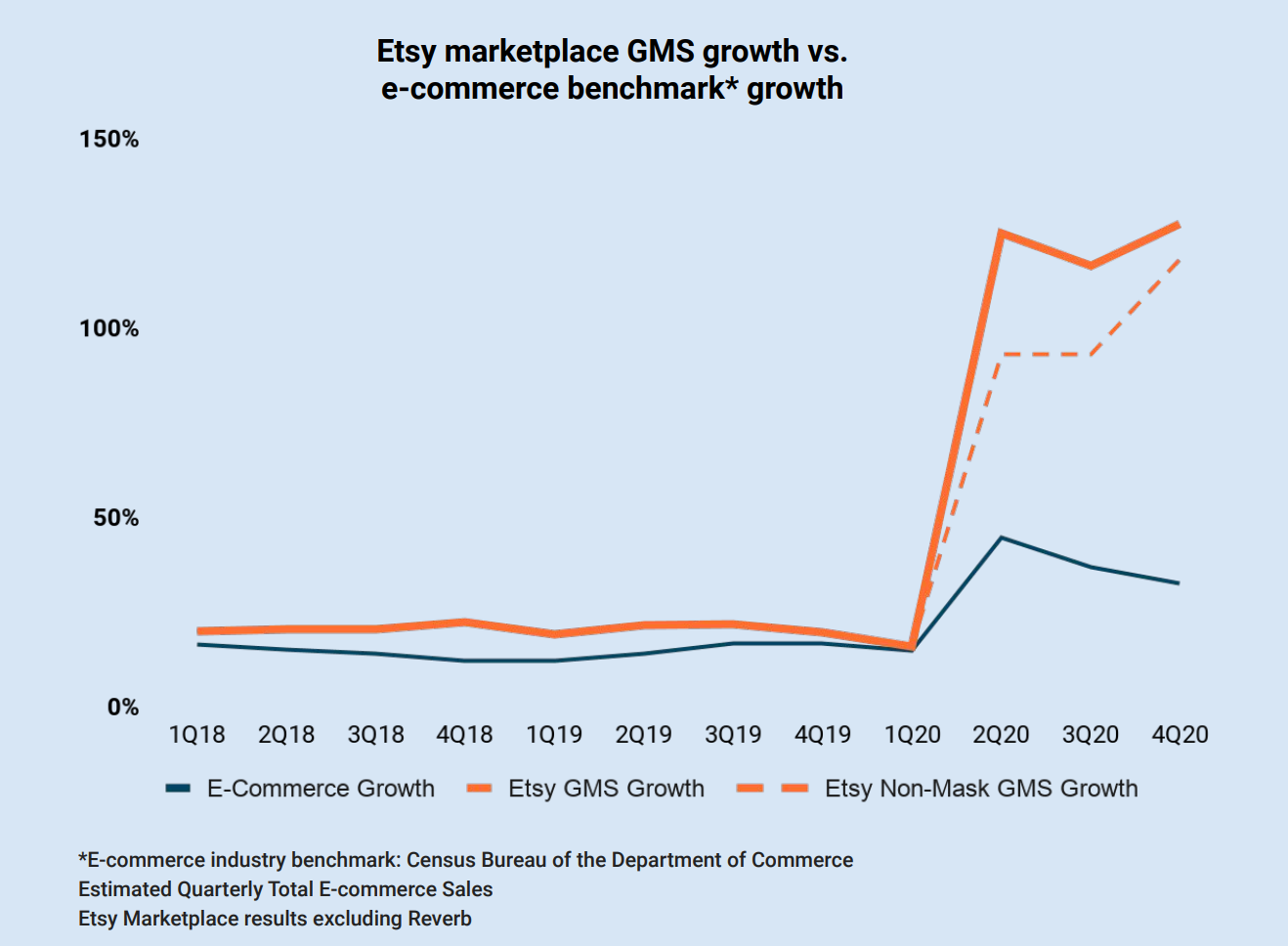 Source: Etsy Q4 Investor Deck 2020 (GMS - Gross Merchandise Sales)

Unlike most other E-commerce sites that sell mass-produced goods, Etsy offers an assortment of unique, handmade products from all over the world. A survey of Etsy buyers found that 88% of them agreed that the products found on Etsy can't be found anywhere else . This is because most products on the site are made by individuals at their homes, rather than out of factories. 

But Etsy isn't just unique because of the items it offers. It also differentiates itself from other mass-produced online retailers by its focus on human connection and its mission to "Keep Commerce Human". 

Not only can buyers message sellers directly and ask questions, but they can personalize and sometimes even customize products to their specifications. These connections form meaningful relationships between parties and drive user engagement. Etsy found that when buyers and sellers interact on the platform, the conversion rate and average value per order are much higher .

In addition to that, buyers enjoy the fact that with each purchase they make, they're supporting a small-scale entrepreneur who's trying to monetize their creativity, rather than a big corporation. 

As a result, this marketplace seems to have resonated with users, since active buyers and sellers have grown quickly, especially over 2020. Active buyers grew 76% to 82m and active sellers grew 62% to 4.4m. More importantly, habitual buyers (those who spend $200 or more and make purchases on 6 or more days) grew 157% to 6.5m users. This is evidence of the company's success in converting buyers into more loyal and regular shoppers.

Despite the huge growth last year, it still appears to be in the early days of addressing its Total Addressable Market (TAM). Etsy's TAM for "Special" goods in 2018 was $100bn and it held roughly 5% share by 2019. If we include the broader $249bn market that's relevant to Etsy, its room for growth is even greater.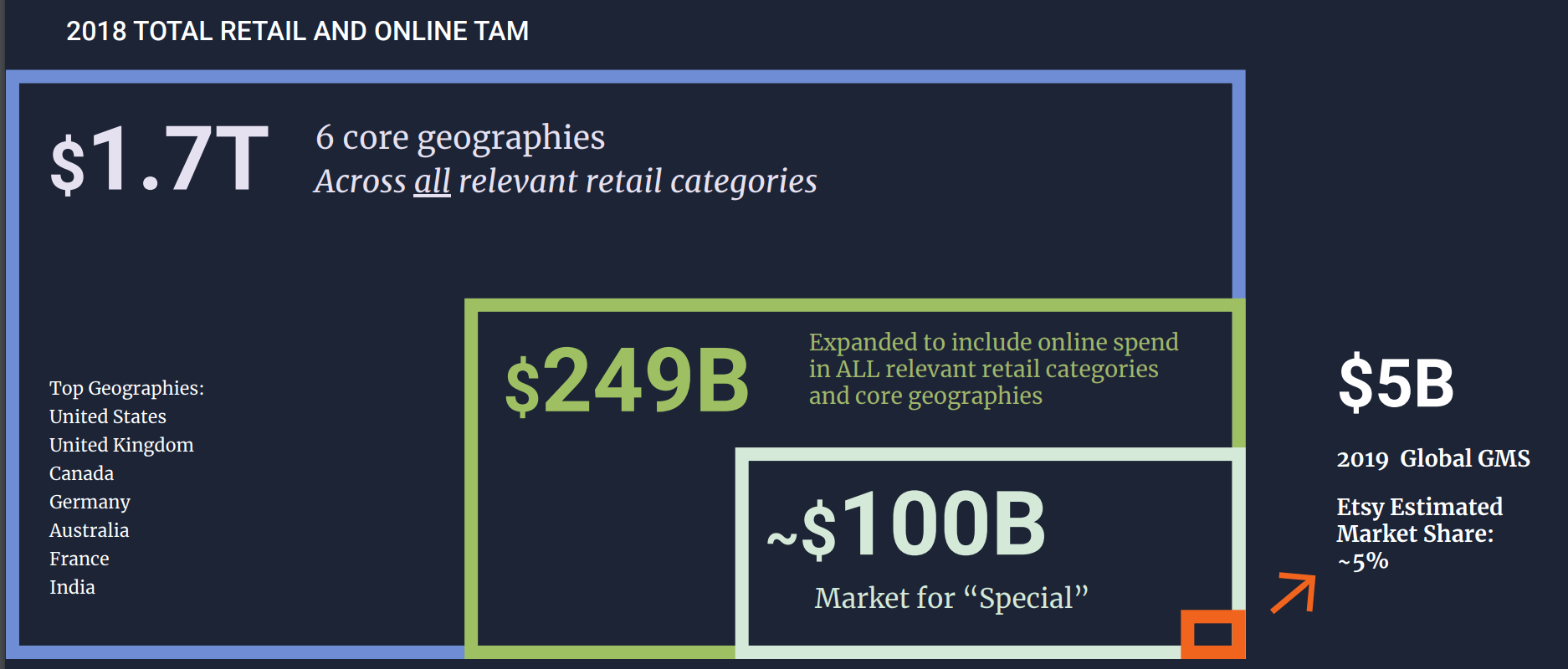 Source: Etsy Investor Presentation March 2021

As a result of building this unique marketplace, the company has been able to deliver solid financial results for a few years now.


Strong Financial Performance
Etsy makes money through two primary revenue streams: marketplace revenue (75%) and services revenue (25%). Marketplace revenue refers to costs paid by sellers such as listing an item for sale, transaction fees (including shipping), and payment processing. Services revenue refers to additional services offered to sellers to help generate additional sales, such as on-site advertising and shipping labels (which helps reduce shipping costs for sellers).

Because of this model, as the value of total products sold on the platform increases (called Gross Merchandise Sales, or GMS), Etsy's revenues increase as well. And 2020 was a stellar year, where GMS increased 107% to $10.3bn for the year. Interestingly $750m worth of masks were sold on Etsy during 2020 (let that sink in), but thankfully Etsy isn't too reliant on them. Growth in other categories (homewares, jewelry, furnishing, etc) is making up for the decline in mask sales, which have reduced from 14% of GMS in Q2 to 4% in Q4 2020.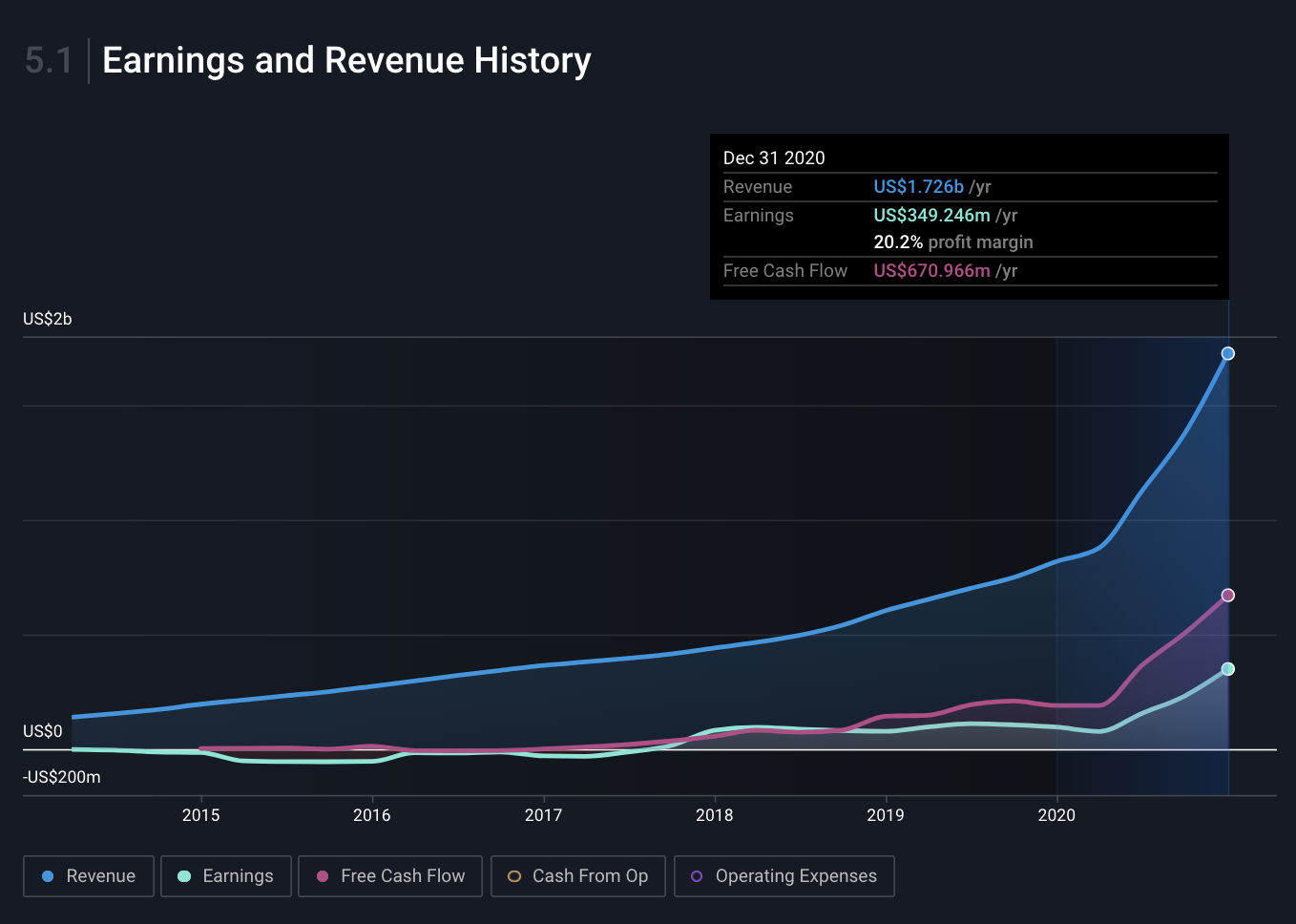 Source: Earnings and Revenue History to 31 December 2020 - Simply Wall St


The company grew revenue by an outstanding 110% to $1.72bn over 2020, and earnings grew by 264% to $349m, which we can see in the above graph. While this is huge growth, it's not expected to repeat in 2021. 2020 was a transformative year, but it's a one-off. Analysts expect revenue and earnings to moderate and deliver growth of 19% and 22% respectively for 2021. You can see more details of the future forecasts within our company report .

These more conservative growth rates from analysts are likely taking into account the re-opening of economies around the world. 

With COVID vaccines being rolled out worldwide, this poses a potential headwind to Etsy's revenue and earnings growth. Primarily because while people were cooped up in lockdown with nowhere to spend their money except online, the re-opening of economies will allow those discretionary dollars to be spent elsewhere, namely restaurants, events and potentially even travel.  

As a result, while Etsy still has a big runway of growth ahead of it over the long-term, analysts expect a 22% CAGR for revenue and a 26% CAGR for earnings out to the end of 2025.


Etsy's Future 
The transition to e-commerce isn't going anywhere and Etsy stands to benefit from that. On top of that, despite efforts of competition from big players entering its niche market (think Amazon Handmade), its unique ethos and marketplace have created strong competitive advantages. All of this adds up to a profitable e-commerce business with scalable network effects, differentiated products, and a brand image with a mission that stands out from the rest of the industry. While 2020 was a transformative year for the company in terms of both business performance and brand recognition, its future still looks bright as analysts predict solid underlying growth for the next 5 years.

In light of that future, the company has taken on increasing amounts of debt since 2018. While our analysis concludes its current levels of debt are affordable, it's worth keeping in mind to make an informed decision. We've conducted a full analysis of the company balance sheet in our company report if you'd like to dig deeper. 
Have feedback on this article? Concerned about the content? Get in touch with us directly. Alternatively, email editorial-team@simplywallst.com
Simply Wall St analyst Michael Paige and Simply Wall St have no position in any of the companies mentioned. This article is general in nature. We provide commentary based on historical data and analyst forecasts only using an unbiased methodology and our articles are not intended to be financial advice. It does not constitute a recommendation to buy or sell any stock and does not take account of your objectives, or your financial situation. We aim to bring you long-term focused analysis driven by fundamental data. Note that our analysis may not factor in the latest price-sensitive company announcements or qualitative material.