2022 May be a Big Year for Travel, and Now is Great Time to Reevaluate Airbnb, Inc. (NASDAQ:ABNB)

Key takeaways:
Tourism spending is expected to exceed pre-pandemic levels this summer, and earnings in the hospitality industry are forecasted to grow 32%.
AirBnB and booking are both good candidates for capturing this wave, with each company having a distinct business approach.
AirBnB started expanding competitive barriers to entry by offering a free insurance package, and may end 2022 with a profit.
As the summer season begins, it is a great time to reevaluate Airbnb, Inc. (NASDAQ:ABNB) and see if the company can benefit from the first open summer after the pandemic. In this analysis we will look at tourism expectations, compare AirBnB to Booking and analyze the future growth estimates for the company.
2022 Tourism Recovery
US domestic Travel and Tourism spending is forecasted to reach more than $1.1t for 2022, surpassing pre-pandemic (2019) levels by 11.3%. Even before the summer season, travel bookings increased by 58%, while summer inbound international bookings are expected to increase 87% YoY.
Another indicator to consider is the US hospitality valuation and earnings forecasts. The current price to sales ratio for this industry is 3.2x in line with the 5y historical average. However, analysts expect the earnings of the hospitality industry to increase by 32% annually, which can have a positive effect on the business of "middle-man" type platforms like AirBnB.
AirBnB vs Booking
Digging a bit deeper on the key competitors in the space - Airbnb and Booking Holdings (NASDAQ:BKNG). We can see that interest seems to be picking up as the summer season approaches. This can translate into high gross bookings in Q3 and Q4, which may come as a nice surprise in the future.
See our latest analysis for Airbnb
The chart below illustrates the relationship between the search volume for the two companies: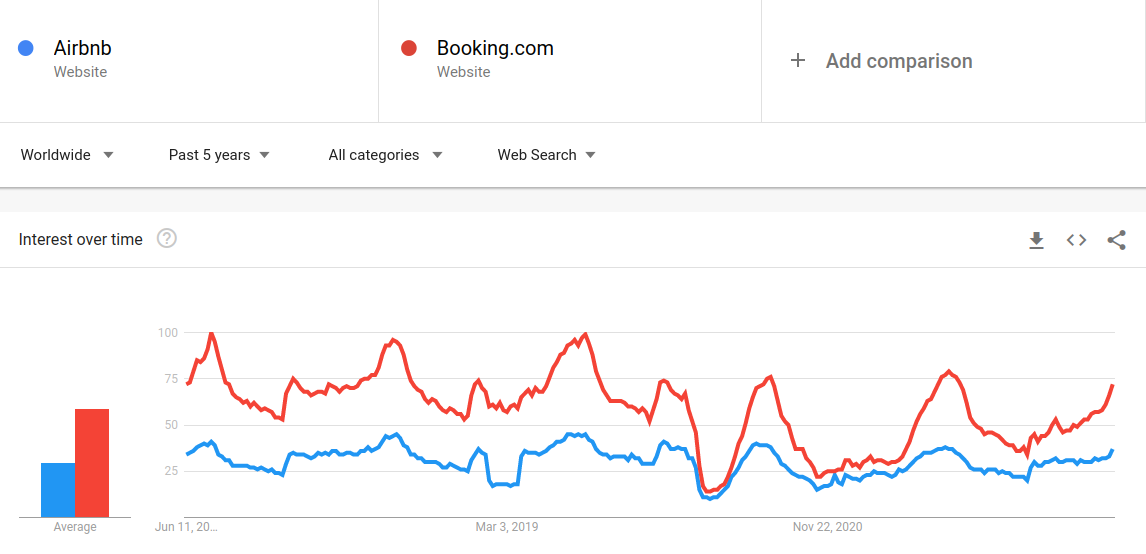 Booking is leading the Google search volume, the app also has 100m+ downloads on the google Play Store and an average rating of 4.6. AirBnB is also slightly behind on the Play Store, with a 100m+ downloads and an average rating of 4.5.
Clearly AirBnB has a lot of room for improvement and this season's tourism wave may give the company the growth boost that will accelerate their business.
Even AirBnB's management made sure to release 2 crucial updates before the season in order to capture as much value as possible for the company.
One was an overhaul of the app, with an introduction to split stays (staying with multiple hosts during a trip) and a new category search focus.
The other is something that is meant to build up competitive barriers of entry - the company announced a limited but free insurance plan for guests, called "AirCover". This is a smart move from management, as it increases the service ecosystem and addresses some customer concerns in the sales process.
Comparing the business model of both companies, reveals that they do have the same target audience, but a different approach to making money.
Booking focuses on stable, high investment properties like hotels and apartments, which are a safer bet for travelers but are harder to adjust.
AirBnB is slightly more open-minded, and draws from local properties to present an offer to guests - this is highly flexible, and much more decentralized, giving room for creativity and innovation.
Now we will turn to the financials, and see how analysts are forecasting AirBnB's growth.
Future Estimates
For 2023, analysts are forecasting revenues of $8.3b and even profitability of $1.3b. This is rare in a growth company, and it would be interesting to see if AirBnB can keep positive net margins in the long term.
The forecast implies a net income margin of 14.9%, as well as a forward P/E of 55. As a growing company, AirBnB is far from having a stable bottom line, and it will have to make substantial future investments in order to feed the expected growth rate and achieve a strong market share.
The chart below, illustrates what analysts expect to see in the next 3 years: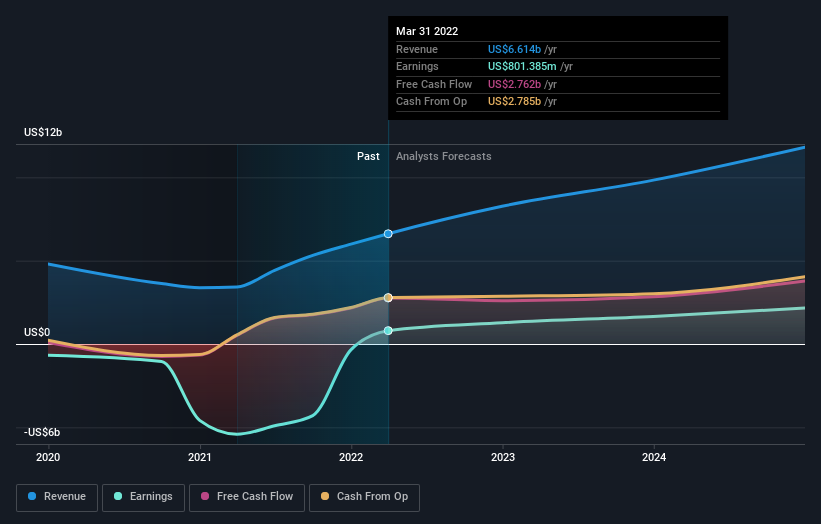 The Bottom Line
For investors, it is always important to think ahead of the current quarter and evaluate future earnings prospects. That is why AirBnB (or Booking to be fair) is a possible company to consider analyzing, especially in the current volatility environment.
The current market sentiment seems negative, while forecasted earnings both for the company and the tourism industry are high. Investors also need to consider the valuation, as a $70b market cap even for a high potential company may be risky, however putting the stock on your watchlist will allow you to find a possible lower entry.
Essentially, Booking is a streamlined & centralized platform, while AirBnB's model is a bottom-up marketplace. Investor's can't know which platform will "win" yet, but if they are bullish on the growth of tourism, they can always build a portfolio of multiple peers.
Have feedback on this article? Concerned about the content? Get in touch with us directly. Alternatively, email editorial-team@simplywallst.com
Simply Wall St analyst Goran Damchevski and Simply Wall St have no position in any of the companies mentioned. This article is general in nature. We provide commentary based on historical data and analyst forecasts only using an unbiased methodology and our articles are not intended to be financial advice. It does not constitute a recommendation to buy or sell any stock and does not take account of your objectives, or your financial situation. We aim to bring you long-term focused analysis driven by fundamental data. Note that our analysis may not factor in the latest price-sensitive company announcements or qualitative material.