Here is When Fiverr (NYSE:FVRR) may Become Profitable, and how it Compares with Upwork (NASDAQ:UPWK)

When looking at Fiverr International Ltd.'s (NYSE:FVRR) future, there are a few points to consider. Their platform, how many people will convert to freelancers during the pandemic, how many people will stay on after the pandemic, what will growth look like on the long term, and how do they fare against their main competitor Upwork (NASDAQ:UPWRK). After taking these factors into account, we will evaluate when the company may break profit.
Anyone that has visited the Fiverr platform has had the experience of quickly finding what they are looking for. The range of freelance services is quite wide and expanding. Buyers are able to find something for every budget, and small to medium-sized companies have an efficient alternative for outsourcing tasks. The platform has expanded for longer-term commitments and services, widening their possible reach and serviceable market. Creators and freelancers are also flocking to Fiverr, as the platform gives them an easier way to reach customers and receive a secure payment that makes both the buyer and seller more confident in doing business.
Considering the possible growth, we will see how much the platform has grown in the previous period and what analysts estimate it will accomplish moving forward.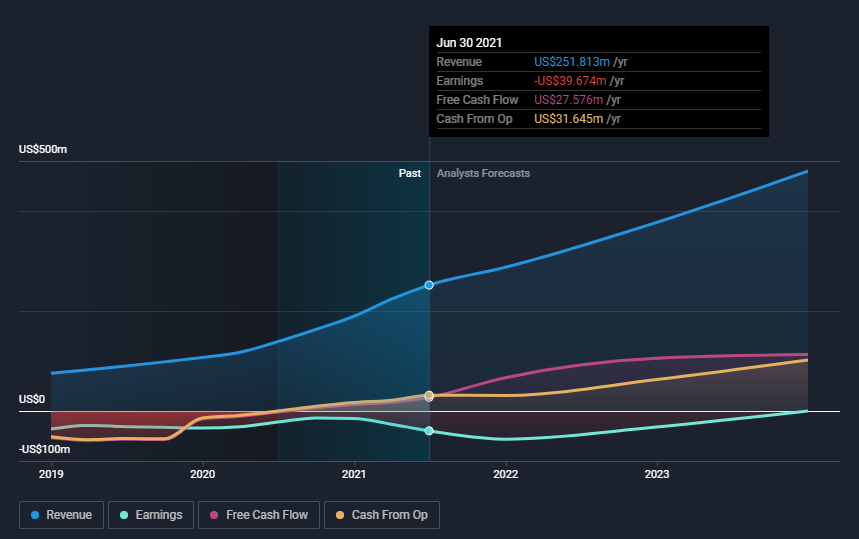 The chart above shows us that Fiverr did experience an increase during 2020 and the first half of 2021, but the interesting thing is that this trend should continue in the future, with analysts estimating revenue growth of 22.1% next year. It is apparent that both freelancers and buyers are coming back to Fiverr, which inspires confidence that the company is doing some things right and achieving organic growth.
Many investors also consider how will Fiverr compete against their main competitor - Upwork. When looking at the two companies, we can see that even though they started off with separate business models, both of them converged on the ways in which they provide their services. When one company innovates, the other often launches a similar future in the near future. The main difference between the two competitors used to be that Upwork offered freelancers an hourly rate, while Fiverr paid on task completion. These lines are now quite blurred as both of them now offer these options.
At Simply Wall St, you can get a report both for Fiverr and Upwork, and see which company fares better on your most liked metrics. We did some digging and made a few comparisons:
| | | | | | |
| --- | --- | --- | --- | --- | --- |
| Company | Market Cap | Revenue ttm | Estimated Revenue Growth Next Year | Cash | Debt |
| Fiverr | 6.7b | US$251.8m | 27% | US$441.8m | US$364.7m |
| Upwork | 5.4b | US$440.7m | 22% | US$172.4m | US$6.9m |
As we can see, Investors are more hopeful for Fiverr, and give them more credit for future cash-flows. Considering revenue, Fiverr is clearly lacking Upwork and both companies are estimated to grow by about the same rate. Fiverr does have more capital available to deploy to the business, but this is backed by debt which must be paid out later on, making the business riskier for investors - it is generally not recommended for new growth companies to fund their operations via debt financing.
So what might be the reason investors are valuing Fiverr higher than Upwork?
One of the reasons might be a qualitative aspect, such as trust in management. The other one is much more concrete, Fiverr has cash flows from operations at US$31.6m, while Upwork has US$18.1m. This is not significant while a company is investing in growth, but implies wider margins for Fiverr in the future when cash flows turn into profits.
Now let's turn to Fiverr's path to profitability.
The US$6.7b market-cap company posted a loss in its most recent financial year of US$15m and the latest trailing-twelve-month loss of US$40m leading to an even wider gap between loss and breakeven.
Many investors are wondering about the rate at which Fiverr International will turn a profit, with the big question being when will the company breakeven?
See our latest analysis for Fiverr International
Consensus from 9 of the American Online Retail analysts is that Fiverr International is on the verge of breakeven.
They expect the company to post a final loss in 2022, before turning a profit of US$146k in 2023. So, the company is predicted to breakeven approximately 2 years from now.
How fast will the company have to grow each year in order to reach the breakeven point by 2023?
Working backwards from analyst estimates, it turns out that they expect the company to grow 69% year-on-year, on average, which signals high confidence from analysts.
Should the business grow at a slower rate, it will become profitable at a later date than expected.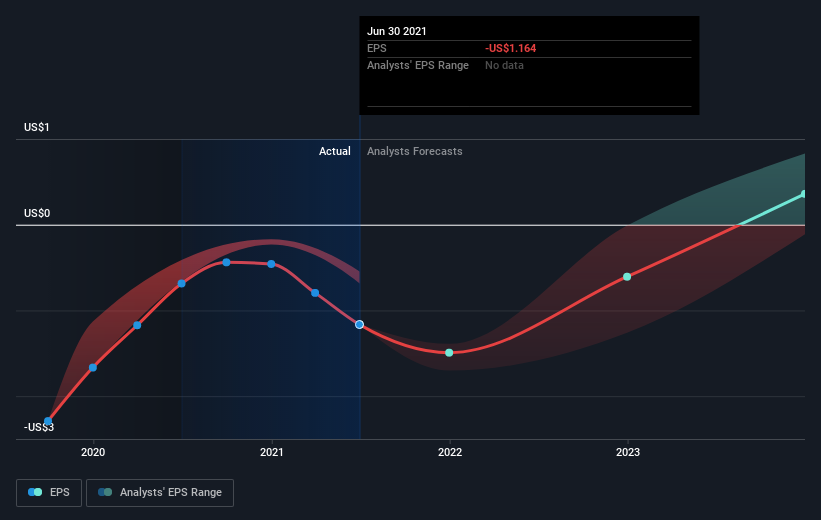 Before we wrap up, there's one issue worth mentioning. Fiverr International currently has a debt-to-equity ratio of 106%. A higher level of debt requires more stringent capital management, which increases the risk of prolonging the loss-making period.
Key Takeaways
Fiverr is pioneering freelancing gig services that seem to be in demand by businesses that want to optimize their operations and outsource various tasks.
Fiverr's growth is expected to stick around in the coming years, as both buyers and sellers keep using the platform. The company has also increased the scope of offered services, widening its addressable market.
Fiverr and Upwork are the main competitors with similar business models and offered services. Currently, investors seem to ascribe Fiverr a higher valuation, possibly because of the larger cash flows which have the potential to turn to higher margins in the future.
Fiverr is expected to break into profitability 2 years from now - in 2023. The company will probably develop quite a bit in the meantime and be an established force in the freelance economy.
This article is not intended to be a comprehensive analysis on Fiverr International, so if you are interested in understanding the company at a deeper level, take a look at Fiverr International's company page on Simply Wall St. We've also compiled a list of important aspects you should further examine:
Management Team: An experienced management team on the helm increases our confidence in the business take a look at who sits on Fiverr International's board and the CEO's background.
Other High-Performing Stocks: Are there other stocks that provide better prospects with proven track records? Explore our free list of these great stocks here.
Simply Wall St analyst Goran Damchevski and Simply Wall St have no position in any of the companies mentioned. This article is general in nature. It does not constitute a recommendation to buy or sell any stock and does not take account of your objectives, or your financial situation. We aim to bring you long-term focused analysis driven by fundamental data. Note that our analysis may not factor in the latest price-sensitive company announcements or qualitative material.

Have feedback on this article? Concerned about the content? Get in touch with us directly. Alternatively, email editorial-team@simplywallst.com