Here is Why an Economic Slowdown may Boost Roku's (NASDAQ:ROKU) Business

Key takeaways:
While an economic slowdown crushes stocks, it may become a catalyst event for Roku to acquire more market share as some consumers are switching from paid to free.
Roku can offer a superior service to advertisers, because it can use consumer preferences and engagement to display more effective ads.
Roku is a content marketplace that allows the streamer to tailor what they want to watch and be subscribed to.
What happens to streaming in a recession? People tighten their budgets and some spending items are crossed off from their lists. That is why we will review Roku's (NASDAQ:ROKU) business and see if the company can turn the upcoming situation to their advantage.
View our latest analysis for Roku
Roku offers a free streaming platform for users, with different pay-to-watch additions. Streamers have access to thousands of channels that offer 500,000+ free and paid content items. In a sense, Roku is a content marketplace, where the streamer can choose to watch ad-supported channels, or tailor their subscription to a third-party service.
For Roku, this means the company gets a % of the revenue of any purchase made via the platform. This makes Roku highly flexible, as streamers can easily switch subscriptions between providers or downgrade to a free tier.
Looking at the fundamentals, we can see that the company is just starting its development cycle as a public company. In the last 12 months, the company grew revenue by 44% to US$2.9b, and is not burning any more cash, as it has free cash flows at US$183m. 
In the next section, we will explore why the company may actually benefit, even as there are fears of an economic recession.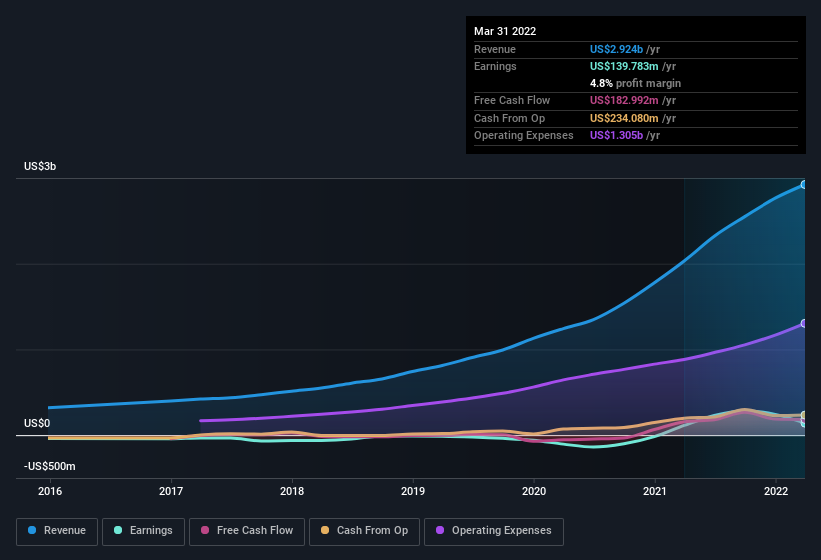 How Can Roku Prosper
While Roku is a streamer, its main competition aren't other streamers, since the platform is agnostic and welcomes services like Netflix or Disney+ on the platform. Rather, they are brazenly taking on the world of traditional cable.
For investors, their value proposition is two-fold.
First, they offer streamers an affordable and adjustable service. In-fact, any device with a browser can access Roku (primarily in the US). This is why the service has competitive advantages over cable.
Second, given that they stream content, they can offer advertisers precision targeting. Compared to cable, where advertisers could mostly bid on the time of day to show their ads, Roku is a digital service, and can offer ads based on the engagement, physical and psychographic characteristics of streamers. Just as Facebook revolutionized web advertising, Roku is using a similar approach to make ads much more effective and become a desired service for advertisers.
Now let's tie that in with what is going on today in the market.
We are arguably in the beginning phases of financial tightening - how and when this will end is hard to estimate, but the consumer will likely change their preferences from discretionary (things we can live without) goods and services, to staples (necessities).
This opens a scenario, where consumers switch from cable and pay-to-watch services like Netflix, Disney+, etc, to a free service like Roku.
For investors, this may present a chance to make a deeper dive on Roku, while the market is slowly dropping.
Conclusion
If the market continues to go down, we will likely see it create a general decline wave for stocks. For investors, it is important to distinguish which of those stocks have a better chance at recovering once the dust settles.
It seems that Roku has a business model that may capture some of the consumers that are switching from paid to free services, and may use the financial tightening to grow its market share.
Additionally, as the business develops, it will offer advertisers more options to drive effective ad campaigns, as the presentation of ads can be tailored to the specific characteristics of subscribers. Something that cable operators have not managed to achieve.
So if you'd like to take the analysis further, it's crucial to consider any risks it's facing. For example - Roku has 2 warning signs we think you should be aware of.
Additionally, our intrinsic value model shows that Roku may be undervalued, and you can explore the details in order to get a clearer picture.
Have feedback on this article? Concerned about the content? Get in touch with us directly. Alternatively, email editorial-team@simplywallst.com
Simply Wall St analyst Goran Damchevski and Simply Wall St have no position in any of the companies mentioned. This article is general in nature. We provide commentary based on historical data and analyst forecasts only using an unbiased methodology and our articles are not intended to be financial advice. It does not constitute a recommendation to buy or sell any stock and does not take account of your objectives, or your financial situation. We aim to bring you long-term focused analysis driven by fundamental data. Note that our analysis may not factor in the latest price-sensitive company announcements or qualitative material.