The Pandemic Boost is Over MercadoLibre, Inc. (NASDAQ:MELI), but Growth is Still Expected to Keep Coming in Strong

Key Takeaways:
MercadoLibre beat estimates and is growing at high rates
Growth is expected to decelerate, but that is already built-in to the current price
The company bares both the opportunity and risk of investing in a South American company
A week ago, MercadoLibre, Inc. (NASDAQ:MELI) posted earnings results for Q1, 2022. We will review the report, outlook and see the growth potential for the company.
The key figures from earnings are:
Q1 revenue at US$2.248b, vs. US$1.378 a year ago, a 9.1% beat on expectations.
Positive Q1 net income at US$65m vs. a US$34 net loss from a year ago, higher than 17% of expectations
Diluted EPS of US$1.3 vs. a loss of US$0.68 from a year ago
In the last 12 months, the company made a net income of US$182.3m per share, equating to a diluted EPS of US$3.651. This puts the earnings yield around 0.4%, indicating that investor are expecting to see significant growth from the company in the future - in order for the current valuation to make sense.
View our latest analysis for MercadoLibre
Performance & Growth
In order to understand the company better, we use forecasts from analysts to see where the company is regarding maturity, and what can we expect in the future.
Looking back on the company, it seems that MercadoLibre is in the early stages of maturity, and currently experiencing high growth. Analysts are simultaneously estimating the future growth rates, and when the company will start reaching maturity - forcing growth to decelerate.
In the last 12 months, the company grew revenue by 64%, and the 5-Year Revenue CAGR is 52%. This shows that MercadoLibre is still exhibiting impressive growth.
Revenue growth picked up in 2019, held steady at around 50% in 2020, and seems to have been supercharged in 2021 with the company reaching 12 month growth rates above 70%. In 2022, while still high, growth seems to be losing the benefits of the pandemic, and the company is decelerating back to 2020 levels. 
For a young company, growth can be variable and harder to capture, as they do not have the experience and infrastructure needed to retain as much as possible from new clients. Fortunately, as the company increases its market share, new growth will have an opportunity to offset churned customers. This does not mean that operations are ineffective, as the company managed to grow revenues 8.7% more than costs of goods sold, indicating that it is dealing well with expansion.
In the chart below, we can see the expectations of analysts for the future performance of the company.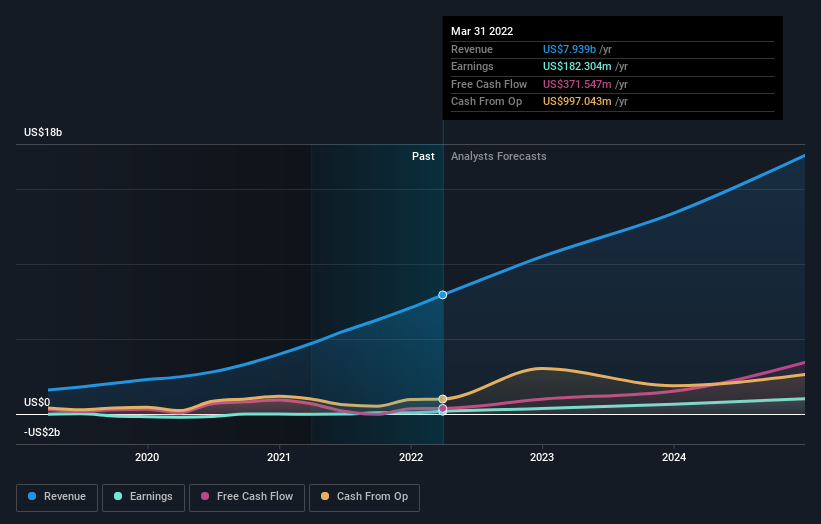 After the latest results, the 22 analysts covering MercadoLibre are now predicting revenues of US$10.5b in 2022. If met, this would reflect a sizeable 32% improvement in sales compared to the last 12 months.
Statutory earnings per share are predicted to shoot up 74% to US$6.29.
The consensus price target was unchanged at US$1,566, suggesting the business is performing roughly in line with expectations, despite some adjustments to profit and revenue forecasts.
Another approach, that gives use a wider picture, is to look at the range of target estimates. Looking at analyst price targets, we see that the most optimistic analyst has a price target of US$2,000 per share, while the most pessimistic values it at US$1,100. The high divergence may be a reflection on the perceived change in future growth rates, as well as using more stringent risk metrics from bearish analysts. Keep in mind that MercadoLibre operates mostly in Latin countries, which have different betas, default, and inflation risk profiles for stocks.
Conclusion
MercadoLibre has outperformed on growth, and has positive profitability. In order for the company to justify the current price and to mature to value, they must continue their high growth phase, albeit a certain deceleration is already built-in the price.
Investors that want exposure to South American countries may wish to follow MercadoLibre more closely and estimate at which price the stock makes sense.
You should always think about risks though. Case in point, we've spotted 2 warning signs for MercadoLibre you should be aware of.
Have feedback on this article? Concerned about the content? Get in touch with us directly. Alternatively, email editorial-team@simplywallst.com
Simply Wall St analyst Goran Damchevski and Simply Wall St have no position in any of the companies mentioned. This article is general in nature. We provide commentary based on historical data and analyst forecasts only using an unbiased methodology and our articles are not intended to be financial advice. It does not constitute a recommendation to buy or sell any stock and does not take account of your objectives, or your financial situation. We aim to bring you long-term focused analysis driven by fundamental data. Note that our analysis may not factor in the latest price-sensitive company announcements or qualitative material.