Zynga Inc. (NASDAQ:ZNGA) is Fighting an Uphill Battle to Deliver Long-Term Growth

There's been a notable change in appetite for Zynga Inc. (NASDAQ:ZNGA) shares in the week since its quarterly report, with the stock down 19% pre-market to US$8.11. We want to take a look at the growth prospects for Zynga and put them into context with long term expectations.
Kicking off with the last earnings report, we stress the direction in which Zynga's CEO sees the company heading:
"...we are investing in hyper-casual games, cross-platform play, international expansion and advertising technologies – all of which have the ability to meaningfully increase Zynga's total addressable market and further enhance our competitive advantage and growth."
Zynga is not backing off from growth and novel products, their business model demands continuous improvements and launching new and engaging titles - The direction of the company makes complete sense going forward. It also seems that they are utilizing a more focused portfolio of titles, perhaps influenced by the low performers of the past. This approach makes sense from a profit perspective, but also increases the risk of running a dry well as they have less opportunity to market titles.
In delivering on growth, Zynga is anticipating two new contender titles:
FarmVille 3 in Q4
Star Wars: Hunters (no reliable launch date)
Zynga has an optimistic growth story and a few key contributing titles that have performed in 2021: Toon Blast, Toy Blast, Rollic's hyper-casual portfolio and Harry Potter: Puzzles & Spells.
They have also issued positive FY 2021 outlook:
Revenue of $2.7b
Net loss of $135m
However, the company comments that these estimates may have a wider range of outcomes, among other things, due to Apple's privacy changes. It is also worth noting, that the search interest is not favorable to Zynga, and it has been slowly trending downwards: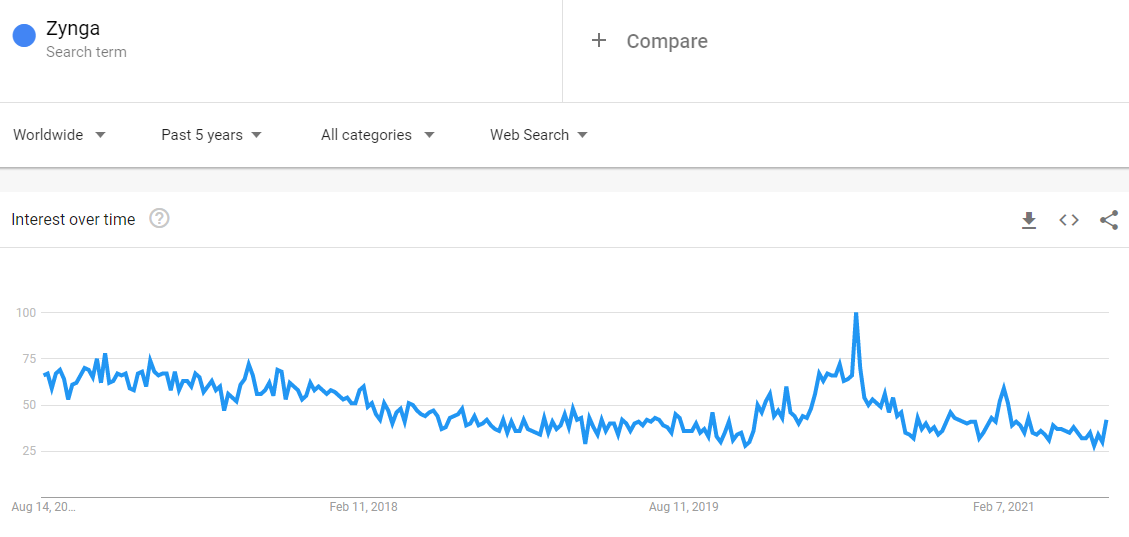 This is made even worse by the fact that the highest search volume comes from low income, developing countries:

If you want to explore the Google Trends results, you can find them HERE.
Knowing this, it will take extra effort from the company to deliver long term.
For now, let's see what analysts expect for Zynga and put the top and bottom line into perspective. 
Zynga beat expectations by 5.9% with revenues of US$720m. It also surprised on the earnings front, with an unexpected statutory profit of US$0.02 per share a nice improvement on the losses that the analysts forecast.
Following the result, the analysts have updated their earnings model, and it would be good to know whether they think there's been a strong change in the company's prospects, or if it's business as usual.
Take the latest post-earnings forecasts to see what estimates suggest is in store for next year.
See our latest analysis for Zynga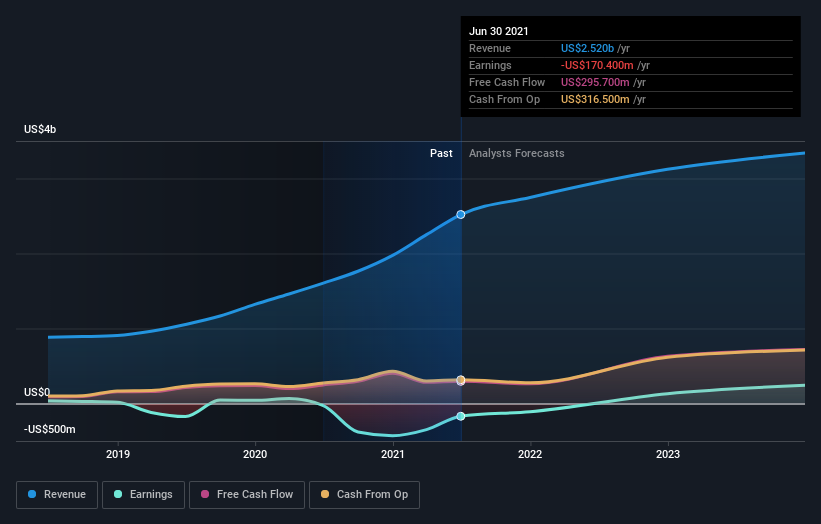 Following the latest results, Zynga's eleven analysts are now forecasting revenues of US$2.75b in 2021. This would be a decent 9.0% improvement in sales compared to the last 12 months. The loss per share is expected to greatly reduce in the near future, narrowing 40% to US$0.094.
Before this latest report, the consensus had been expecting revenues of US$2.73b and US$0.096 per share in losses. So there seems to have been a moderate uplift in analyst sentiment with the latest consensus release, given the upgrade to loss per share forecasts for this year.
The consensus price target fell 9.3% to US$12.14despite the forecast for smaller losses next year. It looks like the ongoing lack of profitability is starting to weigh on valuations. The most bullish analyst values Zynga at US$15.00 per share, while the most bearish prices it at US$9.00. Analysts definitely have varying views on the business, but the estimates mostly suggest an upside for the business.
There is an anticipation that Zynga's revenue growth will slow down, with revenues to the end of 2021 expected to display 19% growth on an annualized basis. This is compared to a historical growth rate of 26% over the past five years. Conversely, the industry is expected to grow 16% annually, which means Zynga is not expected to overachieve.
The Bottom Line
Zynga is delivering a focused title portfolio of performing games, but may find it difficult to sustain growth rates if trends change in the future.
The company is fighting an uphill battle where the search interest from audiences is slowly declining and app stores are introducing rules that are restrictive to Zynga's business model. They will have to get much more efficient at their approach or find a new niche for growth.
Looking at the short term, analysts reconfirmed their revenue estimates, with the company predicted to grow at about the same rate as the wider industry.
Furthermore, the analysts also cut their price targets, suggesting that the latest quarterly report has led to greater pessimism about the intrinsic value of the business.
With that said, the long-term trajectory of the company's earnings is a lot more important than next year. We have estimates - from multiple Zynga analysts - going out to 2023, and you can see them free on our platform here.
That said, it's still necessary to consider the ever-present spectre of investment risk. We've identified 1 warning sign with Zynga , and understanding it should be part of your investment process.
Simply Wall St analyst Goran Damchevski and Simply Wall St have no position in any of the companies mentioned. This article is general in nature. It does not constitute a recommendation to buy or sell any stock and does not take account of your objectives, or your financial situation. We aim to bring you long-term focused analysis driven by fundamental data. Note that our analysis may not factor in the latest price-sensitive company announcements or qualitative material.

Have feedback on this article? Concerned about the content? Get in touch with us directly. Alternatively, email editorial-team@simplywallst.com