Paysafe Limited (NYSE:PSFE) is still Drifting Down, but has Positive Free Cash Flows and a Growing Business
Published

December 17, 2021

Growth stocks have been hit hard in the last market cycle, and many companies are trading below their IPO price. In a downward spiral, it is necessary to distinguish which companies are going to stay down and which have a solid chance of getting back up.
Paysafe Limited (NYSE:PSFE) is one of the companies on our radar, and the company may have a contrarian argument for investing. Current events are still putting downwards pressure on the stock, and a rebound is not likely to happen soon, but we want to evaluate if there is something here after the storm settles.
There are 2 factors of note that may keep the stock down in the short term. First is the market situation, which is on the cusp of being hit from the new covid variant. Needless to say that we will need some time before we are sure how to interpret the new development, which can leave prices staggered. Second, there are new class action lawsuits levied at the company, which, even if material, will have a temporary effect.
Paysafe also missed earnings with its latest third-quarter results, disappointing overly-optimistic forecasters. It was a pretty negative result overall, with revenues of US$354m missing analyst predictions by 4.6%. The business reported a statutory loss of US$0.20 per share, much larger than the analysts had forecast prior to the result.
As we can see, there are plenty of good reasons for investors to be pessimistic. That does not mean that one should remove the stock from their watch list. Keeping a close eye on the movement may allow investors to either spot a good entry point or find a good point to cost average down if they want to still hold the company.
Now that the bad news is taken care of, let's see what analysts are predicting on the future, as this can give use a good grip on where we can expect the company to be in the coming months.
See our latest analysis for Paysafe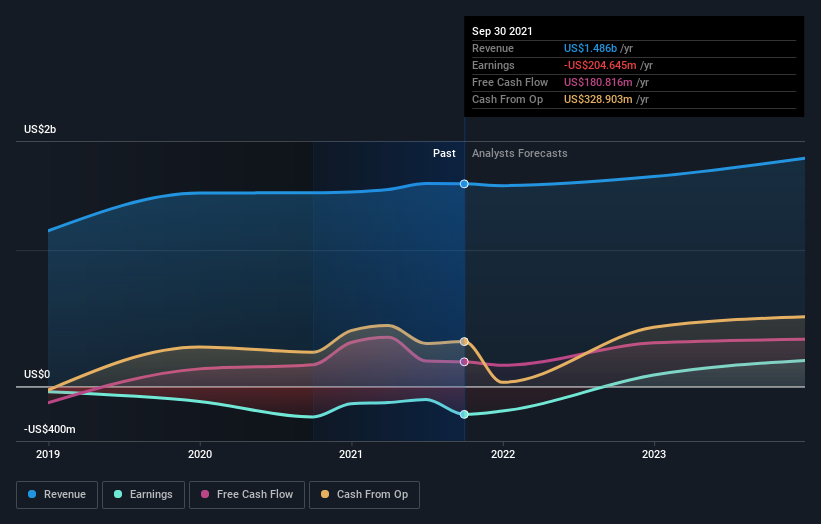 After the latest results, the nine analysts covering Paysafe are now predicting revenues of US$1.54b in 2022. If met, this would reflect a reasonable 3.6% improvement in sales compared to the last 12 months. Paysafe is also expected to turn profitable, with statutory earnings of US$0.11 per share.
Considering that currently PSFE is trading at US$3.76 per share, it is refreshing to see that analysts have set a price target at US$6.44, which assumes a 71% upside.
Perhaps the most important factor are the free cash flows as opposed to earnings. Paysafe is a technology company, and will have less difficulty attaining higher margins. That is why, the current earnings situation may be an opportunity for investors to buy low, before earnings converge to free cash flows. Paysafe has 180m of FCF, and is a US$4.85b enterprise value company, giving us an EV to FCF ratio of 26.5x. Absent meaningful growth, here is where we would expect the P/E value to converge when the company turns profitable.
This relates to the current valuation of the companies in this industry (Tech: Data Processing), which have an average P/E of 36.6x. Compared to the industry, PSFE is arguably not in such a bad position.
The Bottom Line
Paysafe is a payment processor that has seen its stock price dwindle post the IPO high. The company has numerous negative factors impacting the stock price, however it also has great revenues and a very good chance of growth and profitability in the not so distant future.
The current earnings overshadow the actual positive free cash flows that the company is making, and we might see them converging upwards in the future.
Currently, the stock is still drifting downwards, and investors might want to patiently watch for possible long term reversals. 
Have feedback on this article? Concerned about the content? Get in touch with us directly. Alternatively, email editorial-team@simplywallst.com
Simply Wall St analyst Goran Damchevski and Simply Wall St have no position in any of the companies mentioned. This article is general in nature. We provide commentary based on historical data and analyst forecasts only using an unbiased methodology and our articles are not intended to be financial advice. It does not constitute a recommendation to buy or sell any stock and does not take account of your objectives, or your financial situation. We aim to bring you long-term focused analysis driven by fundamental data. Note that our analysis may not factor in the latest price-sensitive company announcements or qualitative material.