Get to Know Paysafe (NYSE:PSFE), the Specialized Payment Processor

Paysafe Limited ( NYSE:PSFE ) is a payment platform that enables businesses and consumers to connect and transact by payment processing, digital wallet, and online cash solutions.
It offers digital wallet solutions under the Skrill and NETELLER brands , which enable users to transact from a virtual account.
Paysafe recently announced that it has further extended its relationship with Microsoft ( NASDAQ:MSFT ), and is now enabling online cash transactions on Microsoft Store on Xbox. With this, Paysafecard is now available on Xbox consoles for millions of customers in 22 European countries. If done right, this has a large growth potential.
The company generates most of its revenues by processing online payments for merchants and customers engaged in the online gambling and foreign exchange trading sectors.
Paysafe focuses on specialized and high-risk verticals, including:
iGaming

Encompasses a broad selection of online betting related to sports, esports, fantasy sports, poker and other casino games

Emerging Markets

Includes stock, FX and crypto trading, direct marketing (which can include nutraceuticals and multi-level marketing, travel and entertainment, integrated payments and digital goods)
These streams represented approximately US$1.1 b, or 74%, of Paysafe's revenue for the year ended December 31, 2020.
Paysafe's CEO, Philip McHugh, stated that r oughly 75% of online gambling operators use Paysafe for processing payments. This includes operators like DraftKings ( NASDAQ:DKING ), William Hill, Betfair, Bet365, Golden Nugget Online Gaming ( NASDAQ:GNOG ), PokerStars, and more.
Players of iGaming can use Paysafe's Skrill and Neteller digital wallets, and other services to place bets.
As we can see, a good portion of revenue comes from gambling, sports betting, esports etc. These sources have a significant regulatory risk, but gambling revenues tend to persist even during crises.
We think it is important to know which Paysafe services sell the most, and grow. That is why we prepared a breakdown of revenue by segment, which you can find in the figure below.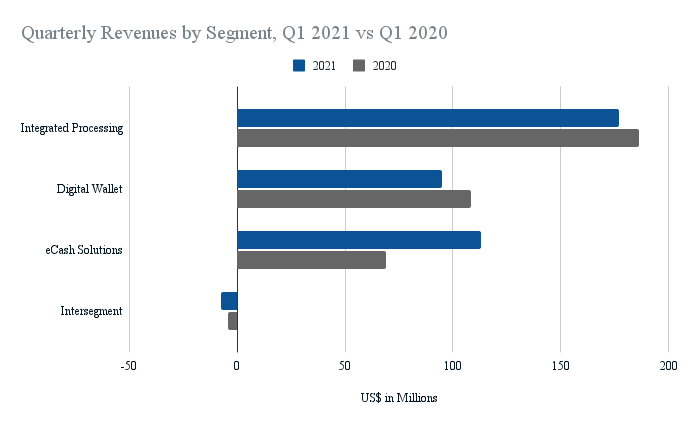 Paysafe's growth is currently concentrated within the eCash Solutions, while the other segments took a slight reduction in the first quarter of 2021. Their strongest segment is integrated processing, with a US$176.9 m revenue in Q1 2021.
When researching a company, we need to consider past performance, management's strategy and market capacity.
Regarding the market capacity, we note that the payment processing industry has wide potential, especially by consolidating payment services from a multitude of small banks to large integrated platforms, that is why payment processors such as Stripe and PayPal ( NASDAQ:PYPL ) are the dream of FinTech developers.
It is clear that Paysafe is competing for a share in the industry, and as we have seen above, they are specializing on a particular segment, which gives us confidence that they are not simply overstretching on all fronts.
Regarding future expectations, management emphasizes:
Continued strong performance in eCash Lapping of targeted actions/exits from 2020 and return of sports expected to support YoY growth in Digital Wallet
Expect strong volume growth and post COVID-19 recovery to drive growth in Integrated Processing
These points are good to watch out for in the future, and see if the goals materialize, or if we see management changing them next year.
Considering financial health and the company's direction, o ne of the reasons Paysafe sought to go public was to raise enough capital from shareholders in order to pay-out some of its outstanding debt.
Management has committed to, and is following through with this goal!
The company has paid out close to US$1.4 b from its total US$3.5 b debt.
On the surface, this looks like a stabilizing move, but it may have some implications:
Management made a possibly bad decision when leveraging a young growth company in the past
If the company had to be flipped private to public again by a third party, that raises questions as to why wasn't the company able to outgrow the debt problem in the first place?

Did they have bad management, a wrong capital structure, did they overestimate their growth capacity, or were they early with their innovation and misjudged market demand?
The answers to these questions are crucial in shaping the way investors see this company.
If it was a management error, then that is fixable with supervision, transparency and governance.
In case they had the wrong capital structure, then flipping the company by Blackstone ( NYSE:BX ) was the perfect move to get future returns.
If they overestimated their growth capacity, things get dangerous, because this means the company may not be able to enter a high growth phase and deliver more profits than the current (or lower) valuation.
Finally, if they were early on their innovation, they now have a second chance with a more mature market and fresh capital.
We encourage investors to check the operating expenses in the future for Paysafe. Since this is a software company, an increase in OpEx should be multiplicative for growth down the line (this does not materialize immediately). Also, keep an eye on R&D and SG&A expenses - Marketing and research & development, should drive multiplicative but not linear growth - otherwise they are just spending money on cheap customer acquisition numbers.
Conclusion
We feel that Paysafe has the potential to offer highly effective services in specialized portions of payment processing, and cater the needs within specific industries.
The move to flip the company from private to public again gives Paysafe a second chance in the industry, and now management will feel the pressure of large shareholders that are going to make them more accountable. With entering equity markets, the company has raised capital and reduced risk by gaining a diversified marginal investor.
We hope Paysafe picks a direction, sticks with it, and delivers on their promises in the future. Their business model is sound and has potential for high returns for investors.
Keeping that in mind, we still think that the longer term trajectory of the business is much more important for investors to consider. We have estimates - from multiple Paysafe analysts - going out to 2023, and you can see them free on our platform here .
Have feedback on this article? Concerned about the content? Get in touch with us directly. Alternatively, email editorial-team@simplywallst.com
Simply Wall St analyst Goran Damchevski and Simply Wall St have no position in any of the companies mentioned. This article is general in nature. We provide commentary based on historical data and analyst forecasts only using an unbiased methodology and our articles are not intended to be financial advice. It does not constitute a recommendation to buy or sell any stock and does not take account of your objectives, or your financial situation. We aim to bring you long-term focused analysis driven by fundamental data. Note that our analysis may not factor in the latest price-sensitive company announcements or qualitative material.