DocuSign (NasdaqGS:DOCU) Shareholders On The Back Foot Following Positive Developments Around Vaccine
Published

November 17, 2020

It's not the first time in the last 6 months that DocuSign (NasdaqGS:DOCU) investors have had a tumultuous couple of weeks. The stock jumped 13% on 4 November only for it to drop back down by 15% a few days later. In the grand scheme of things, this is just a minor set-back for longer-term shareholders with the company's stock up almost 200% in the last year. However, some may be asking, is it time to sell their DocuSign shares following such a large reversal in market sentiment? Especially since it's been struggling to lift further since its solid run from March through July. For those looking at the bigger picture, this may not be the ideal time to be re-considering their investment thesis.
Check out our latest analysis for DocuSign
Why Did DocuSign's Share Price Drop?
There appear to have been two distinct but related catalysts that led to the rise and fall of DocuSign's stock. Both had to do with the progression of the COVID-19 pandemic.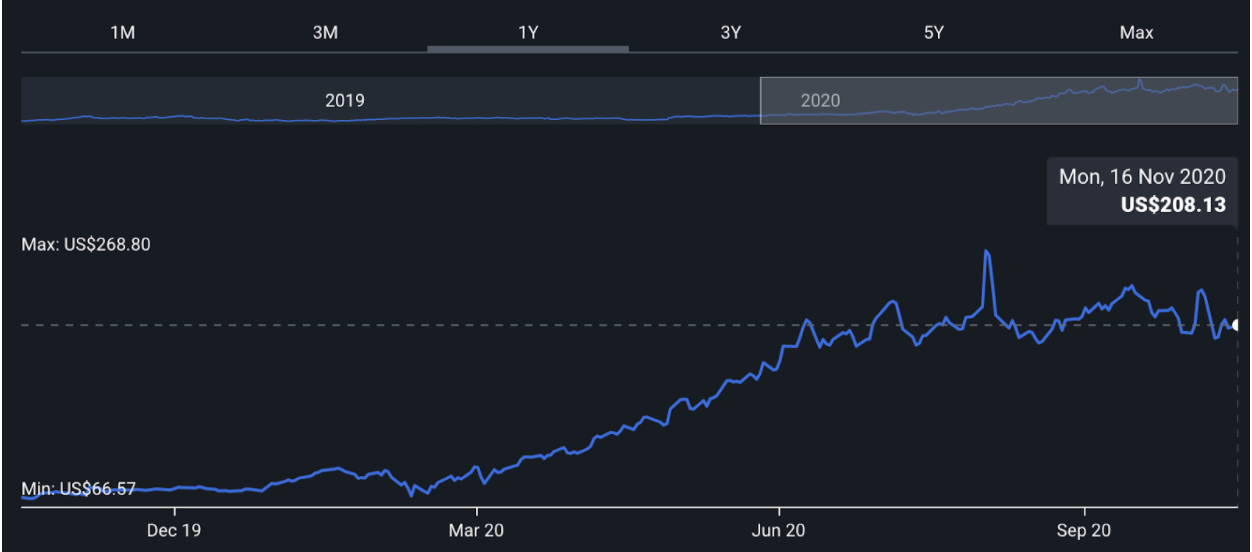 NasdaqGS:DOCU Latest Share Price and Events as at 17 Nov 2020. Source: Simply Wall St
The initial 13% increase happened as the US election count entered its second day and the chances of Joe Biden winning office looked more likely. Companies rose across the board, but those that did particularly well during the pandemic, dubbed the "work/stay-at-home" stocks, were particularly buoyant. This can be attributed to the fact Biden is perceived as much more likely to favour strategies that encourage or enforce tighter restrictions to tackle the high infection rates in the US. These strategies in turn would further boost the work-from-home sector, of which DocuSign is a part of.
However, this rise was flipped on its head just a few days later when pharmaceutical giant Pfizer (NYSE:PFE) and partner firm BioNTech (NasdaqGS:BNTX) announced promising interim results from their joint effort to develop a COVID-19 vaccine . An effective vaccine would mean that the virus could be suppressed and the global economy could move back towards normality. Most of the market surged higher, but companies like DocuSign that were previously getting lifted by the increasing impact of the virus were subsequently smacked down.
COVID-19 Vaccine Impact On DocuSign Business
It is true that COVID-19 has accelerated the adoption of DocuSign's products across a number of industries. The company reports approximate customer numbers each quarter and comparing customer growth for the first half of FY2021 to FY2020, we can see that the average growth rate has risen significantly from ~5% per quarter to around 13% per quarter during the pandemic.

Source: Company filings
Management commentary in the Q2 financial report confirms that the company has experienced a substantial increase in overall demand due to the shift to remote, web-enabled business operations. This includes a significant increase in customer spending across almost all industries and regions they serve.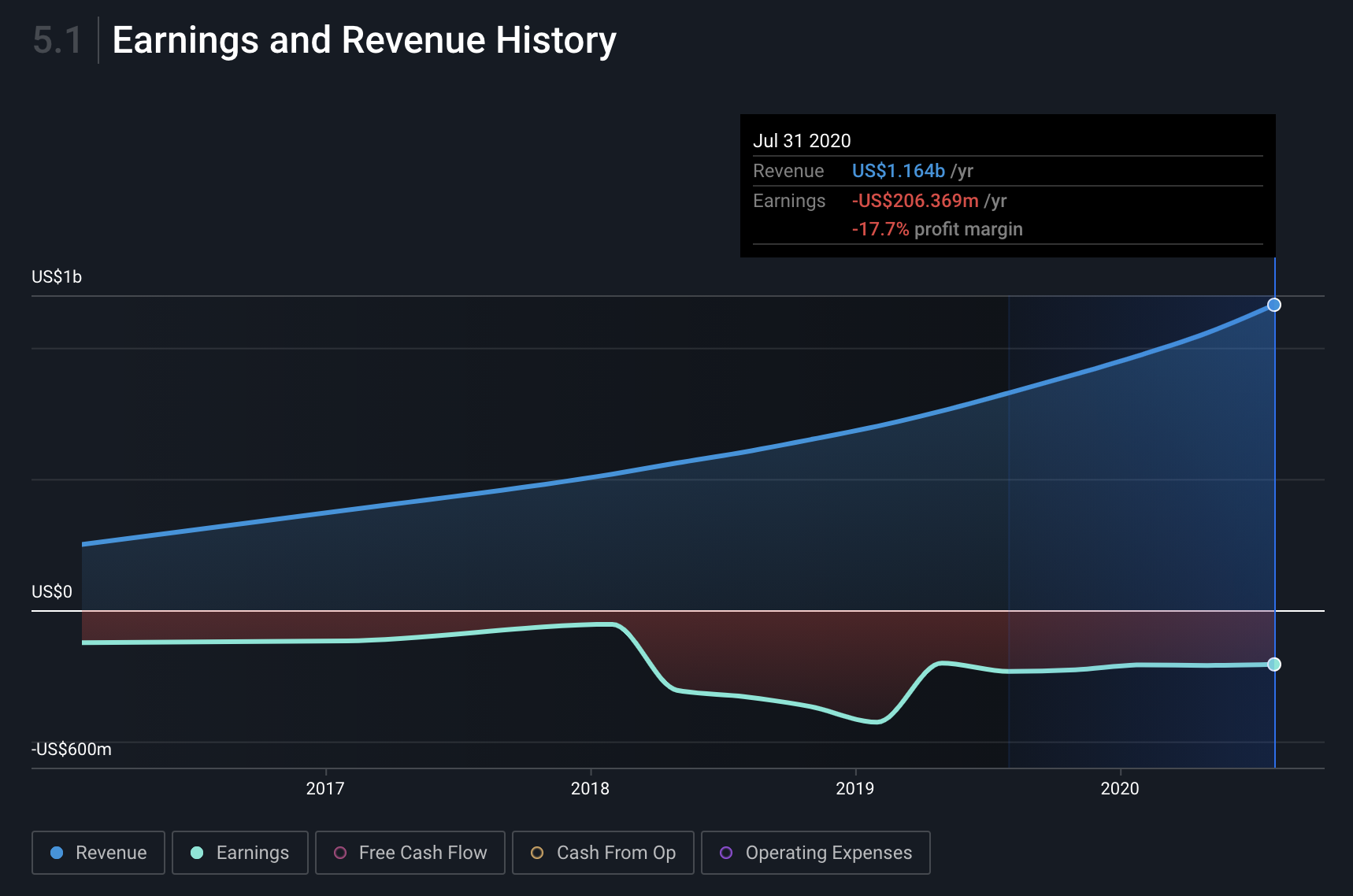 NasdaqGS:DOCU Earnings and Revenue History as at 17 Nov 2020. Source: Simply Wall St
However, if the end of the pandemic is on the horizon, it doesn't necessarily mean that customer growth will disappear or even reverse. The most likely scenario is that the pandemic has simply accelerated the adoption of DocuSign's solutions. Though the opportunities won't end there and there are many benefits of a potential end to the pandemic too.
Post-Pandemic Opportunities
Customer growth rates will probably reduce in the short-term, but that doesn't necessarily mean growth will disappear completely. There are 3 aspects that investors shouldn't lose sight of.
1. A COVID vaccine will assist with sales efforts as staff will be able to travel freely, especially internationally.
One element of DocuSign's business at this stage of its growth is that the management team are spending a lot on sales and marketing. It's a large part of the strategy to get the product in the door of as many other businesses as possible. According to the annual report for FY20 , of its 3,909 total employees, 2,303 of those were in sales and services and 309 were in marketing and operations. Expenses for sales and marketing have averaged close to two-thirds of revenues over the last couple of years.
These are so high because DocuSign uses sales personnel primarily to target enterprises and commercial customers, while they rely on their web-based self-service channel to sell to small businesses. Over the last year and the last 6 months, growth in the enterprise and commercial customer base has exceeded the growth of small business customers by a reasonable margin.
This is despite it being very difficult to visit potential customers at their own premises, which is one of the main ways of selling to larger customers. Sales and marketing investment fell in FY20 to 61% of revenues, compared to 77% of revenues in FY19. That figure is now hovering under the 60% mark over the first two quarters of FY21. Some of the drop can probably be attributed to the business maturing, but we feel that overall spend and headcount in sales and marketing roles are likely to continue rising strongly. 
If the pandemic were to subside, the company would have the ability to ramp up its sales effort again and get representatives face-to-face with other companies. Borders between nations coming down would also allow for an increased international sales push, which is part of the longer-term strategy to go global. So despite the free boost in sales from the pandemic, it is not clear that growth levels will plummet afterwards. 
2. Global economic growth will increase.
The end of the pandemic would signal a return to economic growth globally over the medium-term. As at 16 Nov, the IMF was forecasting global GDP growth to lift to 5.2% during the next year. While DocuSign has managed to grow its revenues and customer base strongly during the last 6 months, its management team has mentioned that businesses in several industries that they serve have been hard-hit, such as travel and hospitality.
As these industries and the rest of the global economy picks up, so too should business activity for DocuSign's existing and potential new customers. This will lead to more customers being added and the expansion of use cases within the established customer base.
3. There is a long runway for local and international expansion.
At the end of FY20, the company's management team estimated that their 585,000 total customers only represented about 1% of the total core target market worldwide. Even after the 28% increase in customers to about 750k today, it suggests there is still an enormous market out there for DocuSign to chase. The recent acceleration in customer growth barely makes a dent in the overall opportunity.
Docusign currently derives 19% of its revenues from international markets, serving customers across Europe, the Middle East, Africa, Australia, Southeast Asia, Japan and Latin America. These markets have also been growing revenues faster than the US of late. With travel opening up allowing sales teams to get mobile and the global economy returning to growth, there is an opportunity to expand further internationally, as we mentioned.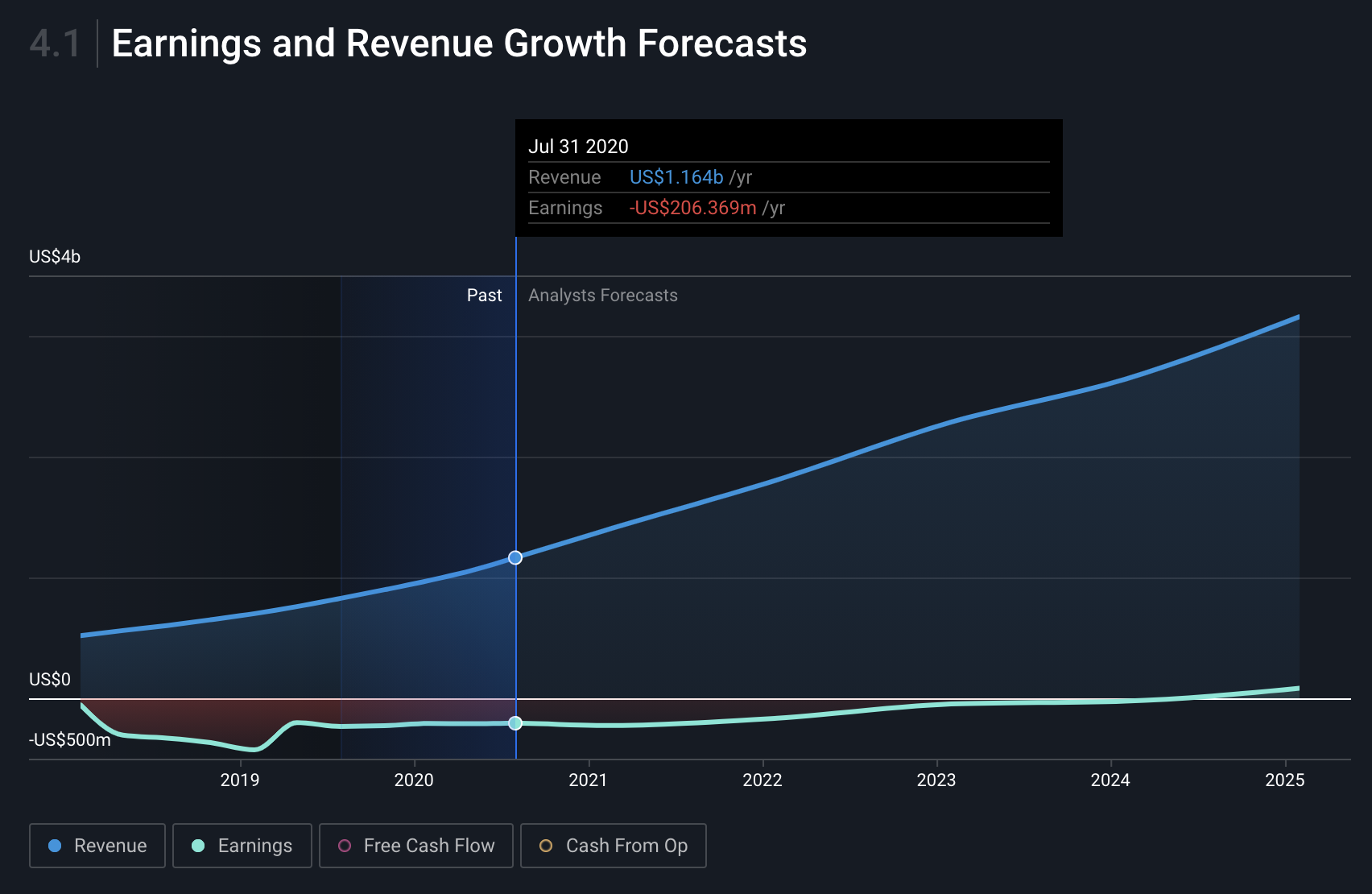 NasdaqGS:DOCU Earnings and Revenue Growth Forecasts as at 17 Nov 2020. Source: Simply Wall St
While all three of these aspects indicate a very bright future, there is a fourth aspect that we'll be keeping an eye on and other investors should also watch very carefully.
End Of Pandemic Will Test DocuSign's Appeal
Generally speaking, with many Software As A Service (SaaS) businesses either the company will make claims or investors will maintain that the company's customer base is super sticky or unlikely to churn and use this as the basis for a competitive advantage. This is not always a baseless claim but we have seen many SaaS businesses fail to live up to these expectations.
The price action over the last 9 months implies that investors believe most if not all of these new customers will stick around after the pandemic ends. They would also be buoyed by DocuSign CFO Mike Sheridan's comments in the Q1 earnings call that he believed churn would remain stable even as the economy opens back up.
This commentary is positive, but the true test of just how sticky DocuSign's customers are will come once community movement goes back to normal. It's possible that DocuSign's solutions were a must during the pandemic in order to maintain business continuity whilst under threat from government imposed restrictions, but would be overly disruptive to switch over to completely once the normal course of business resumes. Customers will be weighing up whether their old manual processes are still satisfactory once workers start filing back into offices globally, or whether DocuSign's digital and automated agreement process is providing too many efficiencies to give up.
There will be two things to monitor post-pandemic to validate the company's value proposition, which are customer numbers and billings. Billings is a figure reported by the company that  reflects sales to new customers plus subscription renewals and additional sales to existing customers. It provides more relevant information about growth than revenue as most customers pay for subscriptions up front but the company only recognises the revenue over the life of the subscription.

Source: Company filings
The reasons for monitoring customer numbers are fairly self-explanatory, but billings will also let us know if the existing customers continue to increase their use cases and overall spend, or if they downgrade to more basic offerings. If the company can prevent a prolonged or significant decline in both of these metrics, then it will affirm their ability to lock in new customers and potentially justify a competitive advantage.
Apart from the risk of losing customers, there are other risks that investors need to consider that we have not mentioned here. In fact there we've spotted 4 warning signs for DocuSign you should know about.
In Summary
DocuSign has been one of many immediate beneficiaries of the social and workplace changes that have resulted from the COVID-19 pandemic. Shareholders have benefitted significantly having seen their investment effectively triple since the start of the year. But share price volatility and a failure to increase further over the back half of the year might have some worried. Particularly when signs of a vaccine caused such a large drop in the share price.
However, maintaining a longer-term view will allow investors to look past the noise and consider the many opportunities available to the company even after the pandemic subsides. Overall, we feel that there have been no structural shifts in the marketplace that would invalidate any longer-term thesis around the company's growth yet. Customer and billing growth is unlikely to have been exhausted completely. If anything, they may have accelerated progress towards the company's ultimate goal of expanding internationally and reaching as much of the target market as possible.
Whatever your view on the investment thesis, we still need to know what value we're getting for the current share price as no company is worth an infinite amount. That's where you can check out our free intrinsic value estimation that compares the share price and estimated value.
Promoted
When trading DocuSign or any other investment, use the platform considered by many to be the Professional's Gateway to the World Market, Interactive Brokers . You get the lowest-cost* trading on stocks, options, futures, forex, bonds and funds worldwide from a single integrated account.
Neither Simply Wall St analyst Sasha Jovanovic nor Simply Wall St hold any position in any of the companies mentioned. This article is general in nature. It does not constitute a recommendation to buy or sell any stock and does not take account of your objectives, or your financial situation. We aim to bring you long-term focused analysis driven by fundamental data. Note that our analysis may not factor in the latest price-sensitive company announcements or qualitative material. *Interactive Brokers Rated Lowest Cost Broker by StockBrokers.com Annual Online Review 2020
Have feedback on this article? Concerned about the content? Get in touch with us directly. Alternatively, email editorial-team@simplywallst.com