NVIDIA, (NASDAQ:NVDA) a Case of Past Performance Does Not Guarantee Future Returns

NVIDIA is a well run, advanced technology company with innovation that has a wide area of application. The stock is also a sort of technological safe-haven for investors on the basis of outperforming the competition in the industry.
The company's Graphical Processing Units (GPUs) are a market leader, and have consistently outperformed the competition.
It is also one of the companies that benefited from pandemic circumstances, and with that, gained an additional cash balance with which it can now finance new and exciting capital investments that fuel future growth.
Despite the appealing narrative, there is reason to be cautious.
This enthusiasm on this stock brings echoes from the "Nifty 50" companies in the 1970's. The prevailing narrative for institutions at the time was that a stock is good at any price as long as it was a growing and profitable company. Nifty 50 stocks were large cap, double-digit revenue growth, profitable and generated great returns. When the market started melting down in 1973, the Nifty 50 stocks were still up for some time.
Then, starting in January 1973, as one Forbes columnist described, "the Nifty Fifty were taken out and shot one by one". Going from average valuations of 42x PE, to notable losses of 71% (Xerox), 86% (Avon), 91% (Polaroid), ending in 1974. In comparison, NVIDIA is currently trading at 75x PE, and is definitely not entitled to the slack investors give to young companies. In fact, it has a small dividend, which is a sign of maturity.
That is why we are going to explore how well this company is performing, and then we'll look at its valuation, because no stock is worth an infinite price. If that's the case, investors might benefit by putting it on their watch-list and waiting for a better entry price.
How Fast Is NVIDIA Growing?
We can see that in the last three years, NVIDIA grew its EPS by 11% per year. That's a good rate of growth, if it can be sustained.
Careful consideration of revenue growth and earnings before interest and taxation (EBIT) margins can help inform a view on the sustainability of the recent profit growth. While we note NVIDIA's EBIT margins were flat over the last year, revenue grew by a solid 62% to US$19b.
This can partly be attributed to the increase in demand for personal computing products by consumers and hardware investments by businesses. This might dampen new sales as it will take some time for the sales cycle to re-open for this type of product. Also, many consumers have depleted their income reserves as revealed by the last 46% drop in the personal savings rate for April 2021 and may stick to their current hardware for a while.
In the chart below, you can see how the company has grown earnings, and revenue, over time. For finer detail, click on the image.
Nasdaq:NVDA Earnings and Revenue History, June 2021
The trick, as an investor, is to find companies that are going to perform well in the future, not just in the past. To that end, you can check our visualization of consensus analyst forecasts for future NVIDIA EPS 100% free.
The story that drives further growth for NVIDIA is that their superior products will eat into the market share of the competition, along with expanding organically to new worldwide consumers that need GPU hardware.
Note that GPU sales constitute the majority (61%) of the company's revenues, while the other 39% come from the Compute & Networking segment.
Returns Have Been Good to Investors
It's nice to see that NVIDIA shareholders have received a total shareholder return of 83% over the last year. That's including the dividend. Since the one-year TSR is better than the five-year TSR (the latter coming in at 70% per year), it would seem that the stock's performance has improved in recent times.
Are NVIDIA Insiders Aligned With All Shareholders?
Since NVIDIA has a market capitalization of US$405b, we wouldn't expect insiders to hold a large percentage of shares. But we do take comfort from the fact that they are investors in the company. Notably, they have an enormous stake in the company, worth US$16b. We would find that kind of skin in the game quite encouraging, since it would ensure that the leaders of the company would also experience success, or failure, with the stock.
This is also where it starts getting interesting. Insiders own and trade those shares, but only 3 of them have bought miniscule amounts of shares in their own company in the past 12 months.
With excitement of double-digit growth in the future, it is hard to believe the enthusiasm when the insiders seem to be selling instead of buying their stock.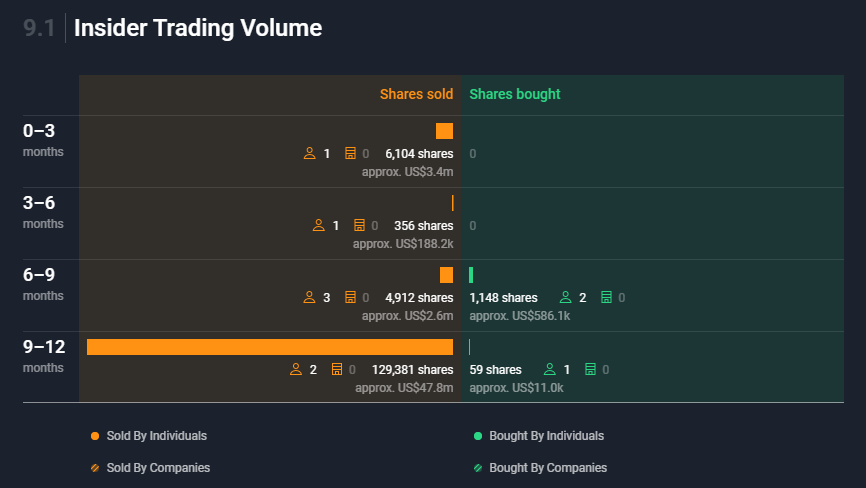 Insider trading volume in the last 12 months for NVIDIA (Nasdaq:NVDA)
Tying It All Together — Valuation
Trading high above our estimate for fair value, but does it matter?
Not always, there are plenty of instances where a stock keeps performing above its intrinsic value.
The rationale here is that sooner or (much) later, the price will converge to value. In our case, the estimations indicate that the convergence is more likely to be downwards.
We use a DCF valuation model to estimate the intrinsic value of a stock. While not getting into how the valuation is done (though you can check out the methods here ), it is important for investors to note that a valuation takes into account all the context around a business along with a certain set of assumptions.
It is a very hard choice to make when investors have a great company in front of them, but it's trading at an elevated price. If investors think the current share price is justified, then they likely believe the following:
The company will retain its competitive advantage and the resulting margins
The high growth rate both for earnings and revenue will continue to outpace analyst expectations
NVIDIA products will be followed by warm consumer sentiment and stable market conditions
On the bearish side, w e've discovered 2 warning signs for NVIDIA that you should be aware of.
Although NVIDIA certainly looks good as a business, we would like it more if insiders are buying up shares. If you like to see insider buying, too, then this free list of growing companies that insiders are buying, could be exactly what you're looking for.
Simply Wall St analyst Goran Damchevski and Simply Wall St have no position in any of the companies mentioned. This article is general in nature. It does not constitute a recommendation to buy or sell any stock and does not take account of your objectives, or your financial situation. We aim to bring you long-term focused analysis driven by fundamental data. Note that our analysis may not factor in the latest price-sensitive company announcements or qualitative material.

Have feedback on this article? Concerned about the content? Get in touch with us directly. Alternatively, email editorial-team@simplywallst.com