Bumble's (NASDAQ:BMBL) Fundamentals: Is It Love At First Sight?
Published

February 17, 2021

The online dating industry is continuing its strong growth

Bumble's brand helps it differentiate itself from the competition

While Match Group has diversification, Bumble has a stronger brand

The world of online dating has featured many quirky iterations over its 27-year history, from Kiss.com in 1994 to Tinder in 2012 (owned by Match Group ( NASDAQ:MTCH ) . While all have been unique in their own right, they're built on the same core idea: finding a romantic partner online. Originally considered a taboo topic of sorts, online dating is now a hugely competitive industry with many players that want a slice of the ever-growing pie. 

With a timely listing just before Valentine's Day, Bumble ( NASDAQ:BMBL ) is the latest player to go public in this space. It's a dating application launched in 2014 that empowers women to make the first move. The company also owns Badoo, a similar service launched in 2006, which was one of the first web and mobile free-to-use dating services. 

From the looks of it, the business has done well to increase its market share, build a solid brand and monetize its network. Though it is competing with the much bigger and more established Match Group, so let's have a look at the industry overall and see where Bumble sits in it going forward. 


The Online Dating Industry
The old norm of meeting your future partner through a co-worker or a friend is becoming less and less common, according to research by PNAS* in 2017. The study showed that meeting online accounted for 40% of heterosexual couple interactions in the US in 2017, which has increased significantly from around 20% in 2010. If the trend in the below graph is anything to go by and COVID restrictions are accounted for, the figure is likely much higher in 2020, thanks to interactions in bars and restaurants (the purple line) being near impossible.
*PNAS: Proceedings of the National Academy of Sciences of the USA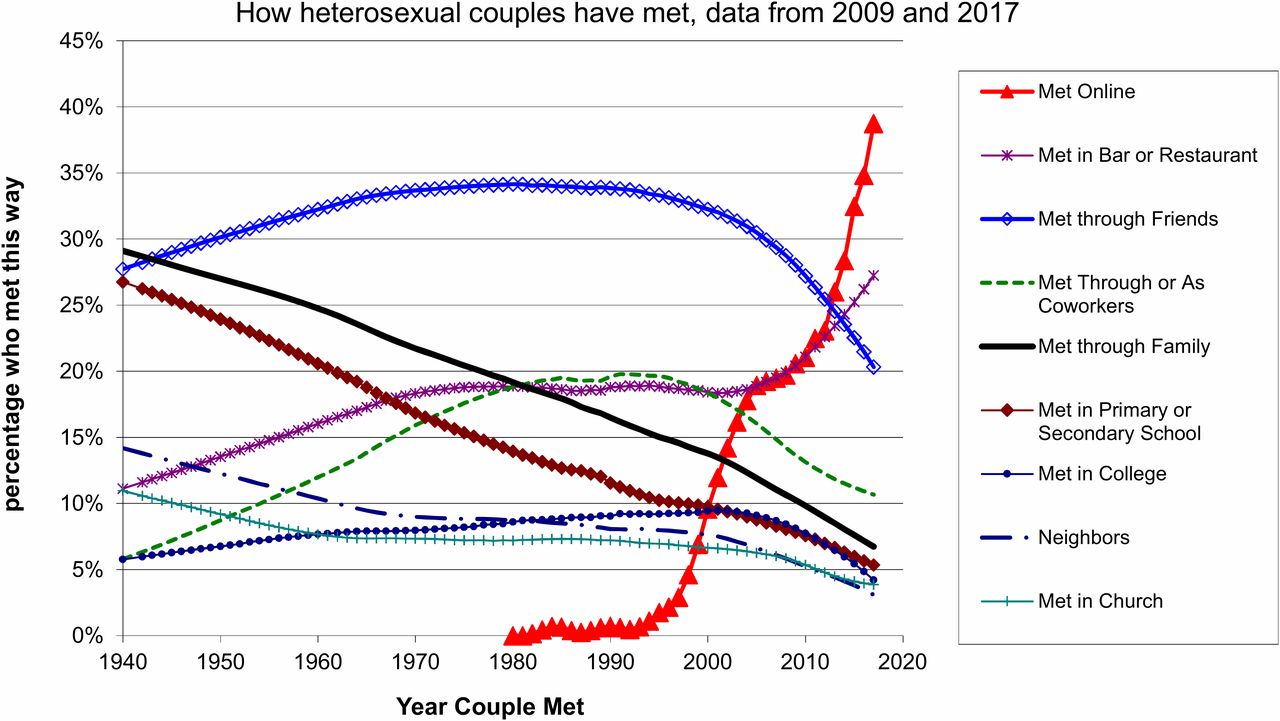 Source: PNAS (Proceedings of the Natural Academy of Sciences of the USA)  - How online dating in the United States displaces other ways of meeting - 2019
Additionally, research by Blackstone, IAC, Statistica and Magiclab found that total users of global dating apps have grown 45% since 2015 to 270m people in 2020. The same trend can be seen in the amount of money they're willing to spend too. Over the same 5-year period, the revenue generated from these global dating apps has increased 82% to $3.08bn in 2020, and is forecast to be $5.71bn by 2025 (a further 85% increase).   

When we look at the fact that Bumble has increased its market share of the US online dating space from 10% in 2017 to 19% in 2020 (at the expense of its biggest competitors like Tinder and Match.com), it's a promising sign that the company is executing well. 

This growth in market share could be attributable to many factors, but the one which likely carries the most weight is Bumble's brand. 


Bumble's Brand and Network
The user experience among most dating apps is largely the same, so that's why a brand is so important. Bumble has differentiated itself from the crowd with a unique brand and product that is centered around empowering women and addressing antiquated gender norms. As a result, this unique mission has helped it build a global network of like-minded users that share the same values as the company.

The Bumble brand appears to be well established, since only 22% of new users came from the company's marketing efforts for the 9 months to September 30, 2020. This implies the community is primarily growing through word of mouth.

As the community grows, user engagement and monetization increase. This creates a flywheel effect because it enables the company to further reinvest in its product and marketing, which attracts more people to the platform. As these network effects continue, it drives impressive economics for the business.

To reinforce this point, Bumble and Badoo combined generated total revenue of $416.6m for the 9 months to September 30, 2020, a 15% increase on the prior period. This is thanks to the app's total paying users jumping 19% to 2.4m for the year to September 30, 2020. Additionally, the Average Revenue Per Paying User (ARPPU) has increased from $15 per user in 2018 to $18 in 2020. And in terms of user engagement, over 150 million messages are sent per day from the 42 million monthly active users. 

As a result of their ability to monetize their networks, Bumble and Badoo are ranked in the top 5 highest-grossing iOS lifestyle apps in 30 and 89 countries, respectively.

Below we can see the steady increase in revenue since 2018 from our company report, which uses figures over the trailing 12 months (TTM).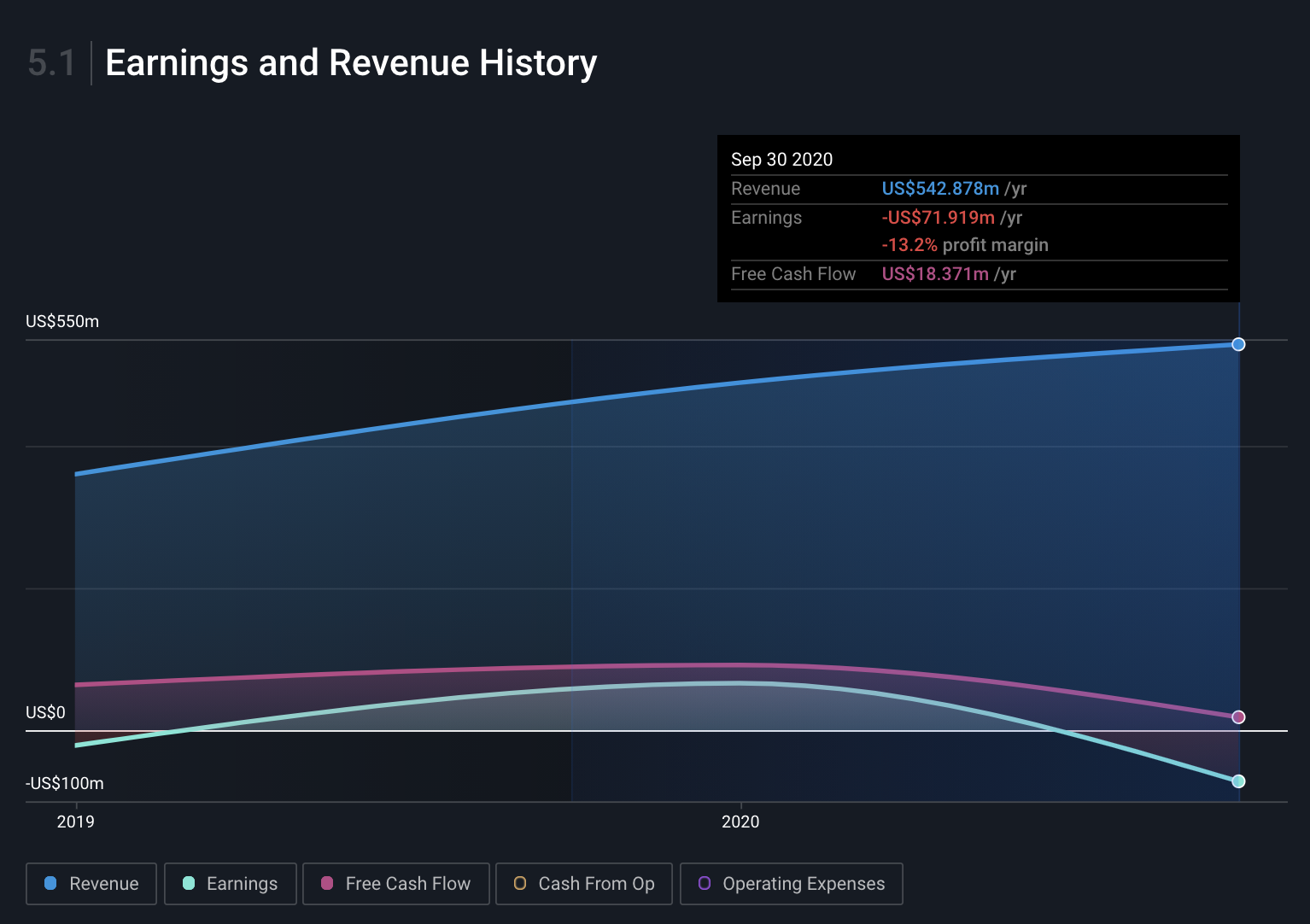 Source: Earnings and Revenue History to September 30 2020 - Simply Wall St

However, while Bumble is growing revenue, stealing market share and increasing its ARPPU, let's see how it stacks up against the much bigger player, Match Group.


How Does Bumble Compare To Match Group?
It's well known that Match Group is the dominant player in the online dating space. The company is worth $42bn, which is currently 5 times bigger than Bumble, and it owns 6 of the 10 largest dating apps, such as Tinder, Hinge, OkCupid and Plenty of Fish.

Match has the benefit of diversification. It has more than 53% of the dating market and it doesn't necessarily have the concentration risk of this dominance being through just one app, since it owns so many. Also, Match's total paying users of 10.9m far outweighs Bumble's 2.4m. Since online dating is a growing industry, Match seems to be taking an "own them all" approach, rather than narrowing down to a specific niche. 

However, what Bumble lacks in diversification and size, it makes up for in brand. This brand, as mentioned earlier, is helping it quickly gain market share. While both companies experienced a slowdown through 2020 due to the crisis, they are both priced for growth. Bumble currently trades at around 15x sales while Match trades at 17x sales. 

Given 2020 involved many one-time costs for Bumble, such as the acquisition by Blackstone Group, a reorganization, the IPO process and COVID, trying to observe financial trends for Bumble to compare to Match can prove quite difficult. When figures for 2021 are released, and Bumble has a full year of operating publicly under its belt, we will likely get a clearer picture of how the two companies compare.   


So What's Next For Bumble?
The dating space is not a winner takes all market. Users typically have accounts on multiple platforms to increase their chances of finding a match. However, this hasn't stopped Bumble from increasing its position in the growing online dating market by building a strong brand image and network of users. The industry tailwinds will certainly help facilitate more growth for the company, as long as it continues to monetize users and maintain its brand. Despite the potential risks and the competition, Bumble appears to be in a good position to become a dominant player in the online dating world. 

We also really like the look of Bumble's balance sheet too, because the company has raised $2.15bn through its IPO and plans to use some of that to pay down its debt. You can take a look at our full analysis of the company's financial health in our company report.
Have feedback on this article? Concerned about the content? Get in touch with us directly. Alternatively, email editorial-team@simplywallst.com
Simply Wall St analyst Michael Paige and Simply Wall St have no position in any of the companies mentioned. This article is general in nature. We provide commentary based on historical data and analyst forecasts only using an unbiased methodology and our articles are not intended to be financial advice. It does not constitute a recommendation to buy or sell any stock and does not take account of your objectives, or your financial situation. We aim to bring you long-term focused analysis driven by fundamental data. Note that our analysis may not factor in the latest price-sensitive company announcements or qualitative material.