Coca-Cola's dividend history is outstanding
The dividend looks safe in the short-term
However new growth initiatives will be needed long term to allow future dividend increases.
For a 129-year-old global company, Coca-Cola ( NYSE:KO ) has seen its fair share of world events. From multiple world wars, endless changes of government, global pandemics and everything in between, Coca-Cola has continued to sell its trademark beverage through thick and thin.
The company's global brand awareness has made it a household name and thus far has proven a reliable investment for those with a long enough time horizon. However, the world of consumer products is not stationary and relying on past successes can be a fatal choice for big brands. Coca-Cola has been satisfying shareholders with a consistently increasing dividend, but given the maturation of its core business and increasingly high payout ratio, there's a risk that could change in the future.
This piece will go into the company's current dividend situation and what the business might have to do to maintain its reputation for an ever-increasing dividend.
Dividends on Dividends on Dividends
When a company has been consistently paying an increasing dividend for nearly six decades, it's natural to have a reputation for being an income stock. Most existing shareholders own the company for exactly that reason - its predictability and incremental increases of the dividend have been a staple provider of income for their portfolios.
Over the last 10 years alone, dividends have grown roughly 7% per year from $0.88 in 2010 to $1.68 in 2020, as we can see below from our platform.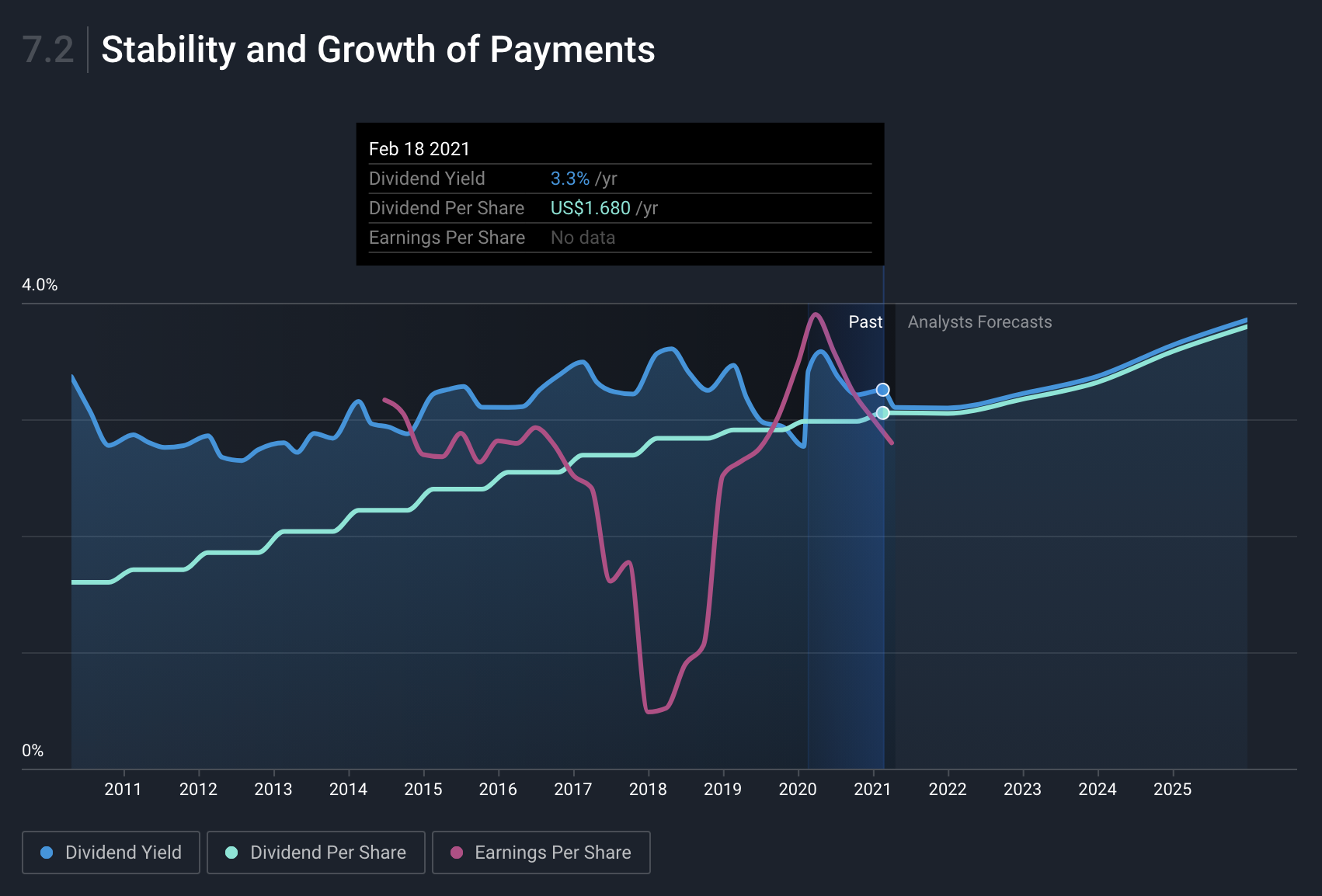 Source: NYSE:KO - Stability and Growth of Payments - Simply Wall St
This is quite an achievement, and has been made possible thanks to steadily growing earnings and free cash flow for decades. However, earnings and free cash flow have declined over the last year because the global lockdowns took such a toll on the business unit volumes (which is the number of concentrates or finished products it sells).
This subsequently brought the last 12 month payout ratio close to 100% of its earnings. All the while the expectation from investors for continued dividend increases remains. Now the re-opening of economies will certainly help revive some of the lost "away-from-home" unit volumes (i.e. drinks sold at events, venues, etc), but it's anyone's guess as to how quickly and how much they rebound over the course of the next year since global recoveries will be asynchronous.
So for the short term, from the perspective of affording the dividend through earnings and free cash flow, Coca-Cola appears a bit more stretched than usual. Management has a target payout ratio of 75% of its free cash flows over time, and while the payout ratio rose above that for 2020, they've also stated that they do not intend to change their approach to paying dividends. So we likely won't be seeing any dividend pauses or cuts in the short term. Plus, if worst comes to worst, it looks like the company could use some of its $12.5bn cash on hand to help meet the dividend obligations over the next year or two.
However, this raises the bigger question of the long term sustainability. Since expectations for dividend increases aren't likely to go away, how does the company plan on increasing its earnings and free cash flow to afford to do so?
How to Grow When You're 129 Years Old
It's no surprise that after more than a century in business, you can now buy Coke's staple beverage Coca-Cola in every single country around the world (bar Cuba and North Korea). That's a great accomplishment, but the issue then becomes future growth. Since consumer preferences are changing and market expansion of its core product (Coca-Cola itself) has basically reached its peak, the options for organic growth of existing products are somewhat limited. The core Coca-Cola soft drink has represented just under half of the company's worldwide unit volume for the last 3 years, sitting at 47% in 2020. The remaining half of volume comes from other products like sports drinks, coffees, teas, waters and juices.
So in order to help increase earnings and free cash flow, Coke's first capital allocation priority is reinvestment into the business. This includes things like research and development, optimising its existing distribution systems, streamlining its supply chains, improving overall efficiencies and updating products to suit changing preferences.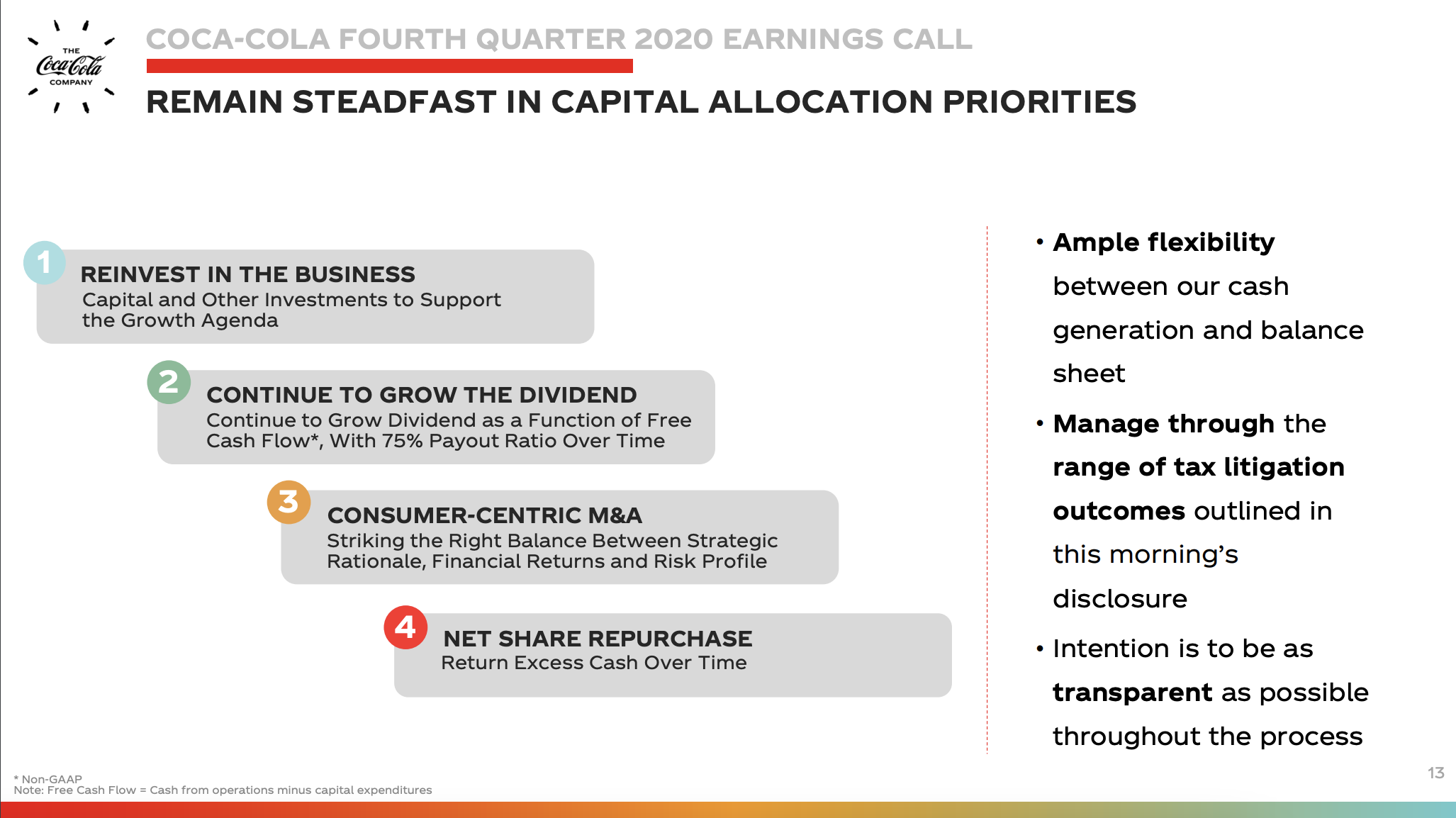 Source: Coca-Cola - Investor Overview Presentation Q4
The idea being that these efforts will increase margins and profitability on its global operations, which will in turn help increase overall earnings and free cash flow. But the problem is these efforts have diminishing returns. Firstly, the market for sparkling drinks is so well established that the returns from R&D and optimisation are somewhat limited. Secondly, the ability to build brand equity in its other products, like it has with its core Coca-Cola product, is an incredibly tough task. This is due to the lack of perceived product differentiation in the likes of its coffee, water and juice variants, which aren't typically at the premium end.
With this order of priorities in the above table, growth through mergers and acquisitions comes 3rd after it reinvests in itself and continues to grow its dividend. Considering management expects to spend $1.5bn on capital expenditures over the next year, and needs to maintain the dividend which is currently running at about $7.2bn per year, that leaves little free cash flow (FCF) left over for M&A (FCF was $8.6bn for 2020).
This M&A option could be another driver of growth for the company, but unless it chooses to take on more debt or reduce its capital returns to shareholders (very unlikely), it doesn't seem to be in a position to, or have any realistic interest in, pursuing this growth option at this point in time.
What's the Key Takeaway?
Coca-Cola has established a reputation for returning capital to shareholders in a consistent and increasingly generous manner. This has and will continue to please shareholders, but at the same time it puts an ever increasing amount of pressure on management to figure out ways of satisfying ingrained investor expectations. So over the short term, the dividend doesn't appear to be in any immediate danger, since the company has ample cash and global re-openings will likely help earnings and free cash flow tick back up over the next year or two. But a company can only get so efficient, and longer term, if the company wants to maintain its policy of increasing its capital returns to shareholders and continue to reinvest in its business, some changes might be in order. It might need to look externally for growth initiatives or make some changes internally, such as more vertical integration or expansion into other businesses (i.e. packaging, etc), if it wants to continue to satisfy shareholders expectations in the years to come.
If you'd like to see what analysts are expecting for Coca-Cola's future earnings and free cash flow out to 2025, you can check out all the details on our company report!
Have feedback on this article? Concerned about the content? Get in touch with us directly. Alternatively, email editorial-team@simplywallst.com
Simply Wall St analyst Michael Paige and Simply Wall St have no position in any of the companies mentioned. This article is general in nature. We provide commentary based on historical data and analyst forecasts only using an unbiased methodology and our articles are not intended to be financial advice. It does not constitute a recommendation to buy or sell any stock and does not take account of your objectives, or your financial situation. We aim to bring you long-term focused analysis driven by fundamental data. Note that our analysis may not factor in the latest price-sensitive company announcements or qualitative material.