Airbnb's (NasdaqGS:ABNB) Path To Profitability Isn't Mapped Out Yet
Published

December 15, 2020

- Airbnb cash flows were positive pre-COVID due to timing of payments, but accounting profits are still not possible with the current cost structure.
- Sales, marketing, product development and general operational expenses are the cost lines likely to be targeted to achieve the efficiencies needed to reach profitability.
- Continued growth in the business will be key to making a reduction in costs possible while maintaining a healthy business.
The levels of excitement around Airbnb (NasdaqGS:ABNB) stock have been tempered slightly in the last couple of days. Maybe the market has decided profits do in fact matter - at least a little bit! It certainly is an attractive brand, having now almost become synonymous with holiday accommodation. But if we look past the hype, what do investors actually have to look forward to as a shareholder in the company? We briefly take a look at what the path to profitability might look like.
Check out our latest analysis for Airbnb
Solid Cash Flows But Accounting Profits Tell The True Story
Airbnb's pre-COVID cash flows were actually very good and already profitable. However, this is mainly due to their business model where bookings are paid for up front by guests and the cash is not paid to hosts until a day after the check-in date. So we can see this is more a function of business growth combined with timing of payments rather than underlying profitability. Otherwise, the numbers show Airbnb is still spending more than it makes from guests and hosts.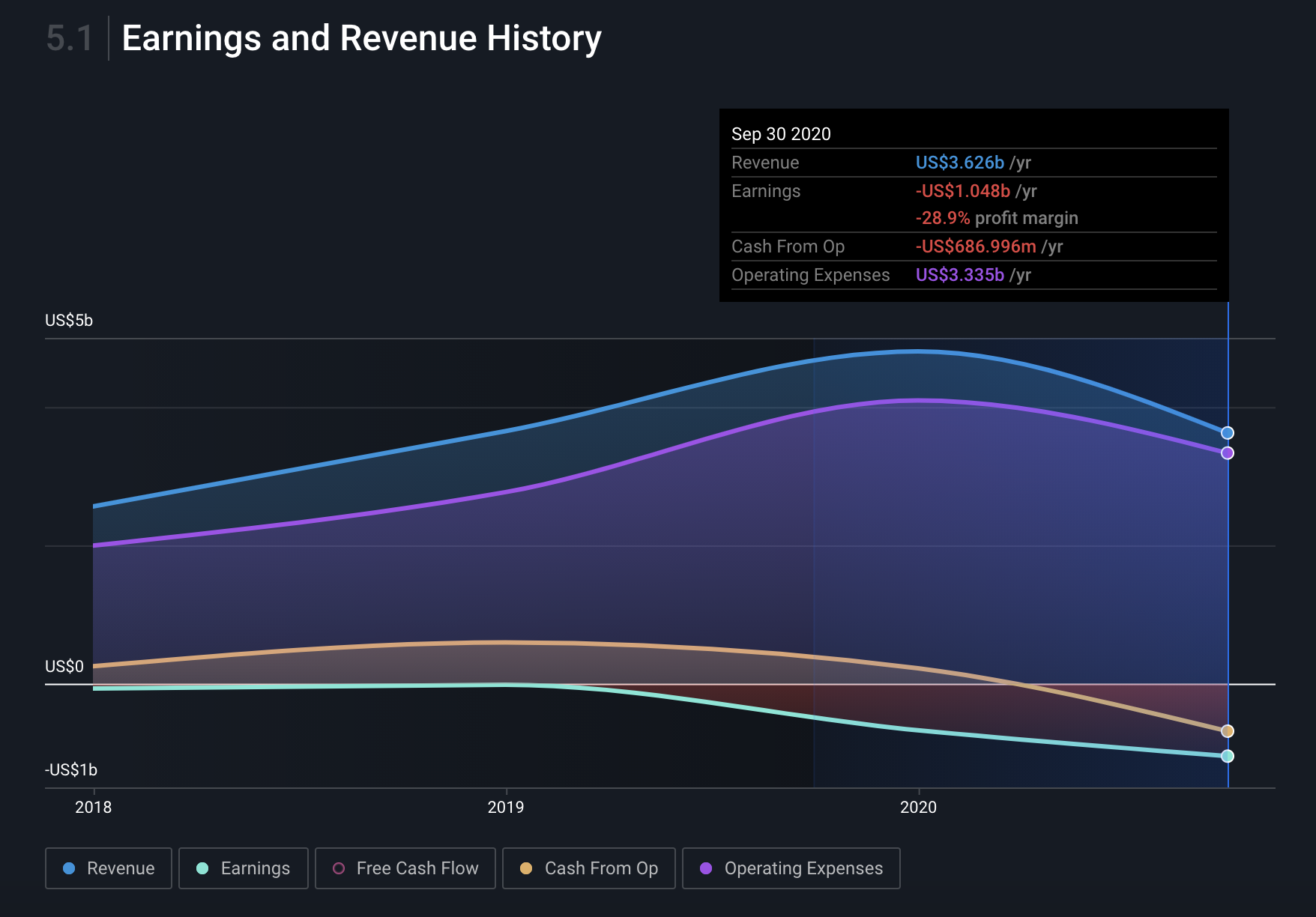 NasdaqGS:ABNB Earnings and Revenue History as at 15 Dec 2020. Source: Simply Wall St
Where Could Profitability Come From?
In order to become profitable, the company will need to become more cost-efficient over time. With a pre-COVID operating profit margin of -14%, the company has to find at least this amount of efficiency gains somewhere in their cost structure as it grows and scales up. In fact 2018 shows us a preview as the company was briefly profitable at the operating level. We have broken down some of the cost items in the images below.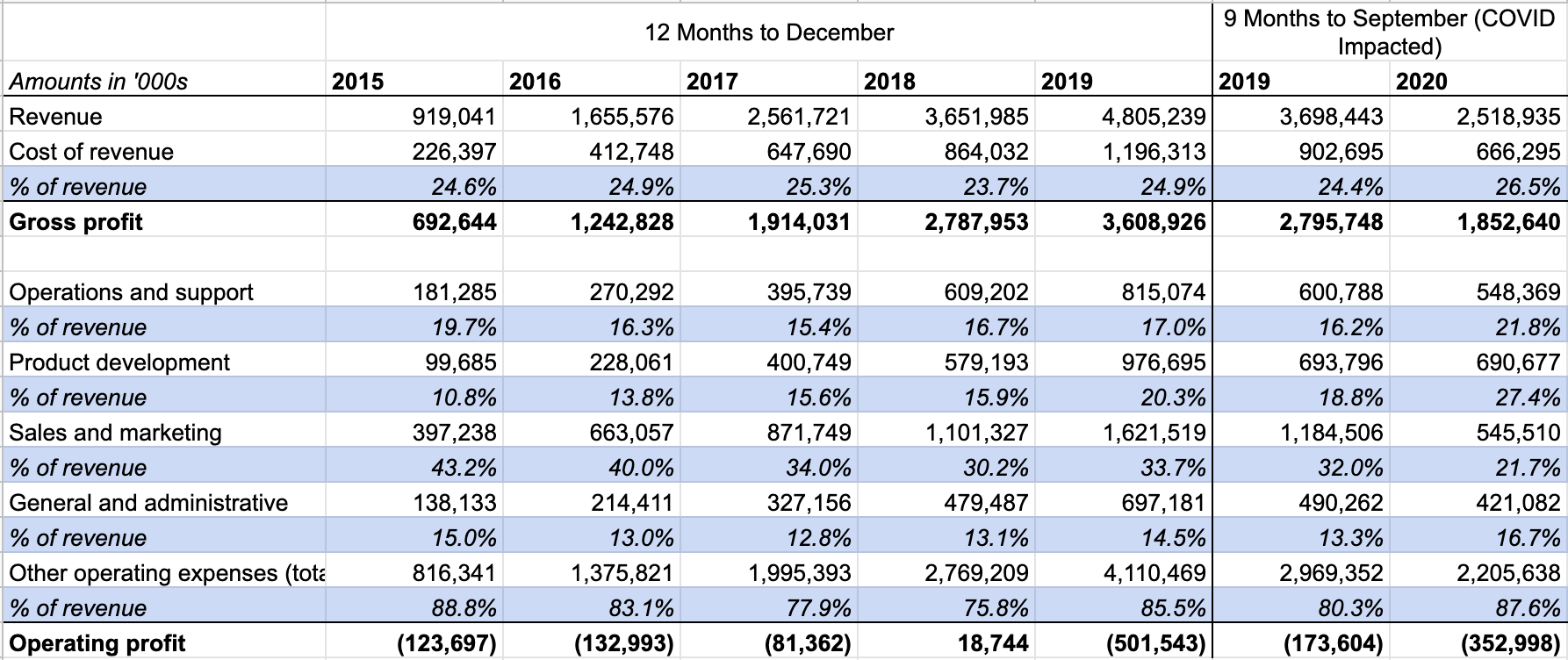 Source: NasdaqGS:ABNB S-1 filing
Cost of revenue is the second largest operating expense item and has followed revenue growth very tightly. It does have some semi-fixed elements like data centre costs, but generally they should increase in line with revenue, so gross profits are unlikely to be the determining factor for profitability.
The Operations and support expense item is one of the smallest but could be reduced over the long-term as the company should be able to leverage AI support to manage a larger customer base. However, it is unlikely to reduce all that much and is too small of an expense to do all of the heavy lifting to profitability.
Apart from operating costs, Airbnb now has to pay interest on the $2b of debt it added following a funding round in April 2020. If you click here, you will notice the company passes 3 of our 6 health checks, which shows it is in reasonable health.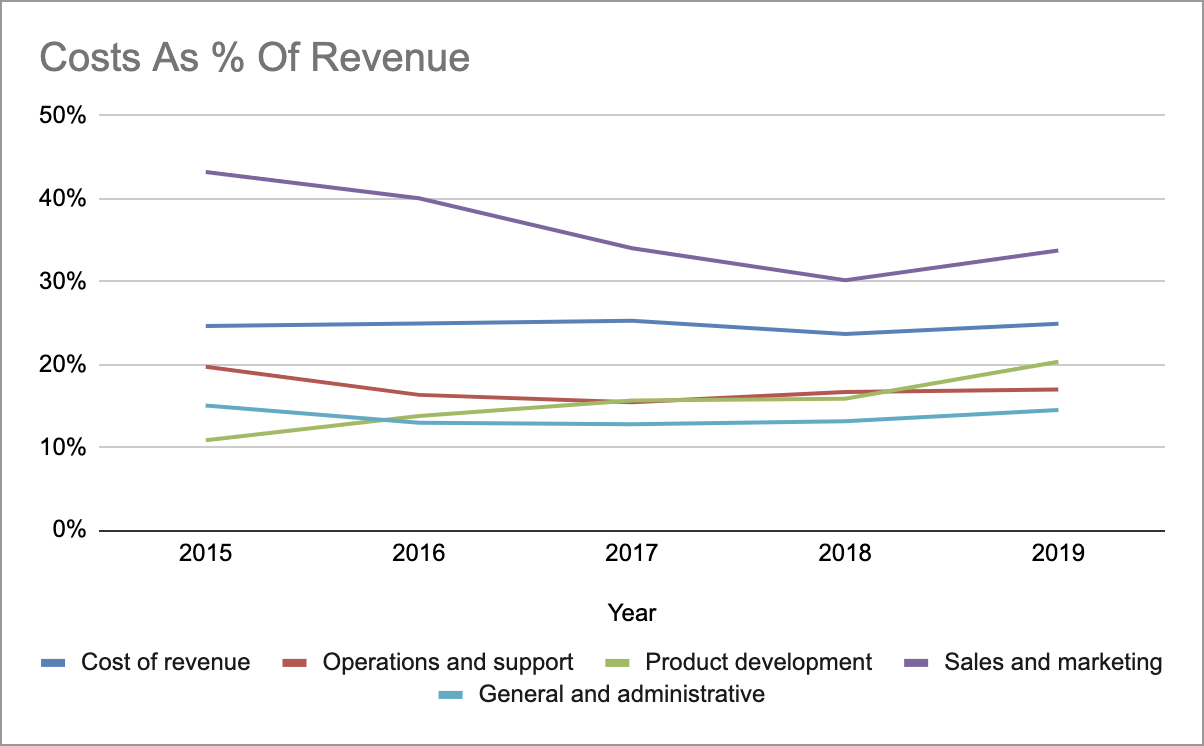 Source: NasdaqGS:ABNB S-1 filing
Product development costs are one area where the company could move the needle. Former Disney (NYSE:DIS) CEO Bob Iger's famous mantra is "innovate or die", and innovation is what led to Airbnb's existence in the first place. These costs have increased from ~11% of revenues in 2015 to over 20% in 2019. While important for future growth, in a steady-state scenario it is probably higher than required for the long-term. As a comparison, more mature peer Expedia (NasdaqGS:EXPE) spent about 14% on average over the last few years. We think Airbnb's costs will moderate to somewhere in the vicinity of Expedia's.
Sales and marketing is both the largest expense item and the one we feel will be the key to profitability. Airbnb spent a massive 43% of revenues on sales and marketing in 2015, but this amount has been trending down for the last 5 years. As mentioned, Airbnb is now not just a brand but synonymous with a specific type of accommodation. This brand value means that over time the company should be able to pare down sales and marketing expenses as a percentage of revenues and not slow its growth significantly.
We should note some of the costs in this line item are related to search engine keyword purchases and referral incentives. However, the management team of industry peer Booking Holdings (NasdaqGS:BKNG) has cited that there is a noticeable reduction in return on investment in these types of marketing investments as they grow. So these expenses are unlikely to grow significantly over the long-term for Airbnb either and should reduce as a percentage of revenue.
General and admin expense is another one of the smaller cost items. The company has indicated that G&A costs will rise in the short-term due to the incremental costs of running a public company. However, we can see Airbnb's listed peers Expedia and Booking Holdings have G&A running between 5% and 7%, much lower than Airbnb's 15% in 2019. So G&A expenses are also costs that we expect will reduce in the long-term.
Conclusion
Many of Airbnb's cost items should reduce as a percentage of revenues simply through increased scale over the next few years. We think sales and marketing, product development and G&A are the areas that will do the heavy lifting.
In order for Airbnb to become profitable and justify its current share price, continued growth in the business will also be key. Without further revenue growth the company will find it difficult to reach the scale it requires to begin reducing the level of investment in its products, brands and operations while maintaining a healthy, growing company.
Assuming it can achieve these goals successfully, you might be wondering how fast could the company become profitable? Analysts believe this may happen within 3 years! See what they have to say by looking at their forecasts here.
Have feedback on this article? Concerned about the content? Get in touch with us directly. Alternatively, email editorial-team@simplywallst.com
Simply Wall St analyst Sasha Jovanovic and Simply Wall St have no position in any of the companies mentioned. This article is general in nature. We provide commentary based on historical data and analyst forecasts only using an unbiased methodology and our articles are not intended to be financial advice. It does not constitute a recommendation to buy or sell any stock and does not take account of your objectives, or your financial situation. We aim to bring you long-term focused analysis driven by fundamental data. Note that our analysis may not factor in the latest price-sensitive company announcements or qualitative material.