Buffett is Buying Verizon Communications (NYSE: VZ) for its Stable Dividend

Verizon Communications Inc. ( NYSE: VZ ) gets a lot of attention from institutional investors.
For Q1 2021, Berkshire Hathaway ( NYSE: BRK.A ) revealed a position of 146,716,496 shares - a stake valued at US$ 8.22b at the current price.
Ultimately, Verizon is a mature company that fits the mature investors' expectations — slow and continued growth with solid yields, as evident from the interest that it gets from Buffett.
Recent Developments
Looking at the recent stock movement, even the volatility of 2020 didn't make a significant impact on the price. As the price has been stuck in a $50-$60 range for over 2 years.
Meanwhile, the company has been working on expansions, recently announcing an acquisition of Senion - a global leader in location-responsive solutions. The indoor location market is one of the latest booms as it solves the navigation problems in 3D space - something that the global positioning system (GPS) struggles at.
There are broad applications for this technology. From retail stores, warehouse operations, to emergency response services, Verizon is well-positioned to leverage its size to succeed in this field.
Furthermore, after selling the media business (with brands like Yahoo and AOL), Verizon freed up over US$ 5b to use in launching the 5G Ultra Network and grow its core business.
With Verizon Communications yielding 4.5% and having a 14-year history of dividend growth, it would not be a surprise to discover that many investors buy it for dividends. When buying stocks for their dividends, there are few factors to consider whether these dividend payouts are sustainable.
Click the interactive chart for our full dividend analysis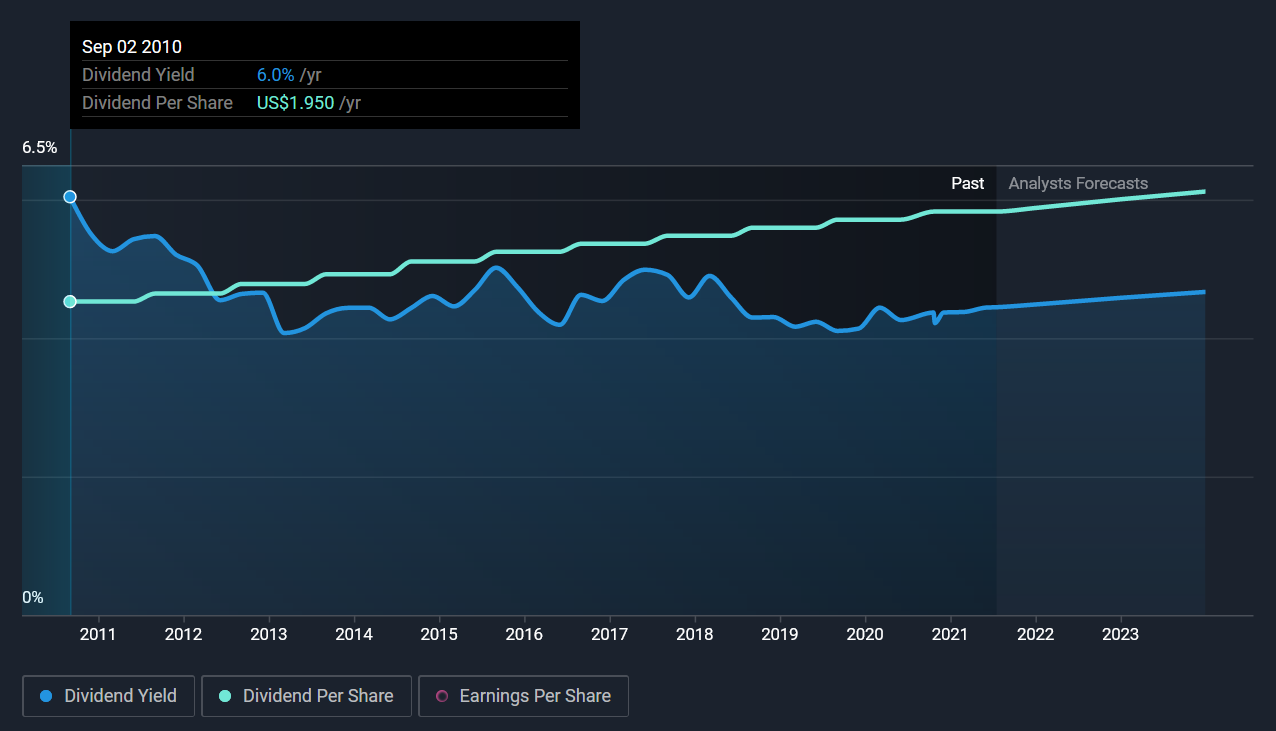 Stjepan Kalinic
Stjepan is a writer and an analyst covering equity markets. As a former multi-asset analyst, he prefers to look beyond the surface and uncover ideas that might not be on retail investors' radar. You can find his research all over the internet, including Simply Wall St News, Yahoo Finance, Benzinga, Vincent, and Barron's.
About NYSE:VZ
Verizon Communications
Verizon Communications Inc., through its subsidiaries, provides communications, technology, information, and entertainment products and services to consumers, businesses, and governmental entities worldwide.
6 star dividend payer and undervalued.
Similar Companies