Visa Stock - The Bullish and Bearish Narratives
Key Insights:
Visa benefits from its duopoly status, network effects, industry tailwinds, and scale to generate returns for shareholders.
However, regulators and competing payment technologies could result in slowing growth rates in the future.
Your expectations around these competing factors will inform your valuation of the stock.
Overview
Visa ( NYSE: V ) operates the world's biggest payment network, authorizing and facilitating payments between credit and debit card issuers and a merchant's bank. If you use a Visa card to make a payment, Visa connects your bank to the merchant bank and processes the transaction. The merchant pays a fee that is split between its bank (the acquiring bank), your bank (the issuing bank), Visa (the card scheme), and in some cases other intermediaries.

Visa's global market share is around 40%, while in the US it's over 50%. Its biggest global competitor is UnionPay, while in the US and Europe, it competes with Mastercard.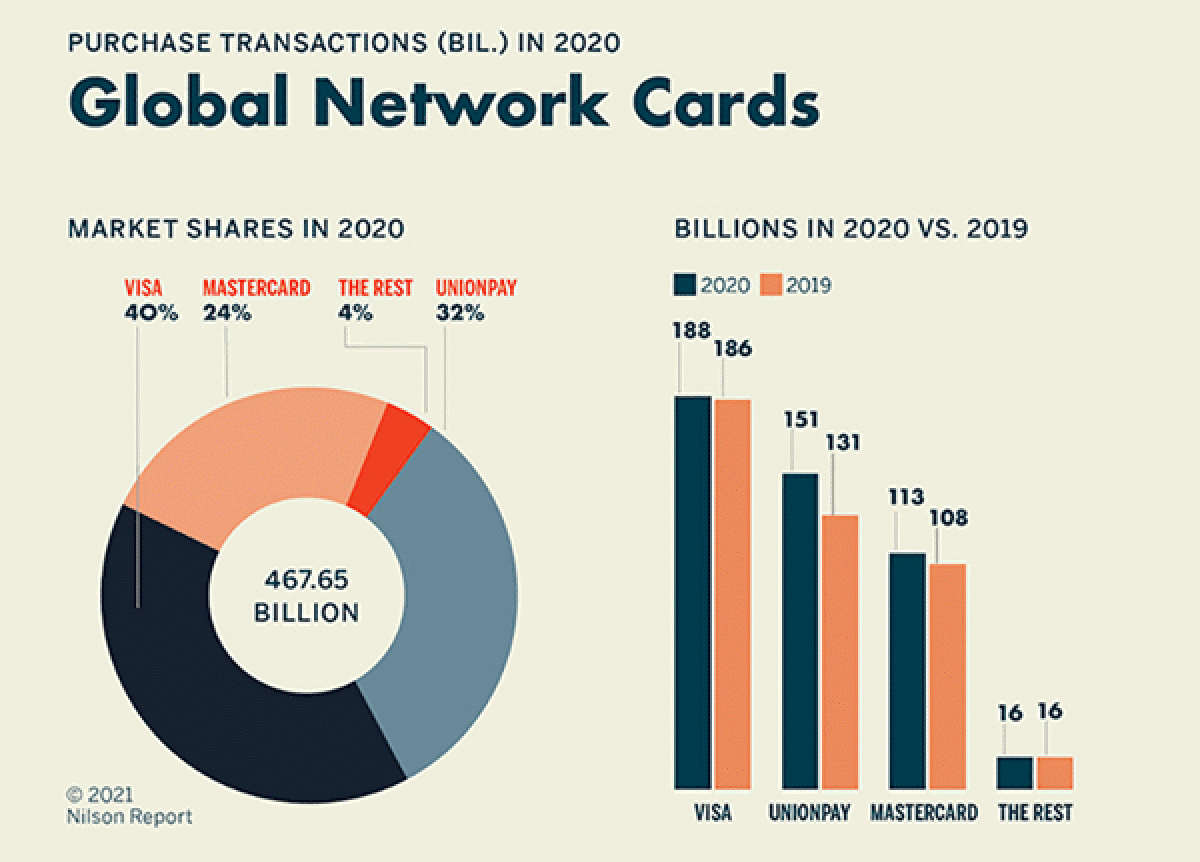 Strengths and Opportunities
Visa benefits from network effects, scale, and economic trends.
Duopoly with strong network effects
Visa, along with Mastercard, dominates the global credit and debit card market.

The company only facilitates transactions and doesn't take on credit risk.

Visa benefits from strong network effects and incentives:

Consumers need to carry cards accepted by merchants, and merchants mostly accept Visa and Mastercard.

Merchants need to accept Visa cards because they are used by most consumers.

Fees are paid by merchants and split between the issuing bank, the acquiring bank, the card scheme, and other intermediaries.

Issuing banks earn between 50 and 90% of the total fee and use these lucrative fees to offer rewards to consumers.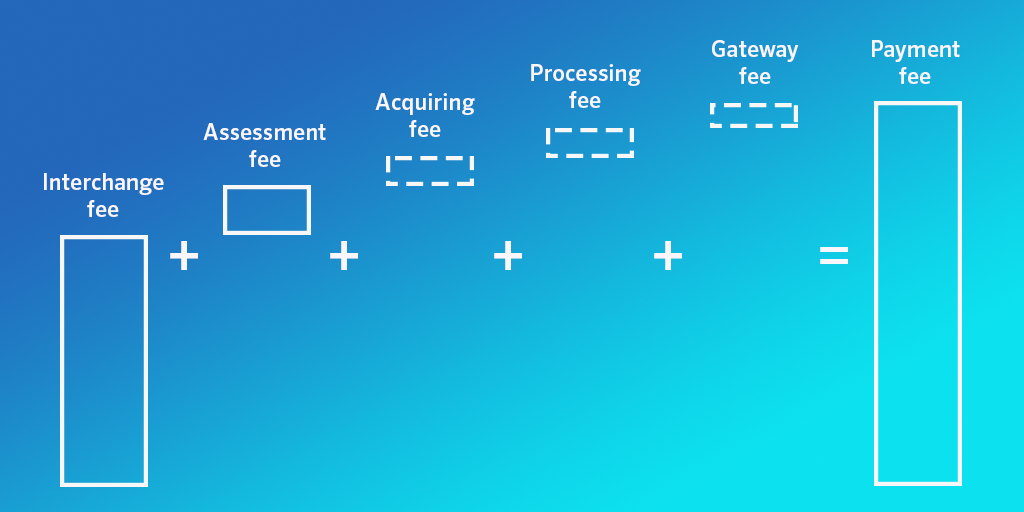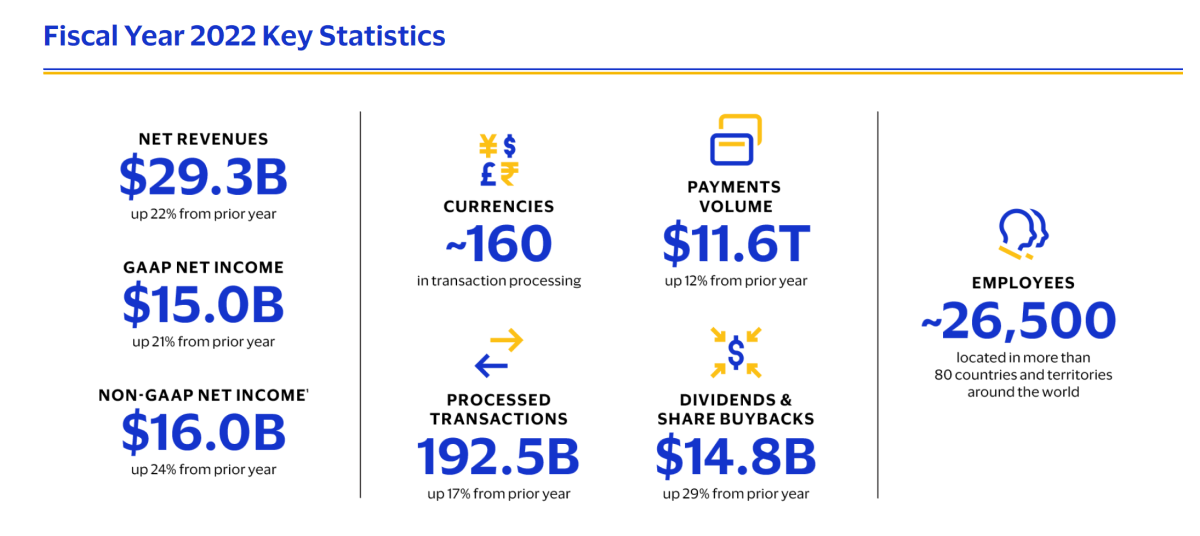 Scale, margins, and share buybacks
Visa's scale and margins give it considerable operational leverage.
Visa earns a relatively small slice of the fee paid by merchants, but due to the massive volumes transacted on its network ($11.6 trillion in 2022), these add up to considerable revenue.

Visa's volume and scale translate to very wide margins, which continue to improve as the business grows.

The operating margin improved from 61% in 2013 to 67% in 2022.

The net income margin improved from 42% in 2013 to 50% in 2022.

The free cash flow margin is also over 50%.

The high free cash flow margin has allowed Visa to buy back 20% of its shares over the last ten years, and increase its dividend every year since going public. 

Share buybacks have resulted in EPS increasing 275% in ten years while net income grew by 200%.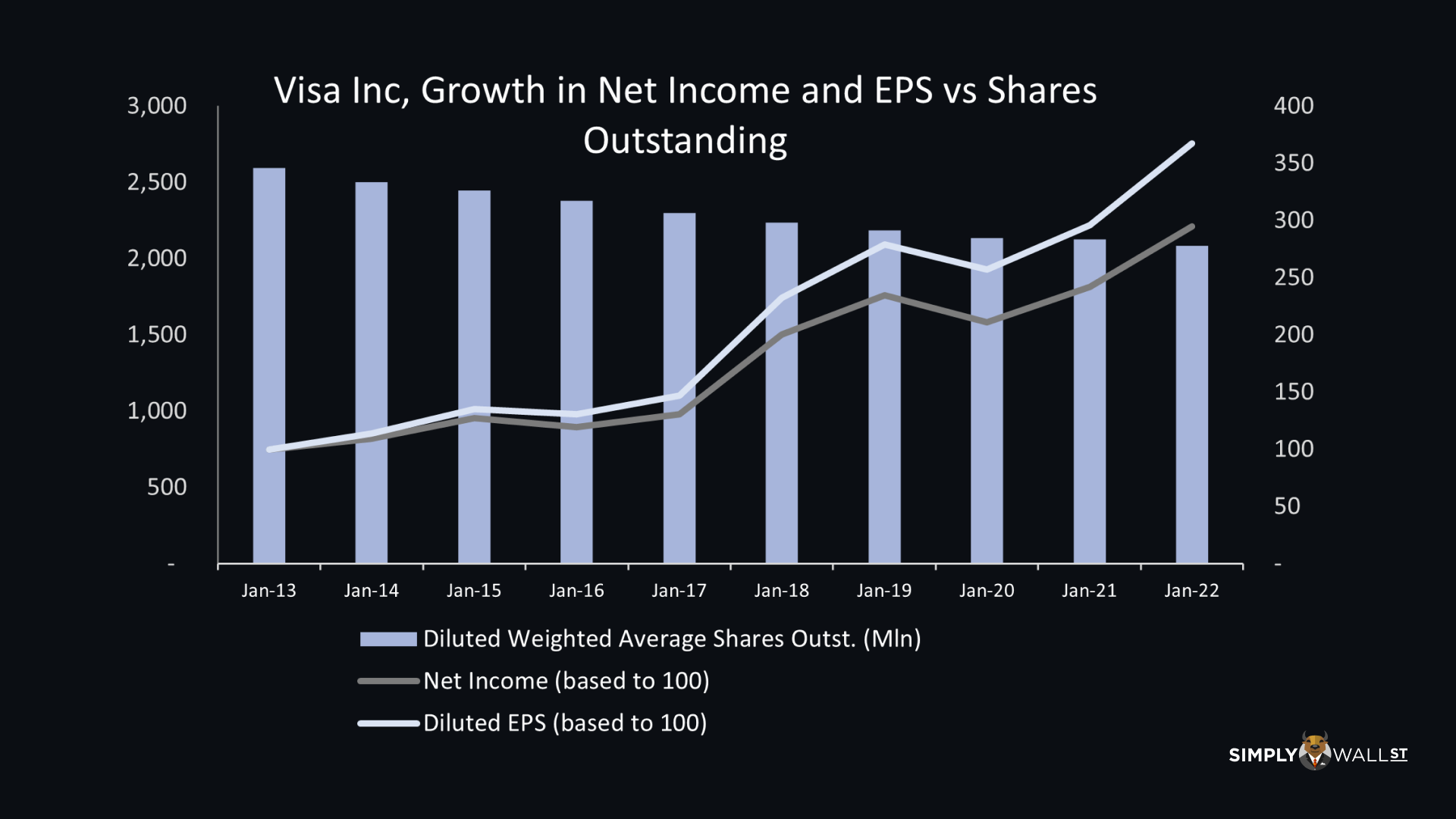 Industry tailwinds
Payment networks like Visa benefit from several ongoing trends:
The transition away from cash: Cash is still used for more transactions globally, though cashless transactions have overtaken cash in terms of total value.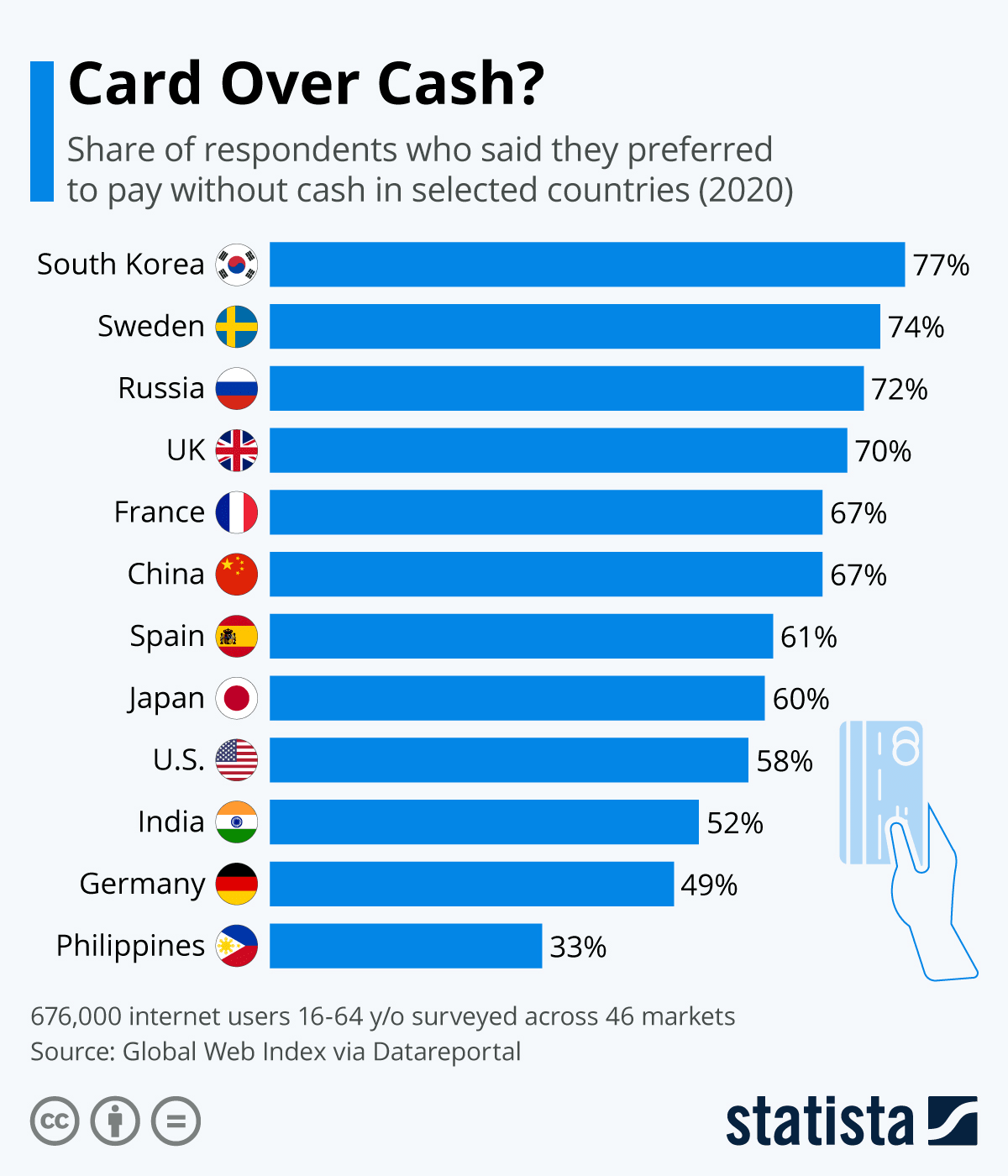 Economic growth and commerce, with exposure to both e-commerce and in-person payments.

Increased use of credit.
As of 2022, these trends show little sign of slowing:
Opportunities:
Visa runs numerous partner programs working with businesses in new and evolving industries, including fintech platforms, crypto projects, and content creators. These programs could help it entrench itself in new areas of growth.

Credit and debit card penetration in emerging markets is still quite low, while disposable incomes are increasing. This is another growth opportunity.
Weaknesses, Threats, and Risks
Visa and Mastercard's duopoly and the high margins they earn make them a target of alternative payment systems and regulators alike.
Regulations:
European, UK, and Australian regulators have already capped the fees (interchange fees) merchants pay to payment networks. So far these caps have not had a noticeable effect on revenue .

In the US, where Visa earns 45% of its revenue, the Credit Card Competition Act of 2022 has been proposed, but not voted on. The act would force issuing banks to offer a choice of two networks over which transactions can be processed, one of which cannot be Visa or Mastercard.

This bill is controversial as it is likely to impact rewards programs that are popular with banks and consumers. Nevertheless many expect that it will eventually be passed in some form.

Visa was prevented from acquiring fintech infrastructure provider Plaid in 2020. It's likely to face similar hurdles in acquiring any other companies that would further entrench its position.
Competition from fintech, mobile payments, and crypto products:
Around the world, alternative payment systems and platforms are trying to disrupt the status quo. These fall into several categories:

Fintech platforms like PayPal and Block offer digital wallets.

BNPL (buy now pay later) platforms like Affirm.

Mobile payment apps like Apple Pay and Samsung Pay.

Cryptocurrencies and blockchain-based payment protocols.

Local payment networks like UnionPay in China and Rupay in India. These have been very successful, but are geographically limited.
To date, the most successful competitors have been digital wallets and mobile apps. However, while these apps can operate without a network like Visa, most users link their wallets to a credit card to fund it. Many of the other platforms use Visa and Mastercard to process transactions.

Central banks are also experimenting with digital currencies which could eventually reduce reliance on payment networks.
Other risks:
Because Visa is geared toward economic activity, a severe or prolonged recession would impact its business.

Sanctions can shut down Visa's network in an entire country - as it did in Russia which accounted for 4% of Visa's revenue in 2021.
Current valuation and context
Visa's current share price of $223 implies EPS growth of about 15% if growth continues for three years before declining. If the years until growth declines are pushed out to five years, the growth rate would be around 12.5%. That of course also makes assumptions about the discount rate, which you can adjust.
To give those growth rates some context, EPS have increased by around 20% a year over the last 5 and 10 years.
The bullish narratives
More bullish analysts have growth estimates of 22%, which is actually higher than historical growth rates. The narratives supporting higher growth would probably assume that the trends and momentum that have driven Visa's growth over the last ten years will remain in place. 
Potential narratives supporting the bull case include:
The transition from cash to electronic payments will continue and even accelerate in some markets.

If there is a recession it will be relatively mild and followed by a strong recovery. 

New regulations in the US are likely to be watered down to the point where they have little impact, and most of the impact will be felt by issuing banks rather than Visa. 

There is little evidence of Visa's business being disrupted, and disruption will take years to have a meaningful impact.

Margins and EPS growth will continue to benefit from Visa's scale and share buybacks
If you agree with these narratives you might expect growth to be at the higher end of the range of analyst forecasts. A 22% growth rate would imply the share is worth around $293. That's higher than Visa's historical growth, so you might think 20% is more reasonable. That would imply a fair value of about $265 which is 17% above the current price.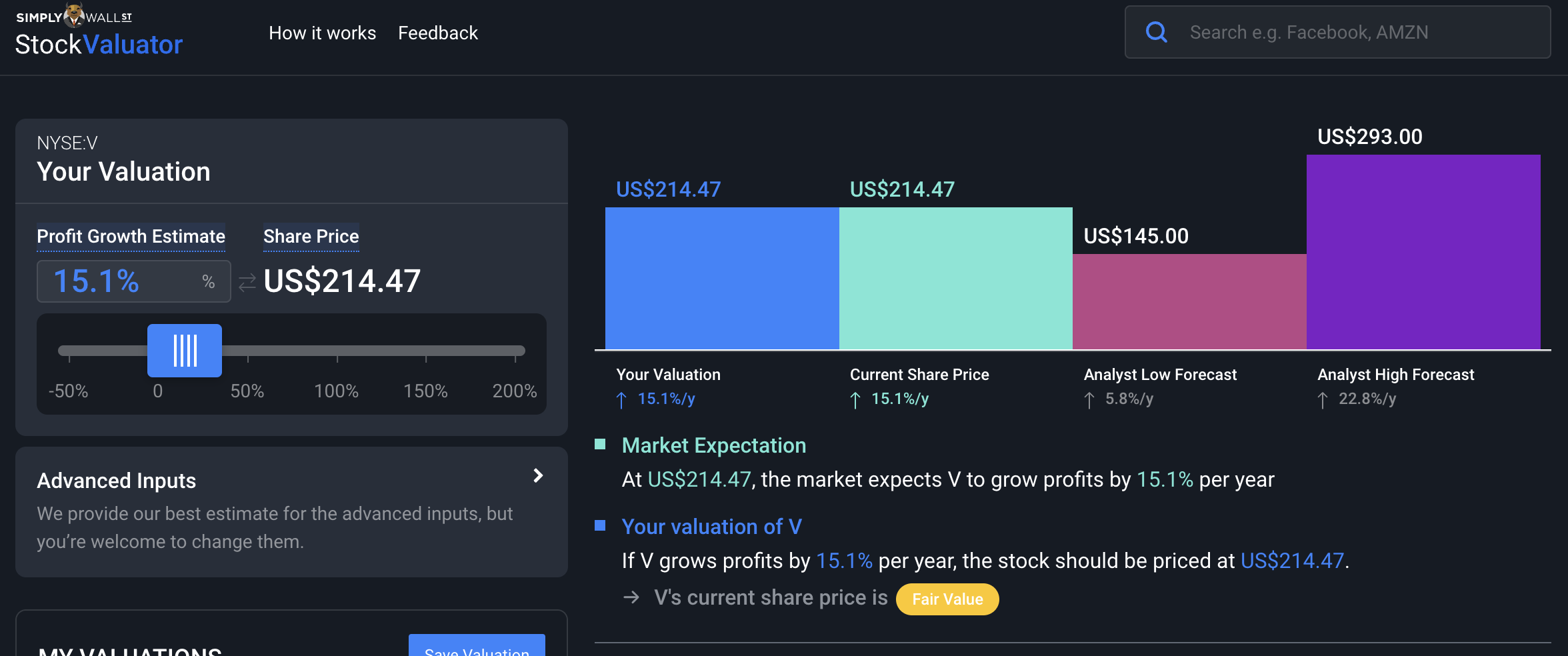 The bearish narratives
Bearish analysts expect EPS growth to be as low as 5%. That's well below Visa's historical growth rates and would imply a significant slowdown. 
Narratives that support the bearish case include:
A severe recession resulting in lower payment volumes.

Regulators capping fees and ending the Visa/Mastercard duopoly.

Competing technologies taking market share from Visa.

Visa will miss out on growth opportunities in emerging markets due to regional networks and alternative payment systems.
These factors could all cause revenue and earnings growth rates to slow.
If you agree with these narratives, you will probably expect Visa's growth to be at the lower end of the range. A growth rate of 5% would imply a valuation as low as $145, and even a 10% growth rate could imply the share price is significantly overvalued - depending of course on the other assumptions.
Building your own narrative
It's obviously very possible that some of the positive catalysts play out and some of the negative catalysts also play out. For example, regulatory action could have some impact while Visa retains its leadership position. 
You might also be confident about some catalysts, and less confident about others. You can build your own narrative by assigning probabilities to each catalyst and its potential impact. These are just a few of the potential catalysts, but you may have your own to add.
Another thing to think about is how long Visa's earnings will grow at a given rate before declining. The current share price may seem a bit rich relative to average growth estimates, but it's possible the market is discounting a lower growth rate continuing for longer. You can adjust the number of years until growth decays and the discount rate by clicking on the 'Advanced Inputs' tab on the valuator.
To build a narrative, it helps to reduce the arguments down to a few key questions. In Visa's case you could ask yourself:
Do I think the US economy will go into a recession, and if so, for how long?

How much will that impact Visa's revenue, and what could happen to its future revenue growth rates?

Will the US Credit Card Act be passed?

If so, how much will it impact Visas fees, or will it only affect the issuing banks who earn the bulk of the current fees?

Will Visa's business be meaningfully disrupted by new innovations?

If so, how will this impact revenue growth?
By thinking through these catalysts you can build YOUR own narrative for Visa and use it to come up with your own valuation for the business. If you click on the link in the description, we've written an article that gives these narratives more context. You can also view the Simply Wall St company report for Visa which includes key financial data, and our new Notes feature which you can use to build and update your narrative for the stock.
Valuation is complex, but we're helping make it simple.
Find out whether Visa is potentially over or undervalued by checking out our comprehensive analysis, which includes fair value estimates, risks and warnings, dividends, insider transactions and financial health.
View the Free Analysis
Have feedback on this article? Concerned about the content? Get in touch with us directly. Alternatively, email editorial-team@simplywallst.com
Simply Wall St analyst Richard Bowman and Simply Wall St have no position in any of the companies mentioned. This article is general in nature. We provide commentary based on historical data and analyst forecasts only using an unbiased methodology and our articles are not intended to be financial advice. It does not constitute a recommendation to buy or sell any stock and does not take account of your objectives, or your financial situation. We aim to bring you long-term focused analysis driven by fundamental data. Note that our analysis may not factor in the latest price-sensitive company announcements or qualitative material.
Richard Bowman
Richard is an analyst, writer and investor based in Cape Town, South Africa. He has written for several online investment publications and continues to do so. Richard is fascinated by economics, financial markets and behavioral finance. He is also passionate about tools and content that make investing accessible to everyone.
About NYSE:V
Visa
Visa Inc. operates as a payments technology company worldwide.
Solid track record with adequate balance sheet.
Similar Companies