Why Shopify's (NYSE:SHOP) Fundamentals are Riskier than it may Seem
Summary:
Shopify is estimated to slip back to being unprofitable for the next few years
The company's stock based compensation of $380m in the last 12 months, may make some investors cautious as employees start preferring cash to equity.
Shopify is engaging in insider buying and a 10-1 stock split to little effect on the stock price.
Shopify Inc. (NYSE:SHOP) reverted to trading at pre-pandemic levels. It seems that investors have second thoughts on the company's capacity to make a lasting business out of the 2020 boost in online retail. Today, we will review the forecasts for Shpify, and what that may mean for investors.
A Tale Of Two Priors
Shopify's investors are split into two very different camps. One group, believes that the 80% price drop presents a great opportunity to buy the dip, while the opposite group is ranging from viewing the stock as being fairly priced to flirting with the idea that the company will not survive.
It is not hard to see where both groups are coming from. The first have set their fair-value priors to the price levels of 2020 and 2021, so everything below that looks like a bargain. Their story of growth for Shopify hasn't changed, and they see the future growth forecasts as a very bullish signal. The other group's priors have been set before 2020, and think that the stock was trading at fair value to begin with. They see the deceleration of growth (or the loss of excess growth) as a signal that Shopify's bullish story is over, and fear that bigger competitors like Amazon (NASDAQ:AMZN) will benefit from a recession and take some of their market share.
Analyzing Shopify's Fundamentals
Currently, Shopify is bringing-in $4.83b in sales, up some 40% from $3.45b a year ago. The company has a gross profit margin of 53%. The business growth has slowed in the past 12 months, and most of the growth is offset by costs, on a gross profit basis.
Going lower in the income hierarchy, we can see that Shopify's EBIT margins have decreased from 10.9% in Q2 2021 to 1.1% in the last quarter on a trailing twelve months basis. While investors don't expect to see high profitability in a young growth company, a decline in profitability is still a step in the wrong direction, and even if the company is not at fault for this result, it still signals to investors that they may have been somewhat early on the growth story for Shopify. Some investors may have been presented with the high 2021 net income as confirmation for the success of the company, but we can easily see that this is a one-off which is not reflective of the underlying profitability.
We could instead look at the cash flows in order to get an expectation of the company's cash earning capacity. We see that the cash from operations is at $315.2m, while the free cash flow is $253.6m. This may look to us like the company is still making money, however the company granted stock based compensation to employees in the value of $380m in the last 12 months (1, 2), which may be fair to subtract upon granting in order to derive a better picture of the cash flows. With this approach, we find that Shopify is effectively in the red at $-126.4m free cash flows less stock based compensation. Stock based compensation is a great way to incentivize employees to stick around and focus on the long-term success of a company, however, this does not come from thin air, and it is investors who are ultimately paying it. When a SaaS company like Shopify is growing, this type of compensation can be highly attractive to employees, unfortunately, if the company's stock declines, employees may find themselves feeling underpaid and start looking for more cash income or other employers, which makes it harder for management to retain talent.
Next, we will explore the future growth estimates for Shopify in an attempt to see how long it may take before the company starts creating some value for investors.
Growth Estimates  
Data from the 42 analysts covering Shopify shows that the company is expected to grow revenues at an average annual rate of 21%, to $5.82b in 2023. Unfortunately, analysts don't expect the company to be profitable anymore and forecast 2023 earnings at $-2b and free cash flows are also estimated to drop to $-146m. Additionally, forward forecasts are not expecting the company to post positive earnings within 3 years, with a possibility of $92m in free cash flows by the end of 2024.
We have aggregated the average forecasts for Shopify in the chart below, so that investors can form a better picture of the expectations for the company:
Check out our latest analysis for Shopify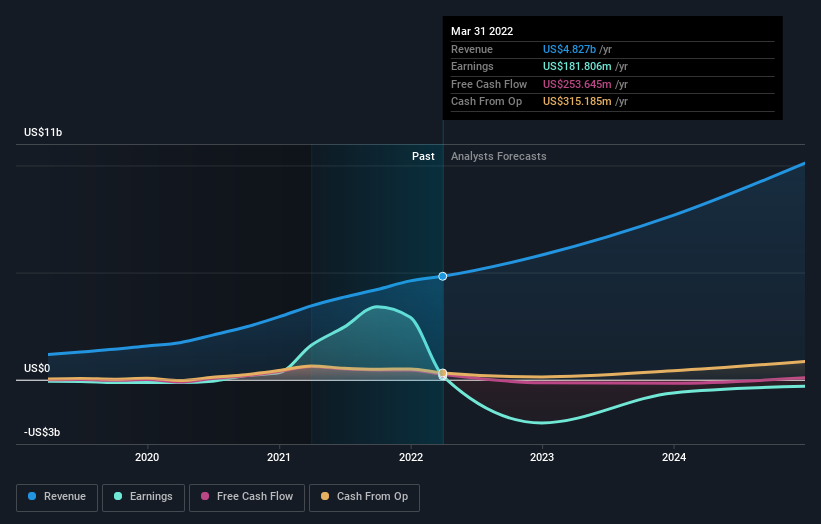 The loss of profitability may take the company off the radar for investors and funds that filter-out unprofitable companies, and may further put pressures on the stock price. 
Management has attempted to signal their faith in the business by making insider purchases of their stock. However, investors may not be convinced when this move is broadcasted, as it may represent a marketing move rather than a "hidden move out of greed", which may actually be more convincing. Lastly, we see that Shopify has just undergone a 10-1 stock split, which is intended to make the stock more affordable to retail shareholders. This is a great move in a bull market, unfortunately in a bear market, it may have the inverse effect as it allows retail investors to de-risk a portion of their Shopify stake instead of needing to sell what was previously 1 share.
Conclusion
While this article focused on the fundamental risks of Shopify, it does not mean that the company doesn't have a future. Investors with longer time horizons who believe in the company may find this to be a great moment to take a closer look at the stock. The coming months will also stress-test the company in rough business conditions, and we will have better information to evaluate the value creating capacity of Shopify.
Unfortunately, the short term fundamentals don't paint a hopeful picture for the company in the next few years. Shopify is unprofitable and will have to fight to make their service work both for investors and clients.
Even so, be aware that Shopify is showing 3 warning signs in our investment analysis, you should know about.
Have feedback on this article? Concerned about the content? Get in touch with us directly. Alternatively, email editorial-team@simplywallst.com
Simply Wall St analyst Goran Damchevski and Simply Wall St have no position in any of the companies mentioned. This article is general in nature. We provide commentary based on historical data and analyst forecasts only using an unbiased methodology and our articles are not intended to be financial advice. It does not constitute a recommendation to buy or sell any stock and does not take account of your objectives, or your financial situation. We aim to bring you long-term focused analysis driven by fundamental data. Note that our analysis may not factor in the latest price-sensitive company announcements or qualitative material.