Cloudflare's (NYSE:NET) Margins need to Keep Improving as Growth Decelerates

Last week Cloudflare ( NYSE: NET ) released good first-quarter results but indicated that revenue growth is likely to slow later in the year. The results led to an immediate 16% drop in the share price, although it has held up reasonably well since then when compared to the rest of the sector. As growth slows, the market's focus is likely to shift to Cloudflare's path to positive earnings.
Key takeaways from this analysis:
Cloudflare's guidance for 2022 points to a decelerating revenue growth
The price to sales ratio is still very high relative to the technology sector
As revenue growth slows, the market will become more focused on margins 
First-quarter results highlights:
Revenue: $212 mln, up 53.7% and $6.54 mln better than consensus estimates.
Non-GAAP EPS: $0.01 vs -$0.03 a year ago and $0.01 better than consensus estimates.
GAAP EPS: -$0.13, vs -$0.13 a year ago and $0.01 better than consensus estimates.
Dollar based net retention ratio reaches a new high at 127%
The number of paying customers increased by 14,000 to 154,109.
Second-quarter guidance:
Revenue is expected to be ~$227 mln vs current consensus estimates of $217.7 mln
Non-GAAP EPS expected between -$0.01 and $0 vs the current consensus of $0.00
Valuation vs Growth Potential
Cloudflare generated $730 mln in revenue over the last 12 months, and the company expects this to increase to about $957 mln for the full year. With a market value of $18.4 bln, this means the company is trading on a price to sales ratio of 19x to 24.5x. This is a lot lower than the 2021 peak of about 110x but still very high, and amongst the highest in the market. To justify this valuation, there needs to be a lot of growth ahead.
View our latest analysis for Cloudflare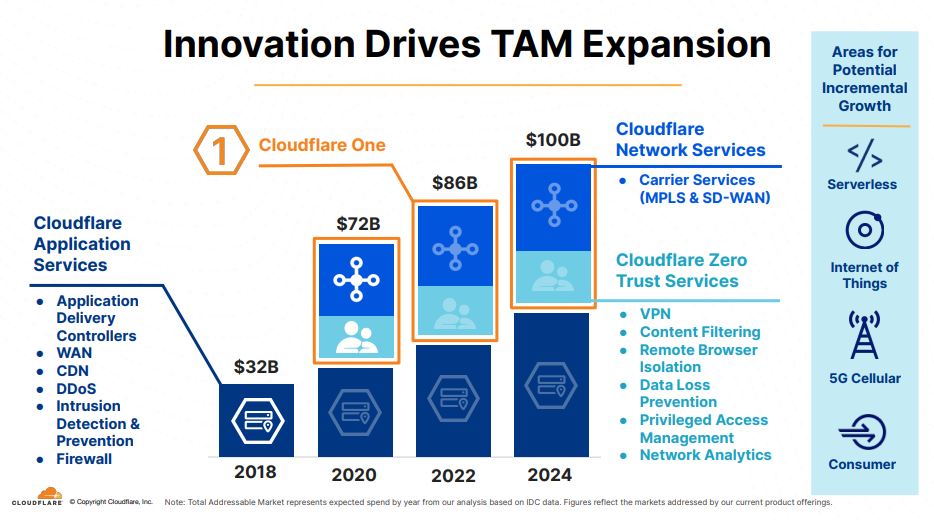 Cloudflare's presentation that accompanied the earnings call puts its TAM (total addressable market) at $86 bln currently and increasing to $100 bln in 2024. If these numbers are even vaguely accurate, it suggests the company does have plenty of space to increase its revenue.
Over the last few years, the market has rewarded companies with high revenue growth rates and large potential market sizes - but this is now changing.
Cloudflare's Margins
The market is now concentrating on profitability and has lost patience with unprofitable companies regardless of their revenue growth. There's no better example of this than Cloudflare which is down 74% despite delivering revenue growth of 50% +.
The non-GAAP EPS numbers that Cloudflare published suggest the company is close to breakeven. However, on a GAAP basis (which includes non-cash items like stock-based compensation) the net profit margin is still closer to -35% for the last 12 months. For the first quarter, the margin was better as -19% and an improvement on previous quarters
As the chart below illustrates, there's a wide range between the highest and lowest EPS forecasts. Current forecasts suggest profitability will be at least two years away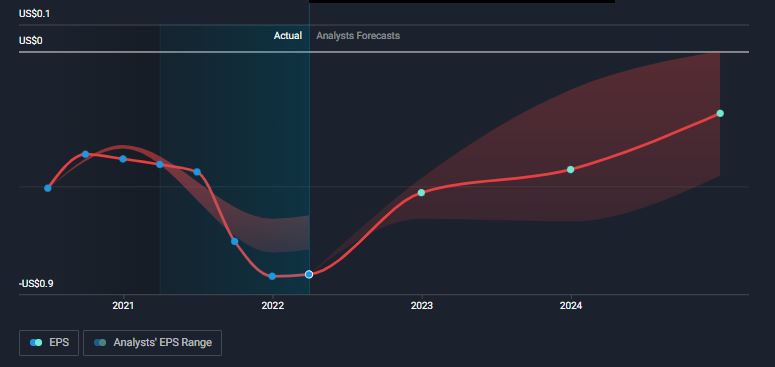 The chart also shows that EPS have been below analyst estimates in the last few quarters, indicating that analysts have been overly optimistic about the GAAP margin.
What this Means for Investors
Cloudflare stands out as a rapidly growing company within two key industries: cybersecurity and content delivery. However, the market is likely to focus on margins as growth begins to decelerate. If the company's margins continue to improve, it will have the chance to stand out as investors become more selective when picking stocks within the technology sector.
You can keep track of Cloudflare's key metrics and several risks we have identified by referring to the Simply Wall St Amazon Analysis
Have feedback on this article? Concerned about the content? Get in touch with us directly. Alternatively, email editorial-team@simplywallst.com
Simply Wall St analyst Richard Bowman and Simply Wall St have no position in any of the companies mentioned. This article is general in nature. We provide commentary based on historical data and analyst forecasts only using an unbiased methodology and our articles are not intended to be financial advice. It does not constitute a recommendation to buy or sell any stock and does not take account of your objectives, or your financial situation. We aim to bring you long-term focused analysis driven by fundamental data. Note that our analysis may not factor in the latest price-sensitive company announcements or qualitative material.