Adobe's (NASDAQ:ADBE) Impressive Numbers Have Not Been Photoshopped
Published

February 24, 2021

- Adobe has a wide moat through high switching costs

- Recurring revenue and high margins are driving its profitability

- Its current valuation seems appealing given its growth prospects
When people think of photo editing, the first thing to come to most people's mind is "Photoshop". This isn't too surprising, given that since 1990, when that program was first released, it has been the leader and industry standard for image editing software around the world. Its creator, Adobe (NASDAQ:ADBE) also pioneered the PDF format in 1993 and continues to be the leader in creative design and publishing software.  
The company offers software for everything from photo and video editing, to PDF and e-signature functionality to Digital Asset Management (think photos and videos for platforms, etc) and Content Management Systems (think websites). As a result, it's one of the largest and most diversified software companies in the world. 
Additionally, it utilizes a Software-as-a-Service (SaaS) business model, which has produced very impressive financial results. However, unlike some other SaaS companies, it's actually profitable and doesn't trade at incredibly high multiples of sales. Let's have a look at the business model, its financials and today's valuation.


The Adobe Business Model
Originally founded in 1982, Adobe specializes in the creation, publication and management of multiple forms of content, anything from graphics and photography, to illustration, animation, video, print, PDF's and websites. Today, the company has 3 offerings: Creative, Document and Experience.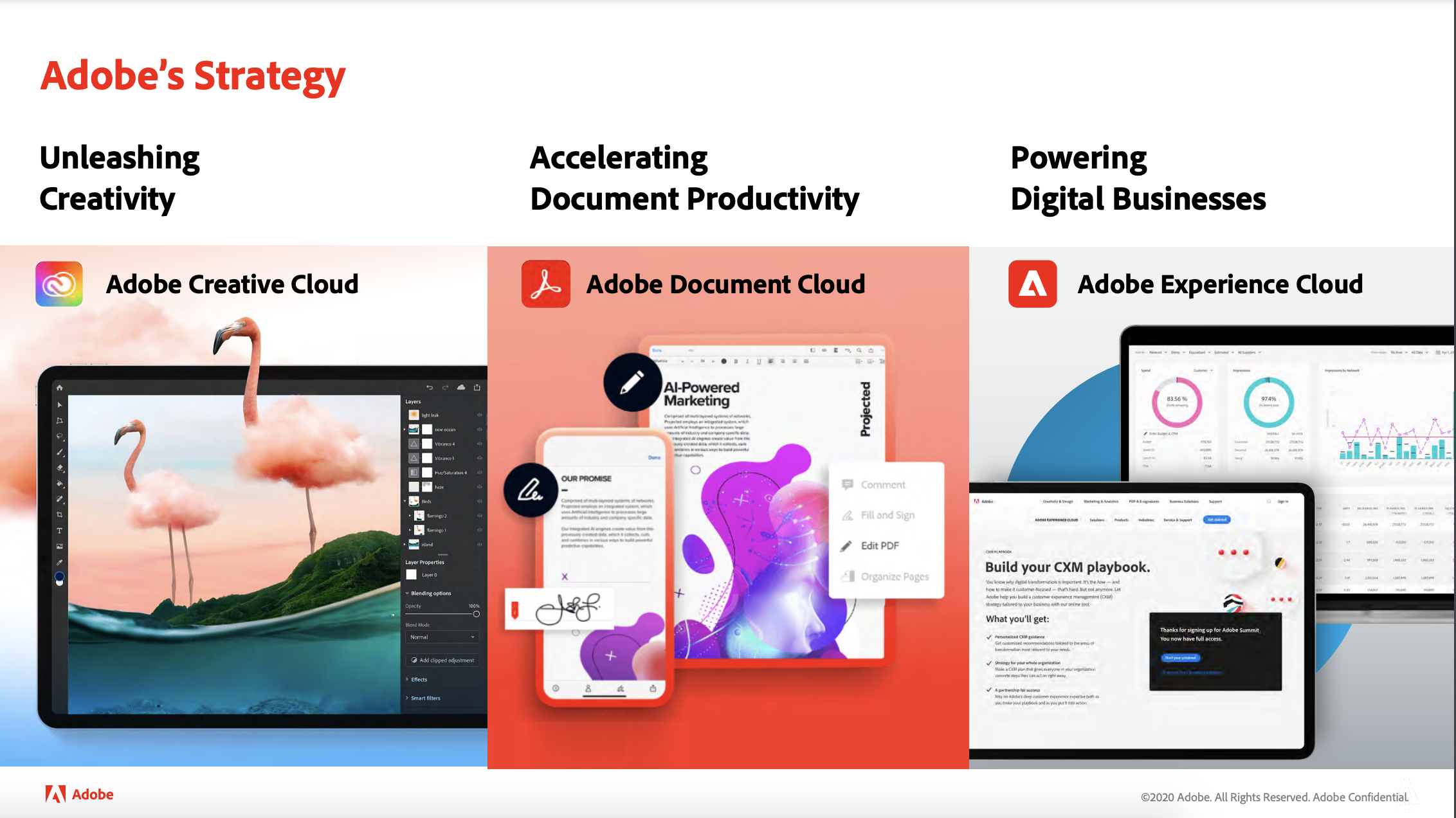 Source: Adobe 2020 Financial Analyst Meeting Slides

While the company originally operated using a license model, which involved large upfront fees and a time-consuming renewal process, it switched to a subscription model in 2012. And that was probably one of the best decisions in its entire history. Not only did it solve a pain point for customers being the high cost and painful renewal process by making it a cheaper and more streamlined service, it also made the company's revenue more stable and predictable. On top of that, this model reduced the costs required to convince customers to renew their license and it allowed developers to release updates regularly, rather than at each new product release.

As for the software itself, Adobe's vast ecosystem of services has built a competitive advantage through switching costs. Adobe's 2020 analyst presentation showed that 93% of Adobe's top 100 customers use more than 3 products within the Adobe Digital Experience suite (up from 67% in 2015). Once large customers become reliant and embedded in the Adobe software ecosystem, it becomes a huge and costly task for them to try and switch to a different provider. That probably explains why over 90% of the world's creative professionals use Photoshop; it's not only the industry standard for image editing but switching to a different provider is not worth the cost.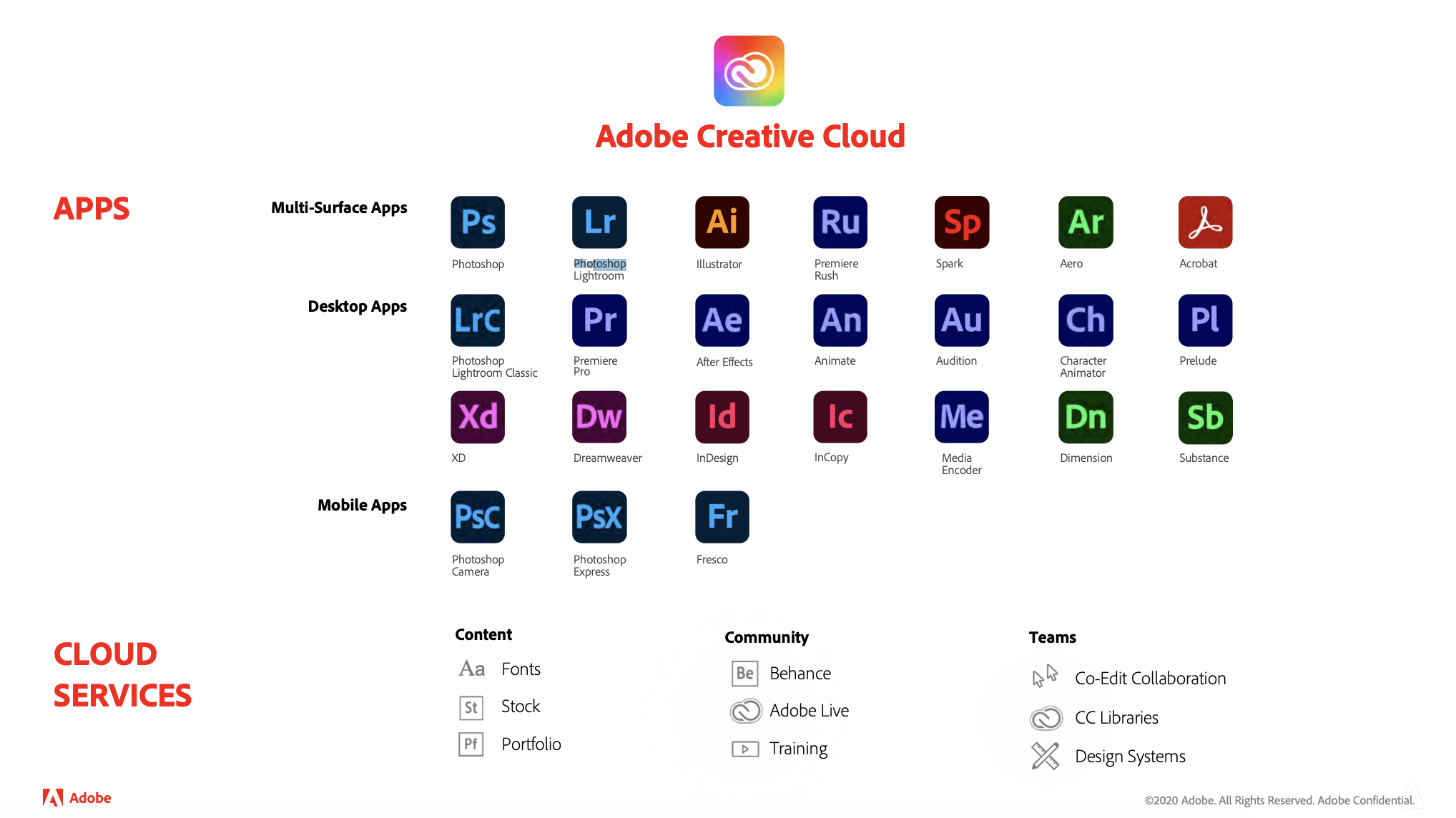 Source: Adobe 2020 Financial Analyst Meeting Slides

Whether it be image or video editing, securely signing and interacting with PDF's, or managing a company's digital assets like websites, Adobe has built an ecosystem that once you've joined, it's very hard and even unappealing to leave, especially given most users actually like the product. Notably, some of Adobe's professional customers include NVIDIA, MasterCard, JPMorgan, and LinkedIn.   

The company's business model is enviable. It has a strong competitive advantage, especially in its Creative Cloud offering, because of its high switching costs and generates predictable revenue through its subscription model. As we'll see below, this combination produces very strong financials.


The Economics Are Solid
SaaS business models generally have very favorable operating economics. You have a digital asset (the software) that can be sold in unlimited amounts often generating recurring income, while the cost of generating that revenue is typically very low, which leads to very high margins. Adobe is a perfect example.

The company's gross margins have been around 85% for the last 5 years and net profit margins have expanded to a very respectable 40%, from 6.1% back in 2015. As the company's revenue has increased 21% per year since 2015 and the portion of it which is recurring revenue has increased from 67% in 2015 to over 90% in 2020, much of the revenue received can flow through to the bottom line as profit.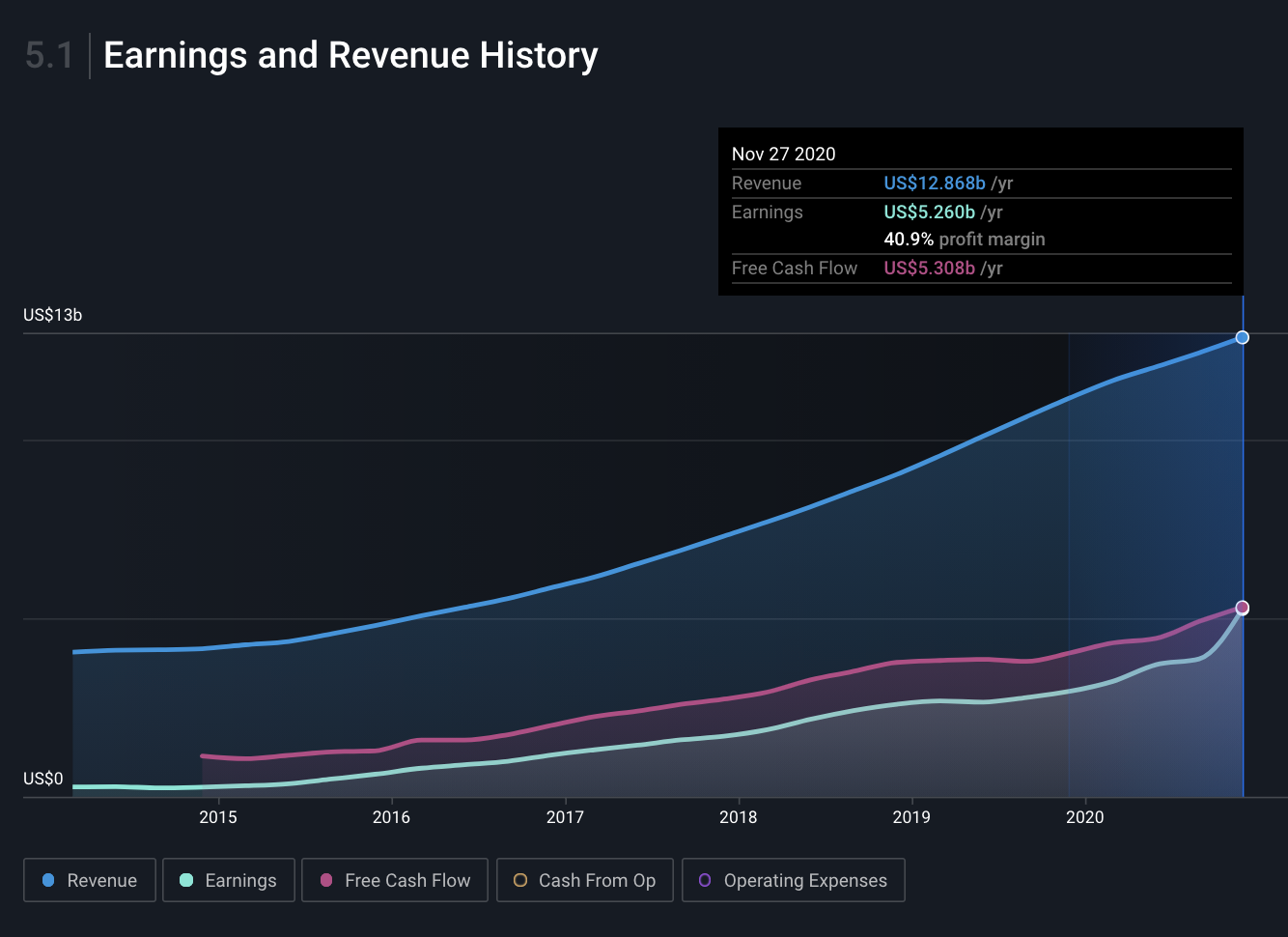 Source: Earnings and revenue History from 2014 to 2020 - Simply Wall street. 

To continue this top-line growth, Adobe has been reinvesting in its business and expanding its marketing efforts. For the last 3 years, Adobe spent 17% of its yearly revenue on R&D and around 28% of yearly revenue on Sales and Marketing. Considering the company generates around 30% return on capital employed (excluding cash), we'd say it's reinvesting money well.  

More importantly, the company's Free Cash Flow (FCF) has grown by around 32% per year since November 2015 and the company has used much of this cash to benefit shareholders additionally through buyback programs. Adobe started an $8bn buyback program in mid-2018 which is set to finish in the first half of 2021. And after that, the company has another buyback program worth $15bn scheduled to go through to the end of 2024. With FCF of $5.3bn for the 12 months to November 2020 (and growing) and $5.99bn in cash, the next buyback program also appears very affordable. 

As for Adobe's balance sheet, it's solid. The company only has $4.17bn in debt which is easily covered by earnings and free cash flow and could be paid off from 1 year worth of FCF alone. 

So for such a sound business, surely it trades at an incredibly high valuation?


Valuation Seems Compelling
From a first glance, Adobe might seem expensive at a P/E ratio of 43. However, if we consider that revenue, earnings, and FCF have been growing at annual year-over-year rates of 21%, 33% and 32% respectively for the last 5 years, the valuation doesn't seem as stretched. 

On top of that, if we take the analysts forecasted annual revenue of $19.5bn in 2023, and if we assume net profit margins stay the same, that means that the stock today is effectively trading on a 2023 forward P/E multiple of 27, excluding the impact of the buyback. 

Finally, considering Adobe updated its Total Addressable Market (TAM) to $147bn by 2023 for its combined 3 business segments (Creative, Document and Experience), it seems like there's still plenty of room for growth available for Adobe's business. And the company is well-positioned to capitalize on it. (Check out pages 15, 20 and 23 of the company's linked presentation for the specifics) 

For further details of the analyst's forecasts for Adobe, check out our company report.


Conclusion
There are not many companies that have been around for nearly 40 years and still have growth potential ahead of them, but Adobe is one of them. 

With highly predictable and recurring revenues, great operating metrics, a wide moat with high switching costs and room to grow within the company's TAM, Adobe ticks a lot of boxes. Additionally, its current valuation combined with its potential growth prospects mean we'd put it in the Growth At A Reasonable Price (GARP) category. With some companies trading at very optimistic valuations in today's market, it's surprising Adobe is valued where it is given its solid fundamentals.

Adobe isn't the only stock out there that represents potential Growth at A Reasonable Price. Check out our list of other Growth At A Reasonable Price opportunities.
Have feedback on this article? Concerned about the content? Get in touch with us directly. Alternatively, email editorial-team@simplywallst.com
Simply Wall St analyst Michael Paige and Simply Wall St have no position in any of the companies mentioned. This article is general in nature. We provide commentary based on historical data and analyst forecasts only using an unbiased methodology and our articles are not intended to be financial advice. It does not constitute a recommendation to buy or sell any stock and does not take account of your objectives, or your financial situation. We aim to bring you long-term focused analysis driven by fundamental data. Note that our analysis may not factor in the latest price-sensitive company announcements or qualitative material.