Taiwan Semiconductor Manufacturing's (NYSE: TSM) Fundamentals are Rock Solid but Investors may need to be Patient

Key Takeaways from This Analysis:
Taiwan Semiconductor Manufacturing continues to deliver strong numbers.
The stock ranks favorably against its peers.
Investors may need to be patient as the industry faces possible headwinds.
Taiwan Semiconductor Manufacturing (NYSE: TSM) announced solid results last week, with strong revenue growth, improved margins, and raised guidance. We previously pointed out that TSM has a strong track record with regard to generating returns on capital and is continuing to invest for the future. Since then, earnings have continued to compound despite concerns of an industry slowdown.
Second Quarter Financial Highlights:
Revenue: Up 36.6% year-on-year to $18.16 bln and $0.33 mln higher than consensus estimates.
Normalized EPS: Up  67% year-on-year to $1.55  and $0.05 higher than consensus estimates.
Gross margin and operating margin up 3.5% quarter on quarter and ~9% year over year.
Revenue from high-performance computing, IoT, and automotive segments up >10% quarter on quarter.
Third quarter revenue guidance raised to $19.8 to $20.6 bln vs analyst consensus of $18.5 bln, which would represent revenue growth of 35.6%.
How does TSM stack up against its peers?
TSM's stock price has risen since the results were released, but underperformed its industry. However, the stock actually ranks quite favorably against the other prominent semiconductor companies in terms of valuation, profit margins, and revenue growth forecasts. However, having said that, the stock's beta (the amount the stock price moves relative to the market) is low, so the stock tends to rise and fall more gradually than its peers.

TSM's price-to-earnings (P/E) ratio is also trading at a substantially wider discount to its fair P/E. The fair P/E is a new feature on the Simply Wall St stock reports which approximates the expected P/E ratio by accounting for earnings growth forecasts, profit margins, and risk factors.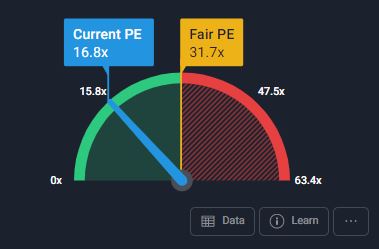 TSM and the US Chips Act
Competition is increasing and Intel (NASDAQ: INTC) in particular has already ramped up its investments in chip manufacturing to regain market share. But TSM is by far the largest chip manufacturer in the world and it will take a long time for competitors to catch up.
On Wednesday the US Senate passed an initial vote on the Chips Act which will provide tax incentives to companies that manufacture chips in the US. This act specifically assists companies like TSM and Intel that fabricate chips rather than fabless chip companies that design but don't manufacture chips. TSM has started construction on a new plant in Arizona where chips will be manufactured for Apple. The company has said that it will accelerate the project if the act is passed.
What this means for Investors
TSM has many of the ingredients of a great long-term investment, but investors may need to be patient. For most of its history, TSM's share price has appreciated slowly and steadily. Furthermore, the industry may face some headwinds over the next few quarters, and negative industry sentiment is likely to weigh on the share price even if the company continues to perform.
You can keep track of TSM's key metrics and risk factors by referring to the full TSM stock analysis page, and you can track the performance of the industry on the markets page.
Have feedback on this article? Concerned about the content? Get in touch with us directly. Alternatively, email editorial-team@simplywallst.com
Simply Wall St analyst Richard Bowman and Simply Wall St have no position in any of the companies mentioned. This article is general in nature. We provide commentary based on historical data and analyst forecasts only using an unbiased methodology and our articles are not intended to be financial advice. It does not constitute a recommendation to buy or sell any stock and does not take account of your objectives, or your financial situation. We aim to bring you long-term focused analysis driven by fundamental data. Note that our analysis may not factor in the latest price-sensitive company announcements or qualitative material.