Even with $40b in Projected Earnings, it is Likely that Pfizer Inc. (NYSE:PFE) Stock Has Already Peaked, and Here is Why
Published

February 10, 2022

Pfizer Inc. (NYSE:PFE) released its full-year results, but the market seems to be already pricing-in a decline. Shares are down 4.4% to US$51.5 in the past week, and the stock is currently in the red. Markets are forward-looking, and the price decline seems to be in-line with analysts estimates of future earnings. Today, we will attempt to connect the current price with future earnings.
Pfizer made some 42% of its revenues from COVID-19 vaccine distribution, as shown in the last quarterly report (p 36). The annual report is not out yet - just the press release. This means, that analysts are making scenarios where this income stream partly continues, and where it is "at risk" of depleting. The latter seems more likely, given the vaccine uptake in the world, and the shifting views on COVID-19 policy.
Starting from the latest reported results, we will see how analysts estimate Pfizer's income will fare in the future.
Pfizer delivered revenues of US$81b and statutory earnings per share of US$3.85, suggesting the business is executing well and in line with its plan.
The guidance from management for 2022 ranges from $98b to $102b in revenues. Summing this up, along with analysts' forecasts, allows us to get a better picture of what we can expect to see in the future.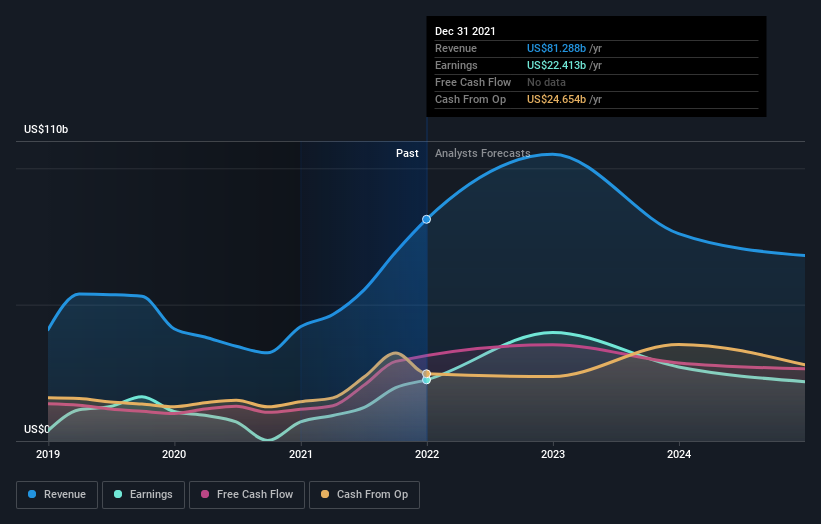 Before we interpret analysts' forecasts, we should note that they are almost in lock step with the guidance from management. There is some risk that management is presenting the most optimal scenario, and will shift the estimates later if the political landscape changes.
Following the latest results, Pfizer's 16 analysts are now forecasting revenues of US$105b in 2022. This would be a substantial 29% improvement in sales compared to the last 12 months. Per-share earnings are expected to jump 55% to US$6.18.
While profits are important, investors have a claim on the free cash flows of a company, and when these two numbers differ, shareholders should focus on the free cash flows instead of earnings. In the case of Pfizer, there is some difference, with earnings coming at $22b, and free cash flows coming close to $30b. The projections are also different - For the FY, 2022 free cash flows are expected to be at $35.3b, slightly lower than earnings.
FY 2022 is expected to mark the peak of Pfizer's earnings and revenue, thus when markets look into the future of the company, they are considering what the cash capacity will be after/if vaccines are in lower demand. It is apparent that this could be partly the reason why the stock price started trending downwards.
From here, there are a few future scenarios:
The vaccines are still in high demand and profits reflect that post 2023.
The vaccine demand stabilizes, but the company leverages the capital investments and R&D done in the past to accelerate profits.
The company slowly decreases profits to pre-2019 levels, adjusted for inflation and stable growth.
If we look at the analysts' estimates, they seem to be cutting the company some slack and estimating a decline, but also that the company will retain some residual benefits and be more profitable than 2019. In this scenario, it seems that the current market price is close to fair value, and as we will see, the price targets reflect that assumption.
See our latest analysis for Pfizer
Price Target 
The average price target held steady at US$57.55, with the analysts seemingly voting that their lower forecast earnings are not expected to lead to a lower stock price in the foreseeable future.
It's instructive to look at the range of analyst estimates, and see how much they differ from the mean.
The most optimistic Pfizer analyst has a price target of US$76 per share, while the most pessimistic values it at US$38. This is quite a wide gap between estimates, which shows that analysts are seriously considering both positive and negative scenarios.
Key Takeaways
Markets are forward-looking, and they seem to be seeing some trouble in the future. This is reflected by the expected peak of earnings and the cautious price target set by analysts.
While the company issued high forward guidance, some 42% of their income comes from vaccines, which may be "at risk", considering the fast-changing landscape regarding vaccine acceptance and policy.
Changing interest rates can impact the expenses a company has to cover annually in order to refinance debt - Visit our balance sheet analysis in order to see how well Pfizer manages its debt.
Have feedback on this article? Concerned about the content? Get in touch with us directly. Alternatively, email editorial-team@simplywallst.com
Simply Wall St analyst Goran Damchevski and Simply Wall St have no position in any of the companies mentioned. This article is general in nature. We provide commentary based on historical data and analyst forecasts only using an unbiased methodology and our articles are not intended to be financial advice. It does not constitute a recommendation to buy or sell any stock and does not take account of your objectives, or your financial situation. We aim to bring you long-term focused analysis driven by fundamental data. Note that our analysis may not factor in the latest price-sensitive company announcements or qualitative material.