Why Roblox (NYSE:RBLX) is Trading at the Current Price, and the Risk of Too Much Cash

Roblox Corporation (NYSE:RBLX) received a lot of attention from a substantial price increase on the NYSE over the last few months. The company mainly provides multiplayer VR games, and investors consider it as one of the early adopters in the "Metaverse" experiment. The goal of this analysis is to evaluate why the stock is trading at these levels and what are some possible points of concern for investors.
Roblox just announced their operating results and outlook for February 2022:
Estimated revenue US$204m to $207m, up 60% YoY
Daily active users were 55.1m, up 28% YoY
Hours engaged were 3.8b, up 21% 
If we divide the hours engaged by DAUs, we get 69h on average per user, which might indicate that users (especially teens) are spending a large portion of their time on Roblox's products.
Check out our latest analysis for Roblox
Roblox's Relative Valuation
Roblox has negative earnings, so we can't use a P/E multiple, which is the standard when pricing a stock on a relative basis. 
The two alternatives that we could use for this company are Enterprise Value to Sales and Price to Free Cash Flow. We need to use enterprise value instead of price because Roblox utilizes debt to drive revenues. If the company was debt free, we could have justified using Price to Sales.
For Roblox, the Enterprise value is: Market Capitalization + Total Debt - Cash
EV = $27.2b + $0.987b - $3b = $28.2b
We get EV to Sales by dividing the EV by Sales
EV/Sales = $28.2/1.92 = 14.7x
When we compare to the total market EV to Sales of 3.37x, we see that Roblox is trading at a very enthusiastic valuation. Additionally, the Software entertainment industry has an EV to Sales of 8.12x, indicating that the company is likely overpriced compared to the industry.
Next we will compare to the bottom line. Roblox has negative earnings, but they are probably irrelevant since earnings are mostly used as a proxy to cash flows. The great thing about Roblox, is that it is already free cash flow positive, so we can get a sense of how much are investors paying for the cash flows.
Free Cash Flows are a shortcut to unlevered (before debt) cash flows. Which is why we must again use the enterprise value instead of market cap.
The EV to FCF ratio for Roblox is: $28.2b / $0.558b = 50.5x
Investors are currently paying some 50x the free cash flows that they have a claim on in the company. This can be only justified if investors see high growth in Roblox's business model.
Can we expect growth from Roblox?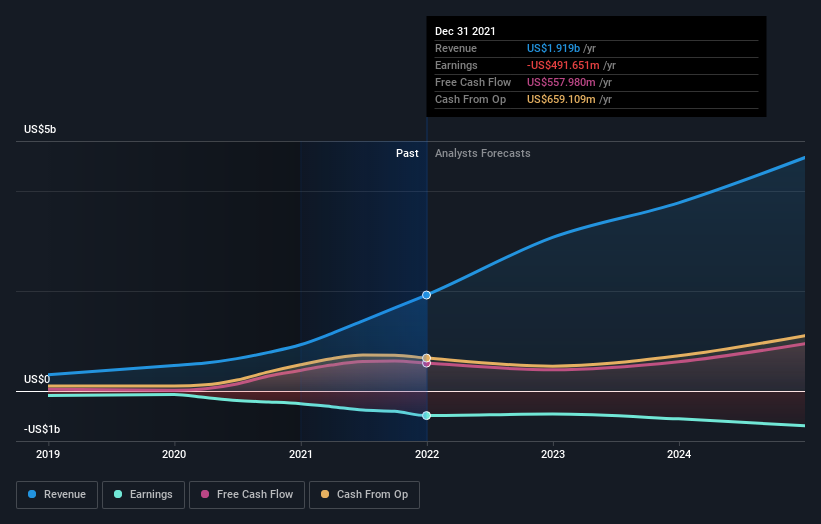 Future outlook is an important aspect when you're looking at buying a stock, especially if you are an investor looking for growth in your portfolio.
Analysts are expecting Roblox to reach about US$4.7b by the end of 2024. This would be a total growth of 143%, or an average growth of 48%. This makes Roblox a high growth stock, and partly explains why investors are enthusiastic about the company.
We see a different picture when we look at the cash flow estimates. FCF is forecasted to reach about US$950m by the end of 2024, which would reflect a forward EV to FCF ratio of 29.7x. This is much closer to market pricing levels, and may explain why the stock is where it is today. Note that we didn't discount these future cash flows, which would make the ratio even higher.
Given what we have seen, Roblox is one of those stocks that seems to be very sensitive to analyst projections. Should the stock slightly disappoint in the future earnings sessions or with their outlook, we can expect an amplified drop in the stock price.
Additionally, we also need accounting profits to eventually converge to profitability, as this will give investors a firm validation of the profitable business model of Roblox.
In order to drive growth, a company must develop, start new projects or acquire others. A slight issue presents when we look at the balance sheet of Roblox - It seems that the company is sitting on $3b in cash. While for most companies, this is a great problem to have, for Roblox, it might indicate that the company does not know where to invest in order to drive future growth, and opens it up to going down the M&A road where value gets frequently destroyed by young companies.
What this means for you:
Roblox is trading at an enthusiastic market valuation, and most of the company's cash flows are based on future estimates. This is not a bad approach, however it does expose investors to higher risks of variations in future profitability.
It seems that free cash flows are the more appropriate metric for investors to use in Roblox's valuation - since the company has negative earnings, and sales tell us little about future profitability. 
The company is in a high growth stage, and must keep up momentum, else it risks seeing large price volatility. While a 50% growth is not unusual for a young tech company, the US$3b of cash balance might be an indication of a lack of opportunities for growth investment.
If you want to dive deeper into Roblox, you'd also look into what risks it is currently facing. Case in point: We've spotted 5 warning signs for Roblox you should be mindful of and 1 of these makes us a bit uncomfortable.
If you are no longer interested in Roblox, you can use our free platform to see our list of over 50 other stocks with a high growth potential.
Have feedback on this article? Concerned about the content? Get in touch with us directly. Alternatively, email editorial-team@simplywallst.com
Simply Wall St analyst Goran Damchevski and Simply Wall St have no position in any of the companies mentioned. This article is general in nature. We provide commentary based on historical data and analyst forecasts only using an unbiased methodology and our articles are not intended to be financial advice. It does not constitute a recommendation to buy or sell any stock and does not take account of your objectives, or your financial situation. We aim to bring you long-term focused analysis driven by fundamental data. Note that our analysis may not factor in the latest price-sensitive company announcements or qualitative material.