Netflix - The Bullish and Bearish Narratives
Key Insights:
Netflix's huge scale and increasing amount of unique IP are strengths that help the stock receive strong earnings growth expectations from analysts. 
Netflix is facing plenty of competition from new entrants, and some markets are quite saturated. 
Your expectations around the outcome of Netflix's password crackdown, ad-supported plans and operating leverage will greatly influence fair value estimte for the stock
Overview
Netflix (NASDAQ:NFLX) is a well-known business and most people have a fairly good idea of its business model. To give you a quick summary though, the platform provides a movie and TV streaming service to consumers for a monthly subscription fee.
Monthly plans range from $3.60 to $19 in different countries for the basic plan, while the premium plans are as high as $27. The global average revenue per user is about $11.70 per month.
Netflix began producing its own content in 2010 and its annual content budget grew to $17 billion by 2020. It's now keeping that budget steady which allows more new revenue to flow to the bottom line.
Strengths and competitive advantages
Now, let's look at Netflix's current strengths. It has 3 main strengths that stand out:
Its huge scale,
Strong expected earnings growth rates,
Unique IP
Firstly, one of Netflix's main strengths is its huge scale. Its subscriber count has now surpassed 223 million users globally, and it earns annual revenue of $31bn from them.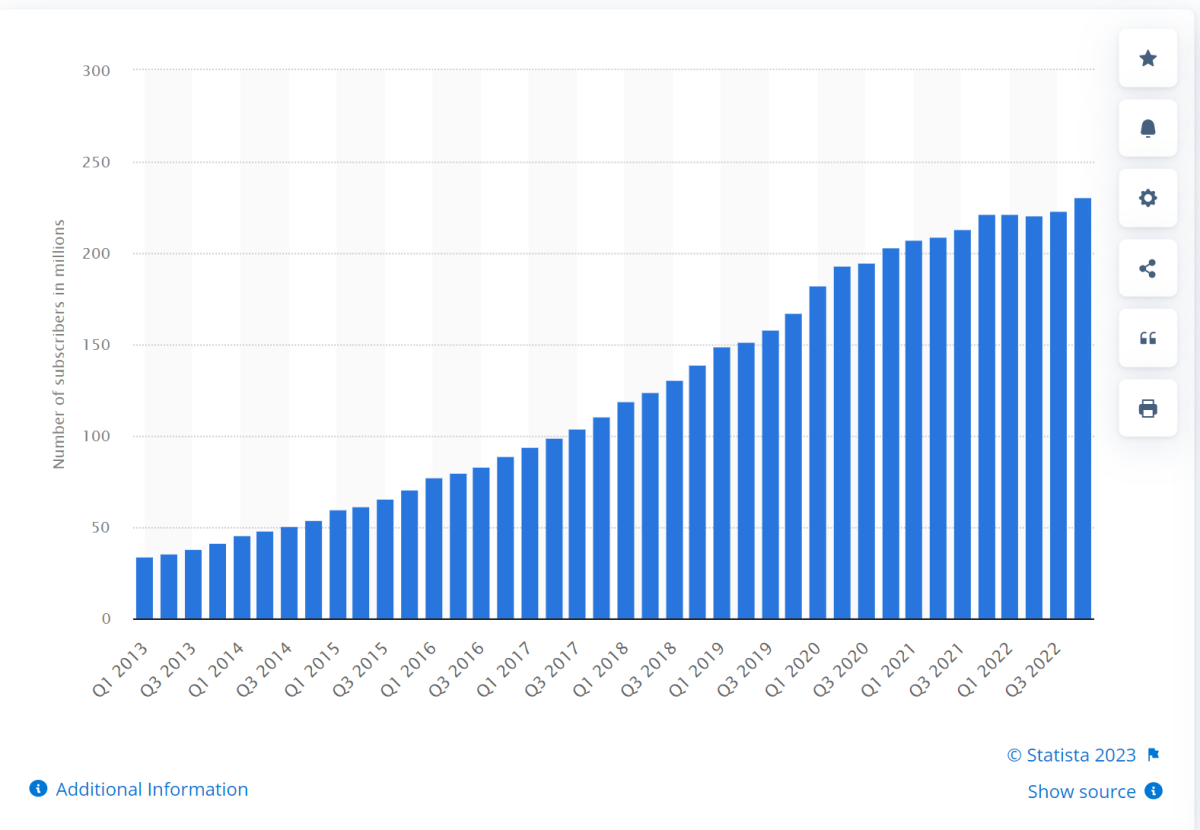 The company is now at a point where it should be able to keep its content budget steady at around $17 billion a year, so any future revenue increases should flow through to the bottom line. This is also a competitive advantage as very few companies can profitably produce as much new content as Netflix.
The likes of Disney and Amazon can fund their own content too, even if it's unprofitable, but they'll use funds from other parts of their businesses, all in the name of user growth in their streaming segments. So Netflix is a pure-play media business doing this content spending on a more sustainable and profitable basis thanks to the scale it's now achieved.
The second strength is in regard to its future earnings growth, which looks quite good. We can see on the Simply Wall Street company report that on average, NFLX earnings are expected to grow by 17% per year which is ahead of the market's 14%, but lower than the entertainment industry's 28% per year.
While NFLX revenue has grown at 22% per year over the past 5 years , that growth is now slowing.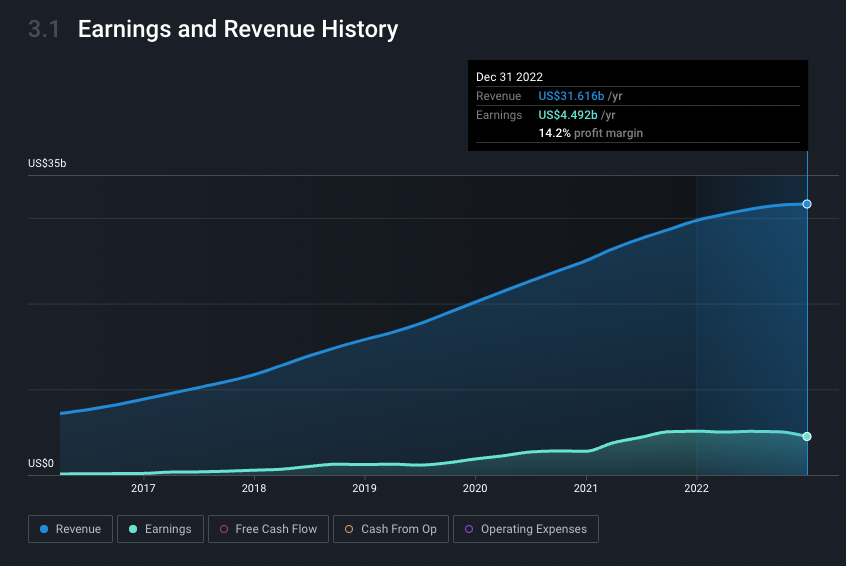 Netflix barely generated any profits until 2018 as they focussed purely on growing the subscriber base and revenue to reach scale. Since then, its spending, which is mostly on content, has increased at a much slower rate than revenue growth. This led to annual profit growth of more than 35% between 2018 and 2021, and the net margin increased to around 15%.
Again this is the benefit of reaching such a huge user base scale, the content costs per user are lowered as each new user gets added, with every excess dollar going to the bottom line.
Lastly, its unique content is becoming a strength after originally being a weakness in the early days. When it was licensing everyone else's content, it was at the mercy of either price increases or the owner of the content not renewing the contract and pulling the content from Netflix entirely.
Nowadays though, Netflix has thousands of Netflix originals internationally that are giving the company a similar benefit to established players like Disney, which is unique content you can't find anywhere else.
The proof is in the pudding where it seems like every few months a Netflix original is making waves in the news and the streaming platform boasts one of the lowest churn rates in the industry. (show chart)
Add to that the fact that streaming services are also a relatively cheap form of entertainment, the value proposition is pretty compelling from a user point of view.
So while they do compete with the likes of Disney and Amazon Prime, who have cheaper basic plans and some unique IP of their own, the value proposition of a Netflix monthly plan is strong compared to gaming, going to a cinema or even eating out for that matter.
Weaknesses and Risks
Now, let's talk about the risks. The Simply Wall St company report doesn't identify any immediate red flags in terms of the financials, but Netflix is certainly starting to face some challenges. In particular, competition has intensified and some markets have become saturated.
Until a few years ago, Netflix had few direct competitors and it managed to easily win customers away from linear networks. That's all changed with dozens of new streaming services launching around the world. For Netflix, the primary challengers are Disney and Amazon Prime Video, followed by HBO Max and Hulu which, funnily enough, is also owned by Disney.
A recent survey from JustWatch showed Amazon and Disney gaining US viewers during 2022 while Netflix lost market share. This is partly due to all the other options available and partly due to the fact that so many households already have a Netflix account. One thing to keep in mind is many households have multiple streaming accounts so when competitors gain users, Netflix isn't necessarily losing them 1 for 1.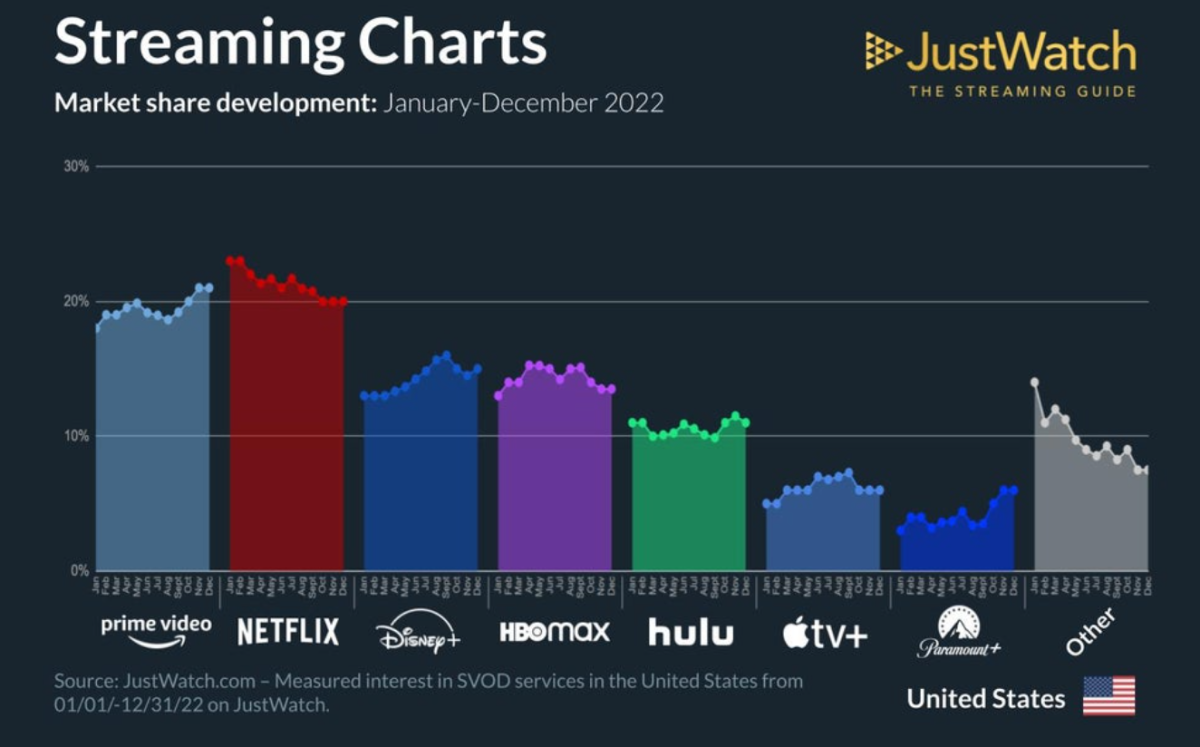 Looking at the subscriber numbers from the Q4 2022 report, we see that total memberships in North America are still down year-over-year, although they did increase in the fourth quarter.
In the European, Middle Eastern, African and Latin American markets, subscribers increased by around 4%. The only region showing real growth is Asia, however, the average revenue per user is falling for the region. This was partly a result of the strong USD in 2022, but even in constant currency terms, revenue per user fell.

The Bullish NFLX Narrative and valuation
Now that we've looked at some of the strengths and weaknesses, let's look at the current valuation, what analysts are expecting from the company, and what narratives back up those expectations.
As it stands today, the current share price of $365 implies that the market is expecting profits to grow about 24% per year for the next few years. That is of course with certain assumptions about discount rates, years of growth etc, that you can see on the left there, but we won't cover that in detail here. Just know that you can change them and it'll impact the valuation!
So let's have a look at the more bullish narrative, and why some analysts might be expecting earnings growth of 29% per year.

The Bullish case for Netflix is made up of many catalysts, but 3 of the main ones we'll cover today are:
Successfully cracking down on password sharing to generate new paying users
Successfully launching an ad-supported plan to increase their subscriber count
Content costs stabilise and operating leverage is achieved, meaning faster profit growth.
The bullish point of view on the first catalyst would assume that Netflix's push to crackdown on password sharing doesn't negatively impact subscriber numbers, and in fact, increases paying subscribers, and thus, revenue. Users who would previously get away with using someone else's log-in will be pushed towards being a paying subscriber in their own right.
The second catalyst here is the outcome of the ad-supported subscriptions. Bullish estimates would assume that there are plenty of people out there who would consider a Netflix plan if it was cheaper, and that type of user is willing to cop ads for that cheaper price. So the assumption would be that Netflix could acquire them.
Then, as the number of subscribers choosing this plan increases, the platform could become more attractive to advertisers leading to higher revenue per user and lucrative advertising deals - ie. there could be a compounding effect.
Optimistic analysts also think there is room for several streaming services and consumers will ultimately be happy to subscribe to more than just one service.
The third catalyst is controlling costs. If the company can keep costs under control, any small increases in revenue will result in much larger increases in earnings and cash flow, so revenue does not have to increase at historical rates to produce significant earnings growth.
If you think these above catalysts are likely and this narrative is reasonable, then the accompanying 29% earnings growth might make sense, and therefore the highest $440 Price Target from analysts might seem fair to you.
Although that's only about 21% above the current price so it might not be enough of a margin of safety.
The Bearish NFLX Narrative and valuations
As for the more bearish narratives, there are again a few catalysts driving that perspective, but the main 3 are the same as what I mentioned before, but the opposite outcomes:
Crackdown on password sharing does not generate new users, and therefore revenue doesn't grow or at least doesn't grow as quickly as expected
Ad-supported plans do not lead to new users subscribing, which means again, revenue growth is lower or flatlines.
And lastly, Content costs continue to increase relative to revenue, and operating leverage is not achieved, meaning profits don't grow as quickly as expected.

The overarching bearish narrative is basically that the industry is now very mature and competitive and Netflix won't be able to grow revenue without increasing spending by a proportional amount. That would mean earnings would be slow or flat, and the company wouldn't be able to grow into the current valuation.
If you believe this narrative is more likely, then the 11% earnings growth rate might make sense to you, and your fair value estimate would be a lot lower than the current share price. In this case, the $215 Price Target from analysts might make sense you, and that price is 62% below the current price, so the stock would seem quite unappealing on that basis.
How to build your own narrative and valuation for NFLX
Now to wrap things up, it's necessary to point out that when thinking about narratives you should try and think in the full spectrum rather than just a binary good or bad. We've outlined the potential bullish and bearish cases for Netflix, but that's just the possible edges of the spectrum, with many possibilities in the middle.
It's entirely possible that some outcome in the middle may occur, where say 1 or 2 out of the 3 catalysts mentioned end up being successful. Not only that but the degree to which each of these catalysts is successful or not can vary greatly.
So ask yourself:
Do I think the password crackdown initiative will be successful?

If so, how many users could it add, and if not, how detrimental will it be to the subscriber count?

Then depending on that answer, how will it impact NFLX's revenue?

Do I think the ad-supported plans will be successful?

If so, how many users could it add, and if not, how many users could it lose?

Then depending on that answer, how do I think it'll impact revenue?

Lastly, do I think Netflix can stay on top of its content costs?

If so, does this increase Netflix's profit margins? If not, does this decrease its profit margins?

Based on that answer, how does this impact future profit growth?
When you consider your answers to these questions, you'll notice you will have begun to formulate your own narrative that you can then use to inform a valuation of the stock. Your beliefs in the outcomes for these catalysts will help give you an idea of inputs like profit growth estimates that will alter your personal valuation of the company.
The important thing here is to build a narrative around what YOU believe will happen, and then come to YOUR own valuation and conclusion.
If you click on the link in the description it will take you to the Simply Wall Street report for Netflix which has a lot of the information we've just covered, and more. You can also use the Notes feature on the report to start building up your own narrative for the stock.
Valuation is complex, but we're helping make it simple.
Find out whether Netflix is potentially over or undervalued by checking out our comprehensive analysis, which includes fair value estimates, risks and warnings, dividends, insider transactions and financial health.
View the Free Analysis
Have feedback on this article? Concerned about the content? Get in touch with us directly. Alternatively, email editorial-team@simplywallst.com
Simply Wall St analyst Richard Bowman and Simply Wall St have no position in any of the companies mentioned. This article is general in nature. We provide commentary based on historical data and analyst forecasts only using an unbiased methodology and our articles are not intended to be financial advice. It does not constitute a recommendation to buy or sell any stock and does not take account of your objectives, or your financial situation. We aim to bring you long-term focused analysis driven by fundamental data. Note that our analysis may not factor in the latest price-sensitive company announcements or qualitative material.
Richard Bowman
Richard is an analyst, writer and investor based in Cape Town, South Africa. He has written for several online investment publications and continues to do so. Richard is fascinated by economics, financial markets and behavioral finance. He is also passionate about tools and content that make investing accessible to everyone.
About NasdaqGS:NFLX
Netflix
Netflix, Inc. provides entertainment services.
Reasonable growth potential with adequate balance sheet.
Similar Companies