A Disruptive Business Model Backed by Cash Reserves Fuels Coursera (NYSE:COUR)

Coursera (NYSE:COUR) shareholders are at a stage where they need to be informed about the growth capacity of the business and the funds available to drive that growth.
In this article, we examine the big picture for Coursera as a business, as well as the potential growth and available resources on the balance sheet.
Opportunities
In the last decade, it seems that education has become more expensive, lengthy making people seek alternative ways to attain it. More importantly, the global labor force is expected to grow by 230 million, while 1 of the 2 billion jobs are at some risk of being automated away.
With more efficient and global education, people will have the chance to adapt to the new environment. This is the main selling point of Coursera, and considering that competition is scarce in this field, investors might be interested in taking a closer look.
Considering their service, Coursera seeks to provide a digital, legitimate and marketable education for people.
Coursera, as a platform, started with mostly delivering proof of work, by giving students certificates for completing certain courses. With time, they also produced proof of authority, by having renowned institutions join their offerings and create certified degrees.
This can be seen as the prerequisite to becoming a widely recognized higher-education institution, and the more it is adopted as such, the more valuable a company Coursera becomes.
As of December 31, 2020, over 2,000 organizations, 4,000 academic institutions, and 300 government entities have used the platform. 77 million users have registered, but we have limited data on the extent of user engagement, which gives this figure a cautionary taste.
Market growth capacity - Coursera estimates that the global higher education market was $2.2 trillion in 2019 and the global online degree market was $36 billion in 2019 and is expected to grow to $74 billion by 2025. This gives investors clearer expectations for the growth capacity in the future.
Notable Risk Factors
Public Benefit Corporation Status - Coursera is legally dedicated "to provide global access to flexible and affordable high-quality education that supports personal development, career advancement, and economic opportunity." This is new in the investment world and might put shareholders on 2nd priority.
Brand name - Coursera might have inadvertently increased the costs of user acquisition by limiting its brand name to signal an offering focused on online courses. While, in reality, they have expanded their offering to full degrees and employee upskilling programs.
Anticipated slowdown of revenue growth - Coursera anticipates less revenue growth in the near future. The growth last year was exacerbated by the pandemic, and we may see a dampening.
See our latest analysis for Coursera
Cash Burn Capacity
As the main indicator of financial capacity for a young money loosing company, we opted for the cash runway.
A cash runway is defined as the length of time it would take a company to run out of money if it kept spending at its current rate of cash burn.
When Coursera last reported its balance sheet in March 2021, it had zero debt and cash worth US$281m. Looking at the last year, the company burnt through US$26m.
This gives it a very long cash runway of 10+ years from March 2021.
Even though this is but one measure of the company's cash burn, the thought of such a long cash runway can be both comforting or prompt investors to wonder if the company should be more aggressive in growth spending.
The image below shows how its cash balance has been changing over the last few years.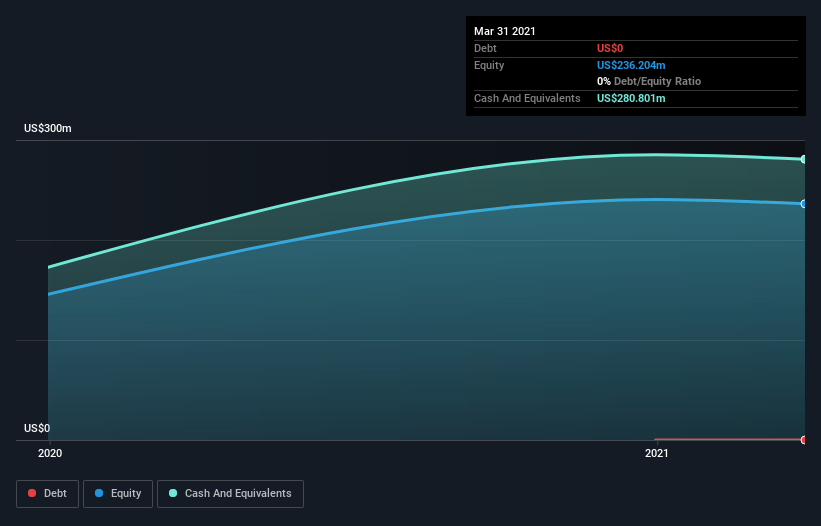 How Well Is Coursera Growing?
Coursera reduced its cash burn by 14% during the last year, which points to some degree of discipline. And arguably the operating revenue growth of 78% was even more impressive.
Clearly, however, the crucial factor is whether the company will grow its business going forward. So you might want to take a peek at how much the company is expected to grow in the next few years.
Conclusion
Revenue growth stands out as evidence that the company is well on top of its spending. Coursera can fund years of operations with the current cash and income levels, which is reassuring for investors and also gives the company room to innovate and grow.
The more interesting thing, is perhaps the higher-education industry in which they operate.
Skeptics of the current state see higher education as a field with overpriced college expenses and a 20th century based model. Coursera may well have an opportunity to be a disruptor in this field, and the lack of publicly traded competitors gives them the opportunity to efficiently leverage the funds from investing and drive mass market adaptation.
On another note, we conducted an in-depth investigation of the company, and identified 4 fundamental warning signs for Coursera (1 makes us a bit uncomfortable!) that you should be aware of.
Of course, you might find a fantastic investment by looking elsewhere. So take a peek at this free list of companies insiders are buying, and this list of stocks growth stocks (according to analyst forecasts)
Simply Wall St analyst Goran Damchevski and Simply Wall St have no position in any of the companies mentioned. This article is general in nature. It does not constitute a recommendation to buy or sell any stock and does not take account of your objectives, or your financial situation. We aim to bring you long-term focused analysis driven by fundamental data. Note that our analysis may not factor in the latest price-sensitive company announcements or qualitative material.

Have feedback on this article? Concerned about the content? Get in touch with us directly. Alternatively, email editorial-team@simplywallst.com