The Opportunity In XPeng Inc. (NYSE:XPEV) And The Risks From The Big Picture

Shareholders of XPeng Inc. ( NYSE:XPEV ) will be pleased this month, given that the stock price is up 74% to US$41.03 following its latest first-quarter results.
This is an important time for investors, as they can track a company's performance in its report, look at what experts are forecasting for next year, and see if there has been any change to expectations for the business.
The company is powering ahead and has posted strong vehicle delivery results. Xpeng delivered a total of 5,686 Smart EVs in May 2021, representing a 483% increase year-over-year, and a 10% increase over last month.
The May deliveries consisted of 3,797 P7s, the Company's sports smart sedan, and 1,889 G3s, its smart compact SUV.
Earnings And Future Estimates
We also gathered the latest post-earnings forecasts to see what estimates suggest is in store for next year.
View our latest analysis for XPeng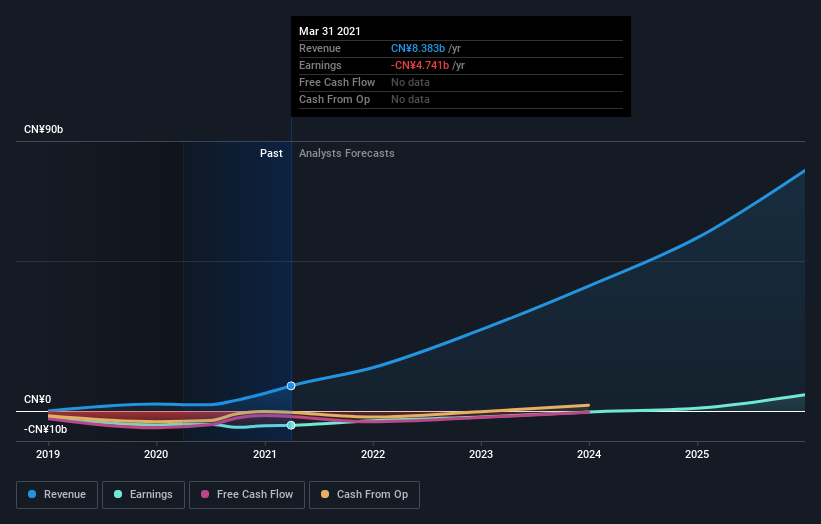 NYSE:XPEV Earnings and Revenue Growth June 2021
Taking into account the latest results, the current consensus from XPeng's 13 analysts is for revenues of CN¥14.4b in 2021, which would reflect a sizable 72% increase in its sales over the past 12 months.
The consensus price target was unchanged at US$47.10 (bullish at US$69.73, bearish at US$32.21) suggesting that the business is executing in line with estimates.
Another way we can view these estimates is in the context of the bigger picture.
It's pretty clear that there is an expectation that XPeng's revenue growth will slow down substantially, with revenues to the end of 2021 expected to display 106% growth on an annualized basis. This is compared to a historical growth rate of 296% over the past year.
By way of comparison, the other companies in this industry with analyst coverage are forecast to grow their revenue at 22% annually. XPeng is expected to grow faster than the wider industry because it is in its high growth phase where the product will be tested by the market.
Although some analysts are estimating a break into profitability around 2025, it is important to note that a capital intensive business such as auto manufacturing should not aspire for early profitability and make sure to heavily reinvest into their production capacities.
Thinking Macro
Investors should also compare the number of new car manufacturing companies popping up in the last few years with the overall industry trends. The graph below demonstrates the cyclicality of automobiles.

[ U.S. Bureau of Economic Analysis, Light Weight Vehicle Sales: Autos and Light Trucks [ALTSALES], retrieved from FRED, Federal Reserve Bank of St. Louis; ](https://fred.stlouisfed.org/series/ALTSALES, June 9, 2021.)
Investors can be more comfortable with their approach if they answer some following questions:
Is this industry going to grow in the next 3 to 5 years?
Are sales going to be supported by consumers switching from fuel to electrical vehicles?
Are economic pressures going to prompt consumers to buy used vehicles, lease, or engage in more car sharing schemes?
What are some positive catalysts for this industry: government subsidies & target adoption rates, adaptation of EVs, innovations in energy, etc?
What are some possible negative catalysts: Car sharing and car renting platforms, improved public transportation schemes in urban areas, cultural shifts in car ownership preferences, inflation of new and used vehicle prices, etc?
Will smaller auto manufacturers be eaten up by the established giants, or will they have a way to differentiate and survive on the market?
As you may notice, the success of such a company lies both in the internal operations and external industry factors.
The Bottom Line
A potential investment like XPeng should be weighed both from the internal and external angle.
Analyst projections and current performance put this company on the high growth path.
However, investors need a good plan of how to approach a company like this. A few examples of dealing with the risks of a young company in a new business include:
Consider a group of similar companies in the same industry. If you feel that there are good prospects in a product/industry, you may be safer spreading your investment across more companies and avoid a failed single stock.
Think about industry capacity: weight the fear of missing out in a stock versus the price of entry in a market. If you feel fundamentals do not justify the current price within an industry, then you might prefer to wait for a better entry price.Consider the other side. If this company loses, who will grab the transportation market share? EV competitors, ride-sharing platforms, used car dealerships, leasing companies, the old and established companies?
With that in mind, we wouldn't be too quick to come to a conclusion on XPeng. Long-term earnings power is much more important than next year's profits. We have estimates — from multiple XPeng analysts — going out to 2025, and you can see them free on our platform here.
Take a look at the 2 warning signs for XPeng that you need to be mindful of.
Simply Wall St analyst Goran Damchevski and Simply Wall St have no position in any of the companies mentioned. This article is general in nature. It does not constitute a recommendation to buy or sell any stock and does not take account of your objectives, or your financial situation. We aim to bring you long-term focused analysis driven by fundamental data. Note that our analysis may not factor in the latest price-sensitive company announcements or qualitative material.

Have feedback on this article? Concerned about the content? Get in touch with us directly. Alternatively, email editorial-team@simplywallst.com