Zillow Group's (NASDAQ:ZG) Results Don't Back Up the High P/E

The stock price of Zillow Group, Inc . ( NASDAQ:ZG ) has fallen 53% in the last six months, which may have put it on the buy list for bargain hunters. However, the stock is still trading on a price-to-earnings (or "P/E") ratio of 164.9x. That implies a lot of optimism amongst investors, and it's worth considering whether that optimism is justified.
Zillow Group, which operates digital real estate platforms, was viewed as a beneficiary of 'stay at home orders' that came into effect starting in March 2020. There was some logic to this as the platform provides 3D online tours of properties to prospective buyers and renters. However, in reality revenues were little changed through most of 2020. 
Before the pandemic, the share price was trading at around $50 a share, but by February this year it was above $200. It peaked at $212 and has been drifting lower ever since. Yet despite the share price halving the P/E ratio still suggests the market is expecting outstanding performance in the future. To put Zillow's P/E ratio in perspective, half of the companies listed in the US are trading on P/E ratios of 18 or lower.
Check out our latest analysis for Zillow Group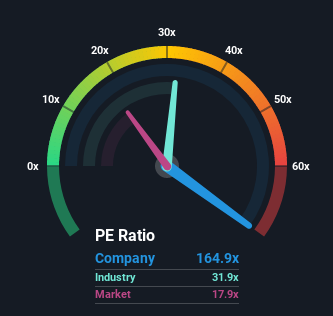 How Is Zillow Group's Growth Trending?
A P/E ratio of 164 doesn't necessarily mean the stock is too expensive, but there should be some good reasons for such an optimistic outlook. We can start by looking at Zillow's historical performance.
The following chart shows Zillow's revenue, earnings and free cash flow going back to 2015. It illustrates the fact that revenue growth and margins have been somewhat erratic.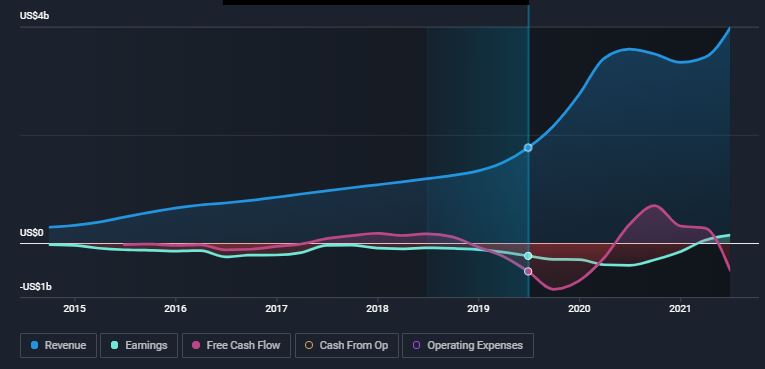 It's worth mentioning that Zillow's business has changed slightly in the last few years, as it has entered the mortgage business with Zillow Home Loans  and begun to buy and sell properties with Zillow Offers. These changes have had the effect of increasing revenue, but put downward pressure on margins. Furthermore, these new segments are in a very early phase of growth which often results in 'lumpy' numbers.
In order to justify its P/E ratio, Zillow Group would need to produce outstanding growth well in excess of the market. Looking more closely at the forecasts for earnings, we see a very wide range of forecasts. The most bullish forecasts suggest trailing 12-month EPS will improve from $0.62 over the most recent 12-month period to $1.49 by the end of 2022 and $3.10 by 2023. Meanwhile the most pessimistic forecasts suggest earnings will once again deteriorate in 2022, and remain in negative territory until 2024.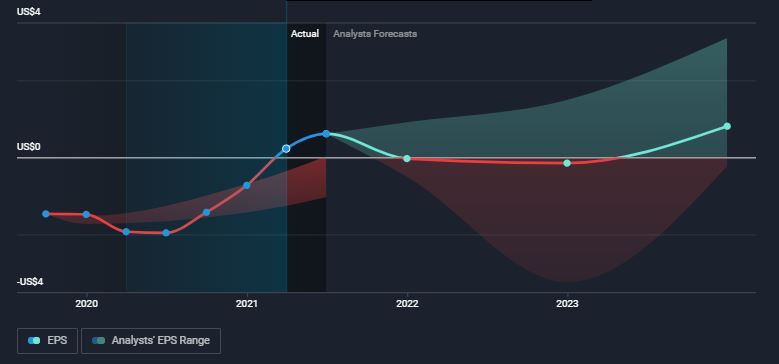 The Zillow Story vs the Data
As a company, Zillow has a lot going for it. It's one of the most visited commercial websites in the US , and by far the most successful real estate website. The company  has also had early success with Zillow Home Loans and Zillow Offers.
On the other hand, revenue and margins have been erratic. In the most recent quarter, the company's net income was $9.6 million on revenue of $1.3 billion - a profit margin of 0.7%. Although home prices in the US are rising, inventory is low which may lead to lower volumes in the future.
The forward P/E looking out to 2023 with the most optimistic forecast of $3.10 in EPS, would be 32. So even in the most optimistic scenario it would be higher than the P/E of the average stock is now.
In summary, Zillow is a good story and the high P/E ratio reflects the fact that the market believes the story. But, at this stage the data doesn't support the story. The market may or may not turn out to be right on this one - but the high P/E is a risk for investors.
Of course, there is a lot more to consider about the company, so we suggest you check out our latest analysis for Zillow Group .
If these risks are making you reconsider your opinion on Zillow Group , explore our interactive list of high quality stocks to get an idea of what else is out there.
Simply Wall St analyst Richard Bowman and Simply Wall St have no position in any of the companies mentioned. This article is general in nature. It does not constitute a recommendation to buy or sell any stock and does not take account of your objectives, or your financial situation. We aim to bring you long-term focused analysis driven by fundamental data. Note that our analysis may not factor in the latest price-sensitive company announcements or qualitative material.

Have feedback on this article? Concerned about the content? Get in touch with us directly. Alternatively, email editorial-team@simplywallst.com