Netflix's strategy was to reach scale, then create its own content
Its library is shifting towards original content
Net margins are expanding as scale takes effect
On-demand streaming is one of the most competitive industries in the 21st century. Netflix ( NASDAQ:NFLX ) was the pioneer back in 2007 with its "Watch Now" service. Since then, many players have joined the space - and you can't blame them, the model of on-demand streaming is more streamlined (pardon-the-pun) and scalable than traditional distribution methods. It has provided those with valuable intellectual property such as movies and TV shows a new and efficient way to monetize these assets.
Some expect the on-demand streaming industry to reach 2 billion users by 2025 , which would be a 65% increase from 2020 figures.
Being the first mover 14 years ago has allowed Netflix to get a headstart in acquiring users and building its market-leading user base of 204m. However, this lead will not be easy to maintain. In this piece, we want to cover Netflix's strategies to get where it is today, how it could maintain its lead and what that will do to the business' economics.
Netflix's strategy
Netflix is a streaming service for content. Its strategy was simple: grow its subscriber base to reach scale quickly by distributing quality content through a great user experience. Then, once it reaches scale, create its own content to become less reliant on external studios and allow itself to generate higher margins through fixed production costs rather than variable licensing fees.
In the early days, this content was all licensed from other studios that actually owned the rights. Netflix paid them licensing fees and, before the company had scale, it was at the mercy of these content providers. Until Netflix was to reach scale (a large enough paying user base), this model typically benefitted the content owners more than the content distributors.
That's why in 2013, when the company reached 34m paying subscribers, it began to generate its own content. One of its first productions was the hugely successful and award-winning House of Cards . As the company has continued to grow its user base, it has continued to create its own content in house. By February 2021, when Netflix surpassed 204m paying subscribers, the company reportedly had around 1,500 Netflix original titles , which was roughly 10% of its total international library of 15,000 titles.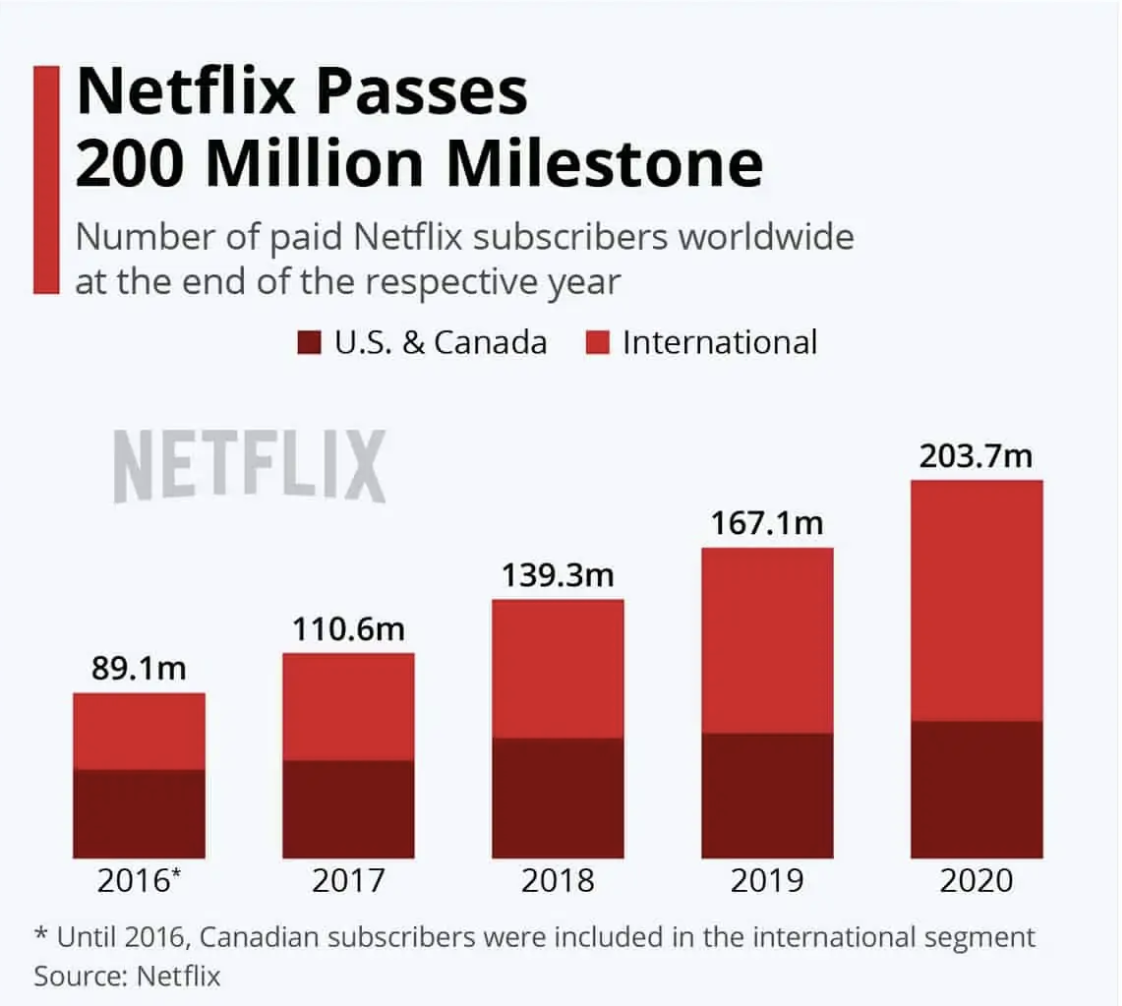 Source: Netflix
Since Netflix has now reached scale and established a market leading position, it needs to continue doubling down on the second part of its strategy to maintain that lead, which is: make more of its own content.
Maintaining its lead
It's one thing to generate a lead, but it's another to maintain it. Since there's plenty of streaming options out there such as Disney+, Amazon Prime, Youtube Premium, and users are spoilt for choice. However, while these consumers have a vast array of content at their fingertips, not all of it is "great" content and they only have so much spare time to consume it. That's why Netflix's goal is for consumers to " choose Netflix in their moments of free time ". To do this, Netflix knows it needs to provide unique content that is more appealing than others, and deliver it through a seamless user experience.
Since the company seems to have the user experience mostly in order, a lot of its focus has been on growing the amount of unique content it serves, especially its originals. And we can see Netflix's shift in spending in the company's cost of revenue expense and the company's content assets.
Netflix's cost of revenue is its primary expense and was $15.2bn for 2020 (61% of revenue). Two thirds of this ($10.8bn) is made up of the amortization of its content assets.
Amortization is a method for writing off the cost of the content over its useful life, rather than incurring the cost up front. On average, over 90% of Netflix's licensed or produced content is amortized over 4 years. So for example, on average, a $100m license fee for a TV show might be amortized at $25m per year over 4 years instead of all at once.
The chart below shows just how much amortization of content has occurred leading up to 2019 as well as cash spend on content.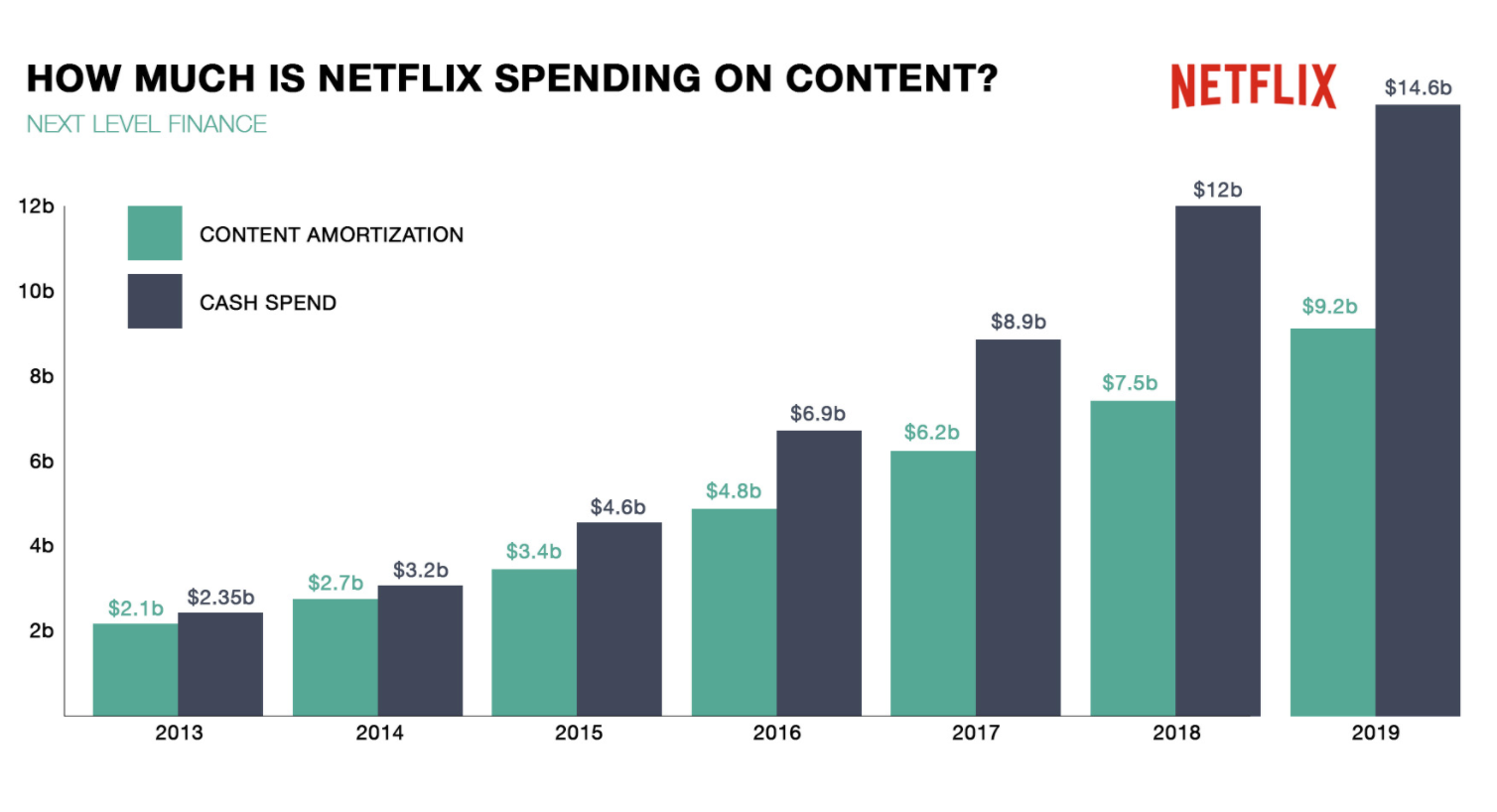 Source: Next Level Finance
You'll notice the cash spend column beside the amortization column. Cash spend is recorded in the statement of cash flows and represents the money Netflix spends upfront to produce its own content. Importantly, this disparity between the two columns reflects that the company is spending more on producing its own content since cash spend is increasing at a faster rate than amortization.
For 2020, content amortization reached $10.8bn and cash spend reduced to $12.5bn, but it was still higher than the amortization expense.
This transition of increasing spend on original content then shows up in the company's content assets split too.
In 2016, the company had $11bn worth of content assets, which was split between 86% licensed content, and 14% original content. However, by 2020, content assets reached $25bn and the split was now 54% licensed to 46% original. This shift is helping the company become less at risk of studios pulling their content, because it has more of its own to showcase.
Releasing and owning unique titles such as Stranger Things, House of Cards, The Crown, The Witcher, or The Queen's Gambit are crucial for Netflix to maintain its lead. It gives their existing users all the more reason to keep their subscriptions as new titles like these are released, and it gives prospective users all the more reason to sign up if they want to view these exclusives.
This transition to original content is helping the company build its own moat by becoming less reliant on external providers. As Netflix becomes both the producer and distributor of a larger portion of its content library, this creates a lot of operating leverage and thus helps the company's bottom line.
How this impacts the economics
The positive financial impact of reaching a huge operating scale in a business like Netflix cannot be understated. Additionally, the expansion of originals in its content library exaggerates the positive effects that scale has on the company's bottom line. This effect can already be seen over the last five years, and analysts expect this to continue over the next five.
In 2016, net profit margins were only 2.1% but reached 11% in 2020. This is thanks to the 120% increase in paying subscribers (to 204m) and the aforementioned increase in fixed cost original content. Looking forward, analysts expect further growth in revenue and earnings thanks to more subscriber growth and an increase in original content as a percentage of total titles. By 2025, the company is expected to double revenue to $51bn and increase earnings more than 4-fold to $12bn, which would result in further net margin expansion to 23.5%.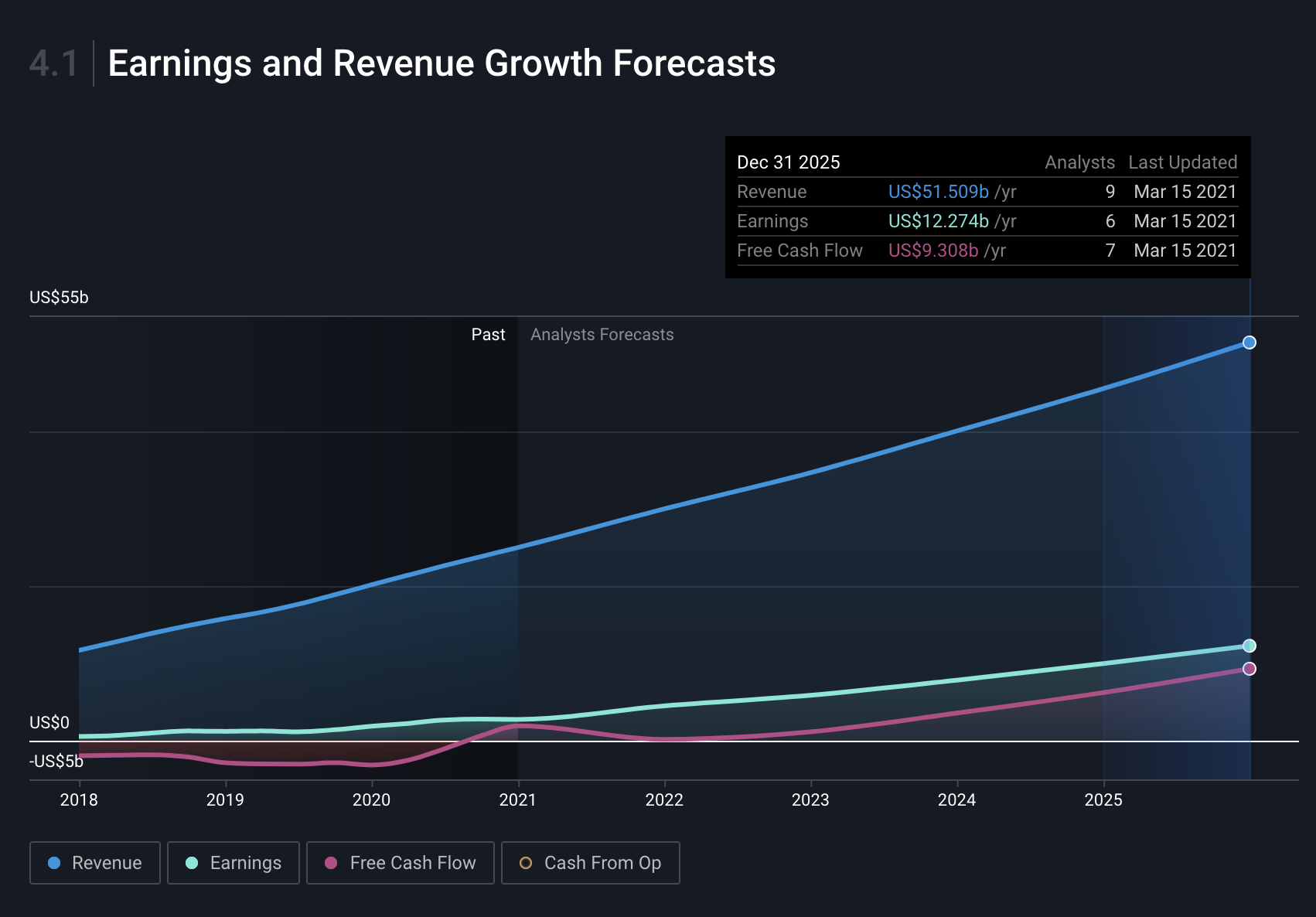 Source: Earnings and Revenue Growth Forecasts - NASDAQ:NFLX - Simply Wall St

It should be noted that while Netflix will need to continue creating its own content to remain relevant and satisfy user demand, its scale is now at a stage where this is affordable.
Additionally, with this leading scale, those studios that do license their content to Netflix (because they don't have a streaming platform of their own) will either have to start one of their own from square one and find users to make it economical, or look for a better license deal from a different streaming service (which might be difficult given Netflix is the biggest and likely able to pay them the most).
Summing it up
Netflix's core focus for a long time has been its subscriber growth since this is key to becoming profitable. The company's growing investment into originals is aimed at acquiring even more users, and its vast library of titles is used to retain them. Both its scale and unique content help to solidify the company's moat and let it generate more profit from each piece of content. Analysts expect that this trend of user growth and original content creation will continue, and as a result, growth in Netflix's top and bottom line is expected to persist out to at least 2025.
While all of this growth is impressive, it did come with some strings attached. Netflix levered up and by 2020 year end it had $16bn in debt. Our company report on Netflix contains a full breakdown of the company's financial health and its ability to fund the debt .
Have feedback on this article? Concerned about the content? Get in touch with us directly. Alternatively, email editorial-team@simplywallst.com
Simply Wall St analyst Michael Paige and Simply Wall St have no position in any of the companies mentioned. This article is general in nature. We provide commentary based on historical data and analyst forecasts only using an unbiased methodology and our articles are not intended to be financial advice. It does not constitute a recommendation to buy or sell any stock and does not take account of your objectives, or your financial situation. We aim to bring you long-term focused analysis driven by fundamental data. Note that our analysis may not factor in the latest price-sensitive company announcements or qualitative material.