Subdued Growth No Barrier To The Dharamsi Morarji Chemical Company Limited (NSE:DHARAMSI) With Shares Advancing 29%

The Dharamsi Morarji Chemical Company Limited (NSE:DHARAMSI) shares have had a really impressive month, gaining 29% after a shaky period beforehand. Longer-term shareholders would be thankful for the recovery in the share price since it's now virtually flat for the year after the recent bounce.
After such a large jump in price, Dharamsi Morarji Chemical may be sending very bearish signals at the moment with a price-to-earnings (or "P/E") ratio of 39.4x, since almost half of all companies in India have P/E ratios under 22x and even P/E's lower than 11x are not unusual. Nonetheless, we'd need to dig a little deeper to determine if there is a rational basis for the highly elevated P/E.
We'd have to say that with no tangible growth over the last year, Dharamsi Morarji Chemical's earnings have been unimpressive. One possibility is that the P/E is high because investors think the benign earnings growth will improve to outperform the broader market in the near future. You'd really hope so, otherwise you're paying a pretty hefty price for no particular reason.
View our latest analysis for Dharamsi Morarji Chemical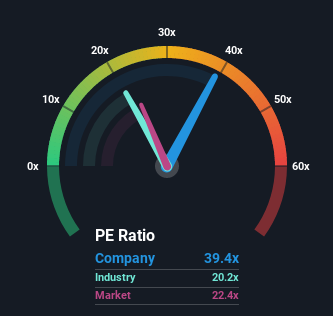 Want the full picture on earnings, revenue and cash flow for the company? Then our
free report on Dharamsi Morarji Chemical
will help you shine a light on its historical performance.
Is There Enough Growth For Dharamsi Morarji Chemical?
Dharamsi Morarji Chemical's P/E ratio would be typical for a company that's expected to deliver very strong growth, and importantly, perform much better than the market.
Taking a look back first, we see that there was hardly any earnings per share growth to speak of for the company over the past year. Whilst it's an improvement, it wasn't enough to get the company out of the hole it was in, with earnings down 39% overall from three years ago. Therefore, it's fair to say the earnings growth recently has been undesirable for the company.
Weighing that medium-term earnings trajectory against the broader market's one-year forecast for expansion of 24% shows it's an unpleasant look.
In light of this, it's alarming that Dharamsi Morarji Chemical's P/E sits above the majority of other companies. Apparently many investors in the company are way more bullish than recent times would indicate and aren't willing to let go of their stock at any price. There's a very good chance existing shareholders are setting themselves up for future disappointment if the P/E falls to levels more in line with the recent negative growth rates.
The Final Word
Dharamsi Morarji Chemical's P/E is flying high just like its stock has during the last month. Generally, our preference is to limit the use of the price-to-earnings ratio to establishing what the market thinks about the overall health of a company.
Our examination of Dharamsi Morarji Chemical revealed its shrinking earnings over the medium-term aren't impacting its high P/E anywhere near as much as we would have predicted, given the market is set to grow. When we see earnings heading backwards and underperforming the market forecasts, we suspect the share price is at risk of declining, sending the high P/E lower. If recent medium-term earnings trends continue, it will place shareholders' investments at significant risk and potential investors in danger of paying an excessive premium.
We don't want to rain on the parade too much, but we did also find 3 warning signs for Dharamsi Morarji Chemical that you need to be mindful of.
If these risks are making you reconsider your opinion on Dharamsi Morarji Chemical, explore our interactive list of high quality stocks to get an idea of what else is out there.
Have feedback on this article? Concerned about the content? Get in touch with us directly. Alternatively, email editorial-team (at) simplywallst.com.

This article by Simply Wall St is general in nature. We provide commentary based on historical data and analyst forecasts only using an unbiased methodology and our articles are not intended to be financial advice. It does not constitute a recommendation to buy or sell any stock, and does not take account of your objectives, or your financial situation. We aim to bring you long-term focused analysis driven by fundamental data. Note that our analysis may not factor in the latest price-sensitive company announcements or qualitative material. Simply Wall St has no position in any stocks mentioned.