Improved Earnings Required Before Deoleo, S.A. (BME:OLE) Stock's 32% Jump Looks Justified

Deoleo, S.A. (BME:OLE) shares have continued their recent momentum with a 32% gain in the last month alone. Longer-term shareholders would be thankful for the recovery in the share price since it's now virtually flat for the year after the recent bounce.
Although its price has surged higher, Deoleo may still be sending very bullish signals at the moment with its price-to-earnings (or "P/E") ratio of 6.6x, since almost half of all companies in Spain have P/E ratios greater than 19x and even P/E's higher than 40x are not unusual. Although, it's not wise to just take the P/E at face value as there may be an explanation why it's so limited.
While the market has experienced earnings growth lately, Deoleo's earnings have gone into reverse gear, which is not great. It seems that many are expecting the dour earnings performance to persist, which has repressed the P/E. If this is the case, then existing shareholders will probably struggle to get excited about the future direction of the share price.
View our latest analysis for Deoleo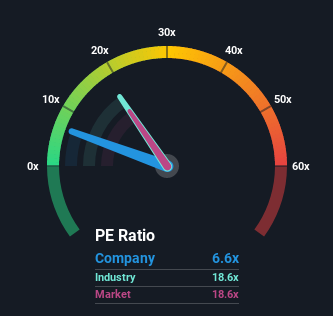 Want the full picture on analyst estimates for the company? Then our
free report on Deoleo
will help you uncover what's on the horizon.
What Are Growth Metrics Telling Us About The Low P/E?
There's an inherent assumption that a company should far underperform the market for P/E ratios like Deoleo's to be considered reasonable.
If we review the last year of earnings, dishearteningly the company's profits fell to the tune of 55%. At least EPS has managed not to go completely backwards from three years ago in aggregate, thanks to the earlier period of growth. Therefore, it's fair to say that earnings growth has been inconsistent recently for the company.
Turning to the outlook, the next year should bring diminished returns, with earnings decreasing 85% as estimated by the lone analyst watching the company. That's not great when the rest of the market is expected to grow by 14%.
In light of this, it's understandable that Deoleo's P/E would sit below the majority of other companies. However, shrinking earnings are unlikely to lead to a stable P/E over the longer term. Even just maintaining these prices could be difficult to achieve as the weak outlook is weighing down the shares.
The Bottom Line On Deoleo's P/E
Deoleo's recent share price jump still sees its P/E sitting firmly flat on the ground. While the price-to-earnings ratio shouldn't be the defining factor in whether you buy a stock or not, it's quite a capable barometer of earnings expectations.
We've established that Deoleo maintains its low P/E on the weakness of its forecast for sliding earnings, as expected. Right now shareholders are accepting the low P/E as they concede future earnings probably won't provide any pleasant surprises. It's hard to see the share price rising strongly in the near future under these circumstances.
Before you settle on your opinion, we've discovered 3 warning signs for Deoleo that you should be aware of.
If these risks are making you reconsider your opinion on Deoleo, explore our interactive list of high quality stocks to get an idea of what else is out there.
Have feedback on this article? Concerned about the content? Get in touch with us directly. Alternatively, email editorial-team (at) simplywallst.com.

This article by Simply Wall St is general in nature. We provide commentary based on historical data and analyst forecasts only using an unbiased methodology and our articles are not intended to be financial advice. It does not constitute a recommendation to buy or sell any stock, and does not take account of your objectives, or your financial situation. We aim to bring you long-term focused analysis driven by fundamental data. Note that our analysis may not factor in the latest price-sensitive company announcements or qualitative material. Simply Wall St has no position in any stocks mentioned.