One of the biggest stories of last week was how SmileDirectClub, Inc. (NASDAQ:SDC) shares plunged 34% in the week since its latest annual results, closing yesterday at US$8.00. SmileDirectClub reported revenues of US$750m, in line with expectations, but it unfortunately also reported (statutory) losses of US$1.14 per share, which were slightly larger than expected. Analysts typically update their forecasts at each earnings report, and we can judge from their estimates whether their view of the company has changed or if there are any new concerns to be aware of. So we gathered the latest post-earnings forecasts to see what analysts' statutory forecasts suggest is in store for next year.
View our latest analysis for SmileDirectClub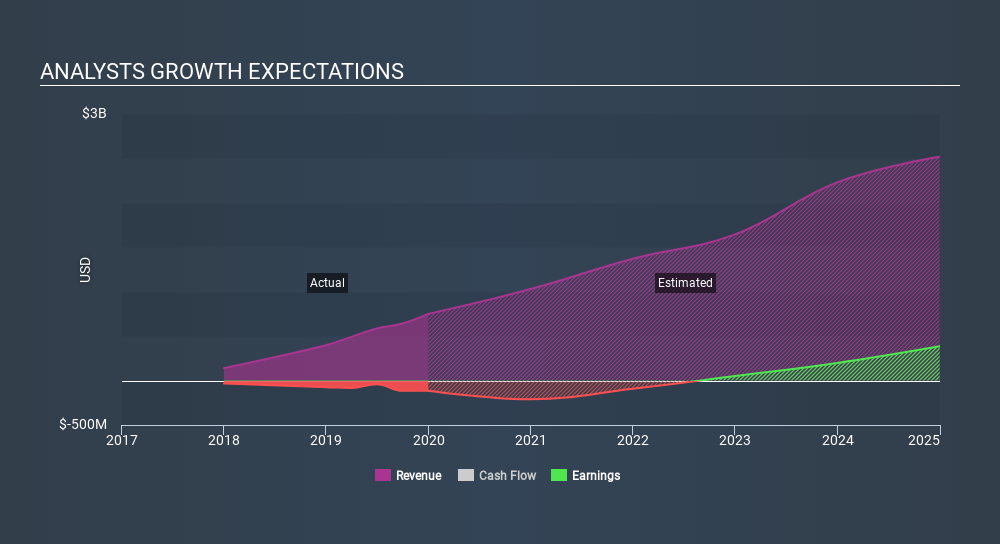 Taking into account the latest results, the current consensus from SmileDirectClub's twelve analysts is for revenues of US$1.03b in 2020, which would reflect a sizeable 37% increase on its sales over the past 12 months. Per-share statutory losses are expected to explode, reaching US$0.55 per share. Before this earnings announcement, analysts had been forecasting revenues of US$1.15b and losses of US$0.22 per share in 2020. It looks like analyst sentiment has declined substantially in the aftermath of these results, with a substantial drop in revenue estimates and a large cut to consensus earnings per share numbers as well.
The consensus price target fell 26% to US$13.73, with analysts clearly concerned about the company following the weaker revenue and earnings outlook. Fixating on a single price target can be unwise though, since the consensus target is effectively the average of analyst price targets. As a result, some investors like to look at the range of estimates to see if there are any diverging opinions on the company's valuation. The most optimistic SmileDirectClub analyst has a price target of US$24.00 per share, while the most pessimistic values it at US$4.00. So we wouldn't be assigning too much credibility to analyst price targets in this case, because there are clearly some widely different views on what kind of performance this business can generate. With this in mind, we wouldn't assign too much meaning to the consensus price target, as it is just an average and analysts clearly have some deeply divergent views on the business.
In addition, we can look to SmileDirectClub's past performance and see whether business is expected to improve, and if the company is expected to perform better than wider market. We would highlight that SmileDirectClub's revenue growth is expected to slow, with forecast 37% increase next year well below the historical 88%p.a. growth over the last year. Juxtapose this against the other companies in the market with analyst coverage, which are forecast to grow their revenues (in aggregate) 7.7% next year. Even after the forecast slowdown in growth, it seems obvious that analysts still thinkSmileDirectClub will grow faster than the wider market.
The Bottom Line
The highlight for us was that the consensus reduced its estimated losses next year, perhaps suggesting SmileDirectClub is moving incrementally towards profitability. Unfortunately analysts also downgraded their revenue estimates, although industry data suggests that SmileDirectClub's revenues are expected to grow faster than the wider market. Analysts also downgraded their price target, suggesting that the latest news has led analysts to become more pessimistic about the intrinsic value of the business.
Still, the long-term prospects of the business are much more relevant than next year's earnings. We have estimates – from multiple SmileDirectClub analysts – going out to 2024, and you can see them free on our platform here.
You can also see our analysis of SmileDirectClub's Board and CEO remuneration and experience, and whether company insiders have been buying stock.
If you spot an error that warrants correction, please contact the editor at editorial-team@simplywallst.com. This article by Simply Wall St is general in nature. It does not constitute a recommendation to buy or sell any stock, and does not take account of your objectives, or your financial situation. Simply Wall St has no position in the stocks mentioned.

We aim to bring you long-term focused research analysis driven by fundamental data. Note that our analysis may not factor in the latest price-sensitive company announcements or qualitative material. Thank you for reading.