The Big Trends - Part 11: Nanotechnology
"Nanotechnology is an idea that most people simply didn't believe." — Ralph Merkle
Welcome to the 11th part of our 'Big Trends' series! Next week we'll be wrapping up the series with our 12th and final piece.
This week we are having a look at the diverse and interesting field of nanotechnology.
We're going to have a look at what it is in the first place, the types of nanotech applications, and how to invest in the space.
So let's dive in!
🎧 Would you prefer to listen to these insights? You can find the audio version on our Spotify or Apple podcasts !
Molecular Scale Solutions For Macro Scale Problems
Now, nanotechnology simply refers to the study and manipulation of matter at the molecular and atomic levels. In practice, "nanoscale" implies matter smaller than 100 nanometers, or a 10,000th of a millimeter. Tiny!!
This is a wide-ranging field that combines biology, chemistry, physics, materials science, electronics, and engineering. It also has diverse applications across industries from healthcare to aerospace and computing.
In addition, like many of the big trends we've covered, the field also seemingly has a long way to go, which makes it interesting for us investors to investigate!
Types Of Nanotechnology
We can broadly think of the field in terms of three areas; engineering, materials and devices.
Engineering And Science
The science of nanotechnology concerns the way materials can be manipulated. In many ways, nanotechnology is manufacturing at the atomic level, but there's more to it.
The U.S National Nanotechnology Initiative describes it as:
" Nanotechnology is not simply working at ever smaller dimensions. Rather, working at the nanoscale enables scientists to utilize the unique physical, chemical, mechanical, and optical properties of materials that naturally occur at that scale."
The methods used to create nanomaterials and devices are broken down in two ways:
🔼 Bottom-up processes build materials up from individual molecules, while 🔽 Top-down processes start with a bulk material and break it down to the desired format.
Dry nanotechnology is used for inorganic matter like carbon and metals, while wet nanotechnology uses organic matter including genetic materials and other cellular materials.
Thousands of universities, labs and start-ups around the world are conducting research on the various areas of nanotechnology.
This means that many of the potential products and solutions are still years away from becoming commercial - so there are likely decades of opportunity ahead.
Nanomaterials
These are just a few of the types of 'nanomaterials' being developed or already being produced:
Carbon Nanomaterials are materials synthesized to optimize certain properties such as conductivity, strength and flexibility. These materials are useful to industries ranging from healthcare to electronics, energy, construction and textiles.

Nanocomposites optimise for strength and weight and are used in the automotive and aerospace industries. This is one of the most lucrative areas due to the size of these industries.

Green nanomaterials are manufactured from 'biobased' raw materials. This area also has an emphasis on the way materials are synthesized to reduce the environmental impact. Green nanotechnology can also be used to remove toxic pollutants from soil and water.

Energy nanomaterials are being developed to improve the efficiency and economics of energy production, storage and transmission. In particular, the conductive properties and lifespan of components can be improved.

Nanoencapsulation refers to the methods and materials used as carrier platforms for medicine.

Nanoencapsulation also has applications in the agricultural and food industries to increase the efficiency of agrochemicals - thereby increasing yields - and by protecting bioactive molecules in our food, allowing humans to get more nutritional value from the foods we eat.

Quantum dots are particles of semiconductor materials that have unique electrical and optical qualities due to their 'zero dimensional' nature. They have widespread uses ranging from electronic displays to solar cells and medical research.
Nanotechnology also extends to devices ranging from 'nanorobots' to 'nanoscale sensors'.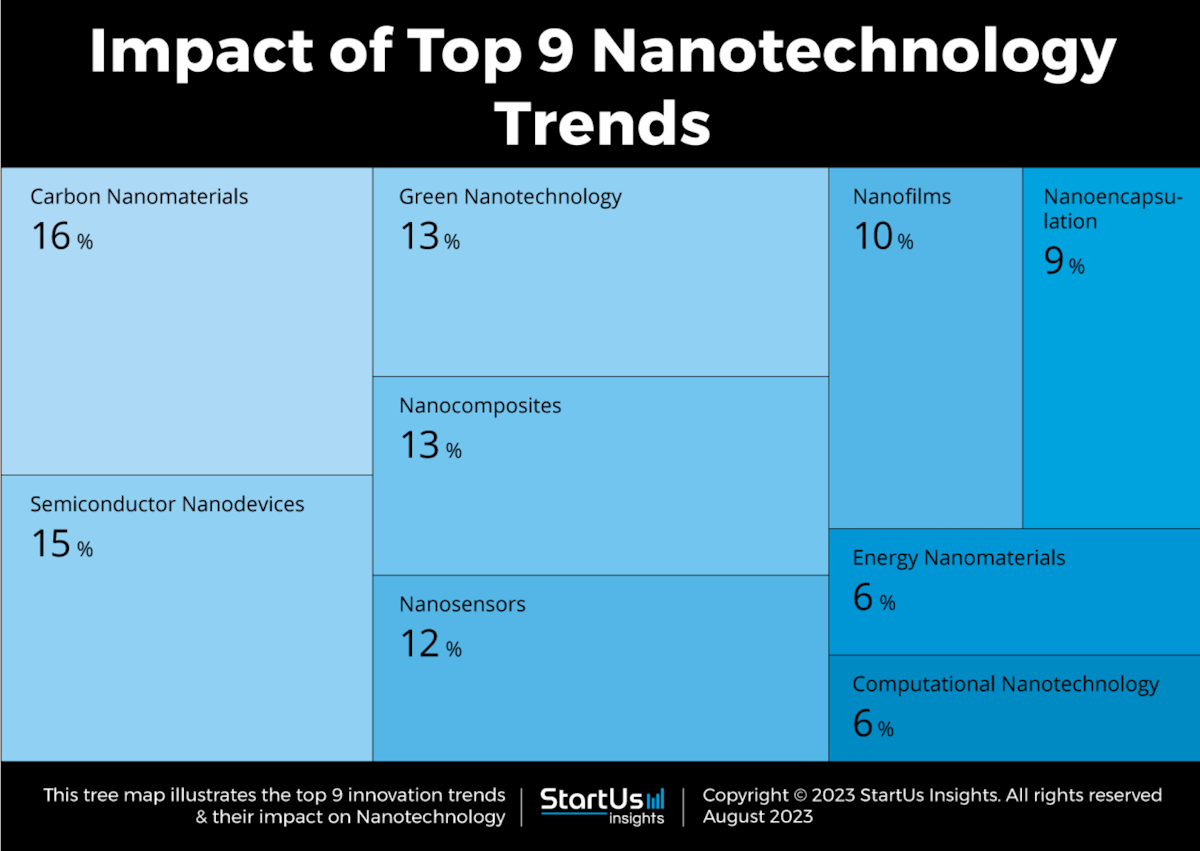 Nanotechnology In Action
Graphene: The Miracle Material?
Graphene is an allotrope of carbon consisting of a single layer of atoms. The resulting material is not only flexible and light, but it's extremely strong (200 times stronger than steel!). It's also a very good conductor of heat and electricity. With these qualities, there are numerous potential uses of Graphene, a few of the most important include:
🧱 Graphene enhanced composite materials

Graphene can be used as an additive to give a material new properties like improved electrical and thermal conductivity, durability, flexibility, stiffness, UV resistance, weight reduction and fire resistance.

🔋 Energy storage

Graphene batteries could be a viable alternative to lithium-ion batteries. Their molecular properties could allow them to be used as a 'Supercapacitor' allowing for far more energy-dense batteries than what's possible with current metal-ion batteries, with much faster charge times. Graphene can also be used as a coating on current lithium-ion batteries to drastically improve charge times.

💊 Medical

Graphene is found to have exceptional drug loading and release characteristics that make it an ideal compound for targeted drug delivery. Targeted drug delivery means that the therapeutic efficiency of medicine can be improved with fewer side effects.
The challenge right now is that it's just too expensive to be viable for most use cases, costing a whopping US$60,000 to $200,000 per ton . Regardless, it is currently manufactured commercially and used in certain manufacturing processes.
Here's the important thing though, if or when the cost of producing graphene comes down, it promises to be as revolutionary as steel was during the 19th century.
Healthcare: Nanobots And Smartpills
Nanotechnology is already widely used in the healthcare industry. The first ingestible smart pill containing a camera was approved in 2001, and since then numerous variations have been developed.
These pills can gather and transmit data to patients and doctors, control the release of medicine, and even vibrate to promote digestion. MIT's Smart Sensor (below) has several applications.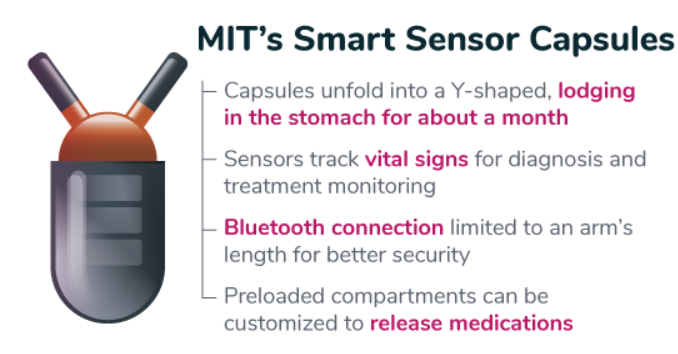 Nanobots are also being used to perform minor procedures.
These bots can travel through the body and have been used to clear arteries, collect tissue samples and deliver drugs where they are needed. A promising treatment e ven uses bots to target cancerous tumors with blood clotting enzymes.
Nanotechnology, along with other health tech innovations is revolutionizing the healthcare industry by helping doctors detect disease earlier and deliver targeted, minimally invasive procedures.
Quantum Computing And Superconductors
The emerging field of quantum computing is closely tied to nanotechnology.
These computers, many of which are still hypothetical, operate according to quantum physics rather than classical physics, which means they can perform certain tasks that are beyond the reach of classical computing systems.
This video provides a good introduction to quantum computing, and the computers being developed by IBM (P.S. If you'd like to watch this video later, simply store it as a note beside IBM on Simply Wall St! )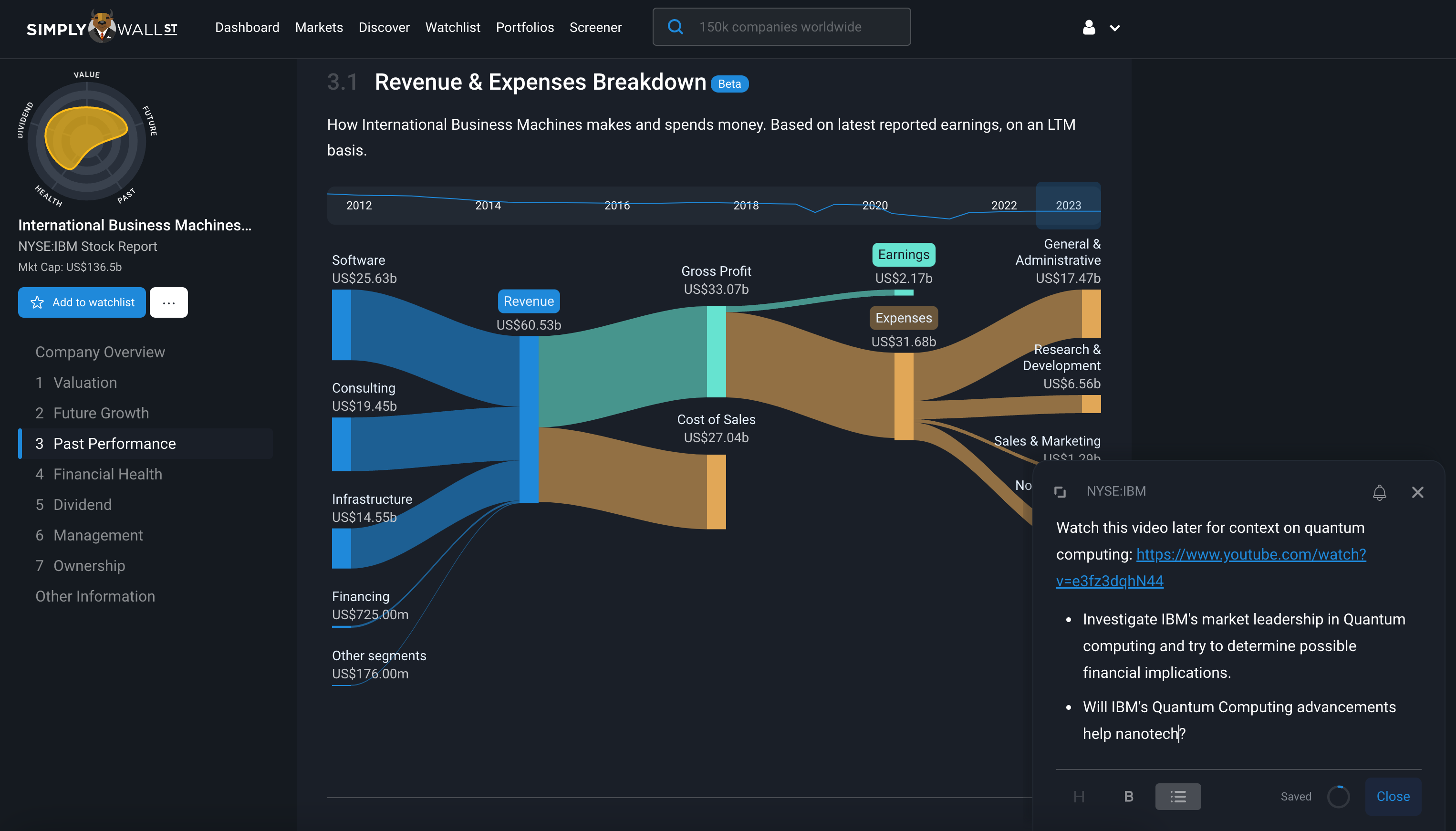 Nanotechnology and quantum computing depend on one another: the types of quantum computers currently being developed rely on nanomaterials, while nanoengineering will benefit greatly from quantum computing. These two fields are likely to advance in tandem.
In July researchers in Korea claimed to have discovered a room-temperature superconductor, LK-99 . Unfortunately the claims have since been disputed , but that would have marked a major milestone for quantum computing.
The reason being? Quantum computers require superconductors - materials with no electrical resistance.
Currently, to achieve this, quantum computers need to operate at a temperature of 15 millikelvin! That's -273℃ or -459℉, which first off, is absurdly cold and secondly, is impractical outside of laboratory settings.
Investing In NanoTechnology
So if you're interested in nanotech, how can you invest in it?
Unlike most technology industries, the US doesn't dominate the nanotech industry.
Many of the leading companies are in Asia and Europe, though unfortunately many of them are either unlisted or part of bigger conglomerates.
There are also thousands of nanotech startups around the world. Hopefully, as the industry evolves more nanotech companies will become publicly traded.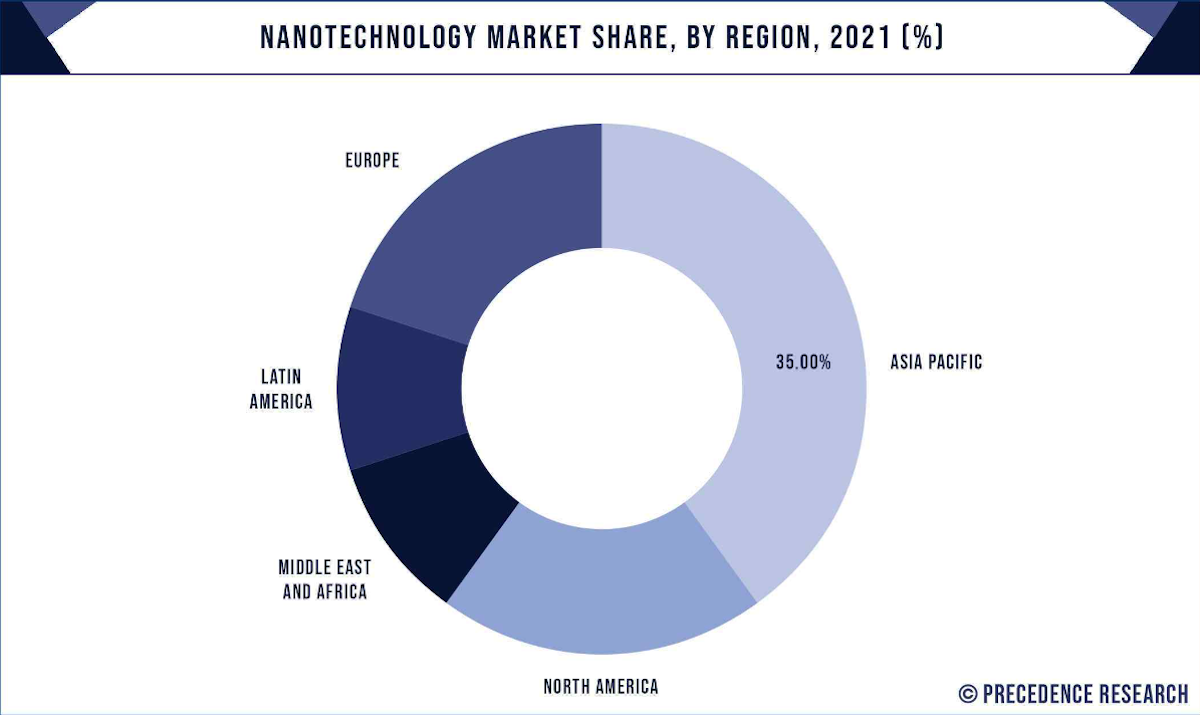 Since we're a way off from seeing pureplay public nanotech stocks, our best bet is bigger companies that have direct or indirect exposure.
Semiconductors are now being built at the nanoscale, so most chip makers come under that umbrella.
The companies at the cutting edge are those that design the equipment used to manufacturer and test new materials and processes. These include ASML Holding, Lam Research , KLA Corporation , Applied Materials , Onto Innovation and Axcelis Technologies .
Intel Corporation also stands out as it designs and manufactures chips. Some investors believe in the narrative that Intel's potential is misunderstood by the market . Their narrative explains Intel's ambitious product roadmap and how it plans to drive earnings per share growth!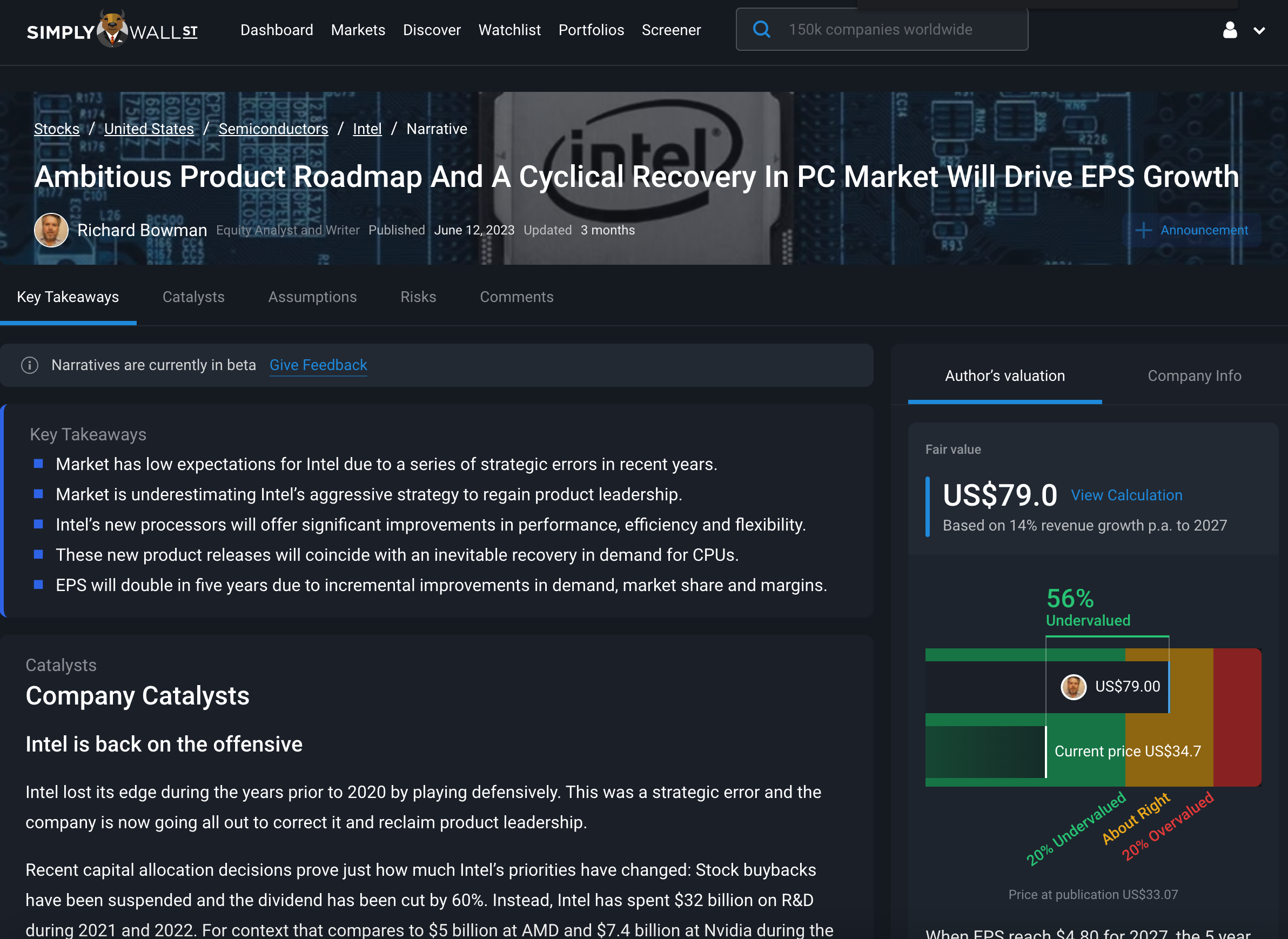 As mentioned, IBM is currently a leader in the quantum computing field. Key technology providers to the life sciences sector include Agilent Technologies , Thermo Fisher Scientific and Bruker Corporation .
Producers of nanomaterials include Entegris , Coherent Corp , and Cabot Corporation , and in Europe, BASF SE and Arkema . In Asia, some of the leaders in the field are Resonac , Fujitsu and Advanced Nano Products .
Beyond these companies, there are hundreds, if not thousands, of microcap companies - which like most microcaps need to be approached with extreme caution and due diligence.
What Else Is Happening?
Now let's do a recap of the key data releases we mentioned last week…
🇺🇲 The US Fed kept the Fed Funds target range at 5.25 to 5.5% as expected .
🇬🇧 The UK received some welcome good news with inflation falling slightly more than expected.

The index was 6.8% in July and 7.9% in June. The lower number was attributed to slowing price gains for air fares, hotel rates and food.
And lastly, a few news items that we thought were worth noting…
🏛️ The US Securities and Exchange Commision (SEC) has tightened rules regarding the way funds are labeled.

The new rules require 80% of a fund's assets to match the name of the fund.
This has been particularly relevant to thematic ETFs that invest in industries like AI, as well as labels like ESG. Over the years the relationship between some fund names and the stocks they actually hold has become questionable.
Regardless of the rules we would encourage you to investigate a fund's holding before relying on the label - or the marketing material.

🚗 Fully autonomous robotaxis are now allowed to operate in parts of Beijing.

The city plans to add more suburbs by the end of the year. The current robo taxi operators in the city are Baidu and Pony.ai.
In the US robotaxis operated by Cruise and Waymo are operational in San Francisco, Phoenix and Austin, and being tested in 14 other cities. Hyundai is piloting a program in Seoul.
Let's see how quickly other cities around the world join the club.
Key Events During the Next Week
This week the strength of the US economy will be reflected by durable good orders due on Wednesday, the final 2nd Quarter GDP estimate on Thursday and the University of Michigan Consumer Sentiment Index on Friday.
Also on Friday, The Core PCE price index and personal income and spending data will be released.
In Europe, Inflation data is due in Germany on Thursday and France on Friday, which will give us an idea if ECB rate hikes are helping to reduce inflation.
China's Caixin Purchasing Managers Index (measures the performance of the manufacturing sector) is due on Friday. With China's current economic slump, this index is being closely watched for any indication of improvement
The prominent companies reporting this week include:
Have feedback on this article? Concerned about the content? Get in touch with us directly. Alternatively, email editorial-team@simplywallst.com
Simply Wall St analyst Richard Bowman and Simply Wall St have no position in any of the companies mentioned. This article is general in nature. We provide commentary based on historical data and analyst forecasts only using an unbiased methodology and our articles are not intended to be financial advice. It does not constitute a recommendation to buy or sell any stock and does not take account of your objectives, or your financial situation. We aim to bring you long-term focused analysis driven by fundamental data. Note that our analysis may not factor in the latest price-sensitive company announcements or qualitative material.
Richard Bowman
Richard is an analyst, writer and investor based in Cape Town, South Africa. He has written for several online investment publications and continues to do so. Richard is fascinated by economics, financial markets and behavioral finance. He is also passionate about tools and content that make investing accessible to everyone.