Here's what Datadog's (NASDAQ:DDOG) lower Guidance Means for the Valuation

Key Takeaways from this Analysis:
Datadog announced very good second-quarter results but lowered guidance for the rest of the year.
The lower guidance implies that full-year revenue growth will be around 57%, while the stock continues to trade on a very high price-to-sales ratio of ~26x.
To generate a return the company's platform strategy will need to keep delivering strong top and bottom line growth.
Datadog's ( NASDAQ:DDOG ) second-quarter results were strong, but full-year guidance was lowered which calls the company's growth trajectory into question. Investors now need to weigh the growth strategy up against the lofty valuation.
Second-quarter earnings summary
Revenue: Up 73.9% year-on-year to $406.14 mln and $24.9 mln higher than consensus estimates.
Non GAAP EPS:  $ 0.24  up 166% from a year ago and $0.09 better than consensus estimates.
GAAP EPS:  $ -0.02  vs $-0.03 in the second quarter last year and $0.05 better than consensus estimates.
Large customers ($100k+ ARR) up to 2,420 from 1,570 a year ago.
Guidance:
Third quarter revenue is expected to be between $410 and $414 mln (up 52 to 53% year on year)
Full-year revenue is expected to be between $1.61 and $1.63 bln (up 57 to 58% for the full year)
See our latest analysis for Datadog
Valuation and growth
Datadog is in an enviable position. The company provides tools to help developers and IT departments monitor their systems, and it does this in an era when, as Marc Andreessen said "software is eating the world." The importance of Datadog's niche has been illustrated by the fact that its revenue growth accelerated from 51% to 84% over the course of 2021, and only slipped to 74% in the last quarter. 
This sort of growth typically comes at a price and Datadog is no exception. The company trades at 26.1x sales (when a company has negative or very narrow margins we prefer to use the price-to-sales ratio). This is the highest amongst 40 peers which are trading at an average price-to-sales ratio of 5.2x. It also has the 13th highest P/S ratio out of 254 application software companies listed on US exchanges.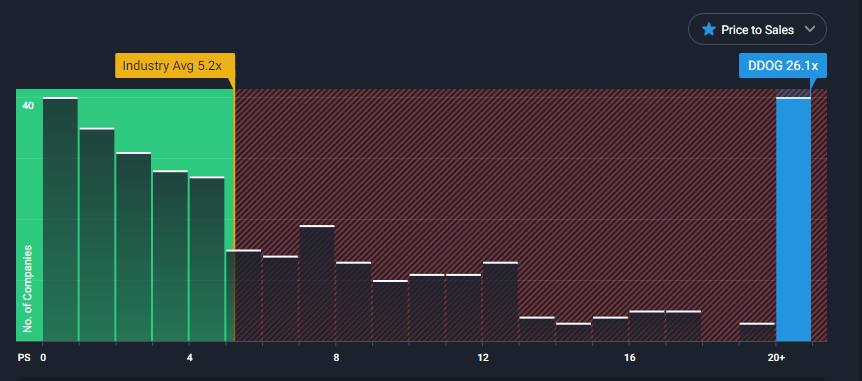 When a company trades on a price-to-sales ratio of 26x, the market is clearly expecting a lot of growth. Whether or not the company is likely to deliver enough growth to justify this valuation is the question investors need to answer. 
Based on the current share price, revenue would need to increase at 50% a year for 4 years to bring the P/S ratio down to the industry average of 5x. At 40% the P/S ratio would fall to 5x in 5 years, and at 30% it would take 6 to 7 years.
Datadog's growth strategy
Datadofg recently acquired Seekret , an API observability platform. This will allow Datadog to help its customers observe and manage the growing number of APIs that companies rely on. This acquisition fits in with Datadog's platform strategy - i.e. providing a growing number of products to its customers via a single platform. 
When a company embraces this business model, existing customers become as much of a source of new revenue as potential new customers. The graphic below shows how the company has added products to the platform over the past 12 years.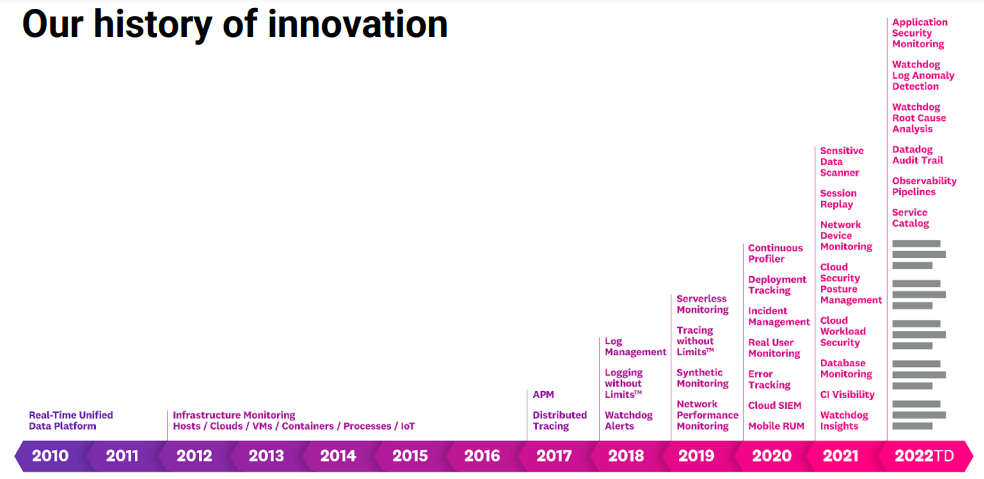 The image below reflects the percentage of Datadog's customers that use 2, 4, 6 or more products. By selling new products to existing customers the company has managed to keep its net dollar retention rate ( the revenue from current customers) above 130% for the past 20 quarters.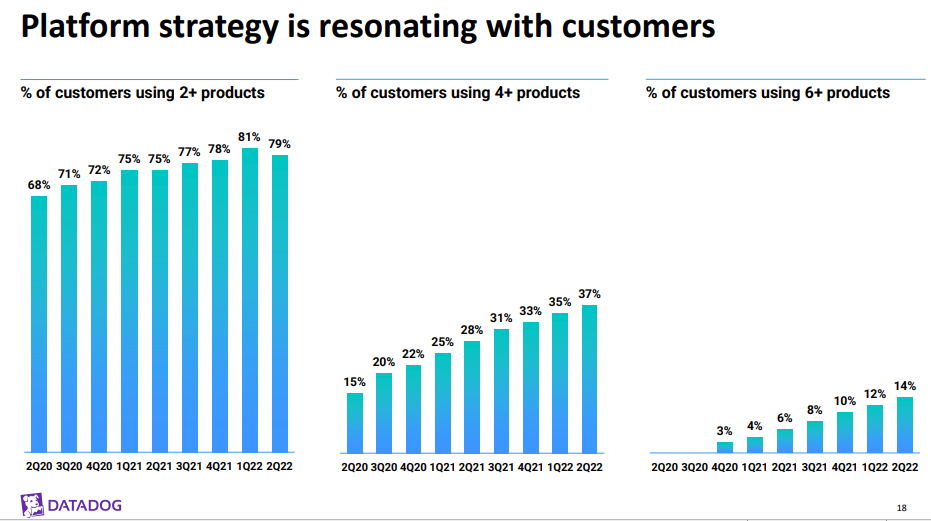 What this means for investors
While Datadog's share price is ~43% below the all-time high recorded in November last year, the stock is still trading on a very optimistic price-to-sales ratio of 26x. However, unlike many of the companies that traded on similar P/S ratios last year, DDOG may be able to justify the valuation. The company provides services to a large and rapidly growing market, and its platform strategy allows it to continuously leverage its growing customer base. As the company grows, margins should also improve and allow EPS to increase faster than revenue growth.
However - the product strategy and revenue trajectory will need to remain on track, or the valuation could very quickly become unrealistic. 
This article only touches on the current valuation and growth expectations for Datadog. If you are interested in understanding the company at a deeper level, take a look at our full analysis which includes some of the other factors and risks to consider.
What are the risks and opportunities for Datadog?
Datadog, Inc. operates an observability and security platform for cloud applications in North America and internationally.
View Full Analysis
Rewards
Trading at 41.9% below our estimate of its fair value

Earnings are forecast to grow 49.54% per year
Risks
Shareholders have been diluted in the past year

Significant insider selling over the past 3 months
View all Risks and Rewards
Have feedback on this article? Concerned about the content? Get in touch with us directly. Alternatively, email editorial-team@simplywallst.com
Simply Wall St analyst Richard Bowman and Simply Wall St have no position in any of the companies mentioned. This article is general in nature. We provide commentary based on historical data and analyst forecasts only using an unbiased methodology and our articles are not intended to be financial advice. It does not constitute a recommendation to buy or sell any stock and does not take account of your objectives, or your financial situation. We aim to bring you long-term focused analysis driven by fundamental data. Note that our analysis may not factor in the latest price-sensitive company announcements or qualitative material.
Richard Bowman
Richard is an analyst, writer and investor based in Cape Town, South Africa. He has written for several online investment publications and continues to do so. Richard is fascinated by economics, financial markets and behavioral finance. He is also passionate about tools and content that make investing accessible to everyone.
About NasdaqGS:DDOG
Datadog
Datadog, Inc. operates an observability and security platform for cloud applications in North America and internationally.
Exceptional growth potential with excellent balance sheet.
Similar Companies