Even when a business is losing money, it's possible for shareholders to make money if they buy a good business at the right price. Indeed, Odonate Therapeutics (NASDAQ:ODT) stock is up 106% in the last year, providing strong gains for shareholders. But while history lauds those rare successes, those that fail are often forgotten; who remembers Pets.com?
In light of its strong share price run, we think now is a good time to investigate how risky Odonate Therapeutics's cash burn is. In this article, we define cash burn as its annual (negative) free cash flow, which is the amount of money a company spends each year to fund its growth. First, we'll determine its cash runway by comparing its cash burn with its cash reserves.
Check out our latest analysis for Odonate Therapeutics
Does Odonate Therapeutics Have A Long Cash Runway?
A company's cash runway is the amount of time it would take to burn through its cash reserves at its current cash burn rate. As at December 2019, Odonate Therapeutics had cash of US$180m and no debt. Looking at the last year, the company burnt through US$97m. That means it had a cash runway of around 22 months as of December 2019. Notably, analysts forecast that Odonate Therapeutics will break even (at a free cash flow level) in about 23 months. That means it doesn't have a great deal of breathing room, but it shouldn't really need more cash, considering that cash burn should be continually reducing. Depicted below, you can see how its cash holdings have changed over time.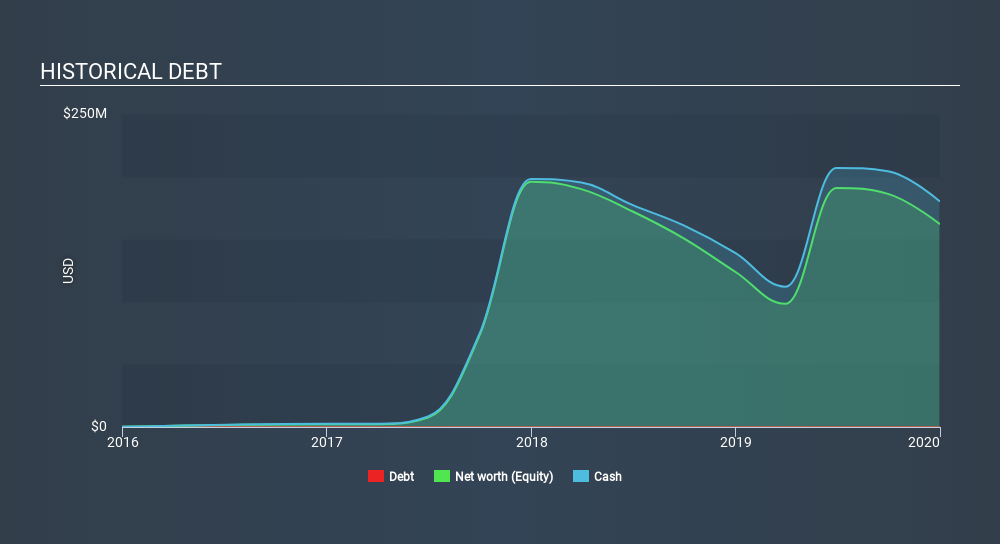 How Is Odonate Therapeutics's Cash Burn Changing Over Time?
Odonate Therapeutics didn't record any revenue over the last year, indicating that it's an early stage company still developing its business. Nonetheless, we can still examine its cash burn trajectory as part of our assessment of its cash burn situation. With the cash burn rate up 40% in the last year, it seems that the company is ratcheting up investment in the business over time. That's not necessarily a bad thing, but investors should be mindful of the fact that will shorten the cash runway. While the past is always worth studying, it is the future that matters most of all. For that reason, it makes a lot of sense to take a look at our analyst forecasts for the company.
Can Odonate Therapeutics Raise More Cash Easily?
Given its cash burn trajectory, Odonate Therapeutics shareholders may wish to consider how easily it could raise more cash, despite its solid cash runway. Issuing new shares, or taking on debt, are the most common ways for a listed company to raise more money for its business. One of the main advantages held by publicly listed companies is that they can sell shares to investors to raise cash to fund growth. We can compare a company's cash burn to its market capitalisation to get a sense for how many new shares a company would have to issue to fund one year's operations.
Odonate Therapeutics's cash burn of US$97m is about 9.1% of its US$1.1b market capitalisation. Given that is a rather small percentage, it would probably be really easy for the company to fund another year's growth by issuing some new shares to investors, or even by taking out a loan.
Is Odonate Therapeutics's Cash Burn A Worry?
As you can probably tell by now, we're not too worried about Odonate Therapeutics's cash burn. For example, we think its cash burn relative to its market cap suggests that the company is on a good path. Although its increasing cash burn does give us reason for pause, the other metrics we discussed in this article form a positive picture overall. One real positive is that analysts are forecasting that the company will reach breakeven. After taking into account the various metrics mentioned in this report, we're pretty comfortable with how the company is spending its cash, as it seems on track to meet its needs over the medium term. When you don't have traditional metrics like earnings per share and free cash flow to value a company, many are extra motivated to consider qualitative factors such as whether insiders are buying or selling shares. Please Note: Odonate Therapeutics insiders have been trading shares, according to our data. Click here to check whether insiders have been buying or selling.
Of course, you might find a fantastic investment by looking elsewhere. So take a peek at this free list of companies insiders are buying, and this list of stocks growth stocks (according to analyst forecasts)
If you spot an error that warrants correction, please contact the editor at editorial-team@simplywallst.com. This article by Simply Wall St is general in nature. It does not constitute a recommendation to buy or sell any stock, and does not take account of your objectives, or your financial situation. Simply Wall St has no position in the stocks mentioned.

We aim to bring you long-term focused research analysis driven by fundamental data. Note that our analysis may not factor in the latest price-sensitive company announcements or qualitative material. Thank you for reading.