It's been a mediocre week for Avinger, Inc. (NASDAQ:AVGR) shareholders, with the stock dropping 13% to US$0.53 in the week since its latest full-year results. It looks like the results were pretty good overall. While revenues of US$9.1m were in line with analyst predictions, statutory losses were much smaller than expected, with Avinger losing US$3.18 per share. Earnings are an important time for investors, as they can track a company's performance, look at what top analysts are forecasting for next year, and see if there's been a change in sentiment towards the company. We've gathered the most recent statutory forecasts to see whether analysts have changed their earnings models, following these results.
View our latest analysis for Avinger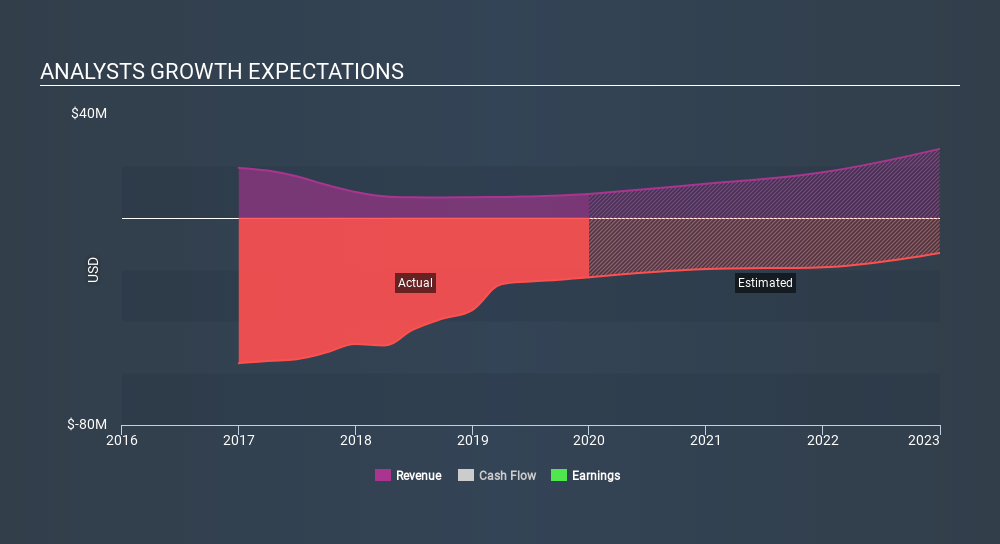 Taking into account the latest results, the most recent consensus for Avinger from twin analysts is for revenues of US$13.1m in 2020, which is a major 43% increase on its sales over the past 12 months. Per-share statutory losses are expected to explode, reaching US$1.16 per share. Yet prior to the latest earnings, analysts had been forecasting revenues of US$13.3m and losses of US$1.56 per share in 2020. There was no real change to the revenue estimates, but analysts do seem more bullish on earnings, given the great increase in earnings per share expectations following these results.
Even with the lower forecast losses, analysts lowered their valuations, with the average price target falling 44% to US$2.38. It looks like analysts have become less optimistic about the overall business.
In addition, we can look to Avinger's past performance and see whether business is expected to improve, and if the company is expected to perform better than wider market. One thing stands out from these estimates, which is that analysts are forecasting Avinger to grow faster in the future than it has in the past, with revenues expected to grow 43%. If achieved, this would be a much better result than the 9.4% annual decline over the past five years. Compare this against analyst estimates for the wider market, which suggest that (in aggregate) market revenues are expected to grow 7.8% next year. So it looks like Avinger is expected to grow faster than its competitors, at least for a while.
The Bottom Line
The most important thing to take away is that analysts increased their loss per share estimates for next year. Fortunately, analysts also reconfirmed their revenue estimates, suggesting sales are tracking in line with expectations – and our data does suggest that Avinger's revenues are expected to grow faster than the wider market. Analysts also downgraded their price target, suggesting that the latest news has led analysts to become more pessimistic about the intrinsic value of the business.
Still, the long-term prospects of the business are much more relevant than next year's earnings. At least one analyst has provided forecasts out to 2022, which can be seen for free on our platform here.
Another thing to consider is whether management and directors have been buying or selling stock recently. We provide an overview of all open market stock trades for the last twelve months on our platform, here.
If you spot an error that warrants correction, please contact the editor at editorial-team@simplywallst.com. This article by Simply Wall St is general in nature. It does not constitute a recommendation to buy or sell any stock, and does not take account of your objectives, or your financial situation. Simply Wall St has no position in the stocks mentioned.

We aim to bring you long-term focused research analysis driven by fundamental data. Note that our analysis may not factor in the latest price-sensitive company announcements or qualitative material. Thank you for reading.