FedEx (NYSE:FDX) Just Increased its Dividend by 53% - Here is What that Means for Future Returns

Summary:
FedEx increased the quarterly dividend per share to $1.15
The future cash payout ratio is estimated to be between 30% to 40%
The mix of dividends and buybacks should provide an average return of 5% to investors
FedEx Corporation (NYSE:FDX) is garnering attention since it announced a rise in its quarterly dividend per share to $1.15. Investors have reacted positively, and today we will reevaluate dividend affordability.
Dividend Analysis
Yesterday, FedEx announced an increase in the quarterly dividend by 53% from $0.75 per share to $1.15 per share, resulting in a dividend yield at 2% up from 1.3% based on the last close price. Investors reacted positively, and the stock increased 14.4%.
In order to understand the affordability of the dividend, we can see what % of the income is paid out as dividend to investors. Generally, we want this to be below 100%, else it may mean that a company must sell assets or take on debt to afford the dividend. For growing companies, we expect a very small payout ratio, but for companies reaching maturity, we expect a higher ratio and some cash left over for capital maintenance.
In order to calculate a payout ratio, we can use either earnings or free cash flows. Considering that dividends are paid from the cash flows, it is better to use this number in our case.
First, we calculate the dividend expense with the new dividend per share. We see that the company will be spending $1.192b annually on dividends.
Calculation: 1.15*4*259.18m (quarterly dividend per share * 4 * shares outstanding)
Next, we need to compare this with what the company brings-in as cash. Currently, the company is making $3b in free cash flows on a 12-month basis - this means that the new payout ratio would be 39.6%. However, analysts are expecting free cash flows to reach $3.9b by 2025 which would represent a cash payout ratio of 30.5%.
We can see that the company is increasing the range of the payout ratio between 30% and 40% depending on the financial performance in the future, which means a lower expectation of growth and a dedication to income returns for shareholders. This can be good as sometimes stability, rather than growth, is better for investors.
We can also see how often the company increases its dividends and adjust our future expectations. In the chart below, we see the relationship between the dividends per share, dividend yield and EPS:
Click the interactive chart for our full dividend analysis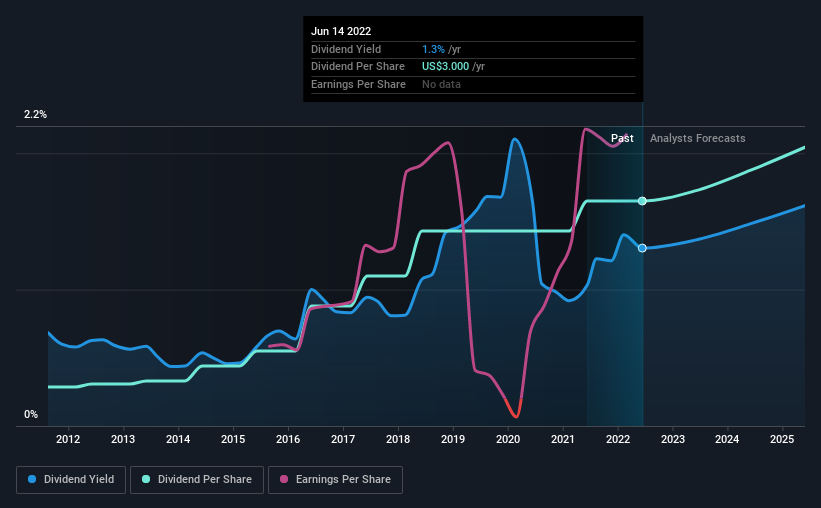 In order to get a sense of the full return to shareholders, we also need to account for buybacks. During the last 12 months, the company also conducted a buyback equivalent to around 3.1% of its market capitalization. This gives us a better picture of the return to equity investors. The dividend yield of 2% plus expected buybacks of 3.1% amount to a return of about 5% for FedEx investors. Note, that these numbers change frequently as buyback programs and dividends shift year to year.
A company that is engaging in buybacks can also control the payout ratio without changing the dividend per share. This is simply done by reducing the share count via buybacks, and is a tool used to reduce the impact of the dividend spend - in case a company expects financial trouble ahead.
Conclusion
FedEx is increasing the return to investors by employing a mix of dividends and buybacks. The cash payout range is estimated to be between 30% and 40% if free cash flows stay above $3b, which is a payout ratio expected from a company reaching maturity. 
Based on this analysis, the company will provide an average 5% return to equity investors, which should be a good balance between returns and having enough funds to keep the company stable.
If you are a dividend investor, you might also want to look at our curated list of dividend stocks yielding above 3%.
What are the risks and opportunities for FedEx?
FedEx Corporation provides transportation, e-commerce, and business services in the United States and internationally.
View Full Analysis
Rewards
Earnings are forecast to grow 14.91% per year
Risks
Profit margins (3.2%) are lower than last year (5.6%)

Has a high level of debt
View all Risks and Rewards
Have feedback on this article? Concerned about the content? Get in touch with us directly. Alternatively, email editorial-team@simplywallst.com
Simply Wall St analyst Goran Damchevski and Simply Wall St have no position in any of the companies mentioned. This article is general in nature. We provide commentary based on historical data and analyst forecasts only using an unbiased methodology and our articles are not intended to be financial advice. It does not constitute a recommendation to buy or sell any stock and does not take account of your objectives, or your financial situation. We aim to bring you long-term focused analysis driven by fundamental data. Note that our analysis may not factor in the latest price-sensitive company announcements or qualitative material.
Goran Damchevski
Goran is an Equity Analyst and Writer at Simply Wall St over 4 years of experience in financial analysis and company research. Personally, Goran has over 4 years of experience in financial analysis and company research, where he previously worked in a seed-stage startup as a capital markets research analyst and product lead and developed a financial data platform for equity investors. 
About NYSE:FDX
FedEx
FedEx Corporation provides transportation, e-commerce, and business services in the United States and internationally.
Established dividend payer with adequate balance sheet.