Many parts of the economy are struggling to maintain growth and profits in the face of the current environment. The unemployment rate in the U.S. is slowly improving, falling to 7.9% in September according to the Bureau of Labor and Statistics. Although a much higher than usual number of people out of work means that overall the amount of household disposable income will trend lower unless people get back into work. Government stimulus hand-outs have helped, but this "sugar hit" will only last so long before household budgets come back to earth.
The greatest impact from the current pandemic is the massive reduction in the movement of people. Some of the worst-hit businesses from this trend are any that are involved in tourism or travel such as airlines and tourist operators, particularly since borders globally are either closed or severely heightened and travel is primarily limited to domestic customers.
However, we have seen many businesses benefit from the same trend of people spending more time at home, including Home Depot (NYSE:HD) . Stimulus checks and a lack of other ways to pass time, induced either by restrictions or general fear to leave the home, has meant DIY projects have become a "go to" for many people. We have already seen this in Home Depot's recent results and its share price. But now we look ahead to the company's upcoming third quarter results to see if this run can continue or has the DIY trend run its course.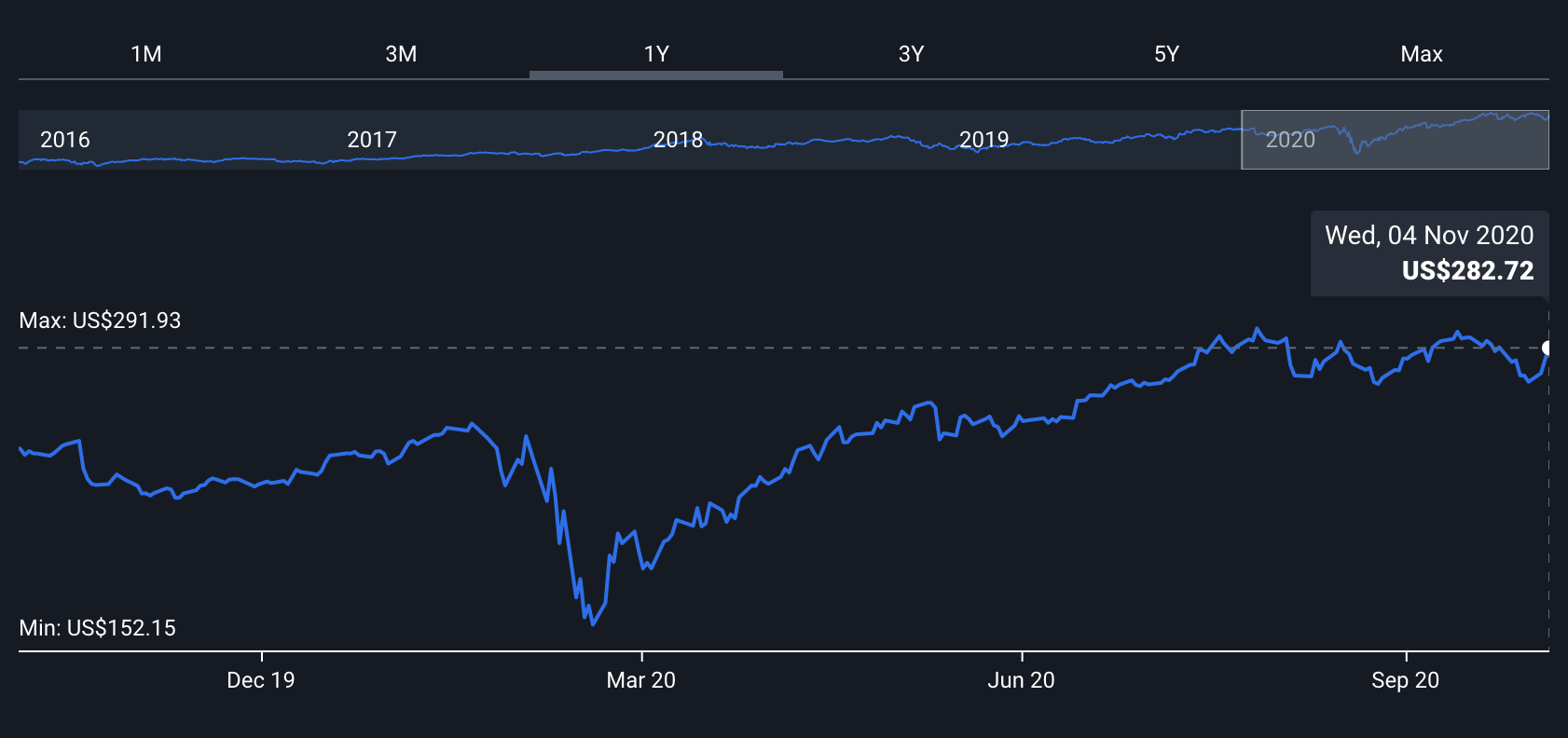 NYSE:HD Latest Share Price and Events as at 4 Nov 2020. Source: Simply Wall St
Third Quarter Results Preview
Home Depot is due to report its third quarter 2020 results on Tuesday 17 November. Analysts are forecasting revenue of US$31.3b, GAAP net income of US$3.2b and earnings per share of US$2.96 for the quarter. All of these numbers would be down on the second quarter of 2020, but Q3 is typically slower for Home Depot due to seasonal effects as winter sets in and construction and DIY volumes taper off after the warmer months. Comparing these numbers to Q3 2019, the forecasts imply revenue and net income growth of around 15%, which is quite strong.
Clearly a continuation of recent activity is expected by most of the 29 analysts covering the company. Lately there have been increases in both spend per customer and also transaction sizes. Solid growth has been seen in both the DIY and professional customers categories. For DIY consumers, sales of big-ticket items have increased and online sales, including in-store pick-up are accelerating as people minimise their time out in public.
The company's management team has been reluctant to provide guidance that extrapolates recent growth trends due to the ongoing uncertainty around consumers' behaviour in the face of a growing COVID-19 crisis in the U.S., but the odds appear to favour more of the same for this particular part of the economy. In any case, whether or not the current quarter meets expectations or not, there are some longer-term factors at play that investors should focus on.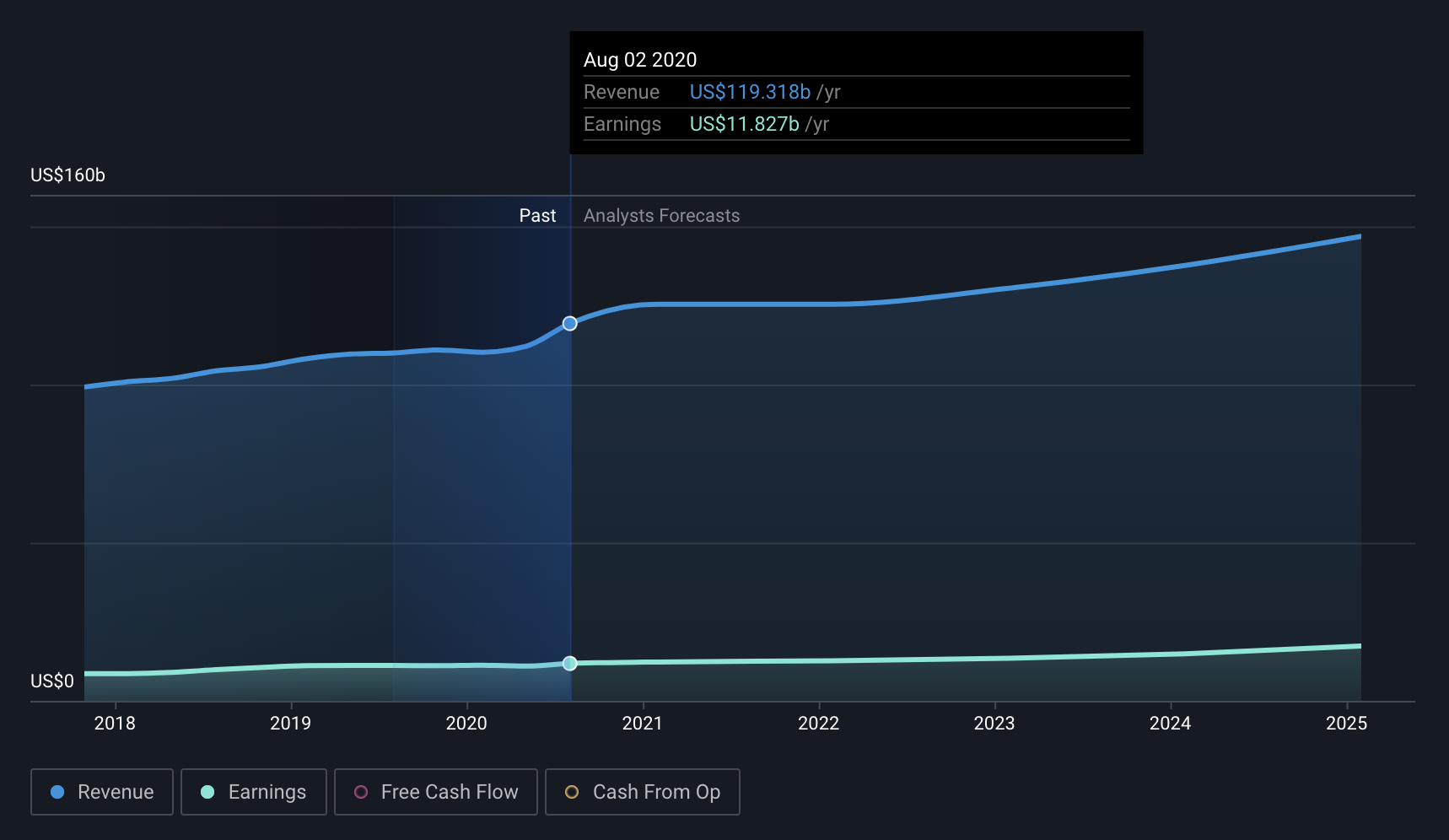 NYSE:HD Earnings and Revenue Growth Forecasts as at 4 Nov 2020. Source: Simply Wall St
The Future For Home Improvement And Construction
As regular readers of ours would know, we prefer to look into the distance rather than focus on short-term results. It will be important to assess the Q3 results in a couple of weeks time, but the pandemic will likely have some longer-term impacts on the "big-box" home improvement companies as well.
Many companies exposed to residential and other construction have been seeing somewhat reduced project pipelines across the board as building under the current conditions comes with many difficulties. Once the effects of the pandemic pass (as we all hope they will eventually), Government and Federal Reserve policy will likely remain expansionary for some time in an attempt to boost stagnating economic activity. There will likely be a rise in construction pipelines in part from projects delayed by the pandemic which will be a boost for the professional sector.
The DIY sector will probably see a reduction in activity as homeowners have potentially brought forward large purchases and home projects. However, working from home is becoming more accepted and the pandemic has accelerated the development of tools and strategies to allow masses of workers to work remotely. This presents the opportunity for more workers to focus on making their home office more comfortable or even consider moving to a more ideal location for their families, rather than being forced to stay where jobs are more plentiful. These effects will be more difficult to predict, but present a longer-term opportunity for companies like Home Depot.
Conclusion
Most eyes will be on the election result over the next few days, but we think it's important not to get too distracted as an investor. The outcome will affect markets in the short-term, but regardless of the result, Home Depot's longer-term performance will most likely depend on other factors. The flow of the pandemic is one, but looking further ahead, we do see some tailwinds coming from the residential construction industry and additional DIY spending. Of course, that doesn't mean it's just going to be smooth sailing either. No investment comes without risk and we've found 2 risks for Home Depot that investors should be aware of.
Neither Simply Wall St analyst Sasha Jovanovic nor Simply Wall St hold any position in any of the companies mentioned. This article is general in nature. It does not constitute a recommendation to buy or sell any stock and does not take account of your objectives, or your financial situation. We aim to bring you long-term focused analysis driven by fundamental data. Note that our analysis may not factor in the latest price-sensitive company announcements or qualitative material. 
Have feedback on this article? Concerned about the content? Get in touch with us directly. Alternatively, email editorial-team@simplywallst.com