In 2020, GameStop (NYSE:GME) Looked Like An Interesting Turnaround Story
Published

February 09, 2021

The recent GameStop ( NYSE:GME ) saga will go down in history for the turmoil it caused on Wall Street. While it's still ongoing in some sense, the events of the last few weeks have been enough to get the whole world's attention. 

While the majority of the news has been about how retail investor buying apparently triggered the short squeeze, there is less news about a few contrarians who bought GameStop for the potential of a turnaround, which we think deserves some attention. 

Granted, their thesis of a turnaround may not have fully played out yet, but those who were bullish on it in 2020 have made somewhere in the range of 10-15x their money, even after the large pullback to $50 per share. 
Source: Share price history from 10 February 2020 to 10 February 2021 (Simply Wall St)

The Contrarians Who Bet On A GameStop Turnaround
There's been some big names that have been actively and publicly pursuing a GameStop turnaround. Namely, Ryan Cohen (founder and former CEO of the very successful e-commerce business: Chewy ( NYSE:CHWY )), Hestia Capital Partners, Permit Capital Partners and Michael Burry (yes, the guy who predicted the 2008 subprime mortgage crisis, immortalized by Christian Bale in the 2015 film, The Big Short). 

Ryan Cohen initiated a 13% stake in the company in September last year, Burry's Scion Asset Management owned 2.4% of the company at the same time and the position held by Hestia Capital Partners LP and Permit Capital Enterprise Fund L.P totalled around 7% as of June 2020. 

What's important to know is that all of these investors were quite upfront and vocal with the GameStop board about suggesting initiatives for a successful turnaround. Scion sent multiple letters to the board urging them to unlock shareholder value, Hestia and Permit made an  80 page presentation on how to turn the company around and Ryan Cohen wanted to help drive the transition to a competitive e-commerce player in the growing gaming industry, much like he did with Chewy in the Pet Industry.

Through 2019 and 2020, the persistence of these activists saw some results. The board had a significant overhaul and replaced the majority of incumbent members with new faces who were better suited to realizing the transformation.

With these activists in place pushing hard for the pivot that the company so desperately needed, the business was now well-positioned with the right people to take advantage of its new potential. But what exactly was that potential?
The Upside Potential
If it isn't clear by now, the world of physical retail is slowly declining while e-commerce is expanding its prominence. These activists believed that GameStop had a huge opportunity to pivot its business model and carve out a unique niche of its own in the growing gaming industry. The proposed strategy would develop and optimize digital sales channels, utilize unique in-store experiences, cut underperforming assets, better align management compensation with shareholders, establish a better corporate culture, and clearly articulate a long-term vision. All of which are areas that had been lacking or non-existent at the company thus far.

Whether the board at the time liked it or not, change was inevitable if they wanted to survive. The proposed changes to the company's business model and the reinvention of its brand, while certainly difficult, could significantly upgrade earnings and its relevance in the gaming industry, which would subsequently upgrade its perception from investors.

Given the hugely bearish sentiment around the company at the time, if there were to be any new evidence of movement in the right direction actually occurring, it would likely result in a large re-rating of the stock's price. 

So if these initiatives were to come to fruition and the reinvention were to be successful, the potential upside could be significant. However, if this re-invention doesn't play out, what's the downside?    
The Downside Protection
The downside protection for GameStop came from the already very bearish market valuation of the stock in 2020. Leading up to August last year, the company had incurred significant balance sheet write-downs, and even then it still traded at around 60% of book value. This just goes to show how bearish the sentiment around the company was, because in a worst-case scenario if every asset was sold in a liquidation event, investors still expected to make money, or at least not lose much. 

On top of that, the company was trading at a valuation of only 4% of revenue. For the 12 months to August 2020, GME generated revenues of $5.59bn and had a market valuation of roughly $260m around that time. Granted, total revenue has been trending downwards for some time, but we should note that 2020 was the end of the previous console cycle (PS4 and Xbox One), which can cause some gamers to wait until the new consoles are released. With that in mind, the thinking was that revenue over 2021 could stabilize given the new PS5 and Xbox Series X consoles were released in November 2020 and the pandemic has caused many to seek forms of home entertainment such as gaming.

When you hear of companies valued at 10x sales or even higher, and GameStop was valued at 4% of sales, it puts into perspective just how cheap the company was trading through mid-2020, which again, makes the downside potentially less severe. 

Below is a chart from our company report of the earnings and revenue history that helps visualize the downtrend.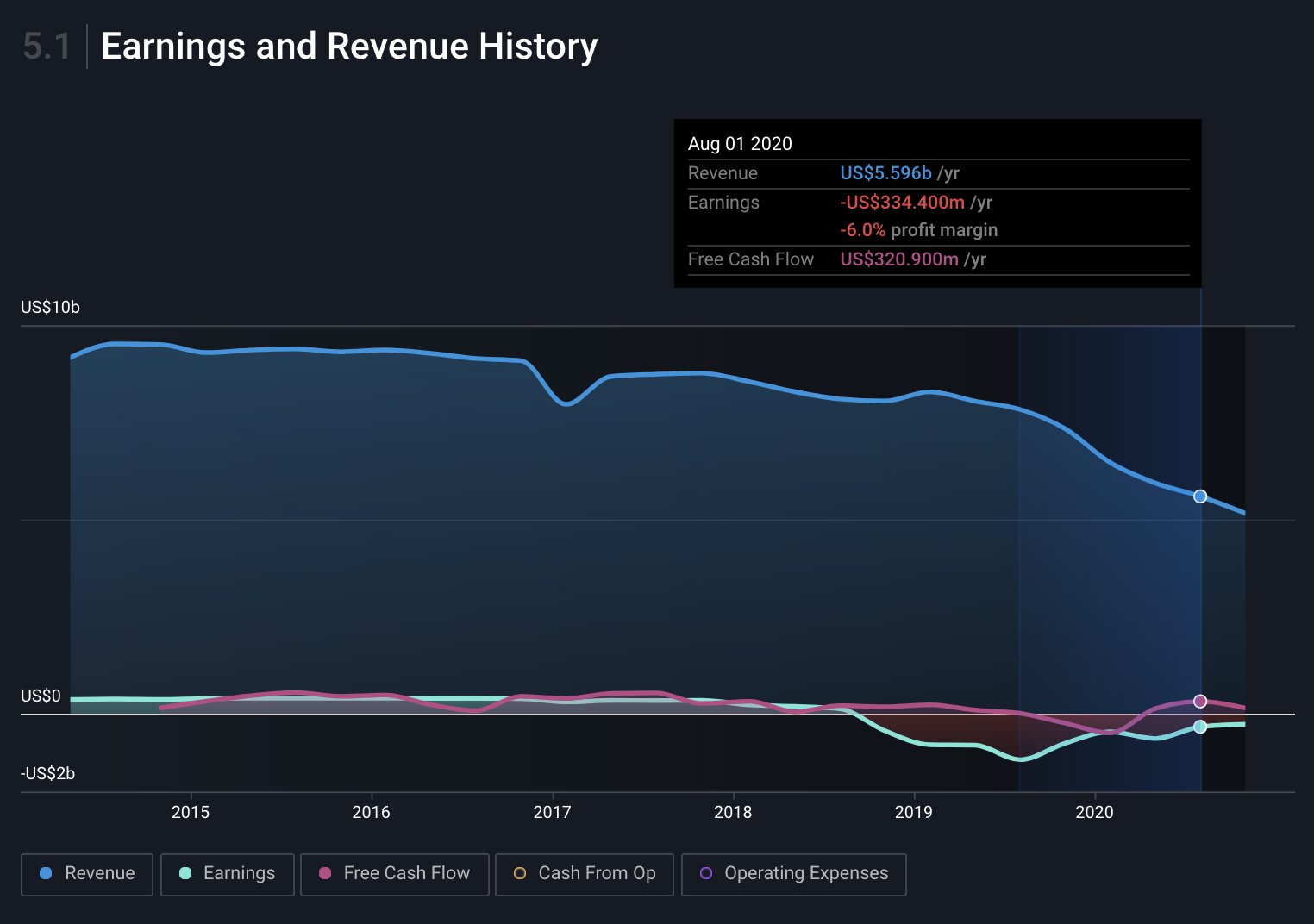 Source: Earnings and revenue history, Simply Wall Street. 

Another point to the downside protection can be found from a report by Bespoke Intel conducted early last year. Despite GME's decline, the company still had 30% market share for brand new video game purchases (excluding online distribution such as Steam) and 54% of those surveyed said they prefer physical copy of games to downloading digital copies (i.e. no disk). This emphasizes the fact that GameStop is still relevant in gamer's eyes and they're still a go-to destination for physical copies of games. So from an investment point of view, that survey provides some guidance for the company's Free Cash Flow (FCF) over the near term. And although FCF was weakening, the FCF generated from the start of a new console cycle could potentially help fund their new initiatives in the transformation plans.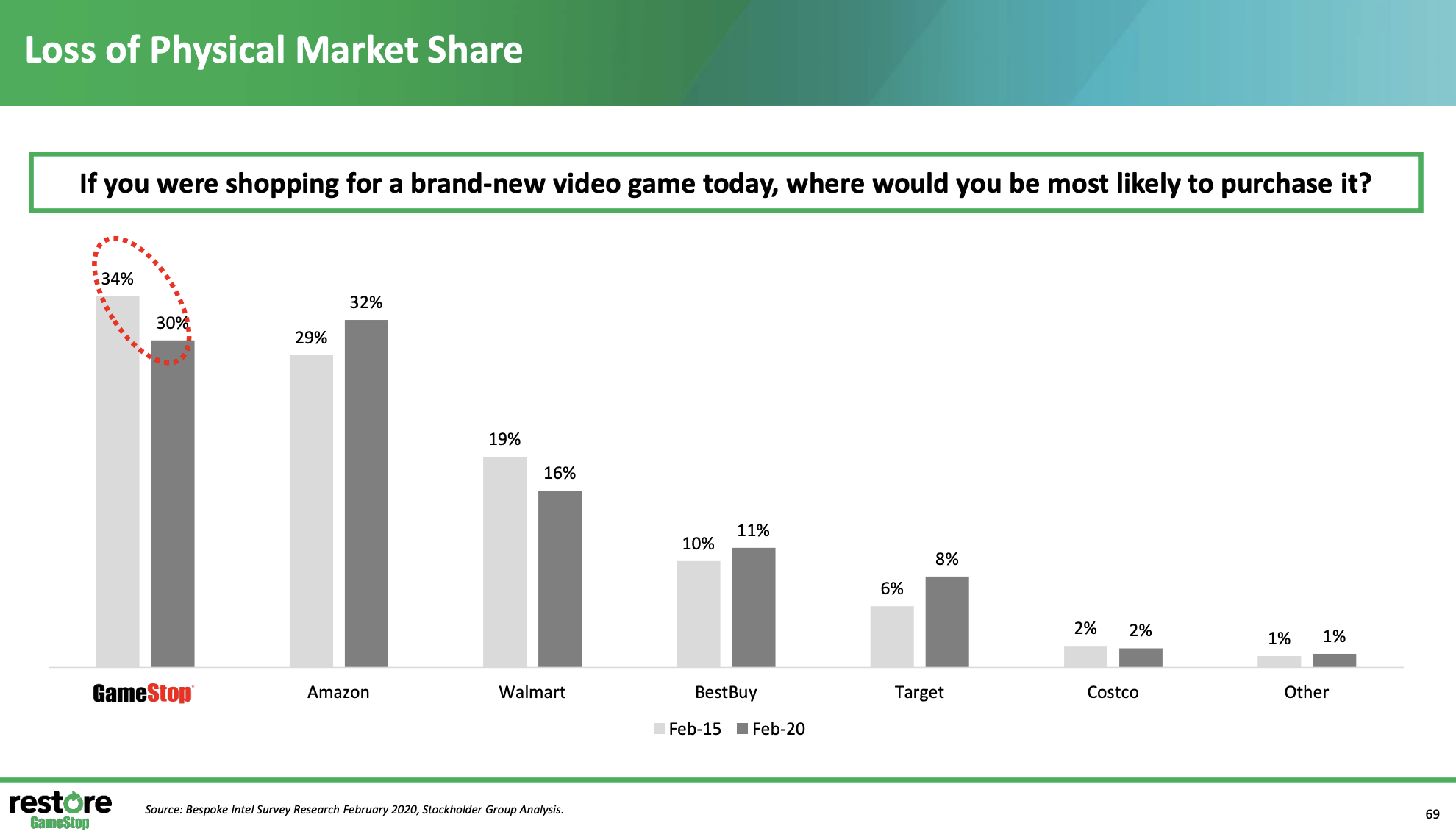 Source: Hestia Capital and Permit Capital "More Change is Needed" Presentation May 2020


Conclusion
The recent GameStop mania has garnered attention from the world. However, the GameStop investment thesis devised by those contrarians in 2020 got far less attention. The painful 85% share price decline over the 5 years to June 2020 got the attention of these deep-value investors and activists who knew that GameStop had a compelling opportunity for a turnaround, albeit if some bold actions were taken. While turnarounds are very difficult, the rationale behind the potential upside and the limited downside to the investment opportunity certainly had merit in our view. And although we're not sure what valuation each of these investors had in mind as an exit point, we're almost certain they weren't expecting it to get to $347 as soon as January 2021. 
If you're still curious about GameStop and would like to dig further, we have conducted a full analysis of its fundamentals that you'll definitely find interesting!  
Have feedback on this article? Concerned about the content? Get in touch with us directly. Alternatively, email editorial-team@simplywallst.com
Simply Wall St analyst Michael Paige and Simply Wall St have no position in any of the companies mentioned. This article is general in nature. We provide commentary based on historical data and analyst forecasts only using an unbiased methodology and our articles are not intended to be financial advice. It does not constitute a recommendation to buy or sell any stock and does not take account of your objectives, or your financial situation. We aim to bring you long-term focused analysis driven by fundamental data. Note that our analysis may not factor in the latest price-sensitive company announcements or qualitative material.