Fiverr International's (NYSE:FVRR) 24% Price Drop, and the Problem with Post-Hoc Rationalizations

As some investors may have noticed, or were shaken up by a notification, Fiverr International's ( NYSE:FVRR ) price dropped about 24% today. Our first instinct is to find the root cause, and we quickly review the last relevant piece of information we can find about the company - today, that was the Q2 Earnings release.
In this article, we will explore how a market move can indeed be a result of a new piece of information, but we will also look at an alternative about how bad news may not be that surprising and market players might just be waiting on a high volume day to make a move.
First, let's review what happened with Fiverr's earnings today.
Looking at analysts estimates before the release it appears that the 8 analysts following Fiverr, expected revenue to hit US$308m by 2022, while the company stays unprofitable.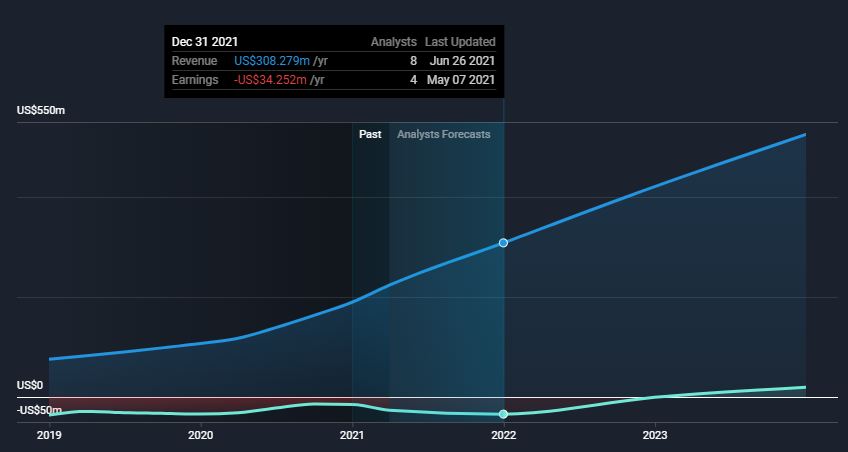 Great, we are seeing a high growth company in a re-envisioned industry. The risks are high, and double-digit growth numbers can easily deviate.
Now, we are going to see what Fiverr posted as their quarterly performance and future outlook.
| | | | |
| --- | --- | --- | --- |
| | Q2 2021 Result | Q3 2021 New Estimate | FY 2021 New Estimate |
| Revenue | $75.3 million | $68.0-$72.0 million | $280.0-$288.0 million |
| Growth YoY | 60% | 30-38% | 48-52% |
Fiverr's CEO comments the new guidance as:
"As COVID restrictions are lifted in many parts of the world, people are spending more time out of home and less time on screens. The reduced online activity translates into more modest new customer cohorts and less activity for older cohorts."
Honest, clear and simple.
In essence, the previous estimates for the FY 2021 were at US$309m total revenue, vs the new which are at US$280. The difference is US$29m, and yet the company dropped US$2b in Market Capitalization. 
The long term estimates haven't changed, the company will still post double-digit growth in the years ahead. So, let's look at an alternative explanation as to why this might have happened.
A good place to start is to look at Fiverr's main competitor, Upwork ( NASDAQ:UPWK ), whose price also saw a 9.5% drop today. Upwork's stock has been in a general downtrend since June 2021, and their earnings report was on the 29th July 2021.
It seems that the decline for Fiverr and Upwork are closer to "Market Moves", than moves related to company performance. A more plausible explanation would be that the Market (large marginal investors) is adjusting to a new post-pandemic playing field.
So, why sell now?
It is usually the case that earnings dates are high volume days, and when placing a large sell order it is better to do it when there are more participants who are buying - that way the price drops less, and the seller brings in more profit.
Thus far, we are envisioning a top-down market move, possibly on a higher volume day. The next question is, whether this was induced by fear, or simply profit harvesting?
In order to know that, we must ask: " How much are these companies really worth?".  There are many ways to go about this, but a true and tried way is to make an intrinsic valuation or a Discounted Cash Flow model for the stock. This has the capacity to give us a rough estimate of what a stock is worth today.
Note, investors might buy a stock as if it is making a profit today, but they run the risk of being early - if done too aggressively, being early is indistinguishable from being late .
Our DCF model is generally not suited for young companies with limited financial data, but after seeing the analysis, we get to one very basic conclusion: Both Fiverr and Upwork are highly overvalued.
Here are the models:
There is no need to get lost in the weeds with the details and percentages. The take-home point is that US$300m to US$450m yearly revenue companies had market valuations between US$6 and US$9b.
That is quite a bit, even after factoring in high growth rates and best case margins.
The optimistic scenario, after this, is that people get back to work and start seeking online gigs as a sustainable way to live. The pessimistic scenario is, that the price keeps falling because the companies were too risky and overvalued to begin with.
Conclusion
Fiverr is a young, growing and risky company. The Fiverr we know today will not be the same company 5 years from now, and there is little doubt that they have a solid future ahead.
Unfortunately, investors might have been a bit early when buying a US$252m revenue company at a US$8.8b valuation.
Marginal investors might use high volume days to sell of stocks that are losing short term steam and let the market blame management when actually the company is delivering double-digit growth.
If you want to know who are the marginal investors in Fiverr, take a look at the ownership breakdown here .
Marginal investors are those shareholders who own a market moving chunk of the company and actively trade it (both must be true)!
Simply Wall St analyst Goran Damchevski and Simply Wall St have no position in any of the companies mentioned. This article is general in nature. It does not constitute a recommendation to buy or sell any stock and does not take account of your objectives, or your financial situation. We aim to bring you long-term focused analysis driven by fundamental data. Note that our analysis may not factor in the latest price-sensitive company announcements or qualitative material.

Have feedback on this article? Concerned about the content? Get in touch with us directly. Alternatively, email editorial-team@simplywallst.com