Chewy, Inc. (NYSE:CHWY) is Torn Between Profitability and Growth

We feel now is a pretty good time to analyze Chewy, Inc.'s ( NYSE:CHWY ) business, as it appears the company may be on the cusp of a considerable accomplishment : profitability. Chewy, Inc., together with its subsidiaries, engages in the pure play e-commerce business in the United States.
On 31 January 2021, the US$31b market-cap company posted a loss of US$92m for its most recent financial year. The most pressing concern for investors is Chewy's path to profitability – when will it breakeven? In this article, we will touch on the expectations for the company's growth, when analysts expect it to become profitable and which are the most pressing risks to reaching profitability.
Check out our latest analysis for Chewy
The consensus from 13 of the American Online Retail analysts is that Chewy is on the verge of breakeven. They expect the company to post a final loss in 2021, before turning a profit of US$11m in 2022. Therefore, the company is expected to breakeven roughly a year from now or less! How fast will the company have to grow to reach the consensus forecasts that anticipate breakeven by 2022? Working backwards from analyst estimates, it turns out that they expect the company to grow 49% year-on-year, on average, which is rather optimistic! If this rate turns out to be too aggressive, the company may become profitable much later than analysts predict.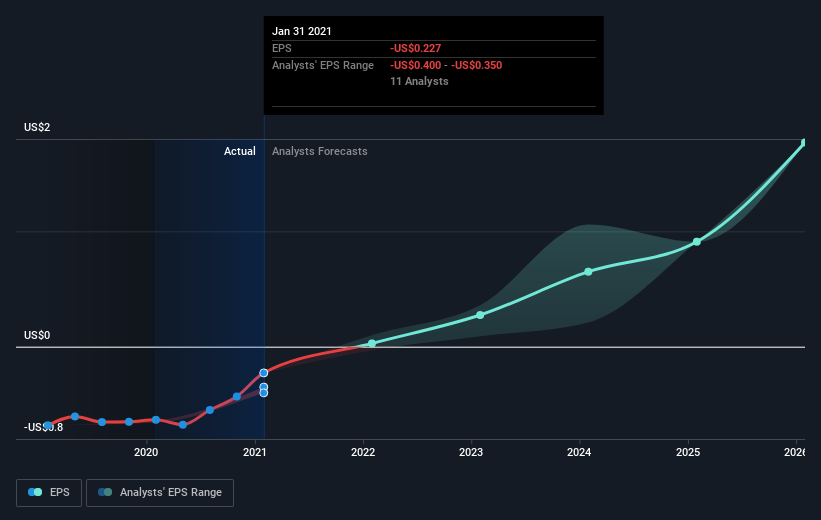 NYSE:CHWY Earnings Per Share Growth June 2021
Let's take into account that generally a high growth rate is not out of the ordinary, particularly when a company is in a period of investment. On the other hand, we can take a look at the possible obstacles for the growth rates set by analysts.
The road to breakeven:
Consensus estimates
Analyst estimates seem to be an extrapolation of previous year growth rates and management guidance which are optimistic that the growth rates encountered during the pandemic will continue to manifest.
This is quite a risky assumption, as the surge for demand in pet products might have been an exception due to 2020 circumstances.
An analysis from Google trends for the "chewy" keyword worldwide search shows that the interest for the term by consumers has peaked. This may indicate a slowdown in new customer acquisition.

Worldwide interest over the last 5 years for the "chewy" keyword on Google search
The push for profitability
Management looks intent on achieving profitability as soon as possible, quote:
" Specifically, we grew net sales by 47 percent year over year, increased our customer base by 43 percent year over year, delivered our first full year of positive adjusted EBITDA, and generated the company's first quarter of positive net income in the fourth quarter of 2020."
Just in case there is any confusion, Adjusted EBITDA is a non-GAAP metric which does not mean that the company is profitable yet and a profitable quarter can barely be associated with a profitable company. In fact, as a high growth company, they probably need to focus on taking on new projects that will drive growth and reinvest into the business in order to solidify free cash flows in the future, raise their barriers to entry, and ensure that they can maintain profitability in the long-term. Investors might wonder why management signals a push for early profitability instead of advertising good high growth projects.
Growth Roadmap
Management has also presented their growth roadmap for Chewy in their fourth quarter letter to shareholders, quote:
"That roadmap consists of the following: acquire new customers, increase share of wallet for existing customers, expand assortment, grow proprietary brands and healthcare offerings, launch services, and – when the time is right – expand the business outside the US."
As we look at the roadmap, we see that there are steps that make business sense, but might be difficult to attain without high reinvestment in the company. Let's go item by item:
New customers. As we saw previously, organic interest growth seems to be peaking for C hewy, and management will need to either engage in higher marketing spending or focus on new target audiences.
Increase share of wallet - Sell more things to existing customers. Pet products range from basic pet necessities to discretionary products for pet lovers. There are potentially two issues to achieving this goal. First, the next year might be a downward cycle for pet products and customers may stick to necessities as they focus more on traveling, socialization and improving their careers. Second, the purchasing power of consumers may effectively decrease as we s ee a decline in the personal savings rate of Americans and consumers may stick to the more affordable pet products.
Expand assortment - this one is fully on point, because the online retail business allows for a cost-effective selection of the products that sell the most.
Expand the business outside the US - This one is actually the one that makes the most sense and will help acquire new customers. A move like this requires good supply chain management, planning, engaging a new language and culture base, and very heavy reinvestment. The problem with this is that management is signaling that they are close to achieving profitability, and an expansion like this will set them back for a few years because of the sheer need for capital investments. In Chewy's case, the goals of profitability and expansion appear mutually exclusive, at least in the short term. Currently, management seems to focus on growth and profitability, rather than expansion - as outlined in their fourth quarter 2020 report: "Finally, although we have exclusively focused on sales in the U.S. to date, we may expand our offering internationally in the future ". ****
From a business development perspective, Chewy has introduced a new on-demand online vet service, which is complementary with current offerings and expected to positively impact the brand.
Finally, we note that Chewy had an exceptional year for sales. However, management has issued 2021 guidance for sales growth between 24% and 25% year-over-year, meaning that they have likely peaked from the current model and must undertake new projects in order to add value.
Key takeaway
If analyst estimates are grounded in reality and not just the hopes of management, then the business is poised to turn profitable in a short period of time.
However, investors might want to think if it makes more sense for a young growth company to heavily reinvest in a way that will make them sustainably profitable in the long run.
Since we've mentioned management a bit, it's worthwhile getting to know them and how aligned they are with the businesses outcomes. Take a look at who sits on Chewy's board and the CEO's background.
Simply Wall St analyst Goran Damchevski and Simply Wall St have no position in any of the companies mentioned. This article is general in nature. It does not constitute a recommendation to buy or sell any stock and does not take account of your objectives, or your financial situation. We aim to bring you long-term focused analysis driven by fundamental data. Note that our analysis may not factor in the latest price-sensitive company announcements or qualitative material.

Have feedback on this article? Concerned about the content? Get in touch with us directly. Alternatively, email editorial-team@simplywallst.com