What You Need To Know About Moderna (NasdaqGS:MRNA) Stock
Published

December 08, 2020

Overview
Moderna (NasdaqGS:MRNA) is a US-based biotechnology company developing therapeutics and vaccines using the messenger RNA (mRNA) technology. This novel technology delivers genetic material to the body instructing it how to generate an immune response to certain viruses. The company has risen to prominence recently due to its development of mRNA-1273, its candidate for a COVID-19 vaccine. Moderna's vaccine has been found to be 94.1% effective in initial trial results, raising expectations that the company will achieve its first significant revenues at the end of 2020 or beginning of 2021.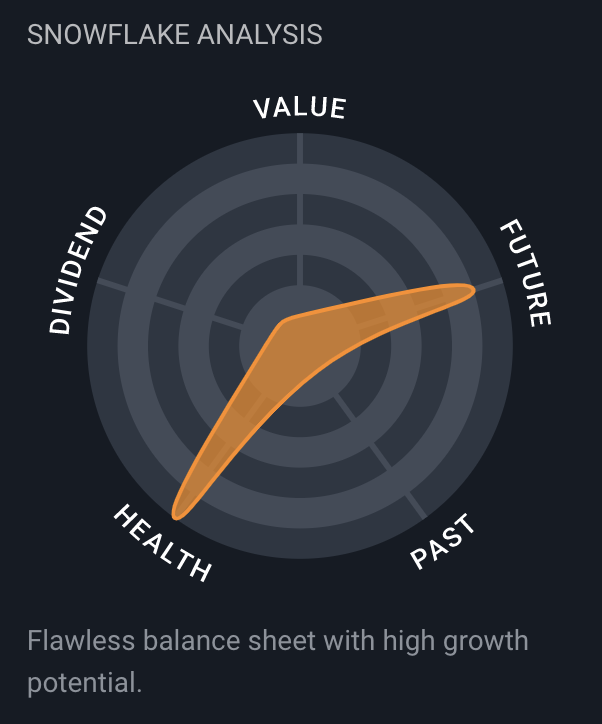 NasdaqGS:MRNA Snowflake Analysis as at 8 Dec 2020. Source: Simply Wall St
See our latest analysis for Moderna
Why Invest In Moderna
Moderna is a mid-to-late-stage biotech company that has a solid pipeline of treatments in development, but is still pre-revenue. Its clinical program includes 7 in phase I trials, 4 in phase II and 1 entering phase III. However, the spotlight at the moment is on its mRNA-1273 vaccine against COVID-19 which is pending FDA approval and likely to begin generating the company's first product revenues from late 2020.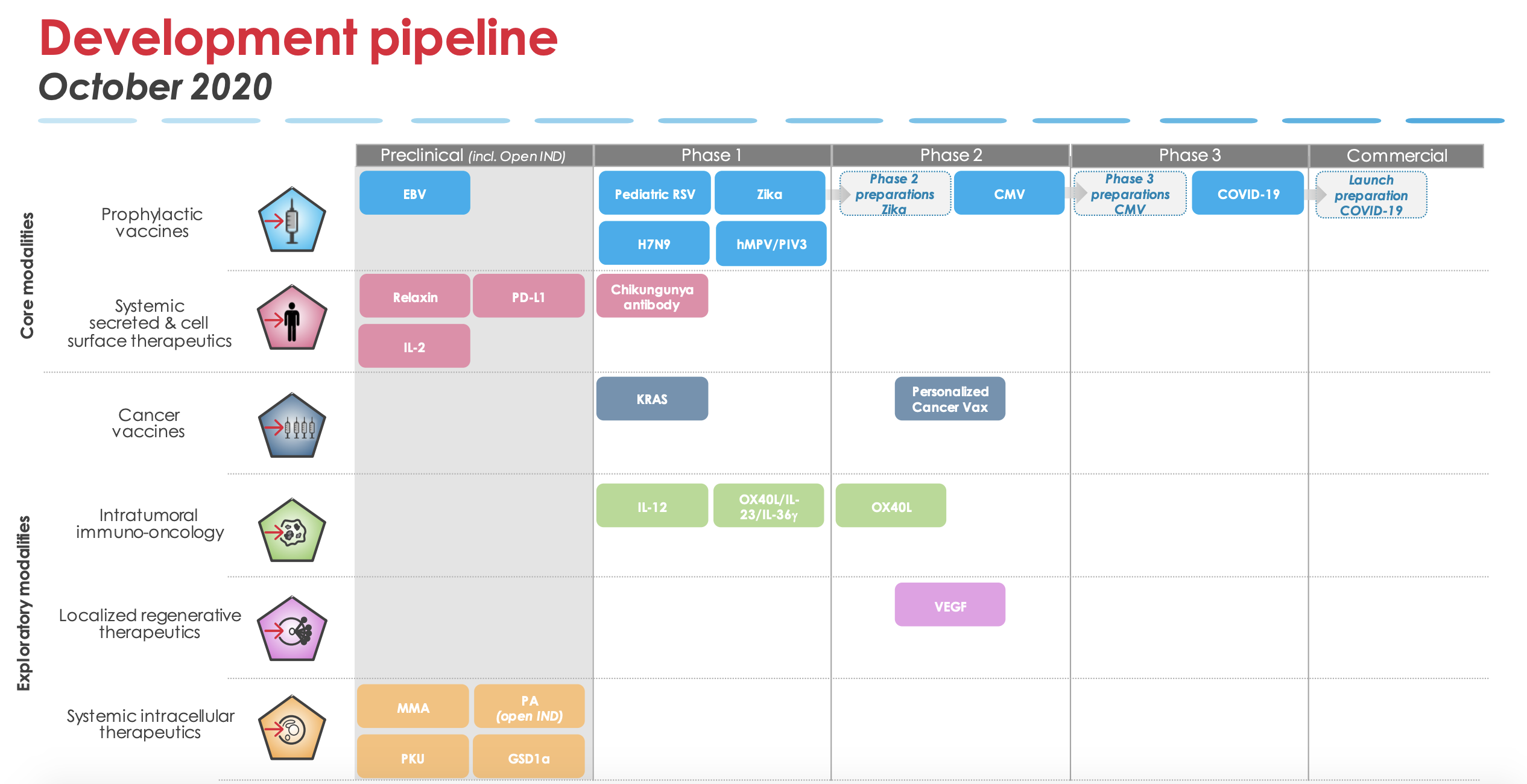 Source: Moderna 3Q20 Earnings Call Presentation
The company's ability to successfully fast track their vaccine candidate and achieve such a high rate of efficacy has increased their reputation and will likely increase the potential value of other treatments in the pipeline should they pass the clinical trial stage.
Strong cash flows from pre-sales of mRNA-1273 and likely continued purchasing over the next few years puts the company in a strong position to further its research and development of other treatments and has de-risked its business for the short-to-medium term due to the pandemic.
The company is also at the forefront of research and development into the promising mRNA technology and is considered one of, if not the leading player in this field. This will be attractive to investors seeking to gain exposure to the untapped potential of this technology.
Financial Health
Moderna is in excellent financial health at the moment. In fact, the company currently passes all of our health checks, which are available here. The company had no debt as at 30 September 2020 other than $212.3m of leases. This is a negligible amount compared to the $3.28b of cash and equivalents it held, leaving it in a very strong net cash position.
The company has so much cash as it has already received a substantial amount of upfront payments for doses of mRNA-1273 vaccine from the US Government and various international governments. These currently account for $1.17b of the cash on hand. In addition the company raised $1.3b in May 2020 through a public equity raising and has received funding commitments from the US Biomedical Advanced Research and Development Authority (BARDA) to accelerate the clinical development and manufacturing process scale-up of the vaccine.
This current cash position may decrease as the amounts are to be used for the eventual manufacture and distribution of the vaccine. However, offsetting this will be additional cash flows from further sales of mRNA-1273, which may last for several years. Prior to the COVID-19 pandemic, the company's cash burn was at a pace of around $330m per year. Consensus estimates for 2021 and 2022 are forecasting positive free cash flows of over $2b per year, indicating that the company should remain in excellent health for the foreseeable future and should have ample cash to continue its research into other treatments.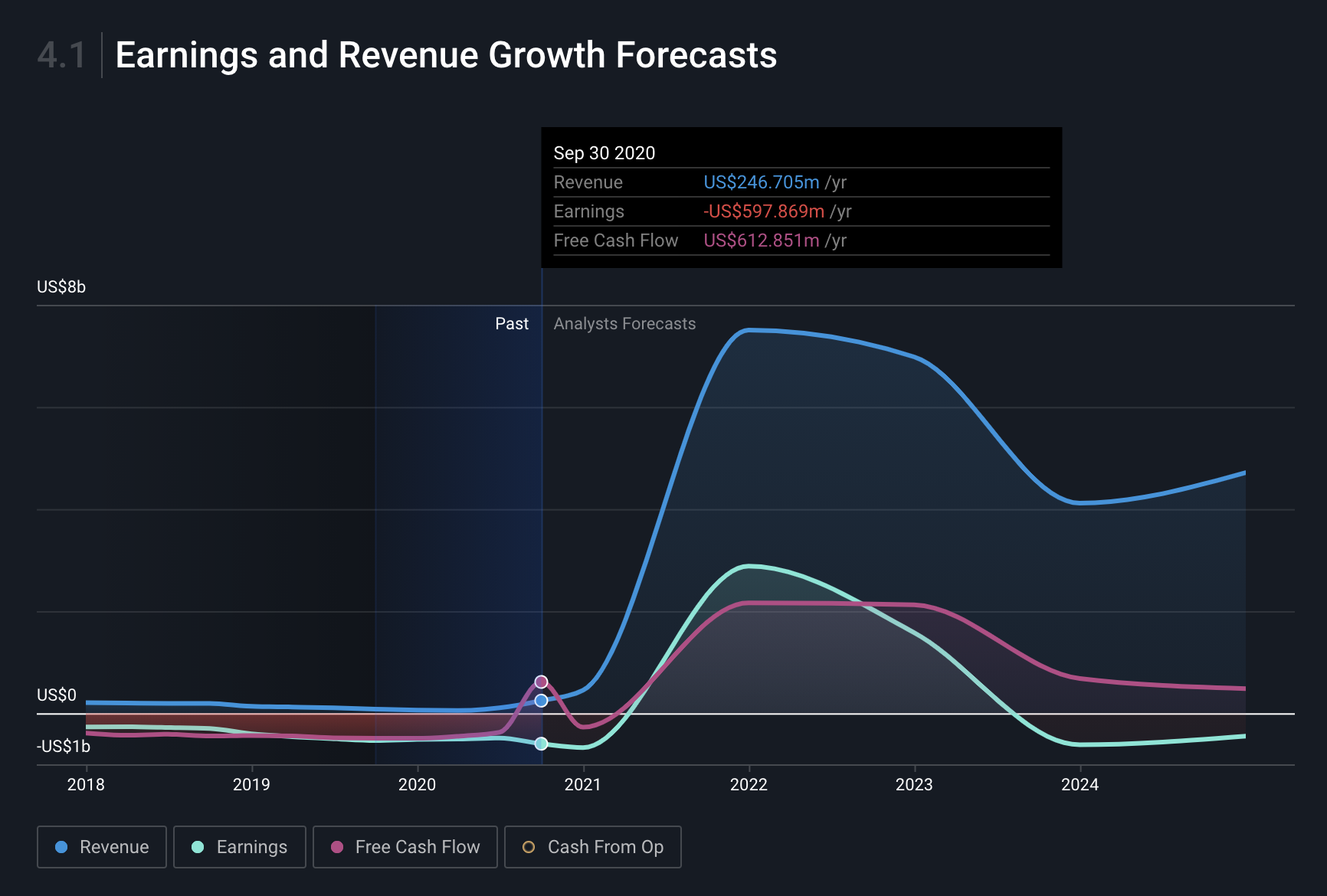 NasdaqGS:MRNA Earnings Growth Forecasts as at 8 Dec 2020. Source: Simply Wall St
Competitive Advantages
Moderna doesn't have any strong competitive advantages as yet. The company is one of the pioneers of mRNA therapeutics and vaccines, even deriving its name and ticker code from an abbreviation of "modified mRNA". However, it doesn't have any exclusivity of use over the technology. 
A report from July 2020 indicated there are approximately 113 patent families covering mRNA vaccines from 56 different filing entities. While it does own patents covering some of the fundamental inventions and key advances in the field, there are no treatments that would be protected by patents that have completed clinical trials yet. Most of the patents Moderna holds relating to mRNA-1273 is around the use of lipid nanoparticles as a delivery method for the mRNA molecules. The company has agreed not to enforce COVID-19 related patents against those making vaccines intended to combat the pandemic, so these would not form a barrier to any other competitors.
Any potential competitive advantages would be reliant on the company gaining FDA approval for, and then commercialising, some of its other mRNA-based treatments. This could be several years away and is highly dependent on the duration of the pandemic.
Risks
Many of the risks for Moderna are not unique to it and are typical of pharmaceutical companies. These include the potential that their treatments don't gain approval, the patents covering their intellectual property are not effective, or the treatments themselves are not as effective as other competing products.
The COVID-19 vaccine has been an excellent development for the company's bottom line and cash flows in the short-term. However, after the initial boost is over, it may prove a risk over the long-term. The development efforts and restrictions due to the pandemic have ultimately distracted and delayed the company from it's other treatments in the pipeline. With timelines being pushed back on these other treatments, the company's cash flows are reliant on a single treatment that may or may not have an extended lifetime.
There are 3 other risks we have identified (one is a major risk), which you should know about. Click here to find out more.
Management
Our analysis of the Moderna Management team and Board of Directors is generally positive but with some negative points to be aware of. The Management Team and Board are both considered experienced, with average tenures at the company of 3.3 years and 6.6 years respectively.
We believe that trading activity by company insiders like the Chairman and CEO can provide important information about their views of the company's future performance. We've compiled a summary of all insider trades by individuals in their own name over the last 12 months here.
Chairman of the Board Dr. Noubar Afeyan co-founded the company and has been the Chairman for almost 9 years. He is highly experienced and credentialed. However, he currently holds a very large number of board positions with other companies and organisations. This increases the risk that his time is spread too broadly and not focussed enough on Moderna.
CEO and Executive Director Stephane Bancel has been with the company for over 9 years. His total compensation ($8.95m) is about average for companies of similar size in the US market and has been consistent with company performance over the past year. He also has a high inside ownership in the company with around 4.02% of the company's shares (directly held, individual ownership only).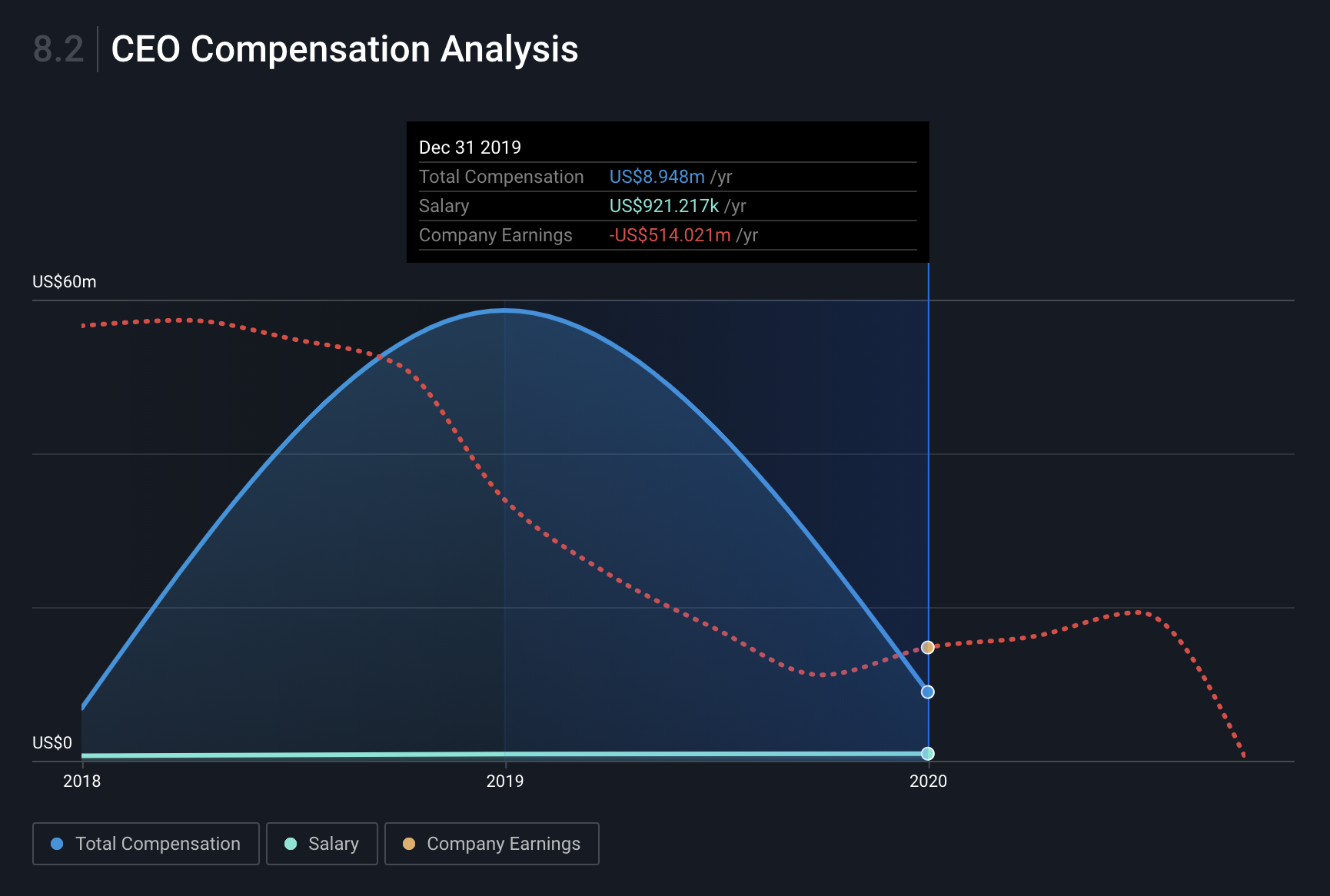 NasdaqGS:MRNA CEO Compensation Analysis as at 8 Dec 2020. Source: Simply Wall St
Stephane Bancel has been criticised in the past for fostering an unsavoury culture at Moderna that has led to higher-than-normal staff turnover. A report from Stat News in 2016 details staff accounts of failed projects being met with reprimands, public dressing-downs and on the spot firings. Several executives also left the company for unexplained reasons.
In addition, a report in 2016 from the highly respected Nature Research Journal highlighted a lack of transparency around Moderna's research under Bancel with its scientists not having published a single paper for peer review or public scrutiny. Nature Research even went as far as comparing the levels of secrecy at Moderna to those at the now disgraced and bankrupt Theranos, which is not a comparison any company would want to be attracting.
Pleasingly, recent work such as the research around mRNA-1273 has been released for peer review and there do appear to be positive changes around the secrecy issues. Investors should continue to monitor the transparency of research for Moderna's other treatments and for signs of internal culture issues.
Next Steps
You can read our full report on Moderna here, where we analyse other aspects of the company like analyst forecasts, valuation and insider ownership.
Or if you are interested in researching some other promising mid-to-late-stage companies like Moderna, take a look at our curated list of biotech stocks which are expected to become profitable in the next 3 years.
Have feedback on this article? Concerned about the content? Get in touch with us directly. Alternatively, email editorial-team@simplywallst.com
Simply Wall St analyst Sasha Jovanovic and Simply Wall St have no position in any of the companies mentioned. This article is general in nature. We provide commentary based on historical data and analyst forecasts only using an unbiased methodology and our articles are not intended to be financial advice. It does not constitute a recommendation to buy or sell any stock and does not take account of your objectives, or your financial situation. We aim to bring you long-term focused analysis driven by fundamental data. Note that our analysis may not factor in the latest price-sensitive company announcements or qualitative material.