Investors have very High Expectations for Illumina (NASDAQ:ILMN) and that will put the Share Price at Risk from Further Volatility
Last week the share price of Illumina, Inc . ( NASDAQ:ILMN ) fell 10% after the company announced it had completed its $8 billion acquisition of Grail. The share price later recovered some of those losses but remains 8% below the recent high. The deal has not yet been approved by EU and US regulators.
Grail, which specialises in biopsy tests to detect certain cancers, was originally part of Illumina and was spun off in 2015. The share price reacted negatively when Illumina first announced plans to re-acquire Grail in September last year. Now, once again some analysts are questioning the logic of the deal, while regulators may block the deal anyway. Illumina could face a steep fine if the company is found to have breached EU antitrust obligations by completing the deal without securing approval.
View our latest analysis for Illumina
What does Illumina's P/E ratio tell us?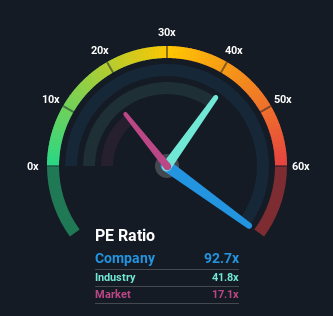 Illumina is still trading on a price-to-earnings (or "P/E") ratio of 92.7x. This is very high when you consider that almost half of all companies in the United States have P/E ratios under 17x. A high P/E ratio doesn't necessarily mean the stock is overvalued but it does imply that investors have high expectations for earnings growth.
To get an idea of how realistic those expectations are, we can look at the company's historic and expected future growth rates. We can see that earnings have dipped considerably over the last 18 months, and are expected to fall slightly later this year, before rising in 2022 and 2023.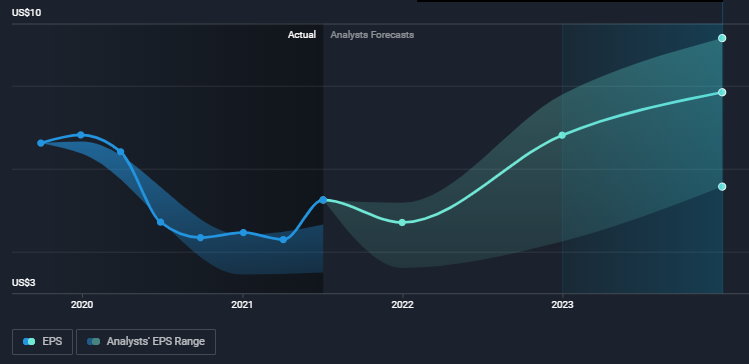 Keen to find out more about how analysts think Illumina's future stacks up against the industry? In that case, our free report is a great place to start .
Illumina's Potential
Clearly Illumina's shareholders are expecting big things from the company further into the future. If we assume the company matches expectations in December with a 12 month EPS of $4.70, the current price would put the stock on an even higher P/E ratio of 103. The most optimistic estimate for the end of 2023 put the stock on a P/E of 53 at the current share price - so earnings would still need to grow faster than the market for quite some time.
Illumina develops and manufactures equipment used for genetic and genomic analysis. This is an exciting field within the biotech and medical research space and has a lot of promise. Illumina's market share is already over 70% and the company has a healthy operating margin of over 17%. 
However, because the company has so much market share it relies on industry growth to generate revenue growth. Over the last five years, Illumina's revenue growth has been inconsistent and ranged between 6 and 21% (if we exclude the decline in 2021). While the company offers a lot of promise, there is very little predictability in the company's earnings growth. Analyst estimates have also trended lower over the past two years - so we can't attach too much certainty to them.
What this means for Shareholders
The deal to acquire Grail may still be blocked and the company may be fined for jumping the gun on the deal. At the same time the market doesn't appear very enthusiastic about the deal.
On the positive side, the company enjoys strong support from institutions who own 92% of the shares. In addition, there has been very little insider selling in the last year.
Shareholders are likely to face two risks until earnings growth becomes more consistent and predictable. Firstly, the high valuation will make the share price very sensitive to news and analyst revisions. And secondly, there is a risk that the expected growth will be pushed further and further into the future, resulting in underperformance.
None of this means the stock won't eventually live up to expectations - it just underscores the fact that the potential rewards come with significant risk. 
You can find out more about Illumina from our free analysis of the company.
If these risks are making you reconsider your opinion on Illumina , explore our interactive list of high quality stocks to get an idea of what else is out there.
Simply Wall St analyst Richard Bowman and Simply Wall St have no position in any of the companies mentioned. This article is general in nature. It does not constitute a recommendation to buy or sell any stock and does not take account of your objectives, or your financial situation. We aim to bring you long-term focused analysis driven by fundamental data. Note that our analysis may not factor in the latest price-sensitive company announcements or qualitative material.

Have feedback on this article? Concerned about the content? Get in touch with us directly. Alternatively, email editorial-team@simplywallst.com