Investors Are Paying Up For Pinterest's (NYSE:PINS) International Growth Story
Published

November 30, 2020

Pinterest (NYSE:PINS) is a tale of two businesses. One is the mature US business which is well monetised and has reduced growth prospects. The other is the international business, which is growing users very rapidly but is slow to monetise. 
Over the past three years, the monthly active user (MAU) count in the USA has risen ~25% to 90 million, but this growth is tapering off. Average revenue per user (ARPU) is growing nicely - now around $3.70 a year - but it's increasingly clear that the company is reaching its limits in the USA. The total audience includes 47% of US internet users, and one-third of the US population uses the service every month:
Pinterest Monthly Active Users. Source: Pinterest 10-Q form, September 2020 
Sure, it could continue to grow a bit.  Monetisation could improve. Yet without the ability to reach new demographics (something Pinterest highlights as an explicit risk in its 10-K), it's pretty clear the US business is mature. Which is a concern.  Pinterest has a $43bn market cap, compared to $1.387bn revenue - most of it from the USA - for the twelve months to September 2020. 
This is simply not the kind of business you pay 30x sales for.
It's crystal clear that the future of Pinterest is in its international markets, which are in the early stages of development.  
International Growth Is The Whole Ball Game
Compared to the USA, where users generate ~$3.70 a year in revenue, international users on average generated $0.21 (yes, twenty-one cents) over the past year. 
No single country accounts for more than 10% of revenues. International user growth has been accelerating nicely, but there is a clear lag in monetisation. There are several reasons for this presented in the company's reports:
a) Digital advertising markets are less mature outside the USA
b) Monetisation efforts overseas are several years behind the USA
c) There is an implied lack of localised content, which makes it harder to monetise
Unfortunately Pinterest does not report a lot of detail on its international business, but we can make a couple of educated assumptions. 
We already know that growth in Pinterest's business depends on both users and advertisers coming together in a virtuous cycle. Users that see good and engaging content that meets their needs will return, which makes them easier to target for advertisers, which makes it easier to sell advertising.
If the above is true we can assume that growth in a country is a matter of depth, not breadth. It is not a matter of showing some content to all of the people. It is about going deep and segmenting the content, finding niches to fill a need, offering these niches to advertisers, and using this to drive the virtuous cycle.
Second - Pinterest doesn't yet have any notable second markets in terms of revenue, and hasn't disclosed any major second markets in terms of users. From this, we could assume the business is currently growing more via width (more users in more markets) rather than depth (more refined user-advertiser interactions).  
The consequences of this are that international business will not become a success story until Pinterest adds "more USAs" (deeper markets with rapidly accelerating user growth and improving monetisation) rather than growing users in many countries.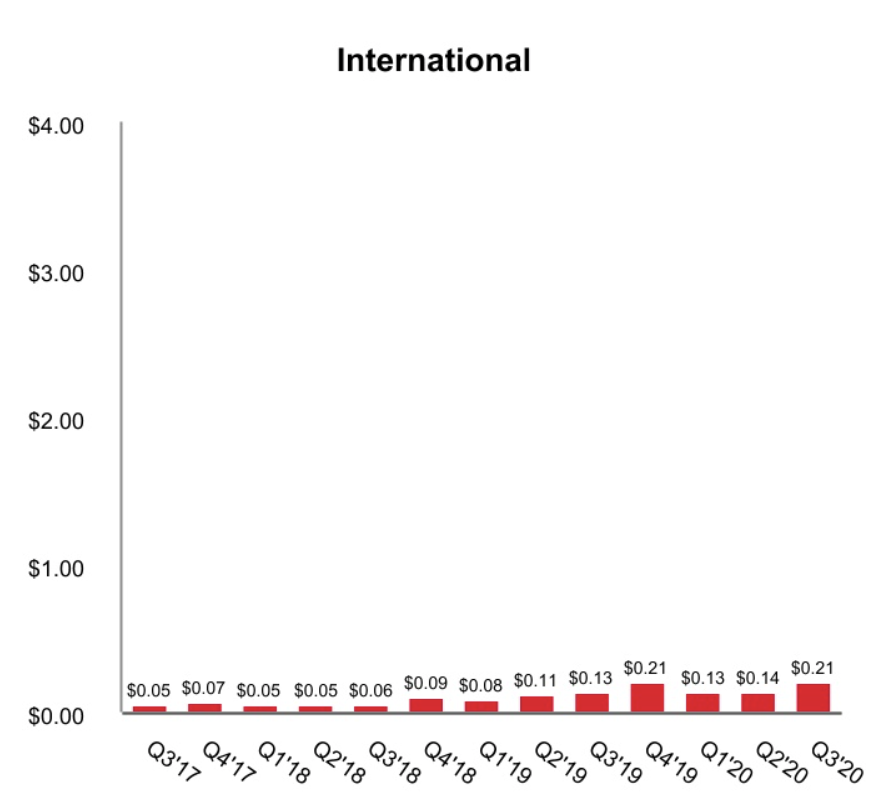 Pinterest average revenue per international user. (source: Company filings)
This also raises important questions about how successful Pinterest's service is in each of its new markets. From our perspective, we need to see more evidence that Pinterest is able to monetise a second and third market before giving full credit to the international growth story, whereas it's clear that investors are already assigning full value to those markets. 
It took four years for Pinterest to take the USA from $1.60 in revenue per user to $3.70 currently. Accounting for more resources, better processes, and also being newer in its offering overseas, Pinterest is still likely several years away from decent monetisation in other markets. 
Analyst forecasts are strong, but ambitious
While Pinterest's international users are five times as numerous as those in the USA, it's likely that a much smaller number of those users are in markets that are ready for monetisation.  As a result, there's not likely to be a "turning on the tap" effect where monetisation kicks in for all 400m users. 
There's more likely to be a second or third market - Canada, maybe, or France -  which are properly localised and building a virtuous cycle, which would improve monetisation for another 60-100m users, rather than the whole cohort. As a result, investor growth expectations should be somewhat restrained.  Four analysts tracked by Simply Wall St expect revenue growth to be around 30% a year on average over the next few years: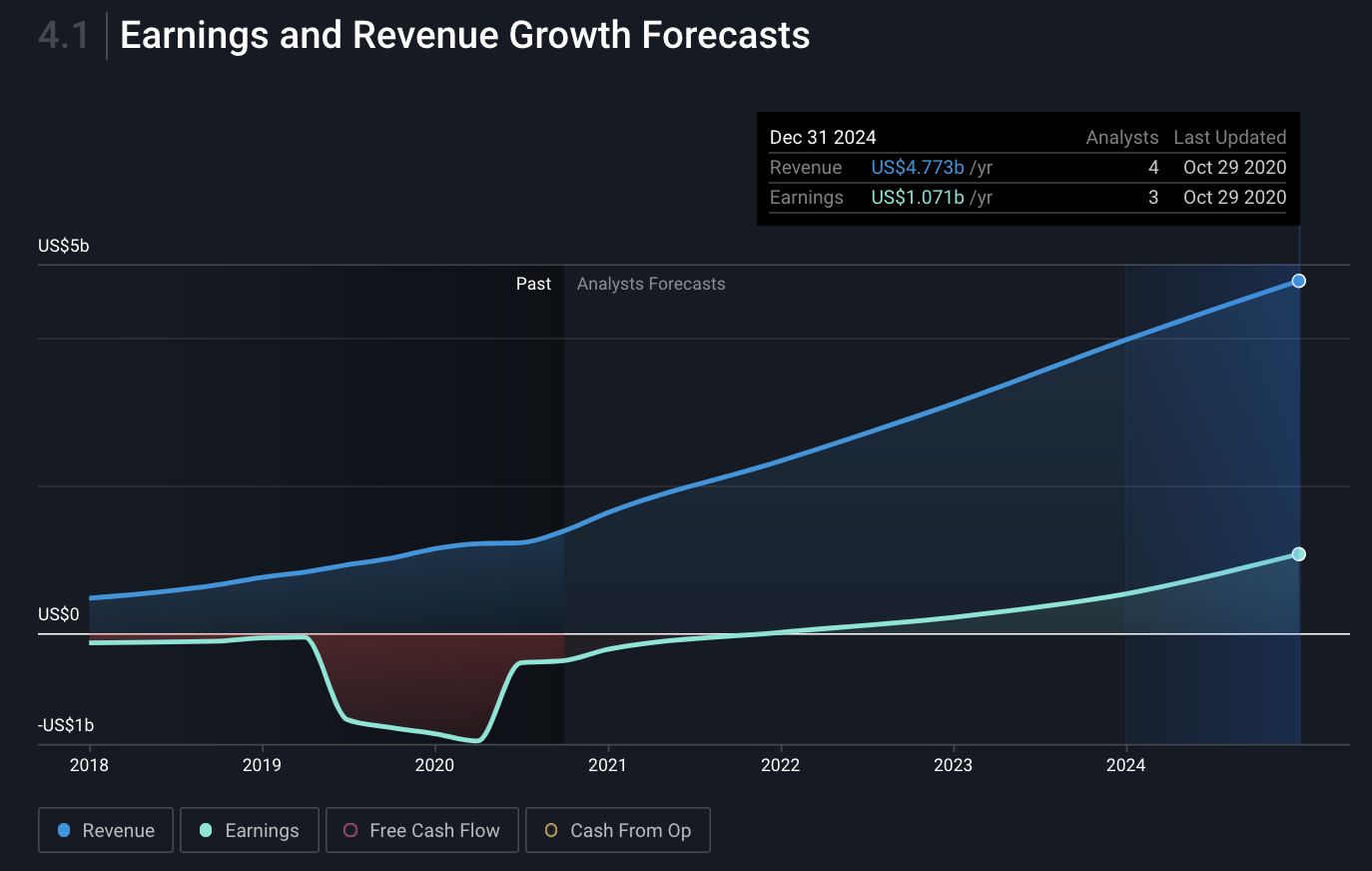 Analysts expect Pinterest to break even in 2022. (source: Simply Wall St )
Finally, about 25% of the US population uses Pinterest. If this applied globally (8 billion people), Pinterest's addressable market would be about 2 billion users, most of them quite poor.  If half of those users generated US$4 a year in revenue (ambitious!), Pinterest would have $4bn revenue, which puts a firm upper limit on the company's earnings potential.  Perhaps not surprisingly, Simply Wall St's valuation estimate based on analyst growth forecasts, suggests that Pinterest is currently substantially overvalued at $70/share.
The bottom line
It looks like the US market is not in a good position to continue driving Pinterest's growth in the near term. International markets likewise appear to be too early in the stages of monetisation for them to become the main engine for growth. What's more, demographics suggest a firm limit on the upper size of the business.
Investors are paying a lofty price for what looks like a combination of a maturing business with limited growth potential (USA) and an immature business with great potential (international) that is potentially a couple of years away from hitting its stride.
Pinterest has many of the characteristics of an attractive business but investors are paying a lofty price and making some very audacious assumptions around growth. Based on a confluence of factors, we think business performance is more likely to disappoint in the near term.
Until investors can clearly see strong second and third markets emerging from a monetisation perspective - demonstrating that Pinterest can work outside the United States - we'd be cautious at today's valuations.
Paying a lofty price for slowing growth is one of the classic ways that investors come unstuck. Compare your expectations for Pinterest with analyst forecasts here , or find attractive companies with rapid earnings growth using our screener, here . 
Simply Wall St Editor Sean O'Neill and Simply Wall St have no position in any of the companies mentioned. This article is general in nature. It does not constitute a recommendation to buy or sell any stock and does not take account of your objectives, or your financial situation. We aim to bring you long-term focused analysis driven by fundamental data. Note that our analysis may not factor in the latest price-sensitive company announcements or qualitative material.
*Interactive Brokers Rated Lowest Cost Broker by StockBrokers.com Annual Online Review 2020
Have feedback on this article? Concerned about the content? Get in touch with us directly . Alternatively, email editorial-team@simplywallst.com .