COVID-19 Has Taken A Toll On Entertainment Giant Disney (NYSE: DIS): Will It Be Able To Claw Its Way Out?
Published

December 08, 2020

Imagine the internet without Google (NASDAQ: GOOG.L), or shopping without Amazon (NASDAQ: AMZN). The entertainment industry without The Walt Disney Company ( NYSE: DIS ) is a bit like that.
While Disney's market valuation of $278b at ~$153.72 per share is far lower than the FAANG (Facebook, Apple, Amazon, Netflix, and Google) stocks, there's a high chance that a five-year-old probably couldn't tell you what those companies were but she could just as quickly inform you that Anna and Elsa were "Disney" princesses.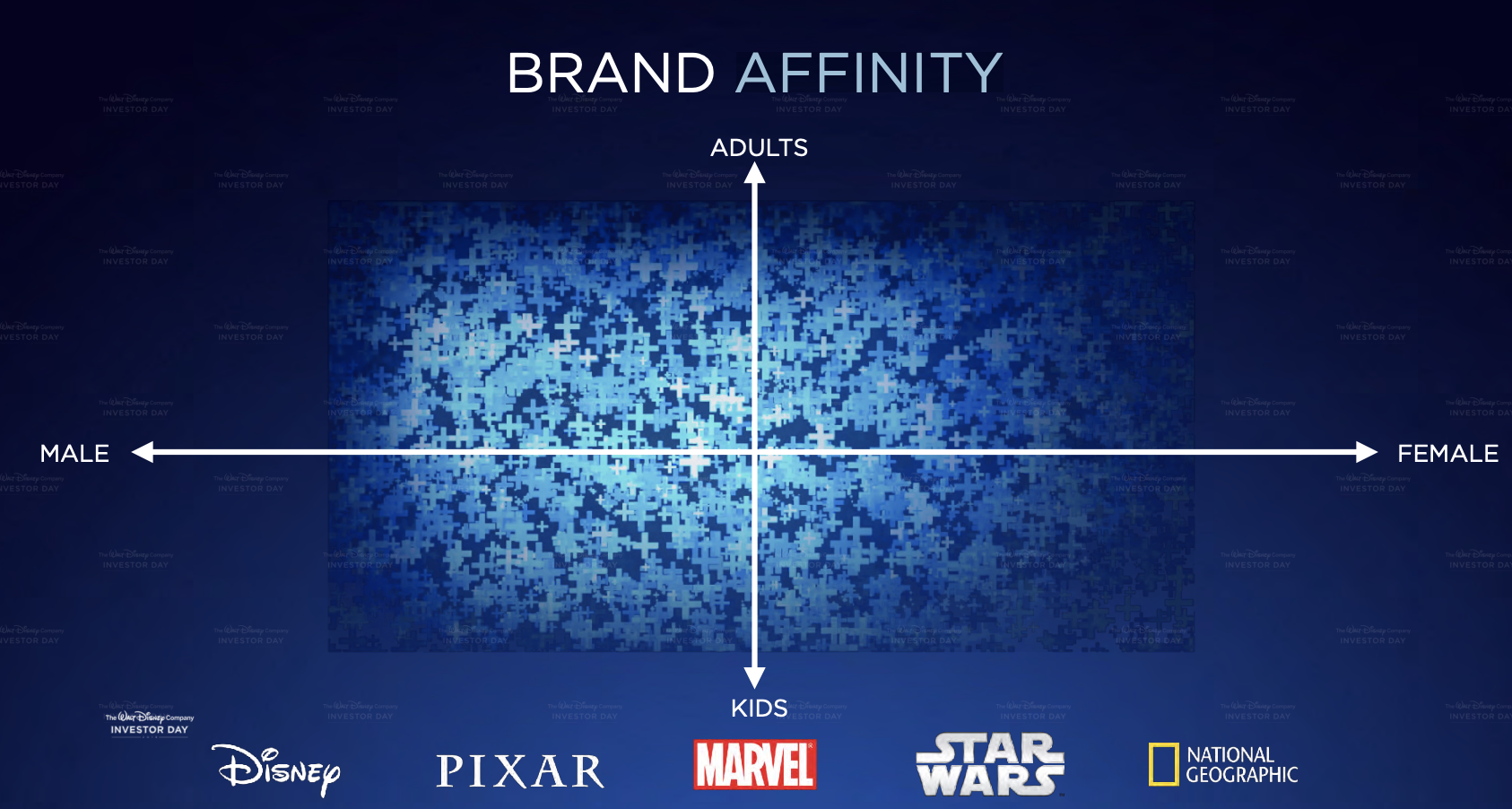 Source: Company presentation
That kind of influence is formidable. The brand has appeal to a broad audience, from adults to kids. With its Storm Troopers and animated princesses, the breadth of its content is unmatched.
The Disney empire
Disney has got its fingers into almost everything related to entertainment and pop-culture, be it the big screen, cable TV, or theme parks and more recently, direct-to-consumer (which includes the recently launched streaming services, Disney Plus and ESPN Plus).
Source: Company presentation
Listed below are Disney's key business segments:
1. Media Networks
This segment is one of the largest sources of Disney's revenues (around 43% of the total revenue in FY 2020). Revenues from cable networks such as Disney, ESPN, and ABC all go under this segment and are brought in through affiliate fees, advertising, and licensing fees.
2. Parks, Experiences, and Products
Until 2019, revenues from theme parks and experiences contributed hugely to the company's overall revenue (around 38% of the total revenue in FY 2019).  Earnings under this segment come from various operations including theme parks, cruise line, product licensing, and sale of merchandise.
However, recent revenues have suffered. Most of Disney's theme parks and resorts were closed after the onset of the pandemic, but some of them have slowly been reopening .
3. Studio Entertainment
Most well-known Hollywood megabrands such as Pixar, Marvel Entertainment, Star Wars, and Lucasfilms fall under this segment. The recent acquisition of 21st Century Fox brought in more marvel franchises to the banner such as X-men and Deadpool. This means that these brands can now be a part of Disney's Marvel cinematic universe and the company won't have to incur costs to use these brands (for example, Spider-Man is owned by Sony and Disney pays a licensing fee to Sony).
The Fox deal also brought in Avatar, the Simpsons, National Geographic, and Fox's 30% ownership of the streaming platform Hulu, bringing Disney's share up to 60% from the previous 30%.
4. Direct-to-Consumer and International
With streaming platforms such as Netflix (NASDAQ: NFLX) causing a disruption in the consumption of cable TV content, CEO Robert Iger, staying true to his quote "Innovate or die" (from his book- The Ride of a Lifetime) announced the launch of Disney Plus and ESPN Plus last year.
The streaming service already has over 73 million paying subscribers with more than 10 million subscribers signing up in the first few days of launch .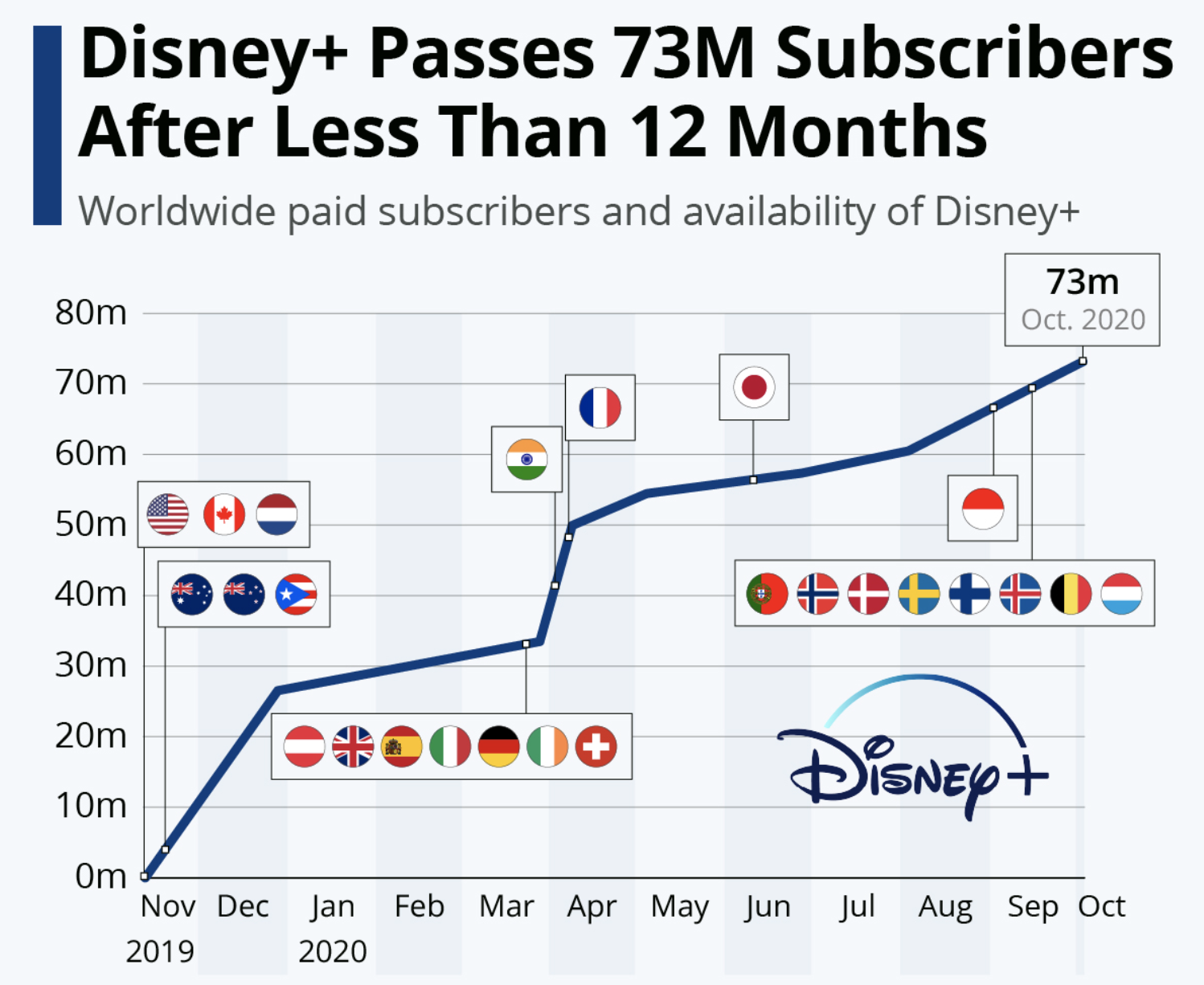 Source: Statista
That's no easy feat given how long it took Netflix to get those many subscribers to sign up as shown in the chart below- between 8-9 years.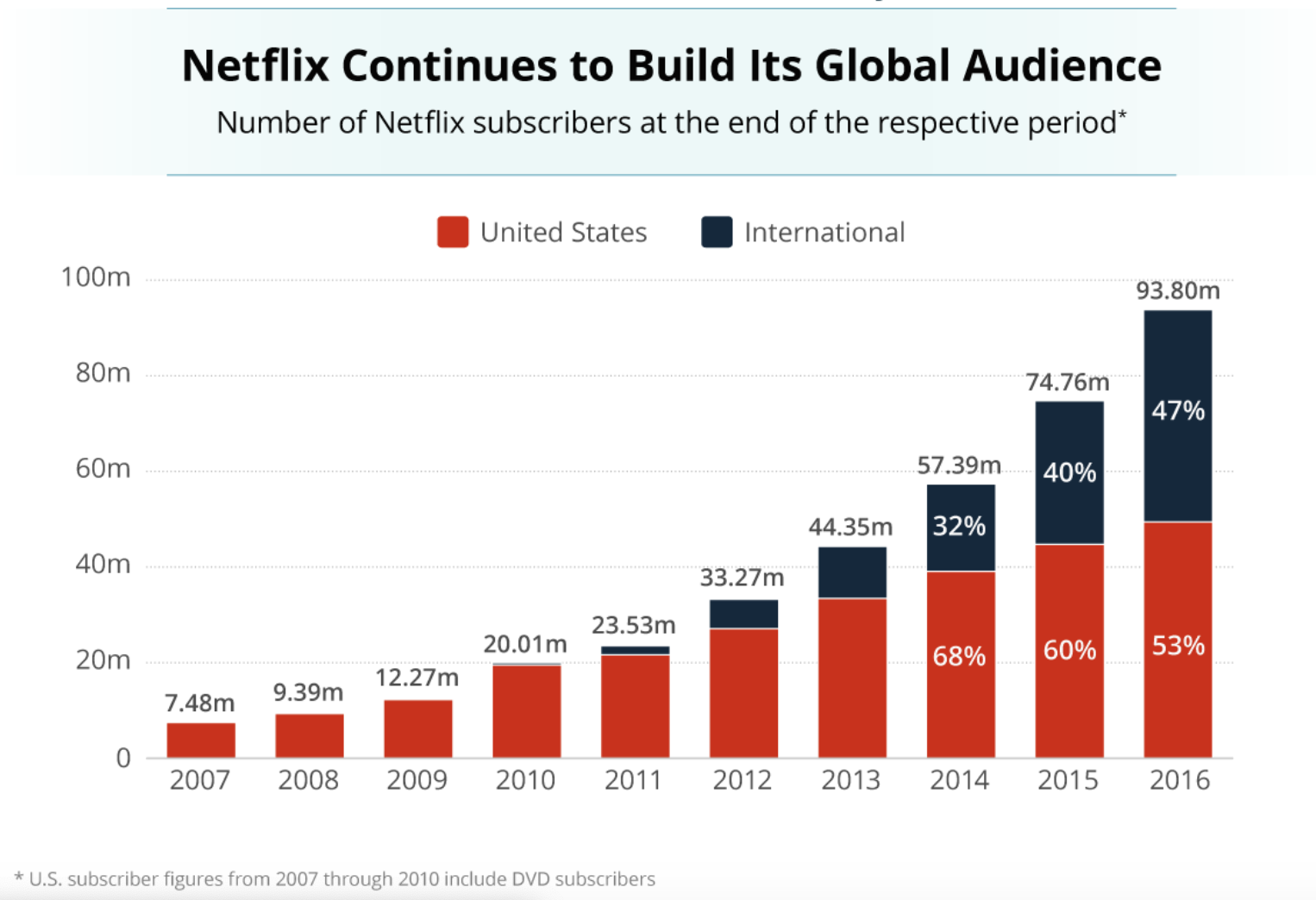 Source: Business Insider, Statista
However, Netflix currently offers tough competition to Disney Plus with its almost 200 million subscribers. With the COVID-19 pandemic accelerating the rate of sign-ups as more people stay at home, it might not be long before Disney catches up with Netflix. Disney's original goal was to reach at least 60 million paid subscribers by 2024 , five years from launch. It achieved that goal in only 8 months.
Bob Iger's Disney: Looking back at Disney's performance over the years
It was under CEO Bob Iger's leadership that the company brought in major media houses such as Pixar and Marvel and more recently, 20th Century Fox under its roof, not to mention the launch of Disney Plus in late 2019. As the chart below depicts, Disney's revenues have almost doubled from $30b in the year that Iger took over the helm, to almost $70b in 2019, before he stepped down in February 2020.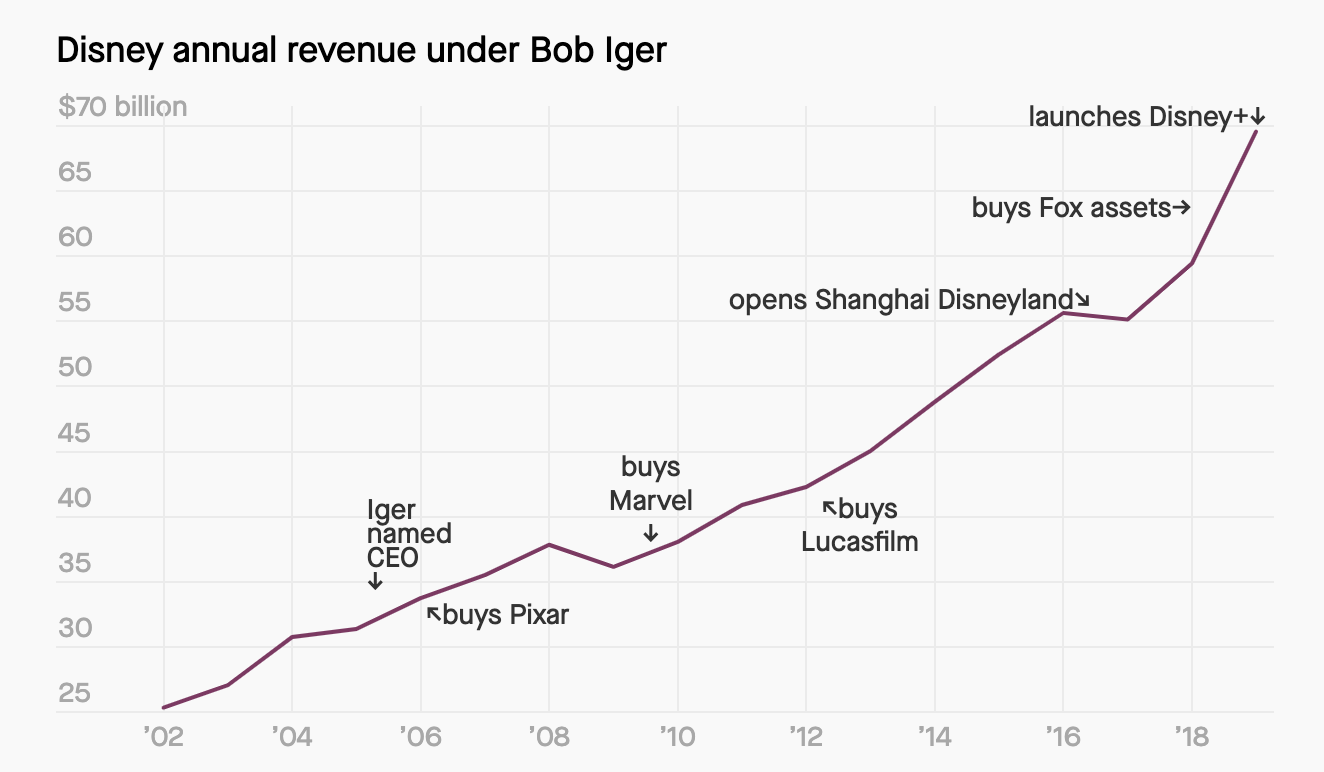 Source: Quartz
Over the last five years, Disney's revenues have increased by 25%, going from $52b in 2015 to $65b in 2020. Revenues have particularly done well over the last two years increasing by $4b and $10b, respectively in 2018 and 2019.
The revenue increase in 2018 was mainly on account of a $2b increase in Studio segment revenues with four blockbuster Marvel movies releasing that year. The more impressive and more recent $10b increase was due to the direct-to-consumer business. Revenues under this segment rose majorly as a result of Fox and Hulu's consolidation, with growth in the number of subscribers in Disney Plus, Hulu, and ESPN Plus contributing as well.
Additionally, the company's costs have also been on the rise, again mostly due to the consolidation of Fox and Hulu's operations. Total costs and expenses have risen from $39b in 2015 to almost $62b in 2020. However, net margins have mostly stayed stable over the past five years averaging around 16% and peaking at around 21% in 2018. This implies that the growth in the company's costs has more or less increased along with a growth in its top-line.
Along with its revenues, Disney stock has also risen steadily under Iger's leadership from under $25 per share in 2006 to almost $154 per share currently-a return of over 500% to shareholders, not counting dividends.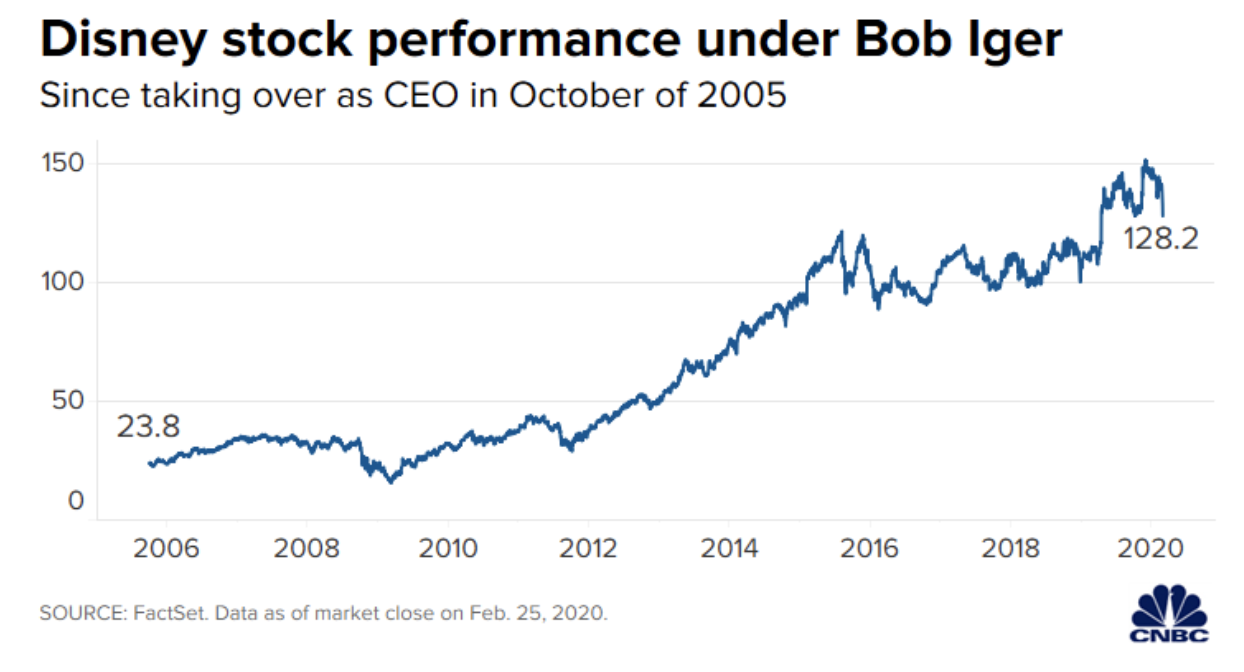 Source: CNBC
Disney stock has held up quite well recently as well, despite the onslaught brought about by the COVID-pandemic. The stock plunged by almost 40% in March, but rose back to pre-pandemic levels and is up almost 80% since its March lows.
How the Pandemic affected Disney's business: Disney's recent performance    
For the financial year ended October 2020, the company reported a net loss for the first time in over 40 years . The loss was largely on account of the loss of revenues as theme parks and movie theatres shut down due to the pandemic. In FY 2020, both of those segments saw a 37% and 13% drop in revenues, respectively. Combined contribution from these segments to the total revenue was around 40% compared to a combined contribution of 50% in FY 2019.
It's worth noting that the Studio segment still managed to record a profit of $2.5b in 2020 despite the massive drop in revenues. The decline in revenues was offset by lower amortization, marketing, and distribution costs compared to 2020.
At the last balance sheet update, the company was sitting at almost $18b in cash, which ballooned (from $5.4b at the previous update) as a result of $11b raised via debt. This was done in an attempt to enhance its liquidity amidst a pandemic. However, this debt capital raise, along with Disney's Fox acquisition (the company assumed approximately $19.2 billion of debt as a part of the acquisition) has caused the company's debt to shoot up. Long-term debt at the last update was $53b versus $13b in 2015.
Over the last five years, Disney's cash flows from operations have averaged around 20% as a percent of revenues. In 2019 and 2020 however, that share fell to 9.5% and 11%, respectively. It is important to note that cash flows from operations in 2019 are skewed by a $7.6b tax obligation that arose from the spin-off of Fox.
Apart from raising debt, the company has also suspended its dividend to preserve cash. The move was announced in May, but recently, activist investor Dan Loeb through his hedge fund, Third Point LLC, urged the company to cancel dividends permanently to redirect investments into Disney Plus. If Disney does cancel its dividend for the foreseeable future, it could save $3 billion annually.
Overall, the company seems to be sitting in a comfortable position, liquidity-wise with a $17.25b credit facility to boot. Even so, investors might need to keep an eye on Disney's balance sheet.
What's next: Future expectations, steps taken, and analyst forecasts
While Bob Iger's successor, Bob Chapek, seemed to have inherited a strong company initially, the current CEO seems to have a hard job nowadays as a result of the challenges brought about by the Coronavirus pandemic and the threat it poses to Disney's business. It was perhaps, for this reason, Iger is back at the helm to help steer the company through the uncertain future that lies ahead.
While the COVID-19 virus seems to have affected almost every segment of Disney's business, its streaming business seems to have thrived. Disney Plus, ESPN Plus, and Hulu have touched over 120 million paid subscriptions combined. This growing segment will likely support Disney's legacy business in the face of a pandemic.
One of the key strategic steps taken by the company recently includes an organisational restructuring that centralizes all its media segments into a single segment- Media and Entertainment distribution. The company believes this would help further accelerate the business. The segment would be responsible for monetization of content, including distribution and ad sales, and would also oversee Disney Plus. The new structure would be effective immediately and the company expects to transition to financial reporting under this structure in Q1 2021. Further details of the company's DTC strategies are expected to be unveiled on December 10.
Analysts expect Disney's annual revenue to go back to pre-pandemic levels in 2021, rising by almost 7% with a further 19% forecast for 2022. However, expectations of a recovery in its bottom-line are not as optimistic. While EPS is expected to recover in 2021 and 2022, it's not until 2023 that analysts expect earnings to go back to at least pre-pandemic levels.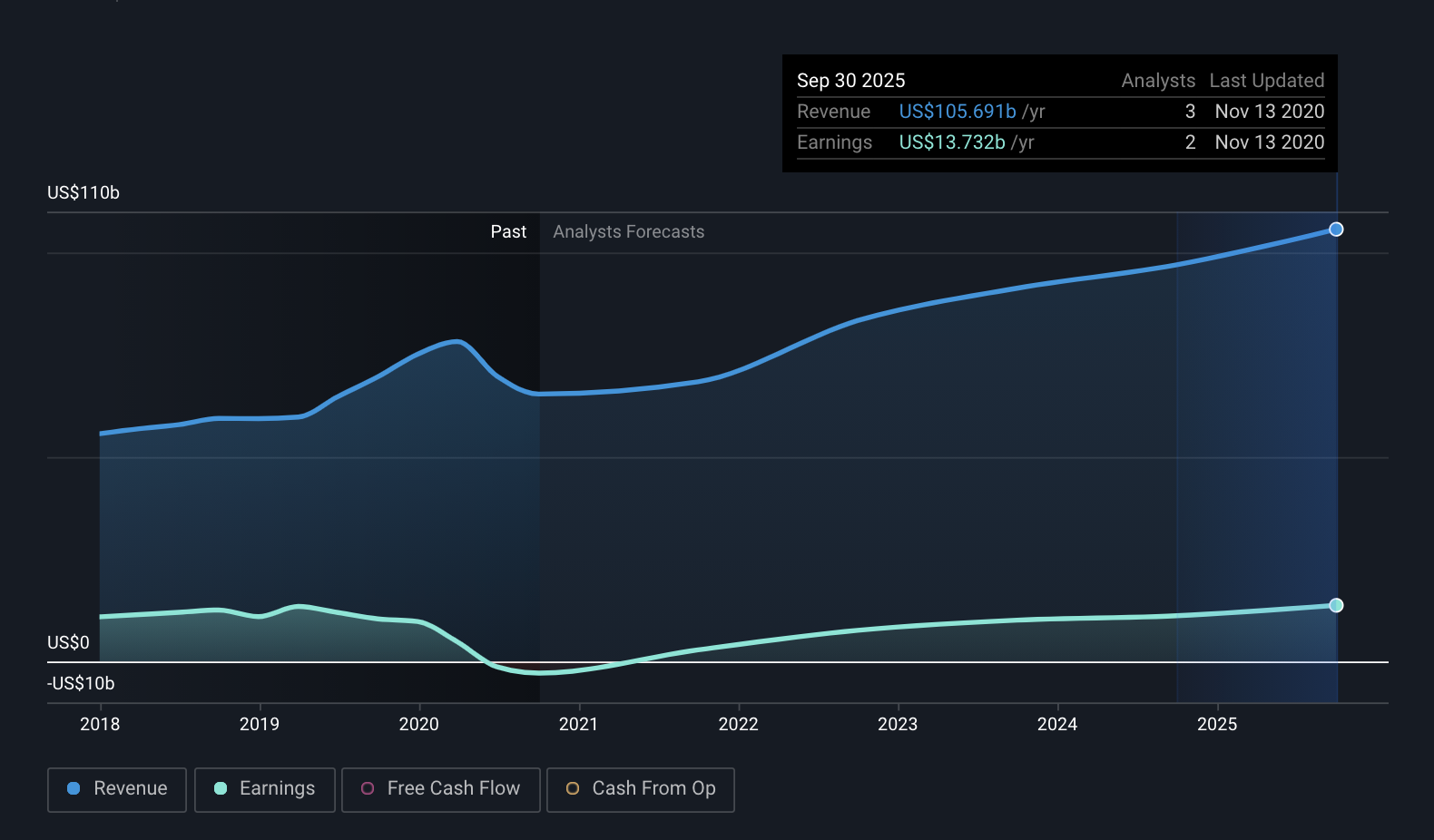 NYSE: DIS Earnings and Revenue Growth Forecasts (Source: Simply Wall St)
If reports are to be believed about repressed demand for Disney's services - mainly Studio and Parks, the recovery could perhaps come much sooner. Add to that, a vaccine on the horizon , Disney might be able to return to business as usual much sooner than expected.
Conclusion
Disney is a heavyweight when it comes to movies and multiplexes, especially with the recent addition of Fox. In spite of the upheavals it has faced recently, the company seems to have found a way to deliver quality content to its audience, through its various platforms. Having the ability to bring new content directly to streaming seems like a good strategy not just against a pandemic, but even after the dust of the pandemic has settled.
Backed by some of the strongest brands and its huge customer base, the company wields the financial power to make strategic decisions related to capital allocation in the face of uncertainty. These include suspension of dividends to preserve liquidity, choosing to retire a portion of its debt, or even growing its streaming business. Along with that, the company's ability to generate stable cash flows should help it ride out the bedlam caused by the pandemic. However, as we mentioned before, debt is always a risk.
For those of you who prefer companies with a solid balance sheet and fundamentals here's a free list of companies that you might be interested in.
Have feedback on this article? Concerned about the content? Get in touch with us directly. Alternatively, email editorial-team@simplywallst.com
Simply Wall St analyst Kshitija Bhandaru and Simply Wall St have no position in any of the companies mentioned. This article is general in nature. We provide commentary based on historical data and analyst forecasts only using an unbiased methodology and our articles are not intended to be financial advice. It does not constitute a recommendation to buy or sell any stock and does not take account of your objectives, or your financial situation. We aim to bring you long-term focused analysis driven by fundamental data. Note that our analysis may not factor in the latest price-sensitive company announcements or qualitative material.