The Coca-Cola Company (NYSE:KO) may post Positive Earnings Tomorrow, but the Big Picture is Limiting

Dividend stocks like The Coca-Cola Company (NYSE:KO) tend to be popular with investors, but are often more complex and demand higher scrutiny than it may first appear.
In Coca-Cola's case, investors got a total stock return (which includes price appreciation plus dividends) of 21.9% in the last 12 months. This, is lower than both the total US market and beverage industry returns of 34.7%, 24.8% respectively.
In fact, Coca-Cola, has been underperforming the market and industry on a 3 and 5 year basis, as shown in the chart below.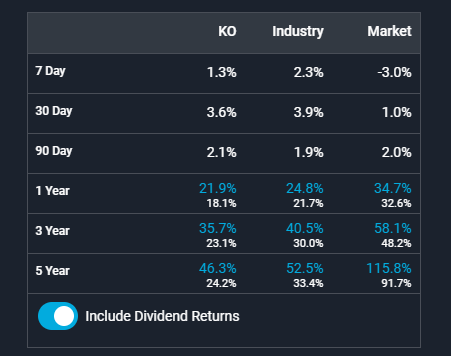 NYSE:KO Total Stock Return vs the US Market and Beverage Industry
The chart above shows that even with dividends, Coca-Cola is not the best performing stock.
However, there are undeniable long term qualities that still make Coca-Cola a company worth looking at! Investors might feel safer having a stable, large cap stock in their portfolio with a worldwide recognized brand name. Further, Coca-Cola may explore more product diversification and has enough capital behind it to enter a new beverage market as a strong competitor, and some of these products might take off in the future.
At the moment, it is important to look at Coca-Cola from a dividend perspective, and prepare for tomorrow's earnings call.
A long history of paying dividends is appealing for Coca-Cola. Some simple analysis can reduce the risk of holding it for its dividend, and we'll focus on the most important aspects below.
Explore this interactive chart for our latest analysis on Coca-Cola!
During the past 10-year period, the first annual payment was US$0.9 in 2011, compared to US$1.7 last year. Dividends per share have grown at approximately 6.7% per year over this time.
Companies like this, growing their dividend at a decent rate, can be very valuable over the long term, if the rate of growth can be maintained.
Payout ratios
Dividends are typically paid from company earnings. If a company pays more in dividends than it earned, then the dividend might become unsustainable.
So we need to check if a company's dividend is sustainable, relative to its net profit after tax.
Looking at the data, we can see that 98% of Coca-Cola's profits were paid out as dividends in the last 12 months. Its payout ratio is quite high, and the dividend is not well covered by earnings. This means, Coca-Cola, was not profitable enough and had to reach out somewhere else in order to cover the promised dividend.
We also measure dividends paid against a company's levered (before debt payments) free cash flow, to see if enough cash was generated to cover the dividend. The company paid out 90% of its free cash flow as dividends last year, which is adequate, but reduces the wiggle room in the event of a downturn.
Fortunately, Coca-Cola maintains a steady cash balance of US$12.6b, and has been consistently reducing operating expenses in the last years. This means that the company is stable and utilizing an efficiency/cost-cutting strategy going forward, which is great for investors that look for value maximizing companies.
Get all this data in our latest analysis on Coca-Cola's financial position here.
Dividend Growth Potential
Coca-Cola's EPS are effectively flat over the past five years.
In order to maintain the dividend's purchasing power over the long term, earnings per share (EPS) need to grow. Otherwise, steady earnings per share is a risk as the value of the dividends can be reduced by inflation.
In order for this to happen, Coca-Cola may need to take no risk, and re-engage in capital intense projects that have future growth potential. Unfortunately, this is hard to pull off without either taking on more debt or cutting dividends in order to accumulate cash.
Conclusion
Sooner or later, the stable business model with an efficiency approach may turn unsustainable. Coca-Cola has the brand and resources to revitalize the company, but may disappoint shareholders in the short term.
Coca-Cola is currently paying out a lot more than it can sustainably do so, and the future growth opportunities are limited. With a stock delivering 21.9% last year, and a dividend yield of around 3%, Coca-Cola seems to be slumping below the average.
The recognizable brand name to consumers, may be under pressure by new beverage competitors. Conversely, the support by its largest shareholder - Berkshire Hathaway Inc. with 9.28% ownership may take a new turn if leadership suddenly changes.
For these reasons, tomorrow's earnings call may not change much for investors, and may be a catalyst for change only in the event of a big earnings surprise.
There are other things to consider for investors when analyzing stock performance. For example, we've picked out 3 warning signs for Coca-Cola that investors should know about before committing capital to this stock.
We have also put together a list of global stocks with a market capitalisation above $1bn and yielding more 3%.
Simply Wall St analyst Goran Damchevski and Simply Wall St have no position in any of the companies mentioned. This article is general in nature. It does not constitute a recommendation to buy or sell any stock and does not take account of your objectives, or your financial situation. We aim to bring you long-term focused analysis driven by fundamental data. Note that our analysis may not factor in the latest price-sensitive company announcements or qualitative material.

Have feedback on this article? Concerned about the content? Get in touch with us directly. Alternatively, email editorial-team@simplywallst.com