Bank of America(NYSE: BAC) Hikes the Dividend Despite a Minor Earnings Miss

Bank of America just delivered a slight miss on the earnings at US$21.6b, below the US$21.8b estimates. The bank blamed it on low interest rates that are influencing the whole financial sector. Meanwhile, earning-per-share (EPS) came in at US$0.80, outperforming the expectations of US$0.77.
Still, CEO Brian Moynihan remains optimistic, pointing out the increase in loans for the first time since early 2020. While the price fell on the news, it stopped at $38, rebounding for the second time since April. In the short term, this price remains the support - meaning that investors keep adding to their long positions there.
The Dividend
Starting in Q3 2021, Bank of America Corporation ( NYSE: BAC ) will increase its quarterly common stock dividend to US$0.21 per share. This represents a 17% increase from the current levels, and it was announced following the latest successful stress test that the bank passed on June 24 .
Dividend-paying companies with growing earnings can be advantageous in the long term. A 1.9% yield is nothing to get excited about, but given its successful dividend payout history and the announced hike - dividend reinvestment over the long-run has its appeal.
The company also bought back stock equivalent to around 1.3% of market capitalization this year. Some simple analysis can offer a lot of insight when buying a company for its dividend, and we'll go through this below.
Click the interactive chart for our full dividend analysis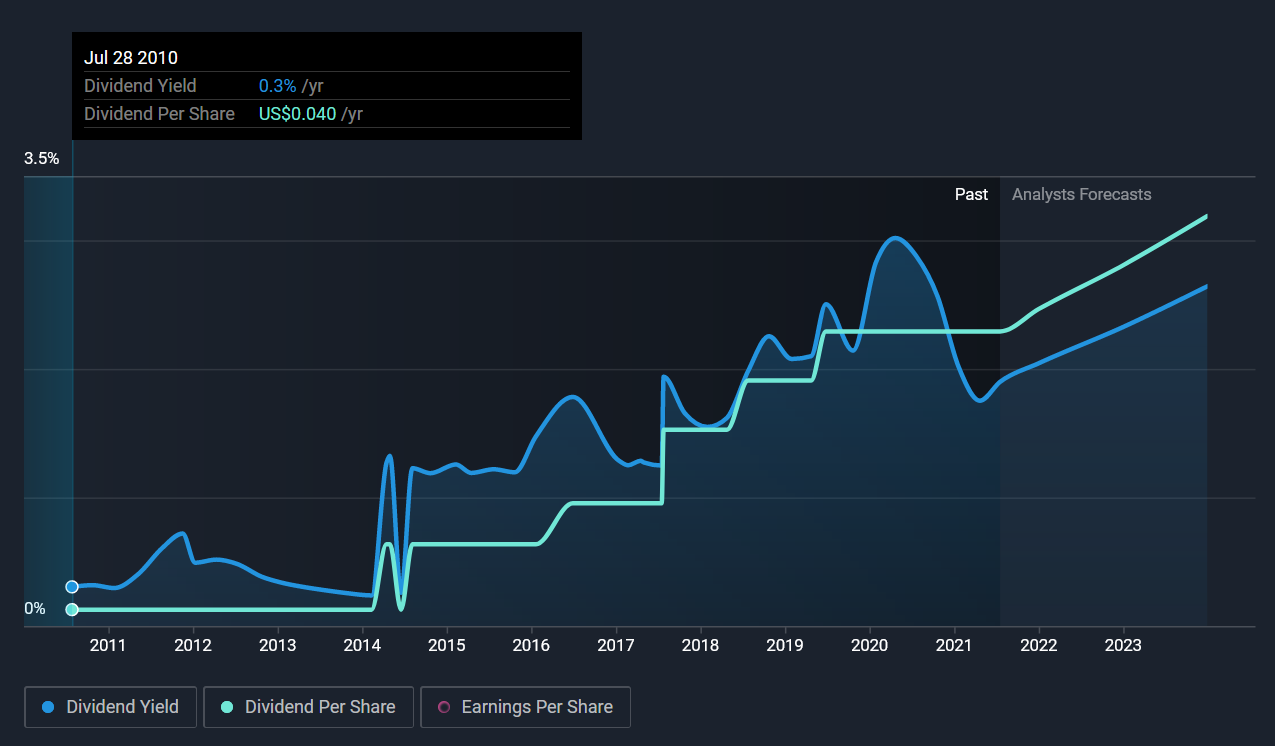 Interest Rate Looms on the Horizon
It is no secret that low interest rates hit the financial sector hard. After all, interest rates dictate the large majority of income for financial institutions, as they earn the spread.
With the interest rates at 0, the lowest point in history, bank had to up the non-interest income. However, this was not enough to provide a significant drop in net interest income, as evident from the annual income statement .
Yet, the winds are changing. Facing inflationary pressures, the FED is now bringing back interest rates hikes on the table. In March, they mentioned 2024, but now the timeline has already been moved to 2023 . As the FED keeps on moving the schedule, expect the banking business to significantly pick up if rate hikes look to be on the horizon as some clients will likely rush in to refinance their loans with low-interest rates (if they haven't already).
Dividend Volatility and Payout Ratio
Dividends are usually paid out of company earnings. If a company is paying more than it earns, then the dividend might become unsustainable. In the last year, Bank of America paid out 31% of its profit as dividends.
This range falls into a sweet spot as it leaves enough earnings to re-invest in the company - as long as the management makes sound investments.
Furthermore, while dividend investing always has a risk of the dividend getting cut or completely suspended, Bank of America has a solid track record over the last decade. During the past 10-year period, the first annual payment was US$0.04 in 2011, compared to US$0.7 the previous year. Dividends per share have grown at approximately 34% per year over this time.
It's rare to find a company that has grown its dividends rapidly over 10 years and not had any notable cuts, but Bank of America has done it.
Consider getting our latest analysis on Bank of America's financial position here.
Dividend Growth Potential
Dividend payments have been consistent over the past few years, but we should always check if earnings per share (EPS) are growing, as this will help maintain the purchasing power of the dividend.
Strong earnings per share (EPS) growth might encourage our interest in the company despite fluctuating dividends, which is why it's great to see Bank of America has grown its earnings per share at 11% per annum over the past five years. Earnings per share have been growing at a reasonable rate, even in the low interest rate environment, and the company is paying less than half its earnings as dividends. We generally think this is an attractive combination, as it permits further reinvestment in the business.
Conclusion
Dividend investors should always want to know if a) a company's dividends are affordable, b) if there is a track record of consistent payments, and c) if the dividend is capable of growing.
With the Bank of America fitting these criteria well, it is not surprising that it attracted interest from institutions. Warren Buffet added a hefty stake of US$2b a year ago with an average price of US$24.5. In total, Buffett owns 12% of the bank. This means that after the upcoming dividend hike, Berkshire Hathaway ( NYSE: BRK.A ) will receive over US$ 336m per year in dividends.
Ultimately, Bank of America fits all of our criteria, and we think it's an attractive dividend idea that would warrant further investigation.
It's important to note that companies with a consistent dividend policy will generate greater investor confidence than those with an erratic one. Still, investors need to consider a host of other factors, apart from dividend payments, when analyzing a company. To that end, Bank of America has 2 warning signs (and 1 which is a bit unpleasant) we think you should know about.
Simply Wall St analyst Stjepan Kalinic and Simply Wall St have no position in any of the companies mentioned. This article is general in nature. It does not constitute a recommendation to buy or sell any stock and does not take account of your objectives, or your financial situation. We aim to bring you long-term focused analysis driven by fundamental data. Note that our analysis may not factor in the latest price-sensitive company announcements or qualitative material.
Have feedback on this article? Concerned about the content? Get in touch with us directly. Alternatively, email editorial-team@simplywallst.com